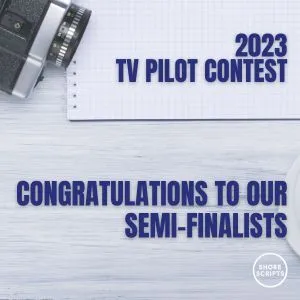 https://www.shorescripts.com/2023-tv-screenplay-contest-results/
The TV Pilot Semi-Finalists are now on their way to our Judges, where they will be competing to become one of our Top 10 Finalists, one of our two Grand Prize Winners, or two 2nd Place Winners in each of our 1-Hour & ½-Hour contest categories.
Thank you so much to everyone who shared their work with us this year! It was such a pleasure reading so many great scripts.
OUR WINNERS and FINALISTS WILL BE ANNOUNCED ON OCTOBER 5TH!