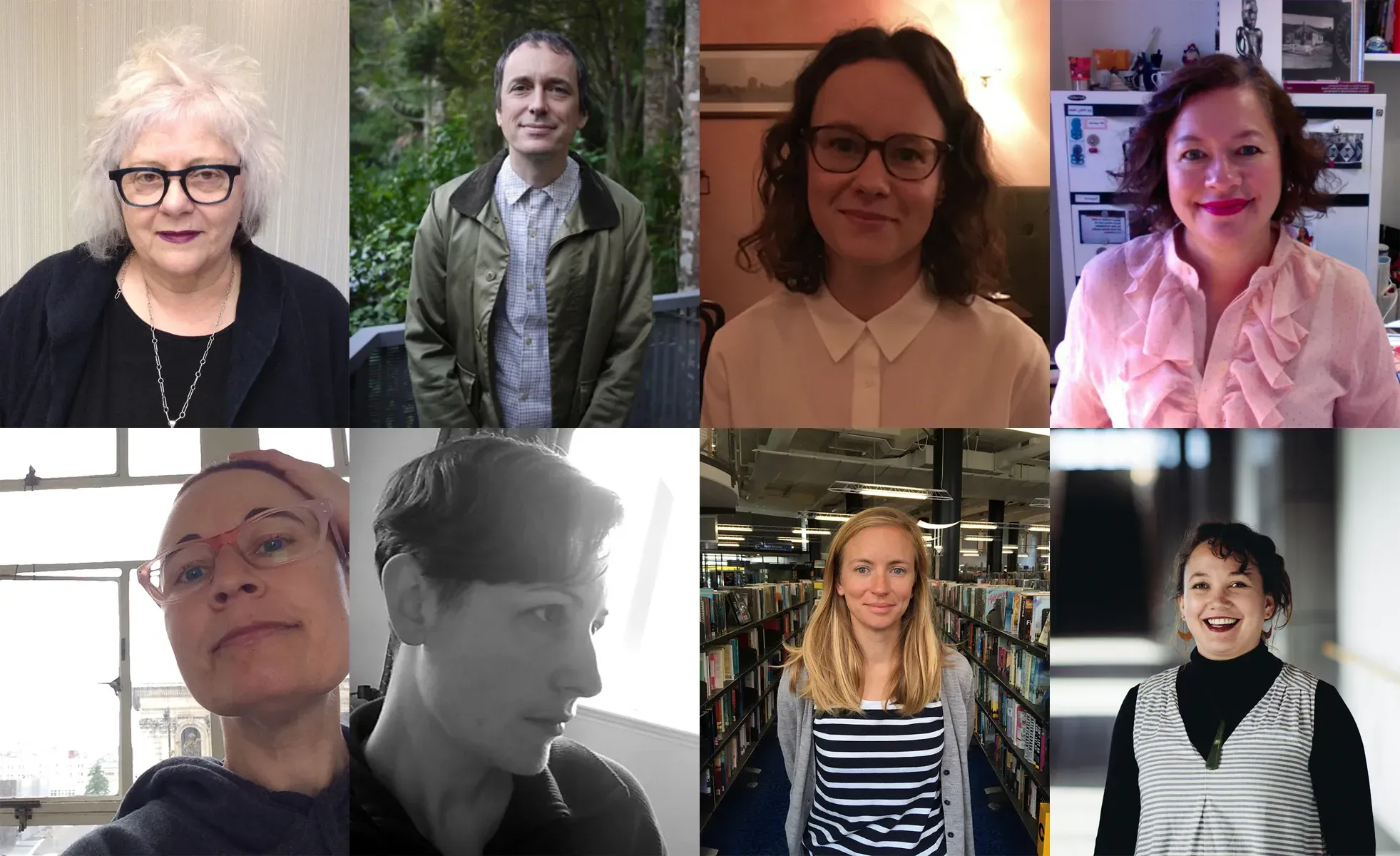 Over the past two months, the writers participating in the Extended Conversations programme have been working with their mentors to develop their first text to be published online at www.extendedconversations.org.nz in August 2018.
Enjoy Public Art Gallery and Blue Oyster Art Project Space are pleased to announce the following mentors participating in the programme:
Jan Bryant, mentoring Amy Weng
Jon Bywater, mentoring Francis McWhannell
Chloe Cull, mentoring Fresh and Fruity with Dr Ngarino Ellis
Dr Ngarino Ellis, mentoring Fresh and Fruity (Hana Pera Aoake and Mya Morrison-Middleton) with Chloe Cull
Robyn Maree Pickens, mentoring Simon Gennard
Rachel O'Neill, mentoring Dilohana Lekamge
Thomasin Sleigh, mentoring Jess Aitken
Matariki Williams, mentoring Hanahiva Rose
Extended Conversations is a new programme for emerging art writers based in Aotearoa, co-convened by Enjoy Public Art Gallery and Blue Oyster Art Project Space. Part online publishing platform and part mentoring programme, this initiative will build, sustain and share dialogue between emerging participants and established writers throughout 2018.
Following on from "Intensive 1: Criticism and Care," held in Ōtepoti Dunedin 6–8 April 2018, the second half of the programme will begin with the second and last intensive held in Te Whanganui-a-Tara Wellington from 13–­15 July 2018, with further information to be announced.
This programme has received major support from Creative New Zealand.
About the Mentors
Jan Bryant is a writer, curator and Senior Lecturer in the Monash University's Department of Fine Art, specialising in the theory of modern and contemporary art and the history of experimental cinema. Her writing focuses on artists' work and on contemporary art-thinking and practice. She also organises exhibitions of contemporary art. She is currently completing a book on art and politics in the twenty-first century. Recent publications and exhibitions include: Contemporary Political-Aesthetics: The Gift of Being Disgusted (forthcoming); "The Oddity: Angela Brennan," 3-Ply publishing, (forthcoming); "Art and failure: of things perfecting and corrupting metallick bodies," Buxton Collection Show, Buxton Gallery, University of Melbourne, 2018; "Weak Men and Disorderly Women," for artist, Lisa Crowley, as content for the exhibition, Incandescents, Te Tuhi, Auckland, 2017; A Chain of Mountains, co-curated with Tamsen Hopkinson, TCB Gallery, Melbourne, 2017; "Nick Mangan," The National 2017: New Australian Art, Art Gallery of New South Wales, 2017.
Jon Bywater is a writer, based this autumn in Waitati. He has published widely on a broad range of media and artistic modes in contemporary practice as a critic, contributing to British and American periodicals including Afterall, art-agenda, Artforum and Frieze, and Australasian journals including Art + Australia, Art New Zealand, Landfall and Reading Room, as well as numerous monographs and catalogues. The significance of place from a post-colonial perspective is a consistent emphasis in his research and a connection to his work in the art collective Local Time. Excerpts from his essay "Interrupting Perpetual Flight" are included in the anthology Situation in the Documents of Contemporary Art series and the chapter "NZ Art Can't Exist" (Now Showing, Govett-Brewster Art Gallery, 2016) surveys issues in the developing relationship between a globalising art world and art identified with Aotearoa.
Chloe Cull (Ngāi Tahu, Ngāi Te Ruahikihiki) has a Master's Degree in Art History from Victoria University of Wellington. Previous positions include Assistant Curator, Govett-Brewster Art Gallery and Toi Māori Curatorial Intern, The Dowse Art Museum. She currently lives in Ōtautahi Christchurch, Aotearoa New Zealand.
Dr Ngarino Ellis (Ngāpuhi, Ngāti Porou) is a senior lecturer in Art History and Museums and Cultural Heritage at the University of Auckland. Based on her PhD thesis, her book A Whakapapa of Tradition: One Hundred Years of Ngati Porou Carving 1830–1930 (2016, AUP) won the Judith Binney Prize for Best First Book Illustrated Non-Fiction at the 2017 Ockham Awards, Best Maori Art Book at the 2017 Nga Kupu Maori Book Awards and Inaugural Best First Book at the 2017 New Zealand Historical Association conference. She is the co-editor with Deidre Brown of Te Puna: Māori Art from Northland (Reed, 2007) and with Witi Ihimaera of Te Ata: Maori Art from the East Coast, New Zealand (Reed, 2002), as well as the author of a number of scholarly articles. Her current research focus is completing the book manuscript for AUP with Professor Deidre Brown (Ngapuhi, Ngati Kahu) on the Royal Marsden Fund project conceived with Professor Jonathan Mane-Wheoki (Ngapuhi, 1943­–2014) entitled Toi Te Mana: A History of Indigenous Art in Aotearoa New Zealand. Ngarino's teaching also covers art crime (including theft, illicit antiquities, looting, forgery and vandalism), indigenous museology and gender.
Robyn Maree Pickens is a writer, curator and PhD candidate in ecological aesthetics at the University of Otago, Ōtepoti. Her writing has appeared ANZJA, Rain Taxi, Jacket 2, Art + Australia Online, takahē, Turbine|Kapohau, The Pantograph Punch, Queen Mob's Teahouse, Art New Zealand and Art News. Currently she is an art reviewer for the Otago Daily Times, Art News and The Pantograph Punch and was the Blue Oyster Project Space's 2016 summer writer-in-residence on Quarantine Island Kamau Taurua.
Rachel O'Neill is a filmmaker, writer and artist based in Te Whanganui-ā-Tara, Aotearoa. O'Neill's critical responses and reviews have been widely broadcast and published. She was editor of Booknotes Unbound, 2013–2015, the Second Enjoy Occasional Journal Over Under and Around, 2011, the Canary Annual, 2007 and Crease, 2003–2005. Her debut book One Human in Height was published by Hue & Cry Press in 2013. In 2017 she received a CNZ quick response grant to develop her second book and took part in the Aotearoa Short Film Lab. She is a graduate of Elam School of Fine Arts and the International Institute of Modern Letters.
Thomasin Sleigh is a novelist, art writer and Community Manager at DigitalNZ. She has written about the visual arts for many different publications and galleries and in various guises, as critic, collaborator and art historian. Her debut novel, Ad Lib, was published by Lawrence & Gibson in 2014.
Matariki Williams (Tūhoe, Ngāti Hauiti, Te Ātiawa, Ngāti Whakaue) worked her way from a stint in publishing (at Huia Publishers and Bridget Williams Books) to museums where she is now Curator Mātauranga Māori at Te Papa. Outside of this she is Editor – Kaupapa Māori at The Pantograph Punch, co-founder and co-editer of the now dormant Tusk – Emergent Culture and is a regular guest editor at Radio New Zealand's The Wireless. Most importantly she is mama taniwha to her two haututū kids.
Extended Conversations Website, Enjoy Website, Blue Oyster Website