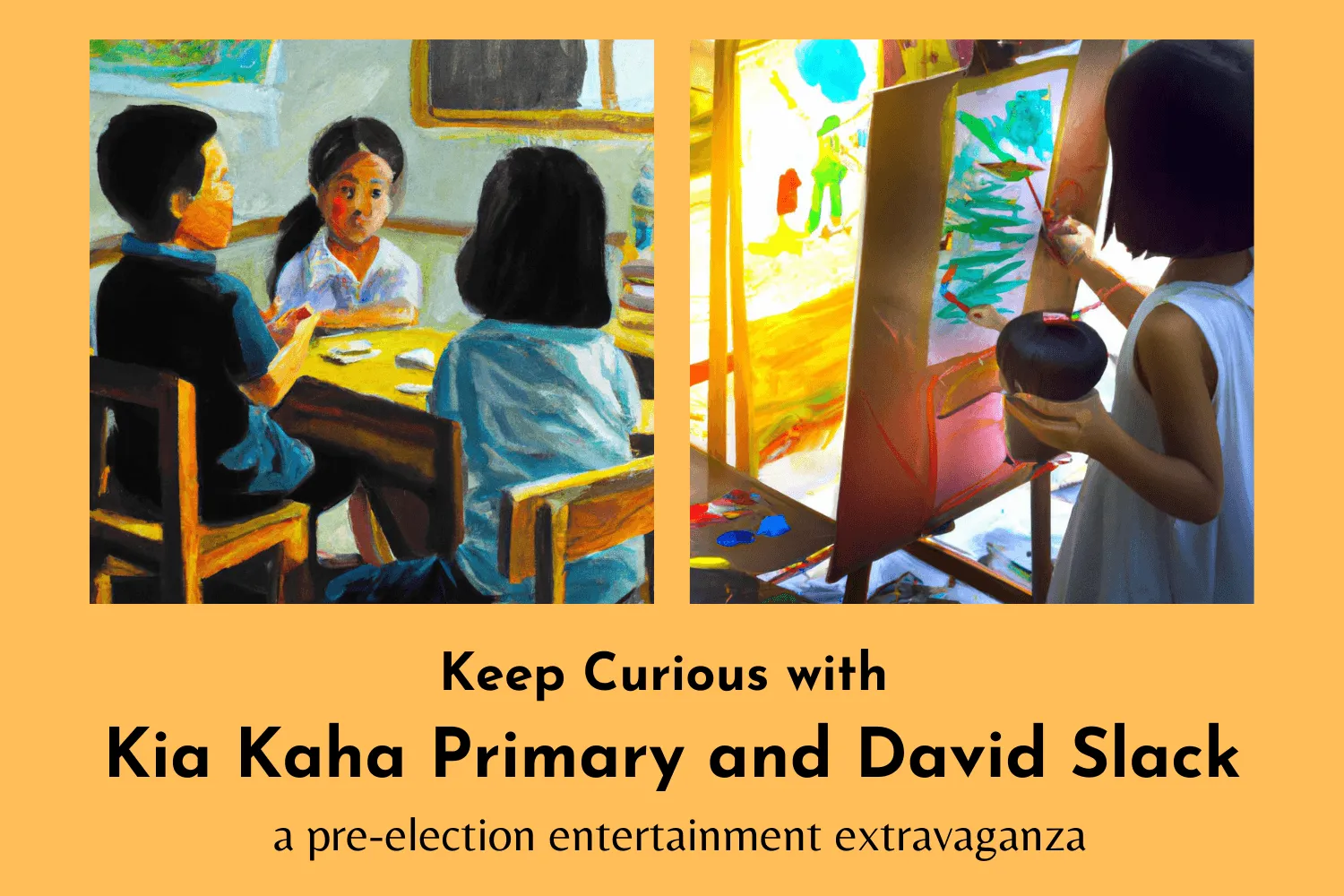 MEDIA RELEASE
7 September 2023
Big issues out of the mouths of giant babes
A longtime New Zealand broadcaster and commentator is taking a theatrical turn in advance of the General Election to draw different kinds of attention to the issues New Zealanders will be voting on in October.
In a pre-election event that invites audiences to consider New Zealand politics through a theatrical lens and through the eyes of children, David Slack is collaborating with theatre- and event-makers Amy Mansfield and Anna Groot in the upcoming Keep Curious with Kia Kaha Primary and David Slack.
The event takes as its starting-point Slack's irreverent Thursday School Journal, a newsletter which discusses current events through the dialogue in a fictional classroom in a fictional primary school, and which will be dramatised with the help of actor Mika Austin as the play's ever-diplomatic teacher and a host of giant "children".
The classroom, say the producers, is a political site, not just because of playground politics, but because children are often mouthpieces for their parents' political views, wherever they might fall on the spectrum.
Says Slack: "There is something unimpeachable about what kids say, which is partly what drew me to writing in this form in the first place. I like the idea of children's voices recounting the happenings of the adult world, and letting their shortcomings speak for themselves. What can sound plausible in the language of politics can sound very much less so when it's filtered through the voices of ten-year-olds."
The play will be followed by a short quiz focusing on Aotearoa-New Zealand politics to sharpen attendees' minds, and an opportunity to join in the night's creative expression with massed singing and folk dancing like many Kiwis will have done back at primary school. A callout for songs and dances people remembered from their own school days was met with a huge response.
Keep Curious co-director Amy Mansfield comments, "It turns out 'Lily the Pink' and the Gay Gordons have really stuck in people's minds, along with classics like 'Tū Tira Mai', 'Parks for People' and 'It's def to be green'."
"We're thrilled to have a live band of fiddlers for this part of the evening, which nods to times past but also wonders how much and what kind of arts education our children are getting today, and what they'll get tomorrow. We think it's pretty basic that 'the basics' need to include the arts".
Under-18s don't get to vote this election, but for one Saturday night, at least, they will get to have their say.
Details:
Saturday 23 September, 7-10pm
Villa Dalmacija, New North Road

Media contact: To arrange an interview, please contact Amy Mansfield [email protected]