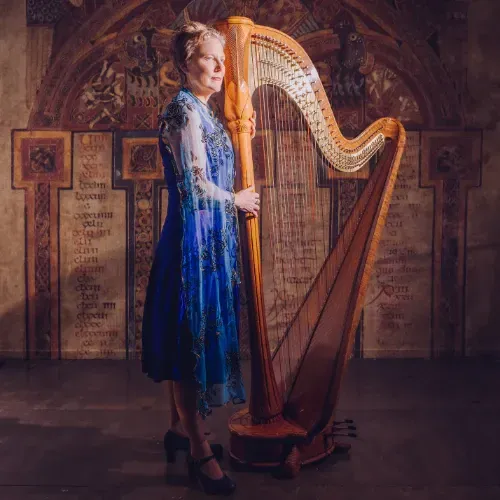 Well-known New Zealand harpist, Carolyn Mills, has just released her fifth album with Atoll Records. An Enchanted Land is a collection of beautiful Celtic tunes, many charmingly familiar, and others new discoveries to delight in – enriched by the harp's opulent sounds. First captivated by the harp at age 5, Carolyn has achieved a distinguished career as a harpist, including giving solo concerts throughout Europe, South America, Australia, the USA, and Antarctica (as Guest Artist aboard the MV Marco Polo), as well as orchestral engagements with several major North American orchestras. Since 1989 she has been Principal Harpist of the New Zealand Symphony Orchestra. Released just in time for Harpfest 2023, and St Patrick's Day, the album is available at usual digital sites and the CD from Marbeck's online.
This collection of beautiful Celtic tunes, combining the simplicity of traditional music with the sonorous richness of the concert harp, represents a wide mix of cultures and histories. Some arranged by composers, others by performers, many of these melodies will be familiar to listeners and others less so. The album includes She Moved Through the Fair, a well-known favourite, having been arranged and performed by many artists including Van Morrison and Sinead O'Connor; and The Skye Boat Song, that rose to TV fame as the theme song from Outlander, arranged here to evoke the rise and fall of a little boat on gentle Scottish waves. John Francis Larchet was an Irish composer, and his sensitive arrangements of three Irish airs, conceived and written for the concert harp are included also – in the spirit of blending old traditions with modern instruments. Watching The Wheat, one of the best-known of John Thomas' many arrangements of traditional tunes for the modern harp has not been missed out. Loved and played around the world, this work brings delicacy and grandeur to an old Welsh melody, sweeping across the harp like the wind across a golden field. And there are many more treasures to be found amongst the 21 pieces making up An Enchanted Land.
Carolyn Mills is one of our most well known harpists. She holds a Master of Music degree from Boston University, completing studies with the legendary Lucile Lawrence. Her solo and orchestral career has taken her around the world and placed her on the stage with many of today's most luminary concert artists. Wayne Laird, Executive Producer at Atoll Records, notes that "Carolyn's four previous recordings on the Atoll label have received wide critical acclaim." Very active as a teacher and adjudicator, she has also worked extensively with modern composers, inspiring a number of new works over many years.
The release of An Enchanted Land has timed well with Carolyn's presentation at an exciting event for harp being offered this year, Harp Fest 2023. On in Auckland in the first weekend in February and being attended by a wide range of musicians, teachers, students and others, Carolyn's Harpfest session, The Science and Mystery of the Harp, considers what it is that draws people to this instrument. She says "Through exploring the many different aspects of harps, large and small, I continue to discover more about the harp's ancient powers of enchantment". Combining a much loved sound with the irresistible tunes of the Celtic nations seems to be an inspired idea.
There is a kiwi touch to this album too though. The harp used on this recording is made by renowned New Zealand harp maker Kim Webby. Kim's harps are known worldwide for the beauty and clarity of their sound, and their elegant New Zealand-flavoured designs. The Nīkau palm, carved into the column of Carolyn's harp, is one of NZ's most distinctive and elegant native trees, beautifully linking these instruments with the unique landscape of their home.
Be swept away to An Enchanted Land with Carolyn Mills on CD from Marbeck's or from any good digital music site.
Image by Charles Brooks
An Enchanted Land CD, An Enchanted Land - 7 Digital