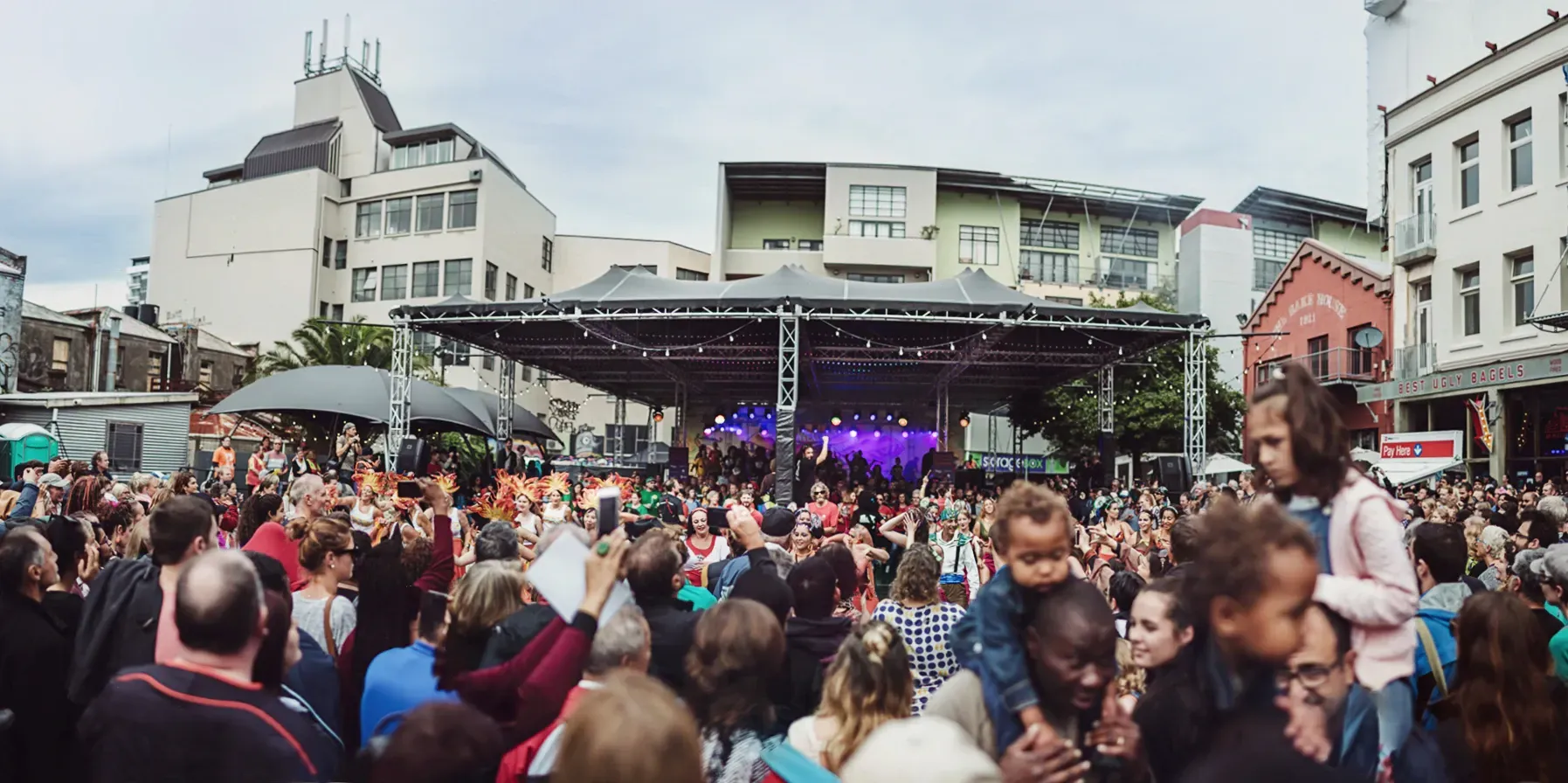 Thousands took to celebrating the streets right in the heart of Wellington at the third annual CubaDupa Street Arts Festival 25 & 26 March - where the streets were pedestrianised for community, creativity, art, food, music, and dancing!
"CubaDupa 2017 just went to the next level! The atmosphere was electric all weekend with our biggest attendance, and the extraordinary energy and talent of our performers. CubaDupa is really making waves around New Zealand and internationally with lots of visitors coming to Wellington for the weekend. Thank you to everyone who has contributed to creating this event which so richly reflects Wellington's creative spirit." - Drew James, Artistic Director
"CubaDupa was an example of the best of Wellington. Thousands of people got to enjoy an incredible festival of food and culture. Events like CubaDupa are part of what we all love about Wellington and this year's event was better and bigger than ever." - Mayor Justin Lester
With seven stages - three new ones added for 2017 - over 90 music elements were enjoyed over the weekend:
"Our artists did us so proud at the weekend with so many truly outstanding performances and many of our bands telling us that CubaDupa was one of their favourite shows EVER! With genres from Dark Rock to New Orleans Swing, Indie Punk to Latin, Opera to Irish, Folk to Funk, Gypsy to Jazz, Reggae to Rock and an all new stage lineup from 2016. From the streets to the stages to the afterparties, there was just so much talent at any one time! Thank you to all of our wonderful artists!" - Gerry Paul, Music Producer
Highlights over the weekend included the beautiful Tape Art pond creation Carp Diem that bloomed in Ghuznee Street; Les Grooms the delightful promenade Jazz Band from France, stunning opera and circus with Renard the Fox , the delicious Wellington Chocolate VR Experience, the always amazing eight batucada groups who travel from all over NZ to congregate to create Carnival Bloco – 150 drummers playing together! Our opening Whakatau ceremony was also hugely popular – an event we look forward to seeding as the traditional opening of CubaDupa in the future.
"As part of our long-term investment to support CubaDupa, this year The Wellington Company sought to breathe new life into the Cuba event with The Wellington Chocolate Factory VR Experience that we supported. We were blown away by the enthusiasm Wellingtonians showed towards this new exhibit." - Ian Cassels, The Wellington Company
With over 135 acts, 250 performances – only two performances were postponed in reaction to the brief wet weather.
"It's been said that human creativity is the ultimate economic resource, and CubaDupa is a brilliant expression of Wellington's unique creative energy." - Chris Whelan, WREDA Chief Executive
Our thanks to the bars, cafes and restaurants of Cuba Street for coming out to play with us - the food was epic! Moore Wilson's Street Food Festival delivered on a feast of variety – bringing over 100 street food styles, tastes and experiences – beautifully showcasing Cuba Street hospitality institutions as well as the beloved Wellington Night Market .
The CubaDupa team extends our aroha and sincere thanks to all who participated, attended, enjoyed, danced, consumed or contributed to CubaDupa 2017.
We look forward to seeing you all again 2018!
CubaDupa 2017 by the numbers
CubaDupa Attendees: estimated 110,000 in the area
CubaDupa Artists: 1,350
CubaDupa Events: 137 / CubaDupa Performances: 250
Retailer Events: 34
Moore Wilson's Street Food Festival stalls: 127
Part-time Staff: 9 / Weekend Crew: 40 / Weekend Volunteers: 100
CubaDupa is possible because of the amazing support of:
Creative Capital Arts Trust governs CubaDupa ; the Core Partner of our event is Wellington City Council - WREDA and WRAF and Foundation Partners are Cato Brand Partners, Wellington International Airport, The Wellington Company, Te Auaha, and George FM, Programme Partners are Havana Coffee Works, Moore Wilson's, Garage Project, and Creative NZ, Supporting Partners are Global Wines, Rogue & Vagabond, Wilson's Parking, Rymans Healthcare, Lion Foundation, and Four Winds, Accommodation Partners are CQ Hotel Wellington & QT Museum Hotel Wellington, Event Delivery Partners Meow, Caroline, Wellington Night Market, Capital E National Theatre for Children and DANZ, and International Delivery Partners Institut Francais, Goethe Institut, la Spedidum, and Culture Ireland and all the residents and retailers that make Cuba Street so vibrant, unique and worth celebrating. Ngā mihi nui koutou.
Public Feedback Survey:
If you attended CubaDupa 2017 please take FIVE MINUTES to fill out our survey so we can keep making CubaDupa the best it can be. We have a CUBA ST t-shirt up for grabs as a cheeky prize incentive!
https://docs.google.com/a/cubadupa.co.nz/forms/d/14sDYCEMIr5qIcLZYCdoeCd...

CubaDupa website