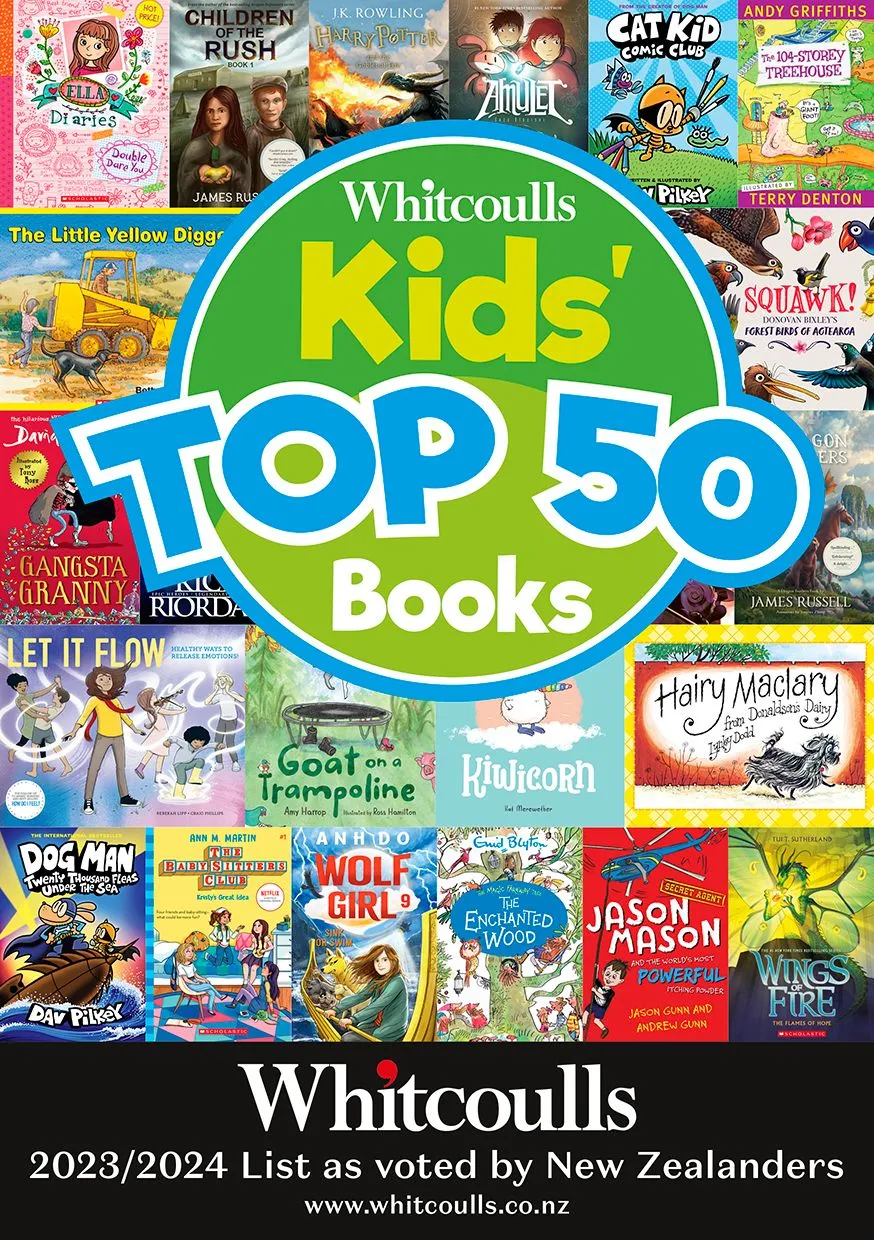 Whitcoulls announce their Kids' Top 50 Books List today (Friday, September 22, 2023) and with it reveal Dame Lynley Dodd's classic book Hairy Maclary from Donaldson's Dairy steals Harry Potter's crown as the nation's favourite children's book. First published in 1983, Dodd's book also celebrates another significant milestone – 40 years in print.

For a quarter of a century, Whitcoulls have encouraged the nation's children to vote for their favourite books. In that time, their Kids' Top 50 Books List has become an institution, alongside their Top 100 Books for adult readers announced annually in July.

Whitcoulls Book Manager Joan Mackenzie says, 'One of the wonderful things about the Whitcoulls Kids' Top 50 Books is the enthusiasm of our young voters, who have proved yet again that their love of reading is alive and well. It is wonderful to know that 'digital natives' cherish reading physical books which, as we know, can be such an immersive experience.'

The results of today's Top 50 demonstrates the loyalty of junior readers to local authors who they trust to hold a mirror up to their own lives and comprise a whopping 40 percent of the List. Other voting patterns to emerge are Kiwi kids' love of classic books and a willingness to try new authors.
Among those near the top of the Top 50 are perennial favourites, such as J. K. Rowling's Harry Potter Series (#2); Alan and Betty Gilderdale's The Little Yellow Digger (#4); Dav Pilkey's Dog Man Series (#5); and Eric Carle's The Very Hungry Caterpillar (#6).

Nearly 30 percent of the Top 50 has changed from last year with the appearance of some terrific newcomers, among them, nine books by New Zealand authors. These include James Russell's Children of the Rush (#7) a wonderful historical novel set in the gold mining town of Lawrence in Otago; and Jason and Andrew Gunn's Jason Mason and the World's Most Powerful Itching Powder (#19) which provides real narrative charm for newly confident readers. Similarly, Edmonds My First Cookbook (#31) has the double benefit of introducing kids to reading and spending time in the kitchen.

Many of the older classics remain in the Top 50 and roughly half of them are picture books. Whitcoulls believe classic reads will continue to be mainstays alongside newcomers, which the retailer thinks truly showcases the breadth and depth of reading habits of our younger readers.
The recent trend of books which help young children understand and manage their emotions remains strongly evident, with homegrown titles such as Let it Flow (#10), Aroha Knows (#17) and How Do I Feel? (#20) by talented local duo Rebekah Lipp and Craig Phillips; Sunflowers Don't Grow in Winter (#25) and Kiwicorn (#44). These books foster emotional resilience and maturity, as well as entertaining children through great storytelling,' says Mackenzie.

Having voted for their favourite books in this year's Whitcoulls Kids' Top 50 Books List, the retailer hopes Kiwi kids' passion for reading will reach every school and home across the country.
The 2023 List will be published online at www.whitcoulls.co.nz when the embargo lifts on Friday, September 22, 2023 at 5:00am.

ENDS

NOTES TO EDITORS
Whitcoulls is a major national retailer, offering a wide selection of books, stationery, educational toys, puzzles, games, gifts, greeting cards and wrap. Whitcoulls was founded over 130 years ago when George Tombs, a printer and bookbinder, and George Whitcombe, a publisher and bookseller, combined their businesses to create a national publishing company. Whitcombe & Tombs merged with key competitor Coulls Somerville Wilkie and was renamed Whitcoulls in 1973. Whitcoulls is now proudly New Zealand owned by the James Pascoe Group which includes The Farmers Trading Co, Stevens, Pascoes the Jewellers, Stewart Dawson's and Goldmark.