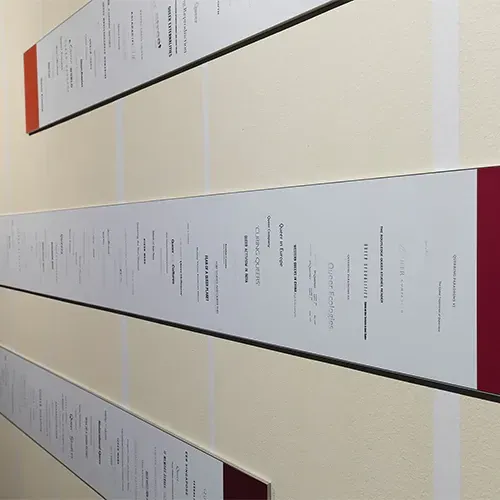 Enjoy is pleased to announce our 2018 Summer Resident, Ella Sutherland.
While on residency in Wellington from 5 – 30 January 2018, Ella will utilize the gallery as a studio space, continuing her current research on the poetics of typography and the way language is used to collect, archive and represent knowledge.
Looking to the local context of Wellington, this project will develop existing visual signs, language and ephemera into a new series of work. Focusing on printed artefacts collected within institutional frameworks such as libraries and archives, this research will prioritise alternate perspectives, voices and networks to discover the ways histories that have evolved outside of traditional systems are represented.
A previous iteration of this work responding to the 'Queer' section of Sydney libraries, Queue (2017), was recently included in the Finalist Exhibition for the 2017 John Fries Award—an award that recognises the best in engaging and experimental works by contemporary artists across Australia and New Zealand.
The 2018 Summer Residency will be followed by an exhibition in mid-2018, with public programmes to be announced. During her time in Wellington, Ella will stay at the historic Bolton St Cottage thanks to Wellington City Council.
About
Ella Sutherland is a Sydney-based New Zealand artist and graphic designer whose work is concerned with the analysis of text and visual language, and in particular, the ways in which typographic systems may be collected and represented in the documentary form. Ella studied graphic design at Ilam School of Fine Arts in Christchurch and while completing a Masters degree, co-founded Dog Park Art Project Space (Christchurch, 2012–2014). Recent exhibitions include Slow Seeing and Attention to Make, The Dowse Art Museum, Wellington, 2016; Beauty is in the Street, Objectspace, Auckland, 2016; Boring month start to finish, the whole month, North Projects, Christchurch, 2015; Speaking places: How to Work (with Matthew Galloway), Ramp Gallery, Hamilton, 2015. Recent publication projects include with a body always but but still drying, designed for the Biennale of Sydney and Artspace, Sydney; Pale Like a Fish, edited and designed for North Projects, Christchurch, New Zealand, 2016; Speaking places: Hamilton 2015 (with Matthew Galloway), artist publication for Ramp Gallery, Hamilton, New Zealand, 2016; Home & Away (with Dave Marshall), artist publication for RM Gallery, Auckland, New Zealand, 2014. Ella is a current board member of The Physics Room, Christchurch, New Zealand.
Enjoy Website