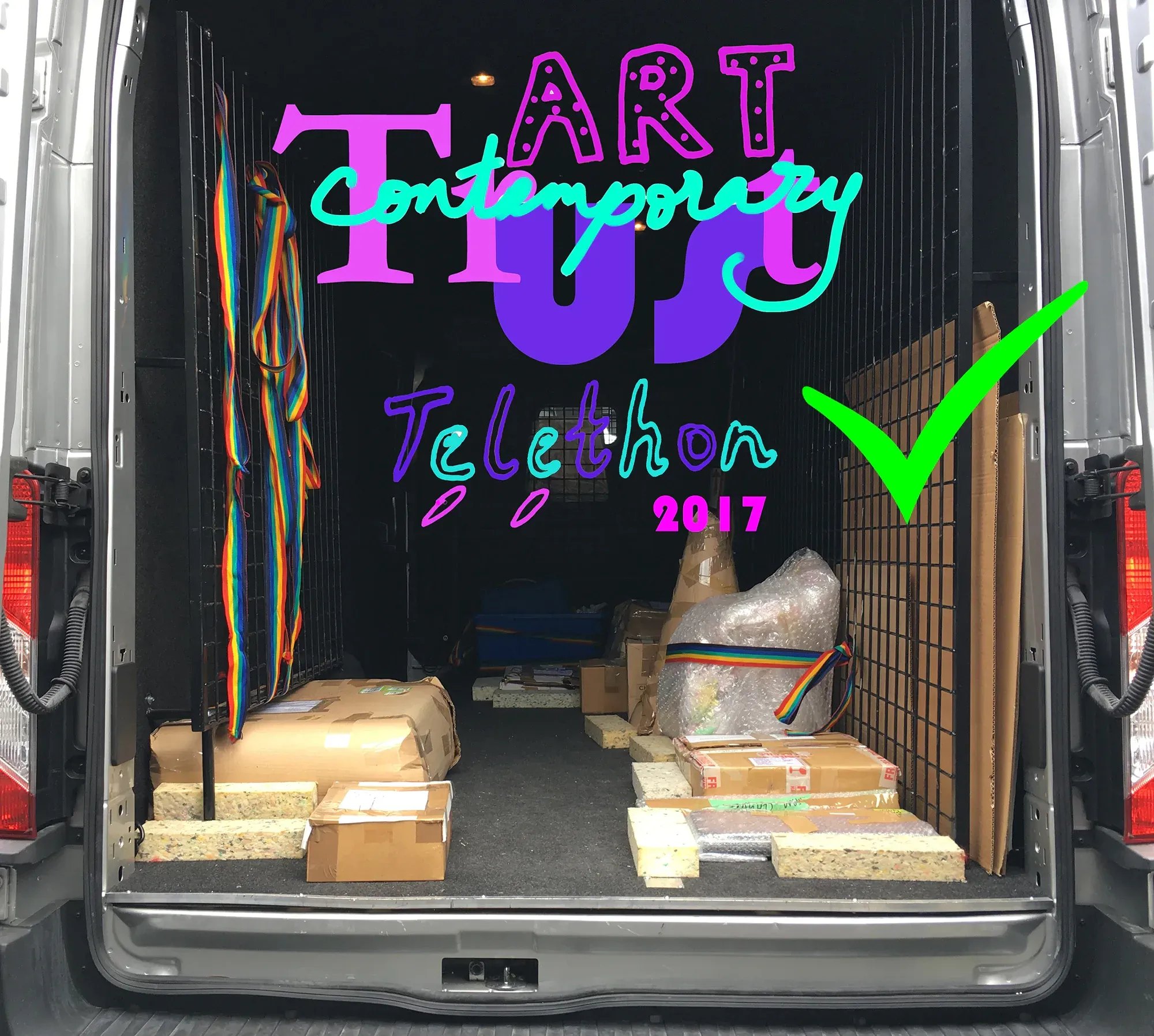 Riff Raff and Enjoy Public Art Gallery are pleased to announce the Trust Us Contemporary Art Trust Collection has been gifted to the Chartwell Collection.
The Trust Us Contemporary Art Trust (TUCAT) is a non-legal entity established by Riff Raff in February 2017 during the Enjoy Summer Residency. With the aim of developing a new contemporary art collection of donated work from artists and the general public throughout Aotearoa New Zealand, the collection was founded on open call for donations with no restrictions to entry apart from size. The apex of Riff Raff's summer residency project was a live-streamed 12-hour telethon-style event at Enjoy on Friday 17th November, 12 noon – midnight. Incorporating a diverse range of variety acts, the TUCAT Telethon was held for the purpose of collecting artworks for the TUCAT Collection. Highlight from the Telethon can be viewed here.
The TUCAT Collection includes 62 works by; Ada Leung Ana Iti, Anh Tran, Ann Shelton, Caroline and Harry, Cheryl Gallaway, Chris Wratt, Clare Gemima, Claudia Dunes, Cole Cochran, Daegan Wells, Deborah Rundle, Donogh Rees, Elyse Randrup, Ena Kosovac, Felixe Laing, Gabrielle Amodeo, Gareth Brighton, Hana Aoake, Hannah Valentine, Hazel Ellis, Hugh Chesterman, Isabella Dampney, Janet Lilo, Jen Bowmast, Josh Hamilton, Joshua MUCHU Menheere, Judy Darragh, Justine Walker, Karen Rubado, Karleshia Wills, Kate Cox, Katrina Steck, Kim Pieters, Laura Duffy, Lightreading, Liyen Chong, Louisa Beatty, Louise Rutledge, Mike Beehre, Miranda Parkes, Monica Kwon, Morgan Hogg, Morgan Linforth, Natalia Karenka Parra-Sierra, Paula Kerslake, Priscilla Howe, Public Share, Rachel Walters, Ruby Joy Eade, Sam Dollimore, Sam Featherstone, Samuel Clague, Sarah Cowie, Sarah Mohawk, Shaun Matthews, Theo McDonald, Thomas Handcock, Thomas Martin, Trevor Kohing, Vivienne Worn and Yonel Watene.
In acquiring the collection, the Chartwell Trust stated; "Chartwell is interested in the collective nature of the project – the generation and sharing of ideas amongst a group of artists, the variety, the joy, the creative impulse and collaboration, the nature of thinking around charitable activities and the role of art to express aspects of a creative life and also of a creative community."
And a final word from Riff Raff; "Thanks so much to everyone who donated work and participated in the Telethon. We are very happy that the Chartwell has accepted our gift and hope you are too!"
The Chartwell Collection is a collection of contemporary art from New Zealand and Australia that has been held on long term loan at the Auckland Art Gallery, Toi o Tamaki, Auckland, New Zealand, since 1997.
Chartwell Website, Enjoy Website