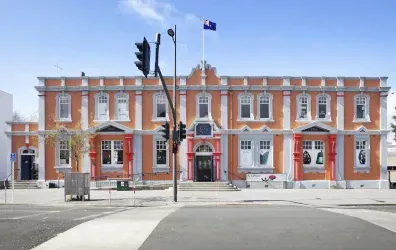 New Zealand artists and community groups interested in exhibiting their work in 2016 are invited to apply to ArtsPost Galleries and Shop, Hamilton city's high profile retail art space.
ArtsPost is managed by Waikato Museum and profiles the work of New Zealand-based artists and community groups with a focus on the Waikato region. Waikato Museum director Cherie Meecham says this is an opportunity for artists and groups to take advantage of the gallery's location in the popular south-end of Hamilton's Victoria Street to show and sell their work.
"We offer a high profile space, a captive audience and substantial sales and promotion opportunities. With three galleries, visitors are assured of variety, and with the expertise of the wider museum team we offer professional support for artists and groups to showcase their work," she said.
The three galleries in Hamilton's beautifully restored former Post Office building feature a lively calendar of short-term exhibitions. Exhibition turnaround is usually five weeks. Information on exhibiting and application forms can be downloaded from waikatomuseum.co.nz/artspost. Artists or groups wanting to discuss a proposal can call Waikato Museum 07 838 6606 or email [email protected].
ArtsPost Galleries and Shop is located at 120 Victoria Street. The complex is open daily (except Christmas Day) from 10am until 4.30pm. From 1 November, ArtsPost will extend its opening hours to 5pm until March 2016.