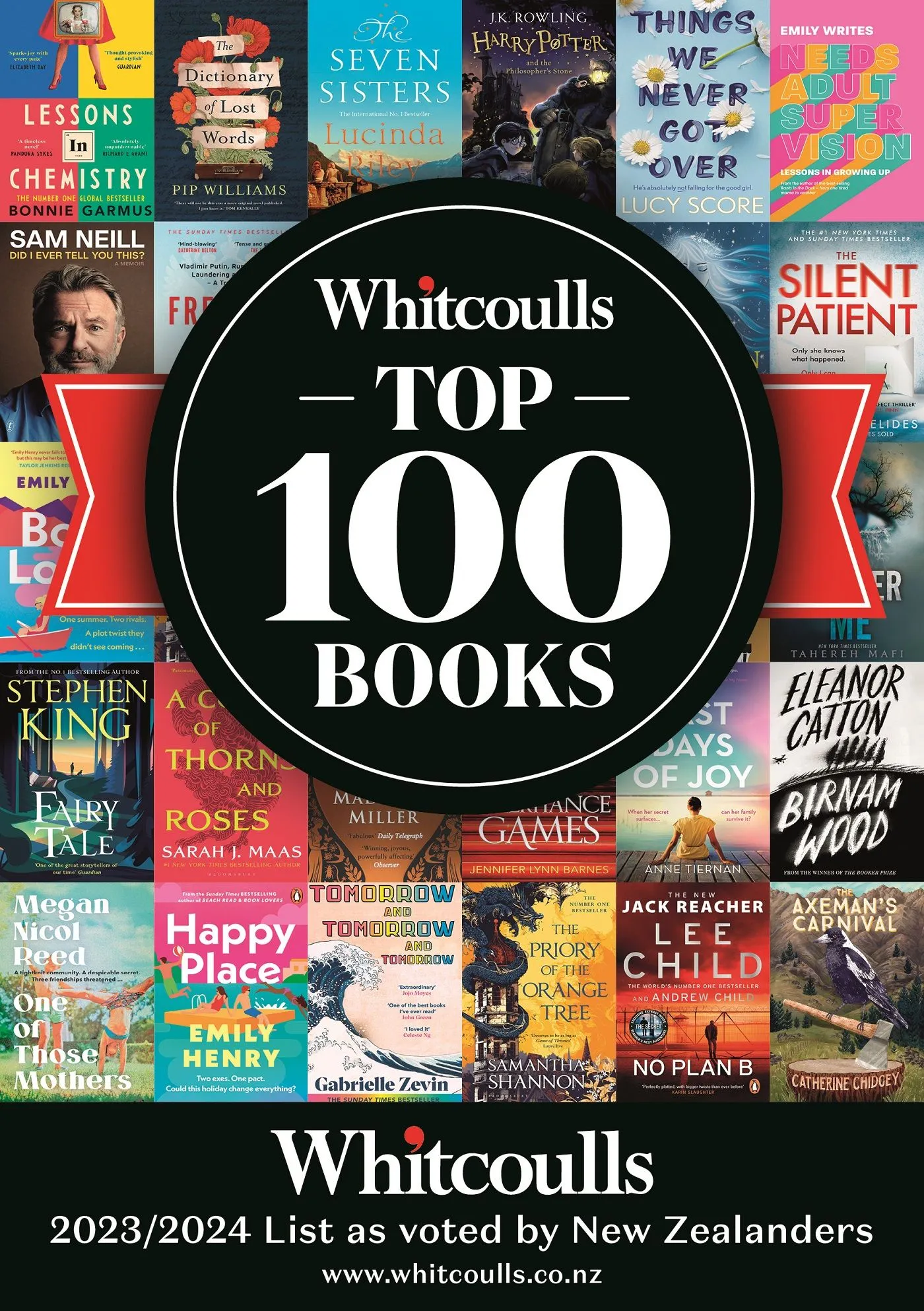 Thousands of Kiwi readers vote for a range of diverse genres in the Whitcoulls Top 100 Books List annually and for many years, J. K. Rowling's phenomenally successful Harry Potter Series has been their most popular choice. However, this year Kiwis voted overwhelmingly in favour of Lucinda Riley's historical fiction which Whitcoulls reveal in their 2023 Top 100 Books List announced July 24, 2023.
Whitcoulls Book Manager Joan Mackenzie says, 'Lucinda Riley released the eighth book in her phenomenally successful series The Seven Sisters in May, and thousands of readers read it at pace and placed their votes quickly which secured her the top spot. There are several new titles that have made it to the Top 10, with Harry Potter coming in at tenth place, the furthest away from the top spot he's ever been.
Significantly, 38 of the books on the new Top 100 are newcomers and Mackenzie notes that TikTok has again had a strong influence on voting and has introduced new authors to the List including Holly Jackson's A Good Girl's Guide to Murder Series (#17); Tahereh Mafi's Shatter Me Series (#31); Emily Henry who has three novels in the Top 100; and Ana Huang's Twisted Series (#37).
Fiction and fantasy titles always dominate the Top 100 along with a sprinkling of memoirs, classics, self-help and inspirational books. Homegrown talent is also prevalent and this year 12 of our foremost writers and personalities have made the cut, including Ruby Tui with her confronting memoir Straight Up (#23); Eleanor Catton's long-awaited novel Birnam Wood (#33); Sam Neill's charming memoir Did I Ever Tell You This? (#56); Needs Adult Supervision by Emily Writes (#73); and Catherine Chidgey's award-winning novel The Axeman's Carnival (#76).
Other highlights of this year's Top 100 are the dominance of women writers who claim the top ten spots; word of mouth books such as Lessons in Chemistry (#4), Where the Crawdads Sing (#6) Tomorrow and Tomorrow and Tomorrow (#9); and eight authors who appear more than once, including bestselling fantasy writer Sarah J. Maas and fiction writer Colleen Hoover.
'The thing about the Top 100 which always stands out for me is the diversity of genres, subject matter, themes and interests which range from feel-good romcoms for sheer escapism (and who hasn't needed a lot of that in recent times), to true classics of literature which are still being discovered by new readers; to fantasy, self-help, seriously good fiction, memoirs and more.
There genuinely is something for everyone in the Top 100 and the beauty of it is that if thousands of people have voted for these books, chances are a new reader finding them for the first time will love them too. It's a real endorsement from New Zealanders from all walks of life,' says Mackenzie.
Whitcoulls have been asking Kiwi readers to vote for their favourite books for nearly 30 years and their Top 100 Books List is a measure of our reading tastes and trends. Whitcoulls are proud to showcase Aotearoa New Zealand's favourite books instore nationwide and online at www.whitcoulls.co.nz.
-ENDS-
NOTES TO EDITORS Whitcoulls is a major national retailer, offering a wide selection of books, stationery, educational toys, puzzles, games, gifts, greeting cards and wrap. Whitcoulls was founded over 130 years ago when George Tombs, a printer and bookbinder, and George Whitcombe, a publisher and bookseller, combined their businesses to create a national publishing company. Whitcombe & Tombs merged with key competitor Coulls Somerville Wilkie and was renamed Whitcoulls in 1973. Whitcoulls is now proudly New Zealand owned by the James Pascoe Group which includes The Farmers Trading Co, Stevens, Pascoes the Jewellers, Stewart Dawsons and Goldmark.