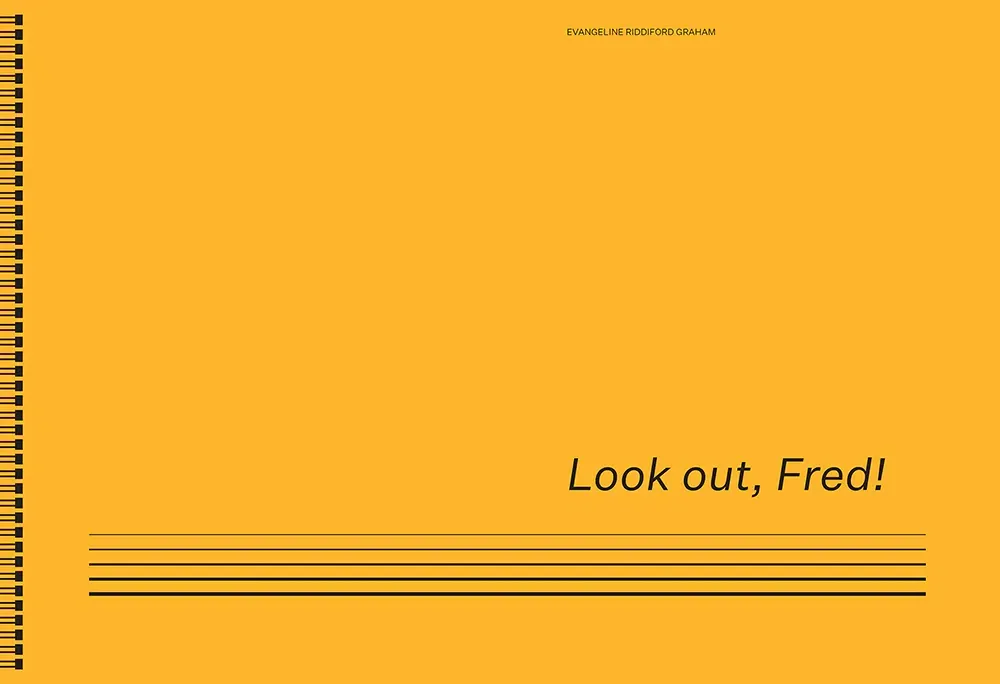 Look out, Fred! revisits Evangeline Riddiford Graham's exhibition of the same title, held at Enjoy in April 2017.
Considering the interplay between contemporary myth-making and classical texts, Riddiford Graham's exhibition interrogated archetypal characters and modes of storytelling. Drawing on an atmospheric and suggestive script, Riddiford Graham worked with two voice actors to develop spoken word audio pieces questioning the relationship between the cowboy 'Fred', and his Echo or alter-ego.
The publication, designed by Ella Sutherland, translates this script into a playful typographic score that explores language as material, and blurs distinctions between performance, notation and document. Accompanied by essays by Akil Kirlew and Sophie Davis, Look out, Fred! also includes a newly commissioned photographic series by Tim Wagg, developed in response to the exhibition.
Copies of the publication can be purchased for $25 form the Enjoy Store (incl.postage within New Zealand).
For international orders or purchase enquiries, contact [email protected]
Edited by Evangeline Riddiford Graham, Sophie Davis and Louise Rutledge
Design and typographic treatment: Ella Sutherland

Text: Evangeline Riddiford Graham, Sophie Davis and Akil Kirlew
Images by Tim Wagg

Edition of 150
ISBN 978-0-473-41549-5
Printing by Adprint

Typefaces: Untitled Sans, Domaine Text
Paper: Eco100, Pro Digital Gloss, Pop Set
Soft cover, spiral bound, 285 x 195 mm
42pg
About Evangeline Riddiford Graham
Evangeline Riddiford Graham is an artist and writer currently living in Wellington. Recent exhibitions include Inhabiting Space, The Adam Art Gallery, Wellington, 2016 (with Juliet Carpenter); Loverdose Tattoo, North Projects, Christchurch, 2015 (group); Not Good, I Start Again, Susquehanna Center for the Creative Arts, Pennsylvania (with Grace Troxell); Street Talk, Window, Auckland, 2015; The Day is a Fume, The Physics Room, Christchurch, 2014 (group, both with Juliet Carpenter). Evangeline holds a BFA (Hons, 2012) from Elam School of Fine Arts, a conjoint BA in Philosophy (2013) from the University of Auckland, and a Masters in Creative Writing from Victoria University.
About Ella Sutherland
Ella Sutherland is a Sydney-based New Zealand artist and graphic designer whose work is concerned with the analysis of text and visual language, and in particular, the ways in which typographic systems may be collected and represented in the documentary form. Ella studied graphic design at Ilam School of Fine Arts in Christchurch and while completing a Masters degree, co-founded Dog Park Art Project Space (Christchurch, 2012–2014). Recent publication projects includewith a body always but but still drying, designed for the Biennale of Sydney and Artspace, Sydney; Pale Like a Fish, edited and designed for North Projects, Christchurch, New Zealand, 2016; Speaking places: Hamilton 2015 (with Matthew Galloway), artist publication for Ramp Gallery, Hamilton, New Zealand, 2016; Home & Away (with Dave Marshall), artist publication for RM Gallery, Auckland, New Zealand, 2014. Ella is a current board member of The Physics Room, Christchurch, New Zealand.
Buy Online, Enjoy Website