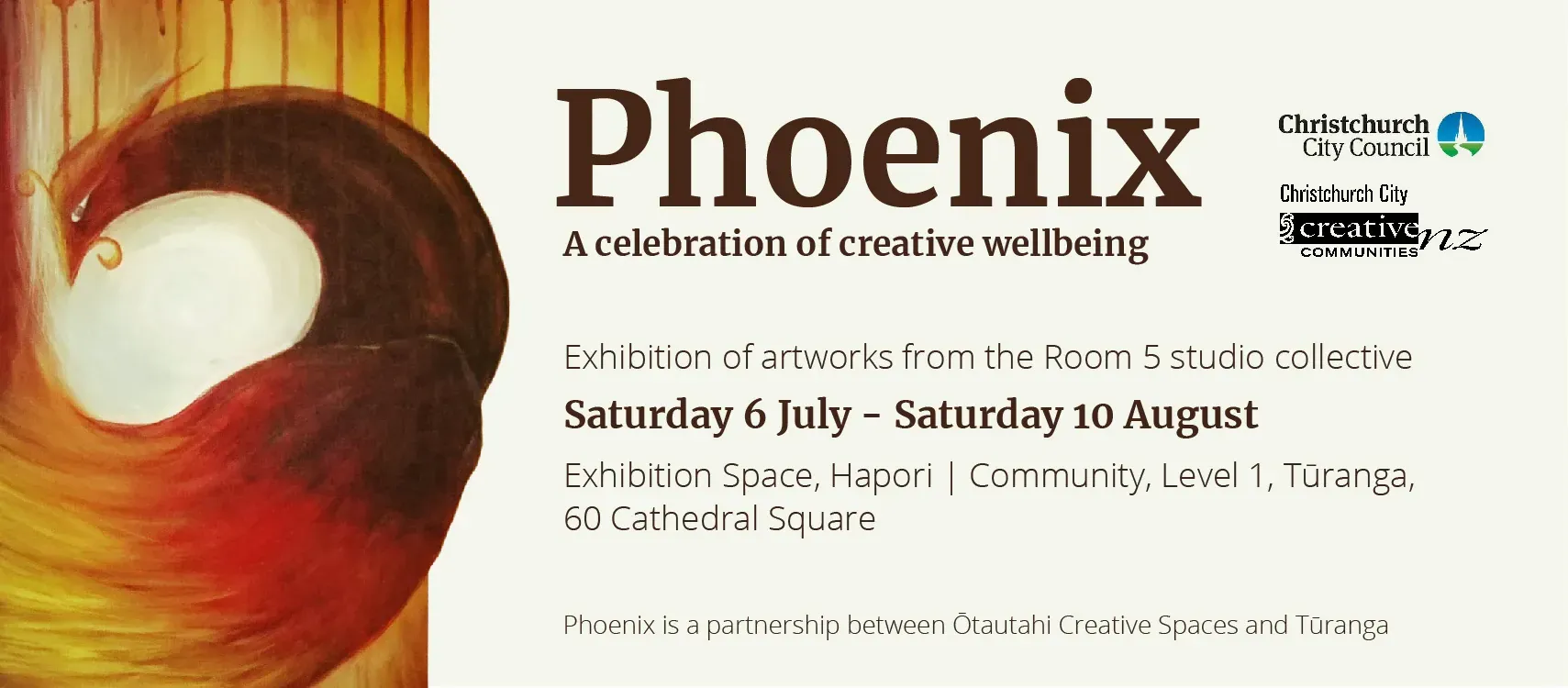 A new exhibition, Phoenix, will open on Saturday 6 July at Tūranga in Christchurch's Cathedral Square and will celebrate how creativity and wellbeing are interwoven.
Phoenix, symbolising the regeneration and rebirth of the mythical firebird, represents the pathway that creativity offers through trauma and distress.
Featuring work by 34 artists from Christchurch Studio Room 5, a collective of artists with experience of mental distress, the exhibition puts the spotlight on the powerful role creativity can play in building wellbeing.
Room 5 artist Rebecca Yianakis says, "I love what the Phoenix represents for me. What I go through is cyclical, and the Phoenix goes through a cycle. I feel like with each cycle I become a stronger person, almost re-born in a way – just like the Phoenix."
"I think we're proving to the community that creativity and wellness go hand in hand."
Ōtautahi Creative Spaces director Kim Morton says the unique wellbeing challenges faced in Christchurch following the earthquakes and recent terrorist attack on the Muslim community means the city can be a place for innovation in creative wellbeing.
"We welcome the new arts strategy for Christchurch, Toi Ōtautahi, which has a vision of Christchurch as a pioneer of creative wellbeing," Kim says.
"We urge people to get behind Toi Ōtautahi because the wellbeing needs here are enormous and the mental health system is struggling to cope. Art and creativity have a hugely positive role to play in the wellbeing of our communities but what it will take is a coordinated approach – not just the arts community driving this, but health and social development as well."
The exhibition at Tūranga is the latest venture in a close relationship between Christchurch City Libraries and Ōtautahi Creative Spaces.
"The purpose of the Christchurch City Libraries is to connect people, inspire discovery and enrich communities" says Chris Hay, Manager of Tūranga. "Phoenix will be a meaningful exhibition for the city. We're enjoying the partnership with Ōtautahi Creative Spaces and we're looking forward to seeing our public spaces and library resources utilised to help broaden the important discussion about health and wellbeing in Christchurch."
"We're honoured to be exhibiting at Tūranga, which lives and breathes creativity," Kim says. "We've got a lot in common with the Auahatanga Creativity floor at Tūranga in particular."
Phoenix is accompanied by pop-up drawing sessions, art workshops and a book display. The closure of the exhibition on 10 August will be marked by a creative wellbeing expo featuring displays by creative wellbeing organisations in Christchurch and a panel discussion.