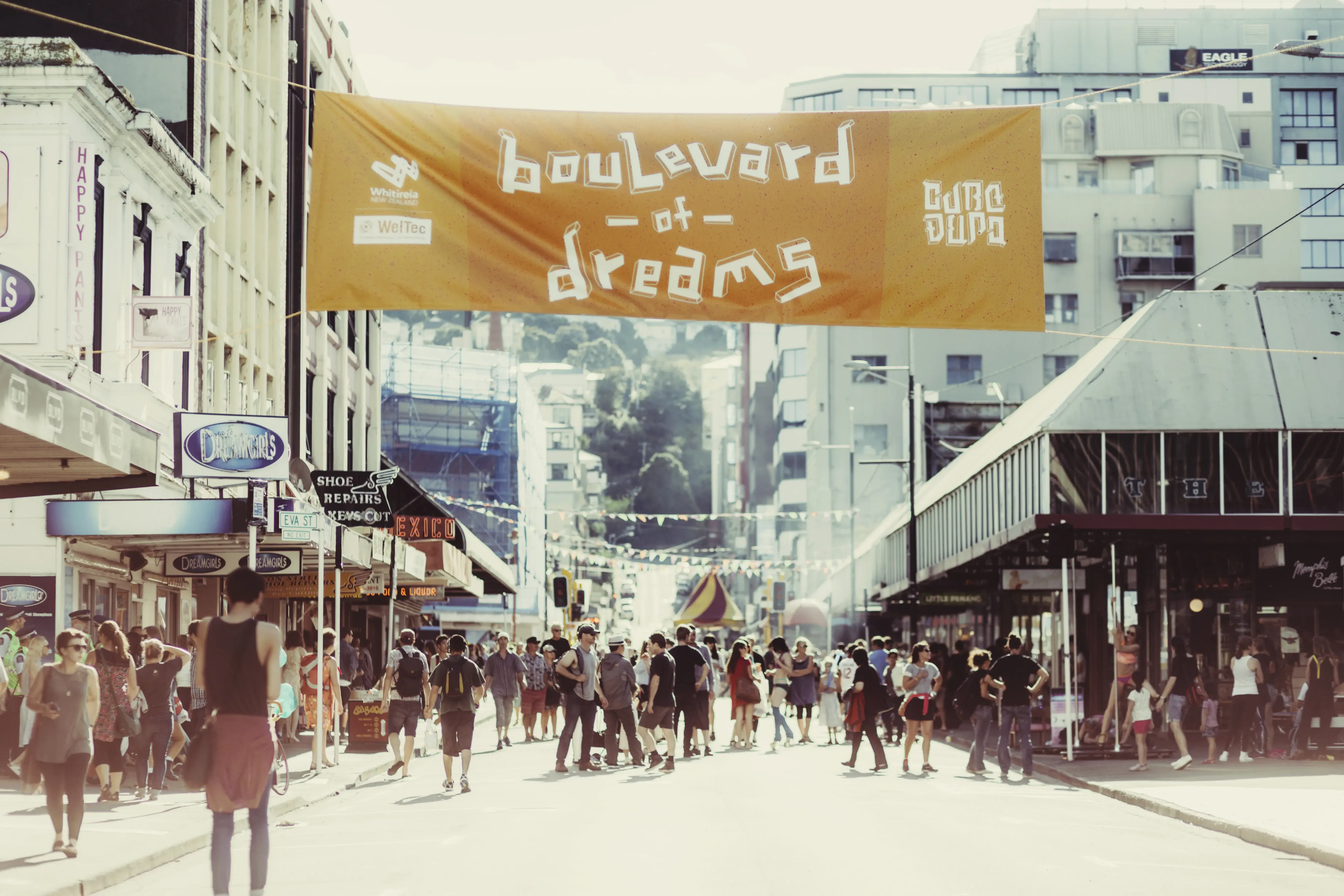 Announcing their new Foundation Partnership, which will see Te Auaha as a key sponsor amongst Wellington City Council, Wellington International Airport, and The Wellington Company, Te Auaha Trustee Roger Sowry says, "The excitement of Te Auaha is building as we get closer to opening in early 2018.
"This new relationship with CubaDupa cements our position in the heart of New Zealand's creative capital, Wellington with our new $25M campus on Cuba/Dixon Streets progressing quickly towards completion."
"There are so many synergies between Te Auaha and CubaDupa. We are all about performance, dance, theatre and music. Our students will not only perform in the festival, but help with event management and planning, and will benefit from gaining valuable experience being part of a significant event on the New Zealand festival scene," says Roger Sowry.
Artistic Director at CubaDupa Drew James says, "We are really looking forward to having Te Auaha students contributing their vibrancy and energy to our festival.
"Previous CubaDupa festivals included Whitireia performance, dance, circus and music students; and students from WelTec's hair and make-up artistry programmes. Journalism and radio students have been recording the event and providing press releases. Music students have played gigs and crewed band performances; performing arts students are involved in the welcome and opening parade while stage and screen, musical theatre, dance and circus students created performances for the 2016 Boulevard of Dreams.
"When Whitireia and WelTec creative technologies and applied arts move into Te Auaha students will be able to integrate even more with CubaDupa. We're incredibly excited about extending our current association with this exciting new Partnership," says Drew James.

Background
Te Auaha New Zealand Institute of Applied Creativity opening in 2018 will provide a world-class learning facility in Wellington, New Zealand's creative capital. The name Te Auaha means 'to shape, create, form, fashion, and innovate' and reflects the exciting mix of programmes to be delivered in the campus.
Te Kāhui Auaha which means 'the cluster of creativity' is the name provided by Te Ātiawa for the campus building.
Established by Whitireia New Zealand and the Wellington Institute of Technology (WelTec), Te Auaha brings together programmes from Whitireia's and WelTec's visual and performing arts, design, media and creative technologies. The new campus will provide a dynamic learning environment for students with world-class facilities, including a performance theatre, in-house cinema, music studios, photograph studies, workshops, hair and makeup studios, digital labs, and programmes that reflect industry requirements.
CubaDupa is Wellington's street festival revering the creative spirit of Cuba Street and the vibrant Wellington community. 25 & 26 March CubaDupa brings Cuba Street alive - electric with a strong focus on audience participation and events that break down the barrier between performers and spectators.
CubaDupa brings all walks of life together in an immersive experience to 'beat the street' and get amongst the celebration – restaurants and cafes will spill into the streets to create a culinary cacophony; people will flow through the streets and lane-ways, exploring the myriad of spaces filled with activity, music, dance, circus, theatre, and installation.
Join us, let's beat the street, and experience OUR celebration of Cuba Street!
CubaDupa website, Te Auaha website