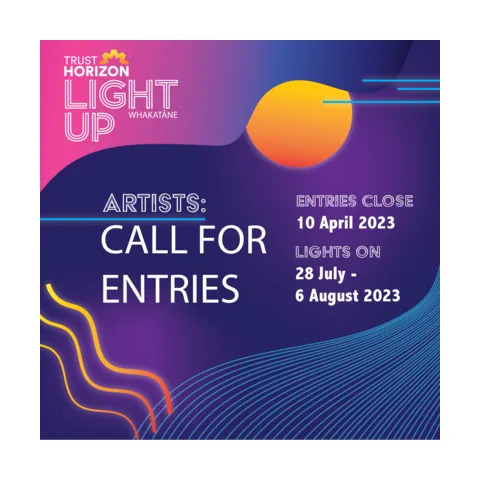 2023 Light Art submissions are now OPEN!
Have you got a bright idea for an illuminated art piece, or maybe you have an existing creation? Our submissions are open for our Trust Horizon Light up Whakatāne festival 28th July - 6 August.
No matter the size or shape, made for the outdoors or inside, we want to see the creativity and engagement your work has. Installations can be made solo or as a group.
Trust Horizon, Light Up Whakatāne inaugural festival event is a collaborative effort by Arts Whakatāne, EPIC town centre group and Whakatāne District Council who are delighted to work together to promote and celebrate Arts, Music, Dance, and activities that highlight and showcase light. Using the darkness of winter, the inaugural festival will be held 28 July - 6 August 2023. Light activations and digital displays by local and regional artists installed in various locations will be illuminated each evening for ten nights.
We are excited to bring you another year of amazing light installations in our beautiful Whakatāne District.
Share to your friends and whanaū, you don't have to be an artist all you need is an idea and imagination.
Follow the link to our website in our bio to find the submission form. Submissions close 10 April 2023
Artist will be notified on Monday the 17th April.