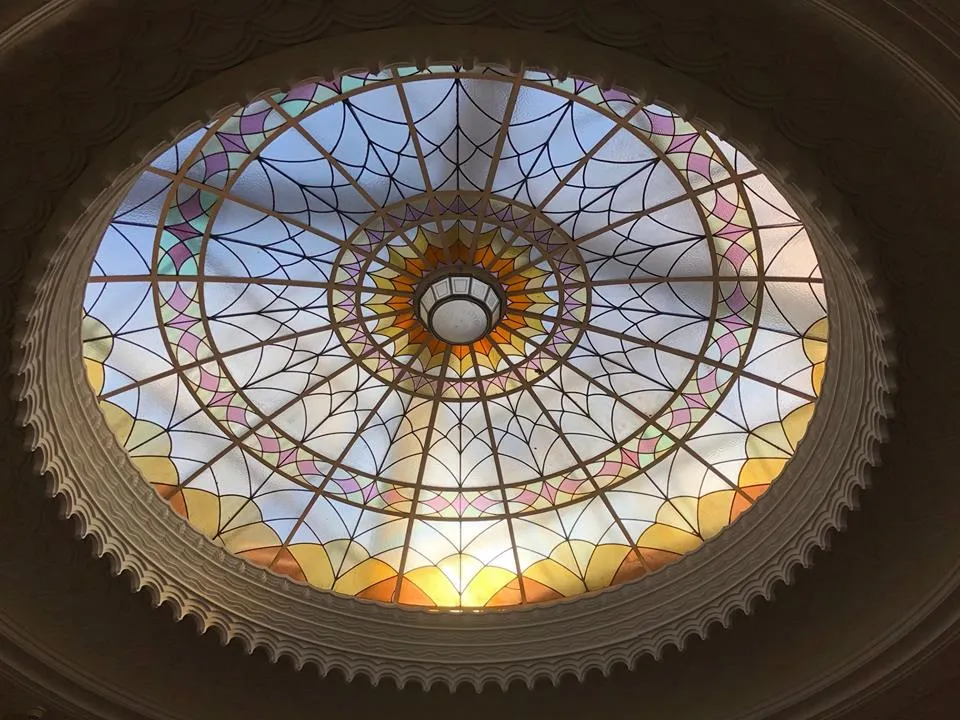 Walking into a gallery can be an intimidating experience. That daunting fear of entering a white cube where the silence meant for deep contemplation is frequently disrupted by shoes ringing on hardwood floors. Those sharp glances from gallery assistants can be enough to fill the faint-hearted with dread.
Spectacular antidote
With a fresh refurbishment and a new curator at its helm, the Gus Fisher Gallery at the University of Auckland aims to be the antidote to this long-held paradigm. On Friday night, they set a spectacular statement of intent with its reopening and revealing of its latest exhibition We're Not too Big to Care!
The brainchild of Lisa Beauchamp, the new Curator of Contemporary Art at The Gus Fisher Gallery,  she describes the intent of We're Not too Big to Care as a way to "bring people back to the start, to remind people of the context of the gallery."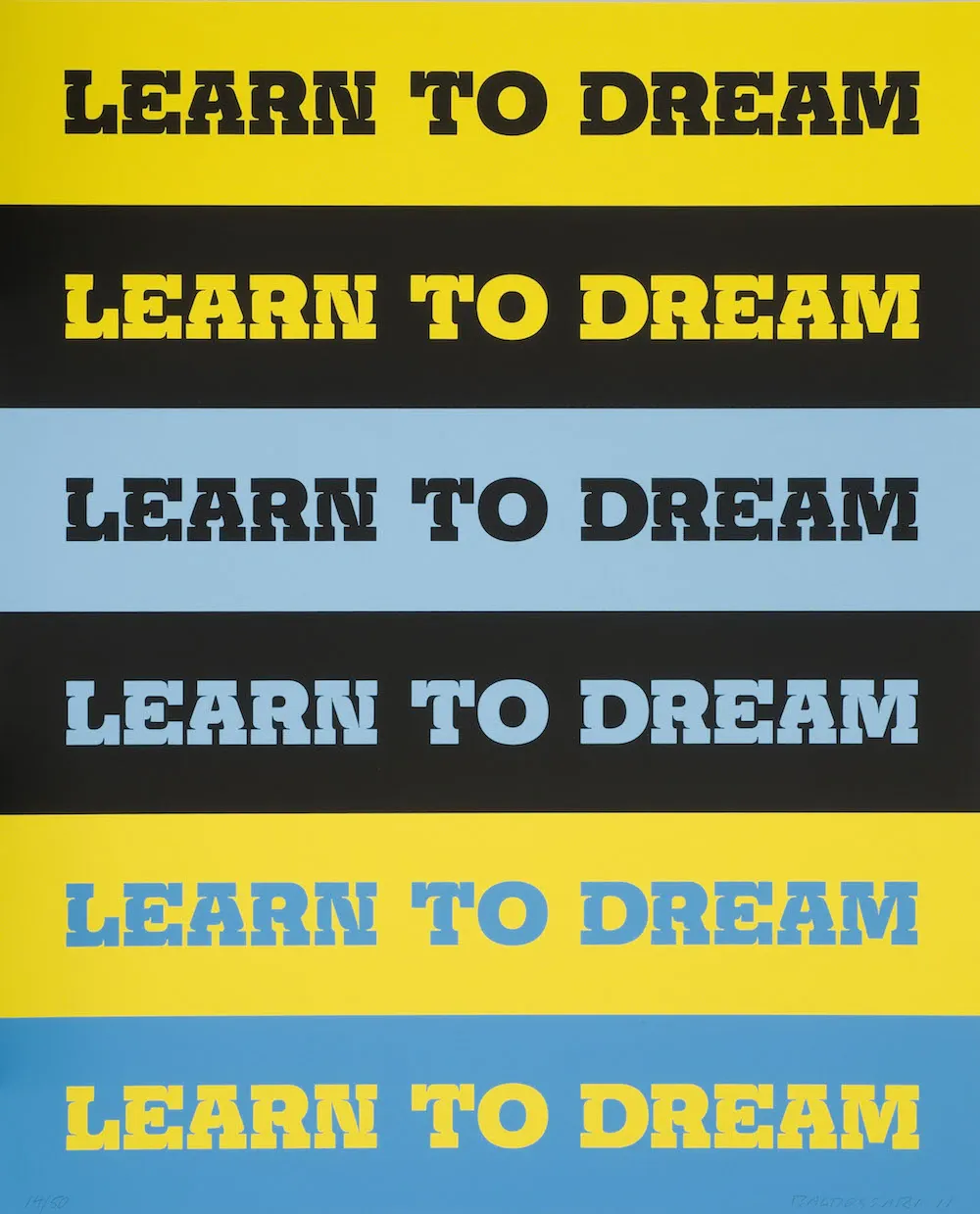 Opulence art deco and nostalgic heritage
A Grade 1 listed Heritage Building with an opulent Art Deco interior, The Gus Fisher Gallery started off life as the home of Radio1YA and TVNZ on Auckland's first commercial street. This sense of history and location underpins We're Not too Big to Care!
"We're in the heart of the business district – a mixture of lawyers, independent businesses," Lisa explains. "I'm really interested in the contrast between mammoth corporations and indie businesses.
I don't just look to the art world for my curatorial inspiration,  I was looking at old ads and came across an old Four Square one from 1984 "We're Not too Big to Care!". It really resonated with me – I think it connects to the context well and can be interpreted on both an institutional and individual level."
Asia One
As a nod to the gallery's past, Lisa has an interest in featuring contemporary video art throughout 2019. After she found the title of the show, the rest of the exhibition flowed from Cao Fei's latest film Asia One. Originally commissioned by the Guggenheim in New York, it is the first time the piece has been shown in New Zealand."I'm a huge fan of her work," Lisa enthuses, "and I think this is one of her best pieces – she's tapped into something really current – namely concerns of consumerism, technology and the impact of corporations on the individual."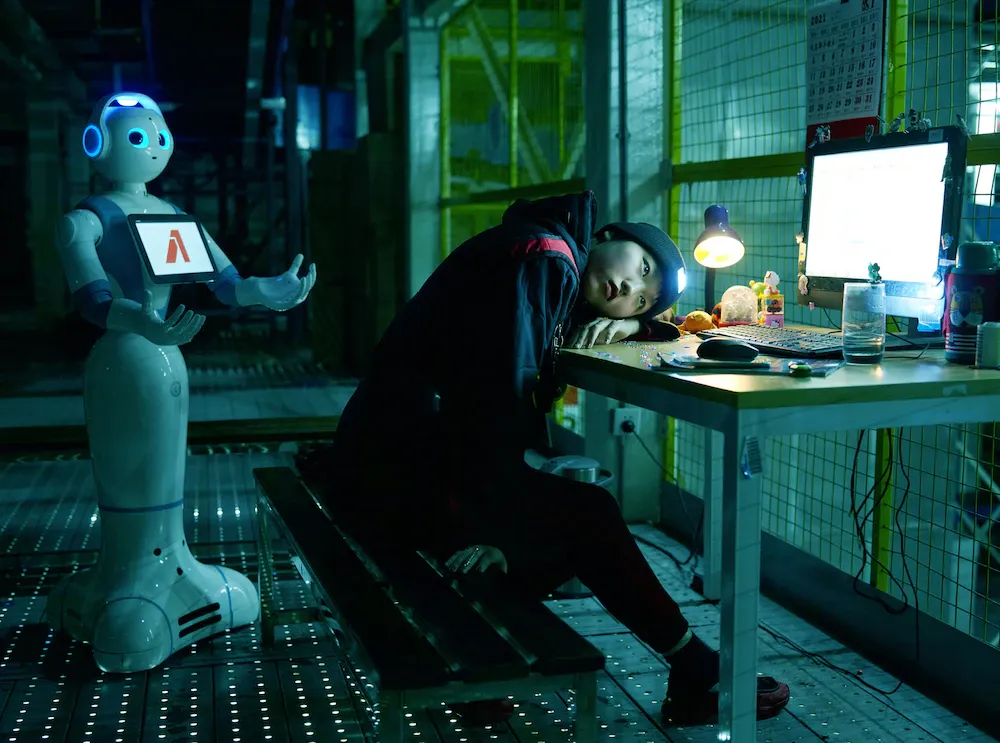 Examining socially responsive topics
The other 16 artists traverse mediums and nationality, offering audiences a good sense of what to expect from The Gus Fisher Gallery moving forward.
"We're looking to reach out to artists across the city, nationally and internationally and establish [the gallery] as a destination for everyone." Lisa explains. "We want to create thematic exhibitions that tap into pertinent issues and socially responsive topics that will hopefully attract not just art audiences, but as many people as possible. By creating group shows, I'm aiming to bring about a dialogue, to provide lots of layers of access for as many people as possible."
Unexpected is probably the operative word of We're Not too big to Care!. Looking both back and forward is a common curatorial device, but Lisa brings together unexpected artists to create a robust and rounded dialogue. An offshoot of the wider exhibition theme is that of selling dreams and the division of labour, a conversation had between Cushla Donaldson's Composite for a happiness that forgets nothing and Emily Hartley-Skudder's installation Gentle on Hands and Everything they Wash, a slogan from Sunlight Soap.
Cushla Donaldson's observations
Speaking with Cushla prior to the exhibition, she is clearly enthusiastic about working with Lisa, whose previous role was at the Birmingham Museum & Art Gallery in the UK. "Lisa has made some decisions that have surprised me and as an artist, working with a curator who can teach you something is the ideal. She's brought in a fresh perspective."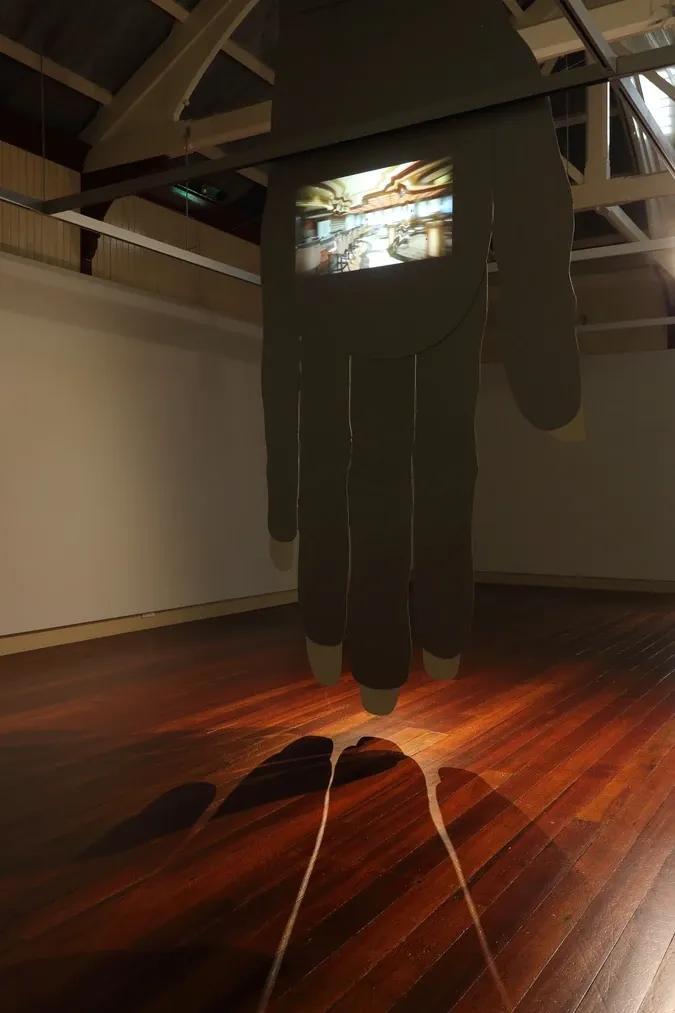 Cushla describes her own work as "Complex – it's a love letter to an old friend who works as an entertainer on a cruise ship. For me, cruise ships are an interesting political model; they're often sectioned off into stratas [and can be seen as] a microcosms of the macrocosm that is capitalism. So, this piece is about my friend and the environment that surrounds her."
Composite for a happiness that forgets nothing was originally commissioned by The Physics Room, Christchurch for the (Un)conditional series, curated by Jaime Hanton shown at the Suter Art Gallery in Nelson. A multi-medium piece, it combines video, sculpture and sound to create an immersive piece that ultimately feels bittersweet. It promises a sense of freedom that is just out of reach. This sense of being so near yet so far is echoed in Emily's installation. Rather than Cushla's glossy promises, Emily offers a deliciously kitsch bathroom installation. Not only does it reference that the space used to be the women's bathrooms, it is a nod to the banal aspects of lifestyle aspirations and consumerism.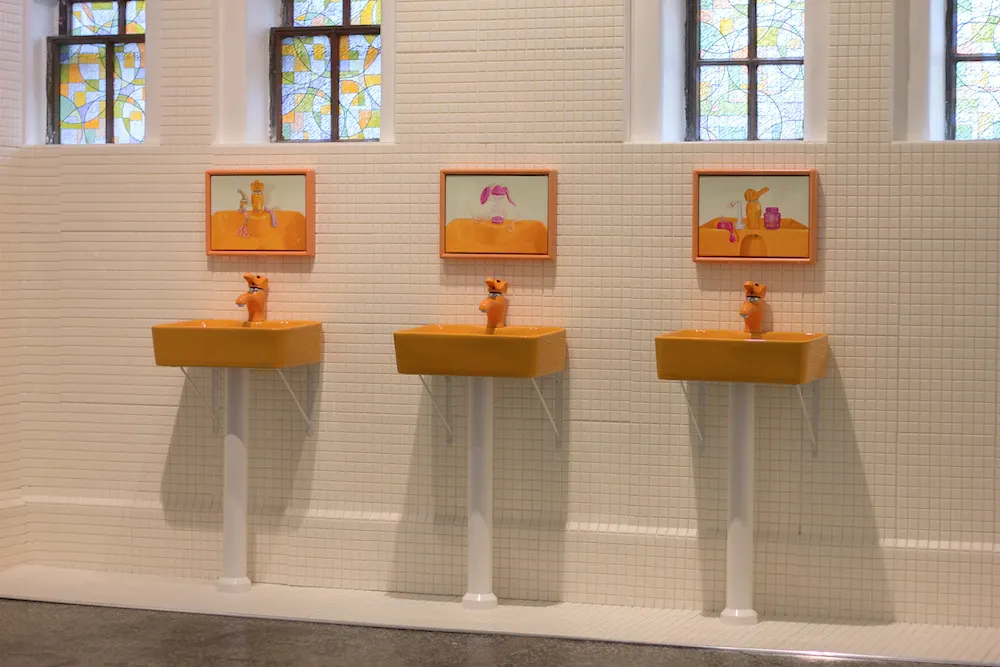 Bound for glory
Judging on the sheer numbers at Friday's opening, it was clear that Lisa's dedication to accessibility and strong curatorial eye has already garnered her a lot of fans. The interior of the gallery brought together yesteryear elegance and colourful walls to evoke a sense of warmth without diluting the sense of place and history. The layout of the exhibition offers some delightful discoveries in unexpected places, highlighting Lisa's obvious skill in lightening heavy topics without losing gravitas. Plain but elegantly written wall text and gallery essay aided the exhibition well, offering a comprehensible take while maintaining intellectual rigour. It is a beautifully balanced offering and a breath of fresh air on the Auckland art circuit.
We're Not too Big to Care runs until June 15th.
Details about its free public programme of events and the gallery itself can be found at https://gusfishergallery.auckland.ac.nz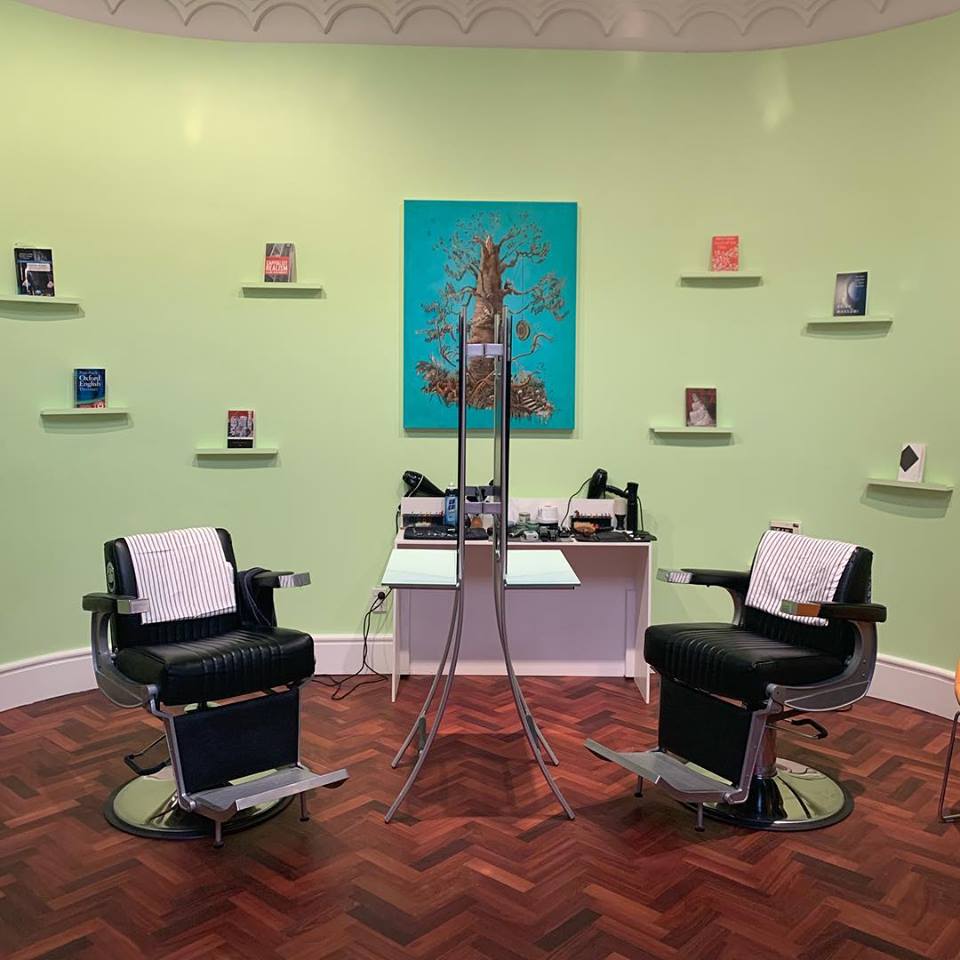 Image credits:
The Gus Fisher Gallery glass dome ceiling. Image: The Gus Fisher Gallery
John Baldessari, Learn to Dream, 2011, screenprint, image courtesy of the artist, Chartwell Collection and Auckland Art Gallery Toi o Tamaki
Cao Fei, Asia One, 2018, inkjet print, image courtesy of the artist and Vitamin Creative Space
Cushla Donaldson, composite for a happiness that forgets nothing, aluminum composite material, enamel, ink, video (10min 13 sec), Quick Response Codes, the Internet, 2018. Image: John-Paul Pochin (installation at The Suter Art Gallery)
Emily Hartley-Skudder, Gentle on Hands and Everything They Wash (detail), 2019, image courtesy of the artist.
Barber Shop pop-up by The Gentry at the Gus Fisher Gallery (public programme). Image: The Gus Fisher Gallery