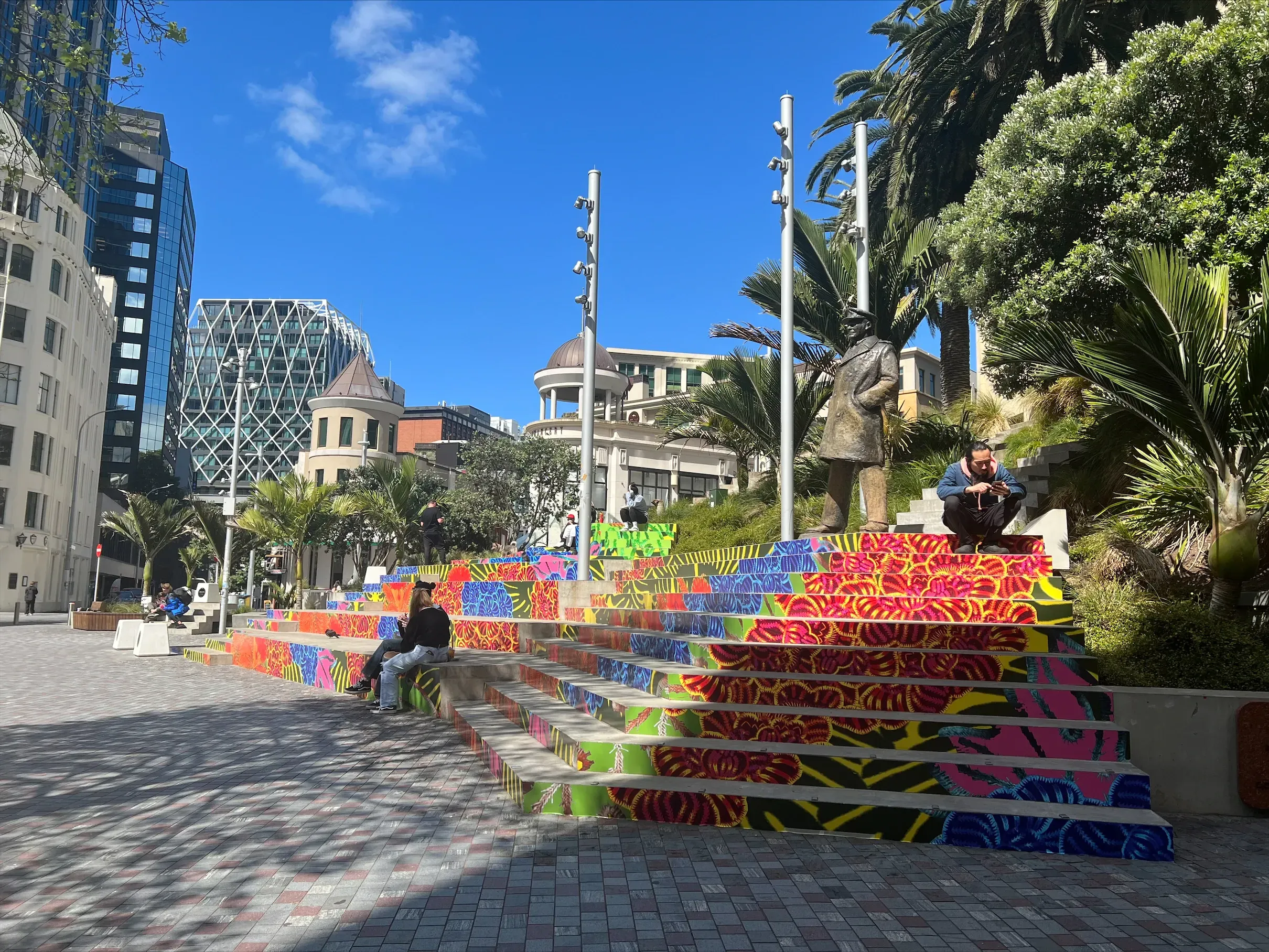 You can't spell restart without 'art'.
If we're being honest, Tāmaki Makaurau's city centre was starting to lose its edge, even before the Pandemic turned it into a ghost town.
But as the rejuvenation drive begins in regions around Aotearoa, the country's biggest city has turned to its most creative residents to hit the reset button and inject fresh life back into what has been the beating heart of Auckland.
Art in the City (running until 16 October) has been bringing the crowds back to the central city, at a time where events like the women's Rugby World Cup are helping add a much needed energy.
In areas where shops sit unoccupied, there is a vibrancy with displays and artist installations like the pop-up galleries of Arcadia in Queens Arcade.
The opportunity to add colour and creativity to the city's walls, walkways and buildings has been snapped up by some leading lights like street artist Ross Liew, who carries a well-earned reputation built over more than 15 year.
He's hosting Musing on Murals, a free public art talk tonight (Thursday 13 October, 6:30pm – 7:30pm (part of Late Night Art) that will look at the recently completed artwork on High Street shop windows, and the wide ranging benefits of public murals.
Liew told The Big Idea he sees the rejuvenation as much for the artists as it is for the city.
Some of Ross Liew's work, in collaboration with Margarita Vovna.
"The arts were hurt really badly by COVID. As a vulnerable but resilient sector, we experienced some of the worst impacts of the lockdowns and ensuing behavioural change. And that's just thinking from the perspective of business.
"People who make things tend to be more attuned with their senses, are more conscious of social disturbance, prone to overthinking and also afflicted by anxiety. COVID really fucked a lot of people up and it had nothing to do with the virus.
"Everyone has had their own experience of the pandemic and while we share affinity with each other's stories and experiences it's a very personal journey. So yeah, both people and our city have been struggling and many still are.
"While things have opened up again there is definitely a tail to this thing and it's taking time for people to find their way back.
"I know for some artists the pandemic has been a very productive period but for many others who don't have a solo practice it just stopped things in their tracks.
"I think that in a lot of work being produced now, we can see artists use their practice to try and reconcile what they went through as a way to reorientate themselves in the world and it's something we can all identify with."
One of the cornerstone features of Art in the City is the Fryberg Steps - with Cook Islands-born, Auckland raised designer Pouarii Tanner having the honour this year with her work P.A.C.I.F.I.C.A. (below).
Tanner told The Big Idea she drew inspiration from being locked down in Rarotonga. " It sounds like an idyllic place to be during lockdowns and it was, but it didn't feel like that at the beginning.
"It felt scary and uprooted my life in ways I'd never experienced before. What it taught me was that I grew up in Auckland as a Pacific person but, living in my ancestral home became an enlightened experience and I threw myself into...gardening - a love of my Mum's who taught me.
"Gardening was a peaceful and calming way to learn about regeneration and a lot of the flowers in the work I made are one's I also grow in my garden in Rarotonga and have shared with Auckland city.
"Nature knows how to regenerate and it is never scared. So, celebrate Spring and enjoy the time of year when the earth tilts towards the sun's warm embrace and have fun all over Auckland city as it celebrates this time of year with art.:"
Among the 100 installations, not all come from Tāmaki Makaurau - but they still play their part in making the city a visual feast.
Rosemary Petterson, part of the Changing Lanes display with Love, Hope, Joy (above), told The Big Idea "I use my art process as a contemplative practice, it helps me to let go of the chaos of the world around me and I find it grounding and regenerative.
"My intuitive process of creating is a way of connecting to the Creative Power that is higher than myself, of bringing my breath back into alignment and being still and at peace no matter what other chaotic things are happening in my life."
Sean Kerr lives and works in Auckland as both a creator and a Senior Lecturer at Elam School of Fine Arts, University of Auckland.
His visual light work, A Random Rant (above) is on display as part of The Lightship - and it garners plenty of attention in the evenings.
Kerr has his own unique take on the Lockdown period. He told The Big Idea "As an artist, I saw the lockdowns as a special quiet time. It was a chance to focus and reflect on my creative practice and bigger world things, such as the negative impact of humans on the environment.
"Although we were in the middle of a pandemic, the quietness felt like we were going in the right direction, but sadly we are back to the old noisy, gas-guzzling, polluting norm…"
While there are some of the bad old ways creeping back around the globe, the opportunity for a fresh approach with artistic input is proving the type of tonic Auckland's pandemic weary residents need to find their new lease on life.
Art in the City runs in the Auckland CBD until 16 October, with some exhibits like the Fryberg Steps staying place for longer, for details, check out Heart of the City.