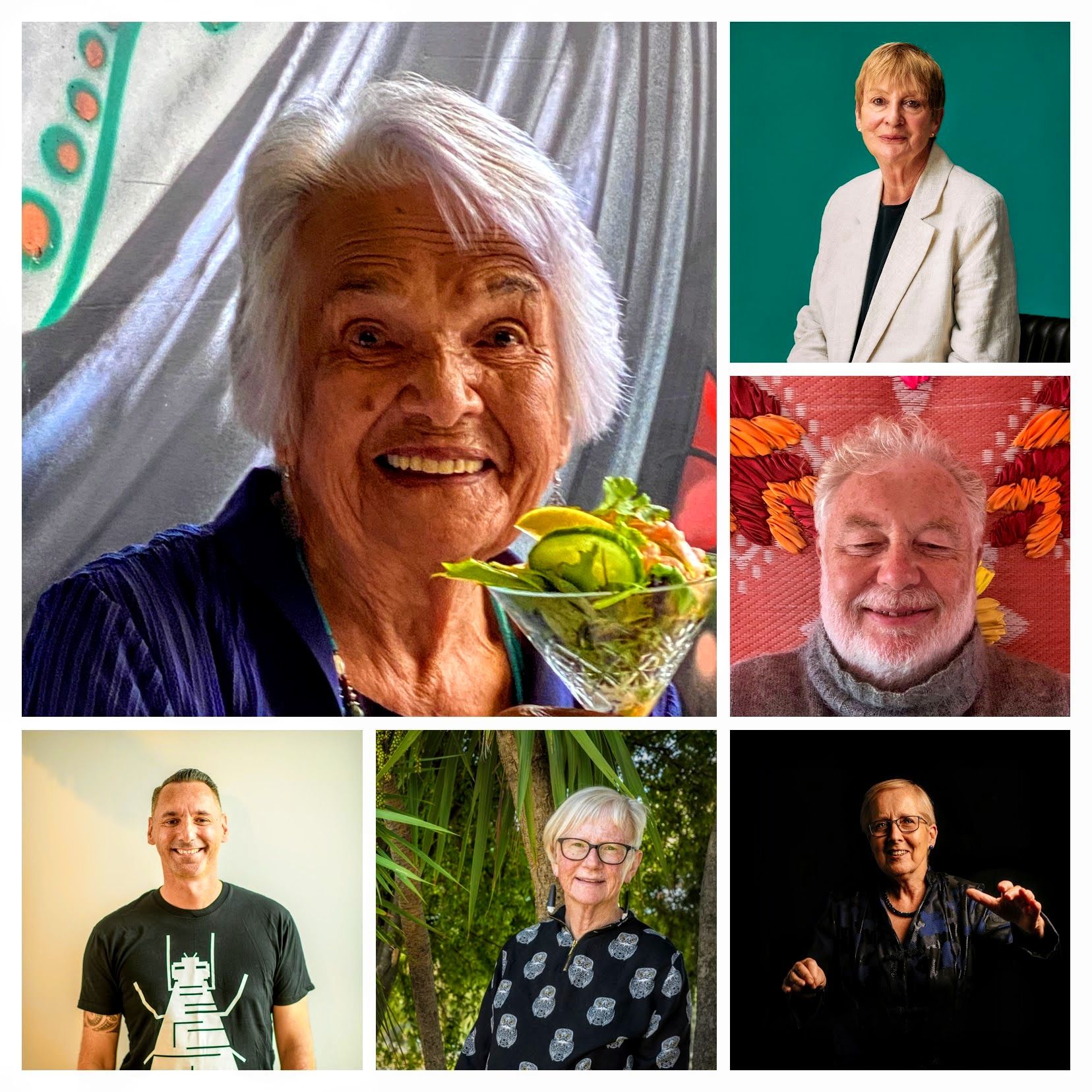 The arts have a new Dame - with Dame Helene Quilter (above) receiving the honour for services to the public service and the arts as one of many from the creative community singled out in the first King's Birthday Honours list.
Dame Helene's love of both performance and visual art has played a huge part in her life.
She tells The Big Idea "I am delighted and overwhelmed to have received this honour in recognition of my 45 years of public service and my passion and commitment for New Zealand art.
"I have been a dedicated supporter of the visual arts in New Zealand all my life and have collected art throughout that time. This has been primarily painting but has also included photography, sculpture, textiles and ceramics.
"I started collecting seriously in my early 20s. I collected widely and assembled a large collection of artists prominent in New Zealand in the 90s and 2000s.
"That collection grew too big for me to house, so I made the decision to lend much of the collection to the Govett Brewster Gallery in New Plymouth on long-term loan (the Quilter Collection). I made the decision to sell much of that collection in 2014 to make way for new collecting interests.
"In the last 10 years, my collecting has become more focused and specialised, but the collecting habit is just as intense.
"I am also a board member of the NZ School of Dance and recently have been appointed chair of the professional advisory panel governing the school's professional standards and execution. It's been a hard time over the last three years with the impact of COVID on the school, both as an educational institution and as practitioners of performance art.
"It's been a real privilege for me to work with the dedicated, committed and professional management team of the NZ School of Dance."
One of the key men behind the rise to prominence of Te Matatini has been raised to the realm of Aotearoa's knights.
Sir Selwyn Parata has been recognised for services to Māori, including his role as Chair of the Te Matatini Board since 2008, responsible for the biennial National Kapa Haka festival, now held as one of the premier cultural events in Aotearoa. As well as surging audience and participation numbers, Sir Selwyn has seen Te Matatini become the highest-funded arts service provider - with the $34 million for the next two years announced in this year's budget putting it above the New Zealand Symphony Orchestra.
Sir Selwyn's also been a leading advocate for Māori heritage being held strong - supporting the commemoration of the 28 Māori Battalion and the establishment of the C Company Memorial Museum in his native Gisborne.
Dr Karen Grylls has been elevated to Companion of the New Zealand Order of Merit (CNZM) for her contribution to choral music - having been the Artistic Director of Choirs Aotearoa New Zealand since 1989 and for more than two decades as Musical Director of the New Zealand Youth Choir (1989- 2011), who includes guiding them to Best Mixed Choir at the 2007 Cantonigrós International Music Festival, Choir of the World at the International Eisteddfod and Overall Best Choir at Cantat Grand Prix in 1999.
Grylls has also been a crucial cog in bringing Māori music to centre stage on the choral scene -appointed Kaitiaki of Te Whānau Wehi and Waka Huia in 1999. She is the founding director and Conductor Emerita of the University of Auckland Chamber Choir, established the University's postgraduate choral conducting programmes, serves as co-Artistic Director of the New Zealand Children's Choral Academy founded in 2022, is on the Board of the International Federation of Choral Music and has been a Founding Board member of the New Zealand Choral Federation.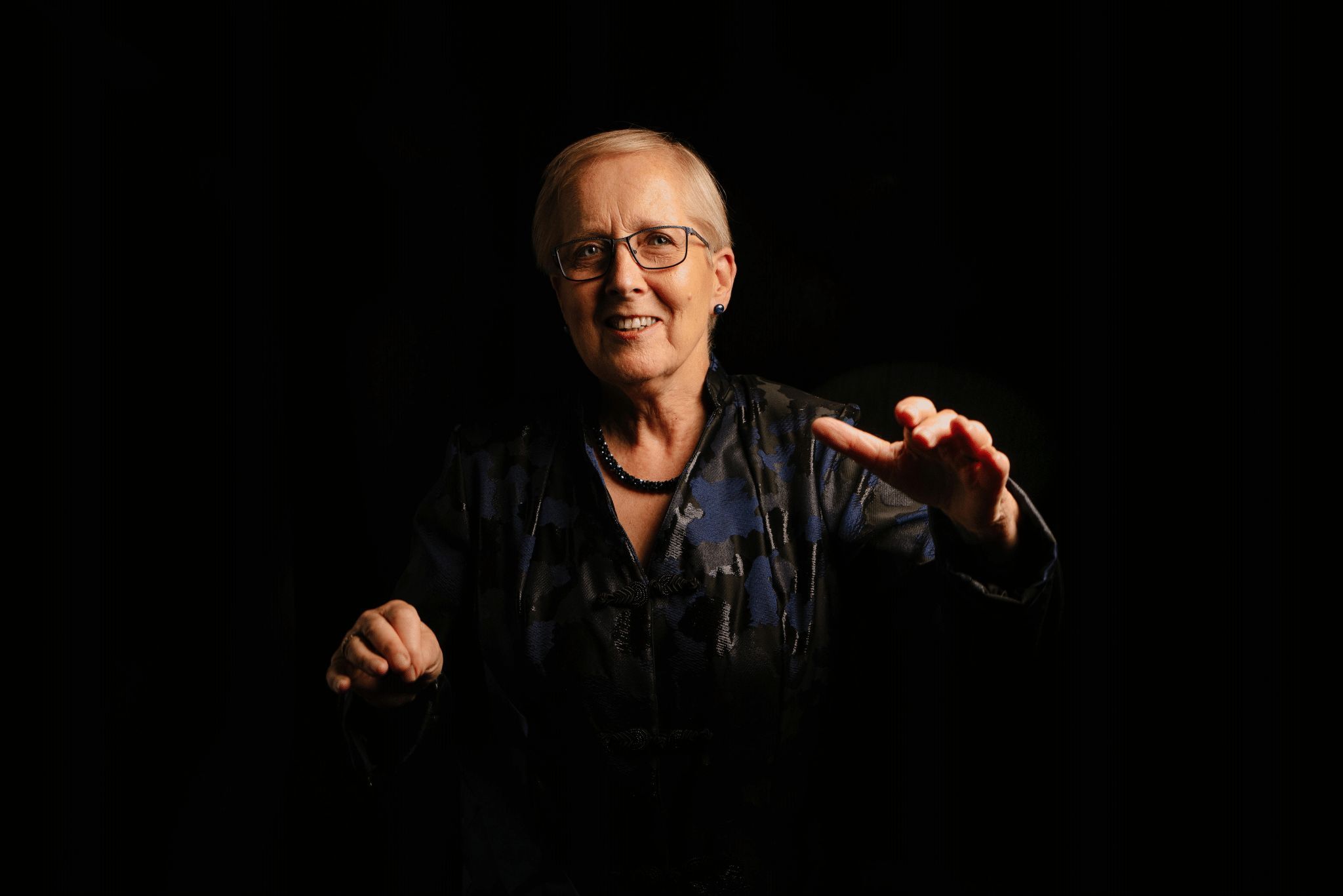 Grylls explains to The Big Idea she is deeply honoured. "I consider myself very privileged to have worked and performed with so many choral musicians and to be a voice for choral music in Aotearoa.
"In receiving this award I acknowledge the many musicians and colleagues who have supported me along the way. I have always been a passionate advocate for the arts. I am particularly passionate about singing, because I believe singing has the capacity to change lives and the voice connects us to our spiritual selves.
"The opportunity to have worked with and trained ensemble singers and conductors over several decades has allowed me to pay things forward. In return, I hope that these young musicians feel empowered to lead and to become global musical citizens themselves."
One of Aotearoa's most respected arts leaders has been made an Officer of the New Zealand Order of Merit (ONZM).
Philip Clarke has put his heart and soul into being an advocate for the creative community for the last 34 years - in particular the craft sector.
An arts advisor with Creative New Zealand and its precursor between 1987 and 2004, Clarke made a crucial impact on the national art scene in helping to establish Auckland's Objectspace - the country's sole public gallery dedicated to craft/object art - serving as inaugural Director for more than a decade.
He continues to uplift the craft community as Chairman of the Blumhardt Foundation, instigating a raft of initiatives that have supported artists, including a fund that incentivises public collections to acquire the works of craft artists.
Clarke is well known for his vocal support for the arts and services as a Trustee of the New Zealand Fashion Museum, the Mansion House Foundation and here at The Big Idea.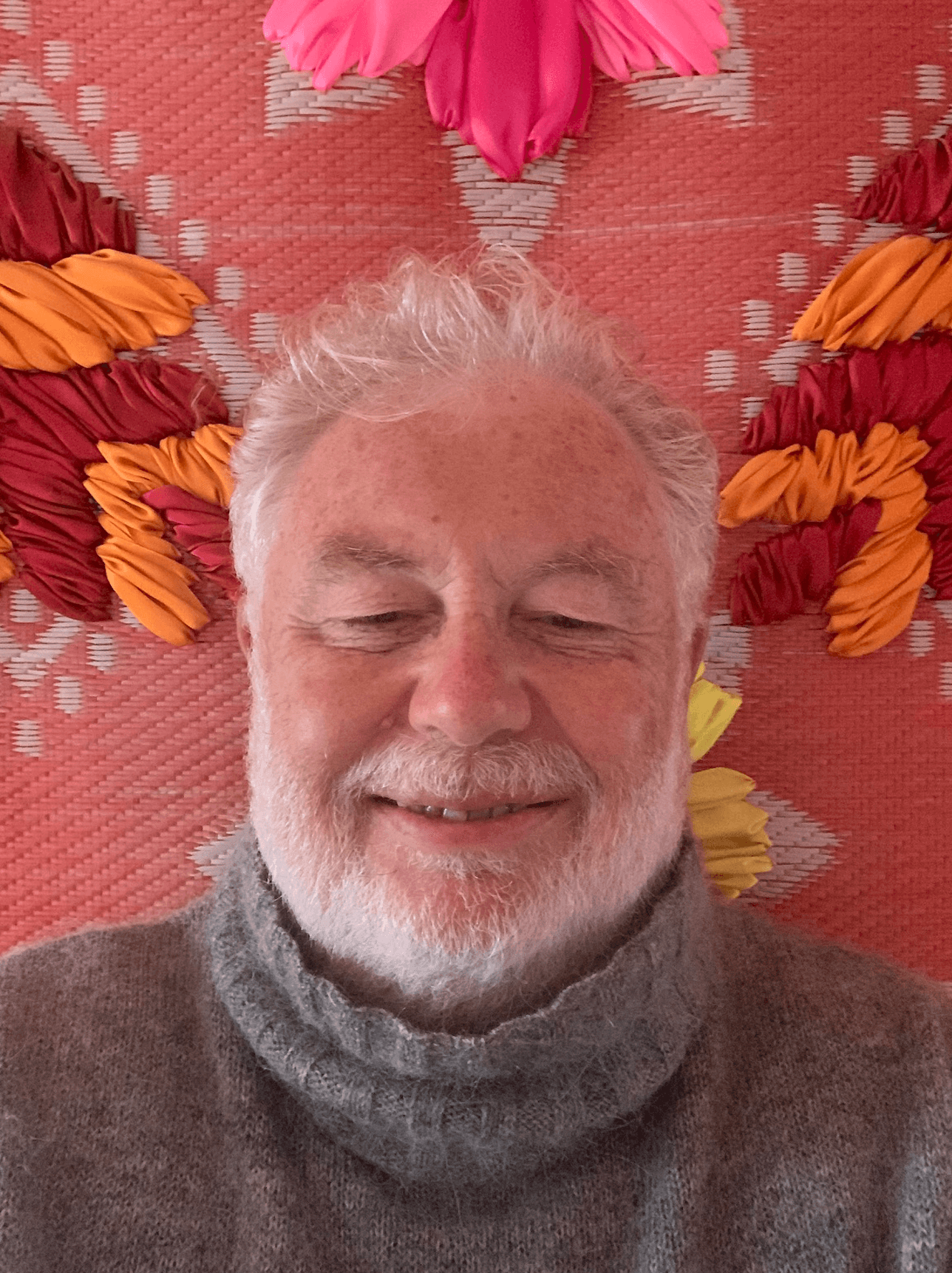 Clarke feels humbled by this latest recognition. "I've always thought of myself as a back-of-house guy, so it was a great surprise to learn that I was to receive an honour. I've been motivated by two things, that large and sprawling thing called art and in particular, my attraction to the handmade. And by a sense of service to both art and the betterment of our society.
"It means a great deal to me that the quiet endeavours of workers in spheres that don't usually attract attention on the national stage, aren't invisible, and are recognised as contributions to our national wellbeing."
Another veteran administrator, Victoria Blood received ONZM recognition for 45 years of service to the creative sector.
Blood has been a driving force for creative industries alliance WeCreate, as Chair of the New Zealand Music Commission and on the Advisory Board of New Zealand Story. After a major career in the UK entertainment industry, her return to our shores led to key roles in the careers of Gin Wigmore. Annah Mac and the early development of Lorde.
Toi Māori is also strongly represented in the ONZM mentions.
Karl Chitham (Ngā Puhi, Te Uriroroi) has also been elevated to ONZM status for services to the arts, particularly Māori art.
A talented artist himself, Chitham is a constant contributor to uplifting the mana of others - serving as a judge for numerous awards across the motu, serving as an advocate as part of Te Roopu Mana Toi, as well as on a number of charitable arts trusts and other advisory roles.
Chitham's curatorial expertise are in high demand, currently as Director of the Dowse Art Museum and Head of Arts and Culture for Hutt City and previously at Rotorua Museum and Tauranga Art Gallery. Among his key accomplishments, his instrumental role in the opening and curating for the Wairau Māori Art Gallery in the Hundertwasser Art Centre in Whangārei, Aotearoa's first dedicated public Māori art gallery.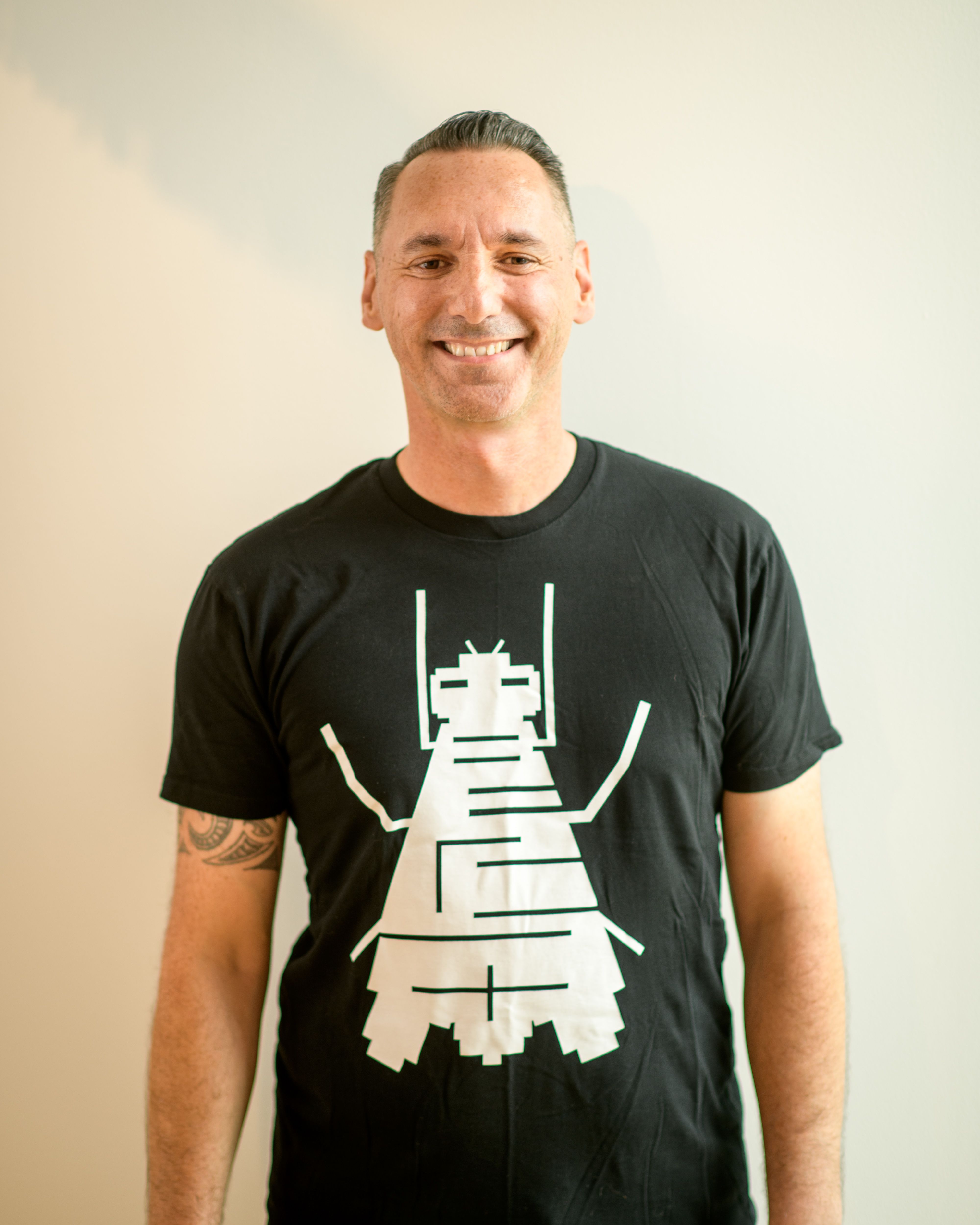 Chitham tells The Big Idea "It is a very surprising honour to be considered for an award like this, particularly as it is nominated by your peers. I feel like I couldn't have done most of what I have achieved without the support of many other people – I see this as recognition of a collective effort. I have had a lot of help and I hope I have helped and am helping a lot of others in return.

"Although there have been many more opportunities for toi Māori to be accessed and seen in recent years, there is still a long way to go. My main motivation in working in the arts, culture and creativity sector is to provide as many platforms to profile the amazing toi being produced and where possible to create pathways for sustainable careers. The more diverse perspectives there are in our sector, the more meaningful the change and innovation we will see.

"I think that every opportunity we have to raise the profile of toi Māori and the arts is significant and we need to make the most of it. There are a lot of people that still need to be recognised for their amazing contribution - but with each honour of this kind, we add more voices to the mix and that voice gets louder."
A lifetime of contribution to the arts has led to another honour for Matekino Lawless (Ngāti Maniapoto, Ngāti Ruakawa, Tainui). Her ONZM for services to Māori Arts is the latest honour for a creative force who has been weaving for more than 60 years.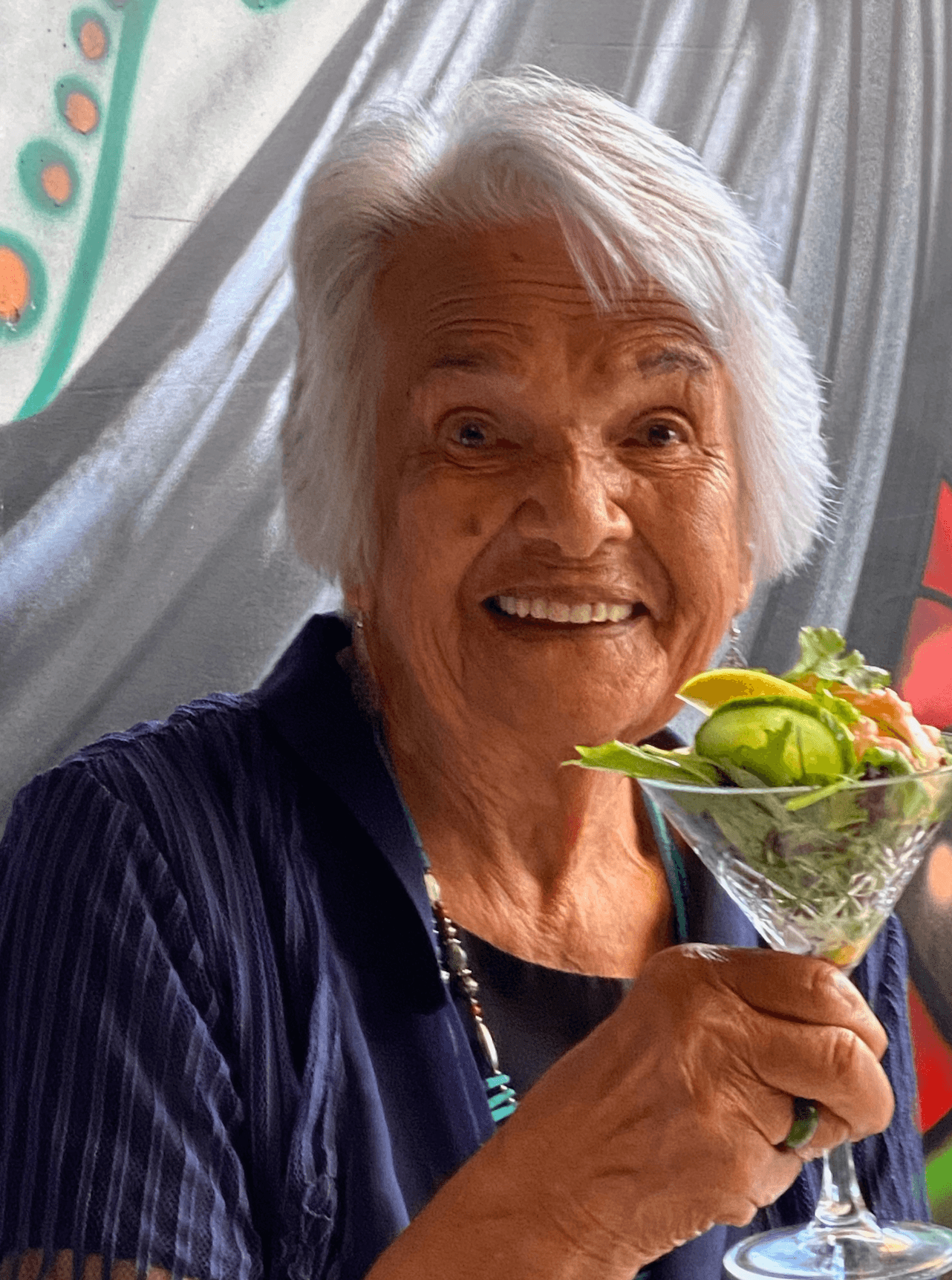 Already recognised with CNZ's Te Waka Toi Supreme Award and Toi Iho Te Ara Whakerei Distinguished Lifetime Award, Lawless was a member of Te Roopu Raranga Whatu o Aotearoa National Māori Weavers collective until 2006 and has since been a founding member of Te Kāhui Whiritoi, an advisory group of senior distinguished raranga artists.
She's toured nationally with her toi - including her first solo exhibition Whatu Manawa and featured in key exhibitions Whiria and the game-changing Toi Tu, Toi Ora at Auckland Art Gallery - as well as numerous exhibitions and residencies overseas, proudly sharing Resident Artists at Evergreen State College in Washington State status with her daughter. Lawless was a contributor to a tukutuku panel installation at the United Nations Headquarters.
Asked about her hopes for her legacy, Lawless told The Big Idea "In my journey, I have been successful in applying what my kuia instilled in me from a young age - all the way through until now. Like my kuia, the art of weaving is not for me to hold - it is for me to share so that it can be passed on to mokopuna for generations to come."
Another of the weavers who contributed to the UN Headquarters project, Jim Schuster (Te Arawa, Ngāti Pikiao, Ngāti Hinekura, Tuhourangi, Ngāti Wahiao, Ngāti Tarawhai, Tuwharetoa, Ngāti Umutahi) is also being celebrated for services to Māori arts and heritage preservation. The renowned carver, kowhaiwhai painter and tukutuku weaver has contributed to the restoration of numerous marae and wharenui of regional and national significance, recently completing work on the former Māori Affairs Committee Room at Parliament. As kaitiaki of all three whare whakairo (carved houses) located overseas, he has advocated for the protection and restoration of buildings of international significance.
Dr Rangi Te Kanawa (Ngāti Maniapoto) has been awarded an ONZM for services to Māori art and heritage preservation, particularly as a recognised exponent of raranga and whatu, the Māori art of weaving. As well as working as having worked as a textile conservator at Te Papa, she advises on the treatment and consolidation of degraded black fibres in Māori textiles, which has had a significant impact on museum practice.
Also included is Dean Whiting (Te Whānau ā Apanui), the Kaihautu Māori / Director Māori Heritage for Heritage New Zealand and for more than 20 years, former board member of CNZ and the Project Conservator at Te Papa.
Doug Hood is another of the new ONZM members - with his service to the music industry beyond question.
Dating back to his time as the sound engineer and manager of The Enemy/Toy Love in the '70s, Hood went on to help sculpt the Dunedin Sound as part of Flying Nun Records.
As well as working with the likes of The Clean, Chills, Bats, Verlaines, Sneaky Feelings, Headless Chickens, The Able Tasmans, Netherworld Dancing Toys, and Dance Exponents, Hood's mentoring and advocacy for local bands has left an indelible mark. He also played a key role in changing the entertainment landscape in this country, part of founding the Big Day Out.
Another music veteran June Williamson - who performs under the stage name Linn Lorkin - is recognised for her services as a piano, jazz and cabaret singer/songwriter with a music career spanning several decades.
Sandra Morris is another toasting her latest achievement - her ONZM for services as an illustrator and to education.
Morris is both a leading exponent and mentor for many of the country's illustrators - winning the Russell Clark Award for illustration with her first book One Lonely Kakapo. Her passion for botanical art and helping educate others, as well as her conservation efforts have left a lasting impression of many communities in Aotearoa.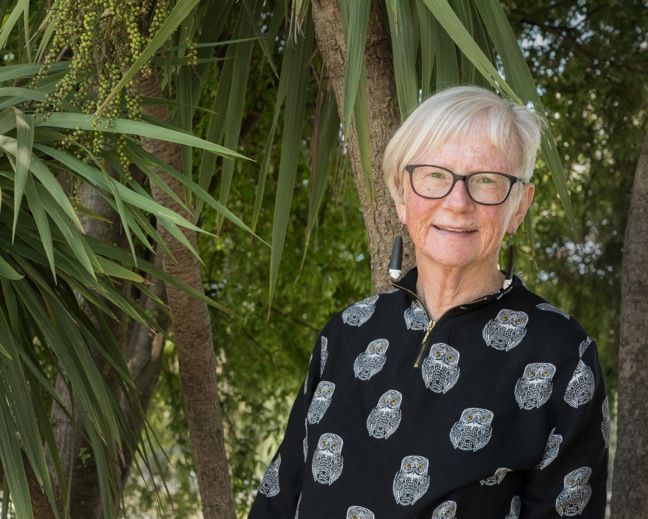 She tells The Big Idea "What a huge honour to receive recognition for my work in the illustration field as well as in education. To me, it's a wonderful acknowledgement of the incredible effort and thought that every one of us as illustrators puts into our children's books. I still think we have a long way to go in New Zealand in recognising the skill involved and the enormous responsibility we take on board as children's book illustrators. Not only do we have to be true to the story but we have to extend it and subtly manipulate our reader by means of clever use of character, composition, scale, colour, space and pace of the story. We don't take this responsibility lightly. For an illustrator to be acknowledged in this way is affirming for all of us in the field of children's books.
When I started working in the field of botanical illustration there were only one or two other botanical artists in New Zealand that I knew of. It didn't feature much on the art scene of NZ. Subsequently the Botanical Art Society of NZ was developed and membership has grown throughout NZ with subgroups in many areas and art exhibitions throughout the year. As part of the steering committee for the Botanical Art Worldwide exhibition in 2018 and now 2025, I am proud to see how NZ botanical art has grown and is right up there on the world stage.
Also, to be acknowledged for my work in the education sector- particularly in community education, is affirming. I believe community education is a life saver for so many people- women returning to the workforce after having a family, or people wanting to learn a new skill- so important for the older generation, plus providing a place for social interaction for those who might be feeling isolated or in need of a particular peer group. It's a wonderful feeling as a tutor to find you have made a difference to someone's life. All these factors and more make community education so important and in need of support.
To have received an award for these activities I have been involved in since my graduation in 1975 gives me hope for a better recognition to come in New Zealand, for children's books, botanical art and community education."
Qiane Matata-Sipu (Te Waiohua, Waikato, Ngāpuhi, Ngāti Pikiao, Rarotonga, Mangaia) has an ONZM for services to the arts after two decades of impact an an artist, journalist, photographer and social activist who has contributed significantly to Māori and Pasifika self-determination. Among her many achievements in this space is her role as author and publisher of NUKU: Stories of 100 Indigenous Women and as co-founder of the SOUL Protect Ihumātao campaign.
As part of her ONZM worth deeds, Nicola Saker (Te Atiawa) was involved in the campaign to save St James Theatre in the 1980s. Since then, she has served as a BATS Theatre Board member, Trustee of the New Zealand Festival of the Arts. President and Chair of the Katherine Mansfield Birthplace Society.
Rod Baxter's ONZM for services to youth includes recognition for his efforts as Project Coordinator for several Wellington City art projects, transforming illegal tagging into iconic legal street art.
Anna Rogers's reputation as a book editor, contributor to radio and writers' festivals earned over 45 in New Zealand for 45 years has also been recognised, while investigative journalist Nicky Hager's often controversial findings have gone from the centre of government inquiries to being honoured by the crown. Fellow author Chris Maclean's nod for services to conservation and publishing includes his 15 books on history and Aotearoa's great outdoors - and former National Librarian Sue Sutherland has been recognised for her significant contribution to the modernisation of library services in New Zealand.
Maggie Eyre has many strings to her bow in being honoured for services to business and the community, including helping to grow the Auckland-based Theatre Corporate resource centre and the School of Performing Arts centre, where she was a director, as well as being a member of Women in Film and Television. An ONZM is well received by Lyn Milne as well - having spent more than 20 years supporting young musicians and contributing to the arts in New Zealand.
Kendal Collins's efforts in running well-being and creative programmes for Māori and Pacific young women, to develop resilience, self-esteem and body positivity have also been included in the ONZM list, as has Sherilyn Hall for her 50 years of devotion to Highland dancing, Charlotte Lockhart for her efforts that include philanthropic contributions to Te Papa Foundation, Rob Tucker for services to photography and the community, Murray Warrington for more than 60 years of service to community and national brass bands.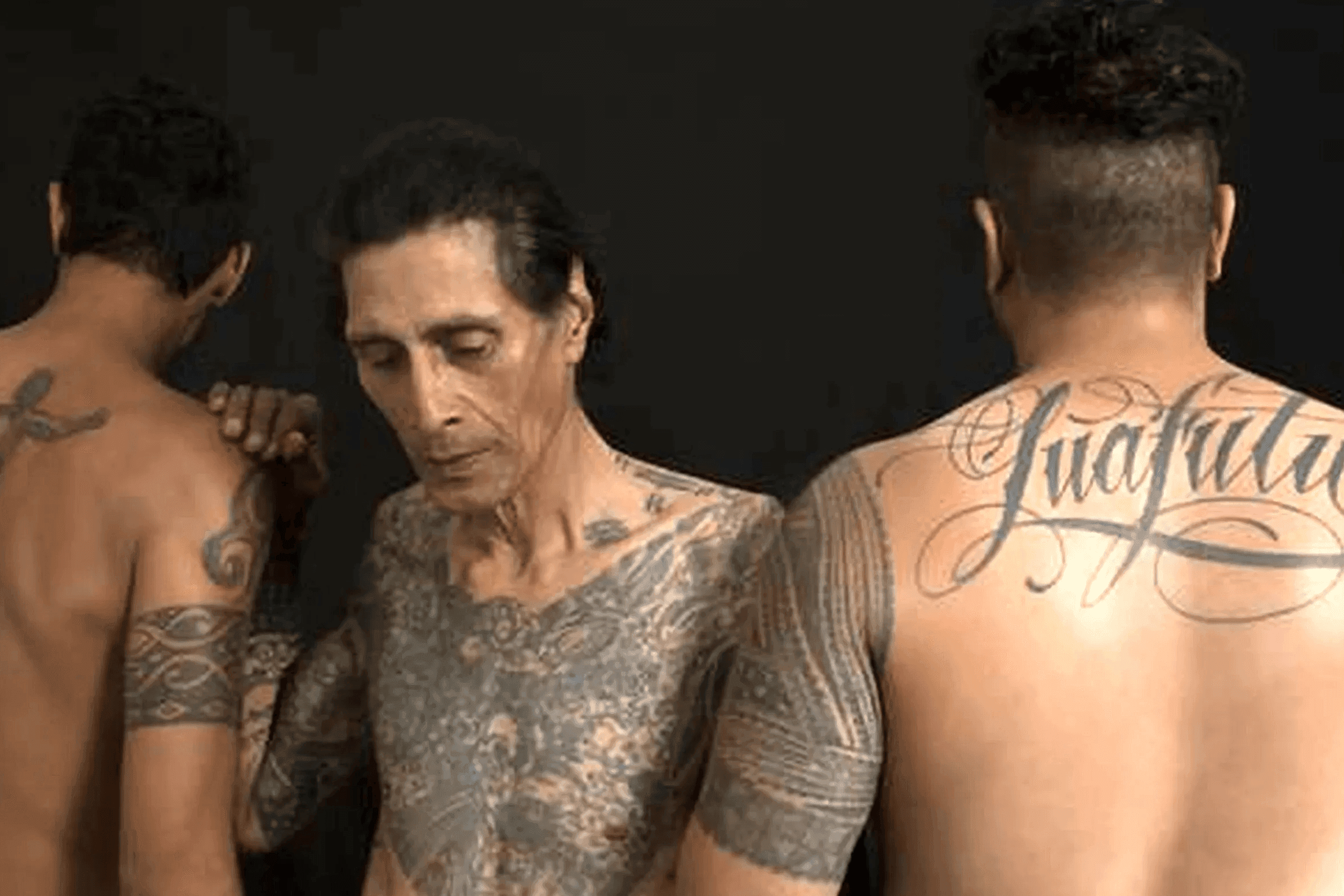 Made an Honorary Member of the New Zealand Order of Merit is Fa'amoana Luafutu (above)- the inspiration behind the acclaimed A Boy Called Piano body of creative work with producers The Conch - for services to arts and the Pacific community.
His story - and reaction - is a poignant one, which he has shared here on The Big Idea.
Despite the King being the new monarch, the Queen's Service Medal (QSM) is still in place - and is where may grassroots community leaders get some long over due recognition.
Among those named is Ōtaki local hero Rod Graham for services to the community. A founding member of the Ōtaki Pottery Club and President for 22 years. He also played roles in the Festival of Pots and Garden Art, Matariki Star Glaze festival and community Raku firings, all with the aim of promoting the craft on the Kāpiti Coast.
Karen Knudson QSM has been a significant contributor to choral music in Dunedin for more than 30 years in a host of roles, including as Musical Director of the Dunedin RSA Choir and on the double bass for the Dunedin Symphony Orchestra.
The Otago arts scene is the richer for Robyn van Reenen, who now has a QSM to go with reputation for co-ordinating the annual Wanaka Autumn Art School for the last 30 years. Throw in Secretary of the Wanaka Arts Society, founding member of the Wanaka Patchwork Club, Chair of the Upper Clutha Community Arts Council, part of the National Association of New Zealand Quilters' Committee, member of textile artist group COOTS (Central Otago Outside the Square) - and her contribution is clear.
Involved with the pipe band community since 1958, Jillian Vincent has done much to be acknowledged with her QSM - a life member of both the Canterbury Centre of the Royal New Zealand Pipe Band Association and the Royal New Zealand Pipe Band Association.
Ngaio Lewis has a rich history of charitable fundraising, among many that have benefitted has been the Raukatuari Trust music therapy course for children with special needs.
Another veteran of her craft, Glenys Scandrett has more than 65 years as a classical ballet dancer, choreographer and teacher under her belt. Many graduates of Invercargill's Scandrett Dance Academy have gone on to become professional dancers, choreographers and teachers.
Congratulations and ka rawe to all those honoured for their contributions to making Aotearoa and the creative community a better place.