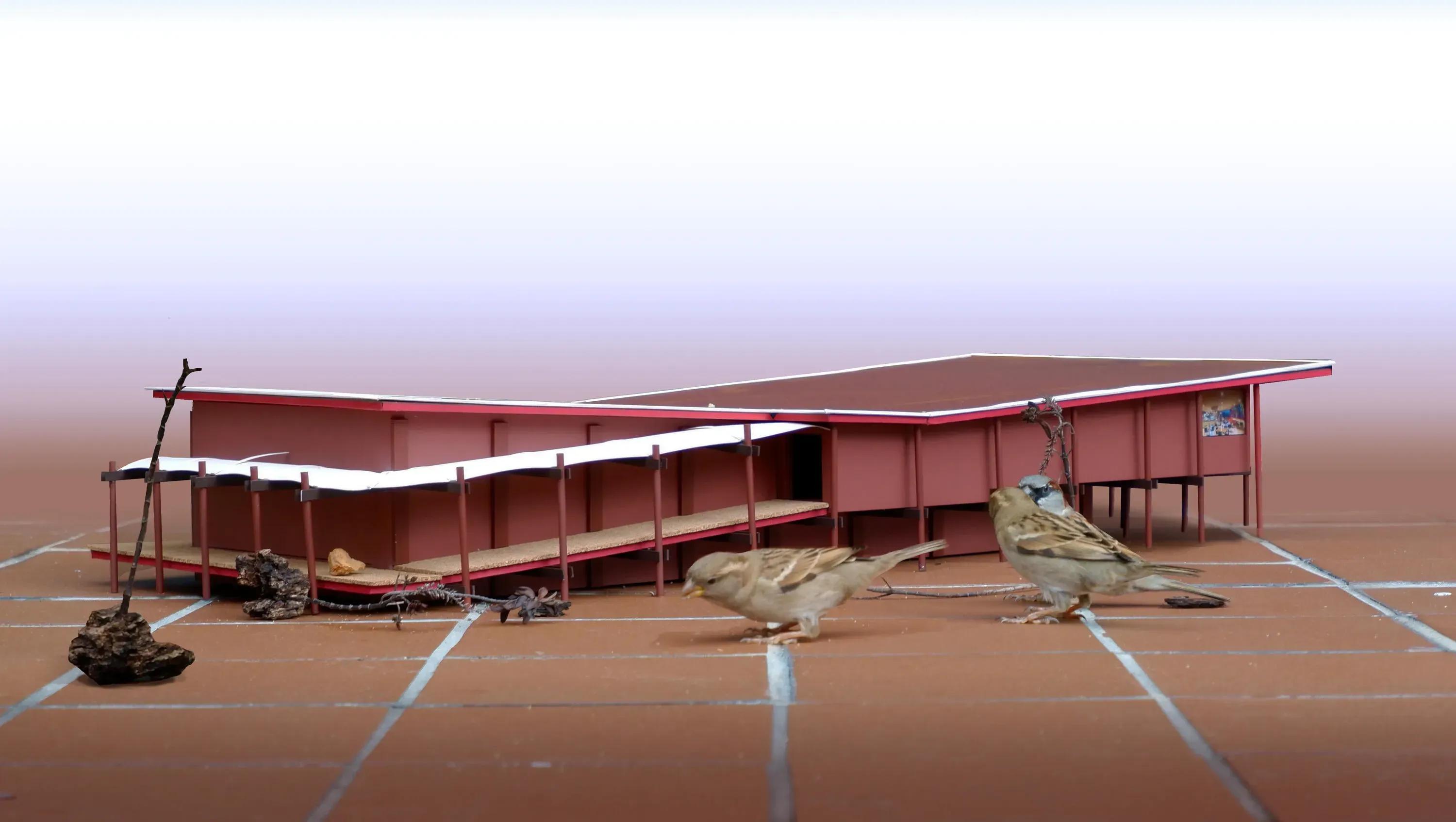 Everyone knows the last two years have been challenging - and they've had a huge impact on many creative practices.
Now imagine if that monumental impact hit during the crucial, formative years of your artistic education.
Many of the students in the creative fields at the University of Auckland have spent the majority of their current courses at the peak of the pandemic.
It may have been the most challenging conditions faced by students in generations - but these University of Auckland soon-to-be-graduates are proof that such times can still be fruitful.
It's taken great resilience - and after years of exhibitions being forced online or cancelled, there's a renewed energy and optimism with this year's graduating students grateful for the opportunity to be able to showcase their work.
The Creative Futures Exhibitions (25-27 November) will be on display at the University of Auckland's City Campus, featuring work and research from graduating students from the disciplines of Architecture, Urban Planning, Urban Design, Fine Arts and Design.
Arts Voices is a series where creatives of Aotearoa share their thoughts on important issues in the sector - and we've posed the following question to some of the contributing artists - How has studying through the pandemic influenced your creativity – and has this been reflected in your exhibited art work?
Their answers offer an insight into what it takes to make the last few years work, the importance of this opportunity to show their mahi, and their excitement about entering the next phase of their artistic career.
Rosaleen Turley
A Hastings born multidisciplinary artist who came to Tāmaki Makaurau to study at Te Waka Tūhura Elam School of Fine Arts and Design, working between sculpture and object-making as well as painting.
Studying through the pandemic taught me how to work with fewer materials to greater effect, and to be more improvisational.
My Hastings bedroom conveniently has white walls - so during the Delta lockdown, I moved out all of my furniture and installed my final textile works, documenting the install for remote examination. I don't think my parents appreciated all of the nail holes.
I will be showcasing a series of abstract, colour rich paintings on plywood supports with timber hanging systems that give the work a floating quality. I am inspired by both impressionist and expressionist styles of painting and follow closely the work of contemporary New Zealand-born painters such as Emma McIntyre and Stella Corkery.
My paintings can be read as studies in colour and gesture. I work with house paints because I am drawn to their ready-made colours and gorgeous liquid-plastic quality. House paints are fast-drying, forcing me to work quickly and I feel as though I don't have to be precious with them. I enjoy the fast-paced, intuitive and iterative making process that painting lends itself so nicely to.
After I graduate, I intend to stay in Auckland and continue to develop my practice from a home studio if I can, and to work to save money to travel. As a New Zealander but also as an artist, there's an itchiness to get out and see the rest of the world.
Master of Architecture (Professional) student at Te Pare School of Architecture and Planning who grew up in Wellington in his dad's metal fabrication workshop. Returned to Aotearoa from overseas due to COVID-19.
I have always been interested in physical models as a means of representation. Working from home meant that the image was prioritised over the physical - which meant I began to think of these models not as objects but as 'scenes'.
This had a direct influence on this thesis, which works predominantly with film.
Zoom was definitely a challenge - and a detriment to studio culture - but I was fortunate to be surrounded by creative people of other disciplines which helped widen the scope of my projects.
The OOZE is my thesis. It is a fictional story that takes place in my home town, Pāuatahanui. It tells of a suburban sprawl monster (above) that takes over the town before being repelled by the residents.
The story is told through three short films and several physical models. The work asks what can architecture contribute to an urban fabricate that is becoming increasingly fraught with social, cultural and environmental issues, and is there a way of communicating these ideas more effectively?
Studying towards a Bachelor of Fine Arts (Honours) at Te Waka Tūhura Elam School of Fine Arts and Design. Of Tongan (Vavau; Neiafu, Pangaimotu, 'Utulei, Makave. Tongatapu: Kolofo'ou, Longolongo. Niuafo'ou), Samoan (Savai'i), Māori (Waimā and Te Awamutu), and European (Scandinavia) descent.
With the pandemic, I must admit it was very difficult for me creative wise. Last year was especially difficult because I had family members who were sick and in hospital, and I had to care for them while also attending University. I couldn't give it my all because it was very stressful and overwhelming.
This year, I've been unable to visit Elam as frequently as I would like because I've been caring for family members. However, I set up a photography studio at home, which has allowed me to be very creative while also caring for my family.
As you can see, family is very important to me, and this is the concept of my final work - whakapapa.
I am a mother and my journey of learning about whakapapa has been for my son. I started at Manukau Institute of Technology and have been blessed with the opportunity to complete the rest of my study at Te Waka Tūhura Elam School of Fine Arts and Design.
I spent a year passionately researching my whakapapa in the hopes of connecting with my ancestors and the history and culture I was disconnected from. For many years, I have felt a depletion of my mana due to the loss of family members, health struggles in my family, and worldly events we are all currently facing.
Nafanua. Photo: Siniva Williams.
I seek to replenish and refine this mana with the guidance of my ancestors and their connections to the Atua (Goddesses). I was originally inspired by a painting by Lindauer of Tamati Pehiriri, a chief from Ngāpuhi who embodied mana. In my research, I discovered he was my fifth great-grandfather.
Gazing upon this painting - I felt his spirit and mana. I wanted to be able to breathe life into my final project just like how I felt when I first saw his visage. I have felt my ancestors help me through my entire art journey and this - in itself - is a taonga (treasure).
It has been an arduous journey, especially in the last couple of months, but I am grateful for the love and support from my whānau, friends, and those who believed in me.
After this degree I plan to focus on my family, myself, and be a self-employed artist. My future ambitions are to represent New Zealand in the Venice Biennale, and to own my own studio where I can do my own style in photography.
A third-year Bachelor of Design student interested in using innovation to create a more equitable and inclusive world.
Working through the pandemic has had its ups and downs.
I started this degree in 2020, right when the first lockdown started. Being at home constantly made me repurpose different materials I had lying around for my University projects.
However, the irony soon wore off. I found it frustrating that we couldn't access the tools in the Fabrication Lab on campus. Although I had difficulty keeping motivated through the continuous lockdowns, I had enough time to make more clothes of my own. This time led to my passion for my final project and my understanding of the importance of well-fitting clothes. I began viewing clothing differently.
The clothing industry needs to do more to ensure everyone is considered throughout the design process. Ever since I was a child, I have been fortunate enough to use clothing as my main form of self-expression. It made me feel unique, empowered, and, most of all, me. However, this project came about when I saw the frustration of people with disabilities not finding clothing that met their functional, expressive and aesthetic needs.
I realised the thing that made me the most confident wasn't accessible to everyone, and it made me want to bring about change. Although I knew adaptive clothing existed, it tended to be boring, basic and expensive.
My final project is a website platform for people with disabilities to buy, sell, make, and adapt clothing whilst also being able to socialise with others within this community. I hope to open the eyes of customers and the clothing industry, proving that clothing isn't straightforward and that the clothing produced to date needs to serve our whole population better. They say everyone is unique in their way, so why can't clothing be?
My ultimate plan after I graduate is to find a job in the design industry and start working my way up the ladder. But for the moment, I want to enjoy summer and continue my part-time job as a sewing tutor.
A third-year Bachelor of Design international student interested in world-building and interacting with emerging technologies. For the Creative Futures Exhibitions, Cynthia is working on a STEM kit that combines play and technological exploration alongside indigenous narratives as a means of cultural exchange.
In high school, I often went home to see my family. However, since the pandemic started, I couldn't go home due to border restrictions. I haven't seen my family for nearly three years now.
I tended to get homesick during the lockdowns because I lived alone in Auckland, so I always returned to my host family (from high school) in Cambridge. Being isolated alone can be very challenging, and I value interacting with other people. When I brainstormed ideas for my capstone project, I wanted to create activities involving group activities where users can keep each other company while learning and help each other out and bounce ideas off each other.
Studying through the pandemic has been challenging at times. With help from my host family, friends and University staff, I overcame the challenges and moved on. I felt very grateful for their help and support over the last three years.
I'm creating a STEM kit for children aged 8-12 with nine sets of mortise and tenon joints representing the nine stars of Matariki. Mortise and tenon joints are sets of blocks that are joined together without any glue. They are usually strong and can withhold expansion and contraction due to temperature changes. Many countries have different types of mortise and tenon joints techniques for architecture and furniture. The joint shapes and techniques used in my project are from ancient China.
Through interacting with the kit and reading the instruction sheets, children will be able to learn about Matariki as well as develop their puzzle-solving skills.
The kit I've created takes work. Some students may find it quite challenging! Through interacting with the equipment and trying to overcome the challenges, I want the students to learn to be brave, ask for help and persevere in problem-solving.
Written in partnership with Waipapa Taumata Rau University of Auckland. The Creative Futures Exhibitions (25-27 November, 10am-4pm on City Campus) include the Elam Artists Graduate Show, ReDesign Graduate Show and Modos+ Te Pare School of Architecture and Planning Show.