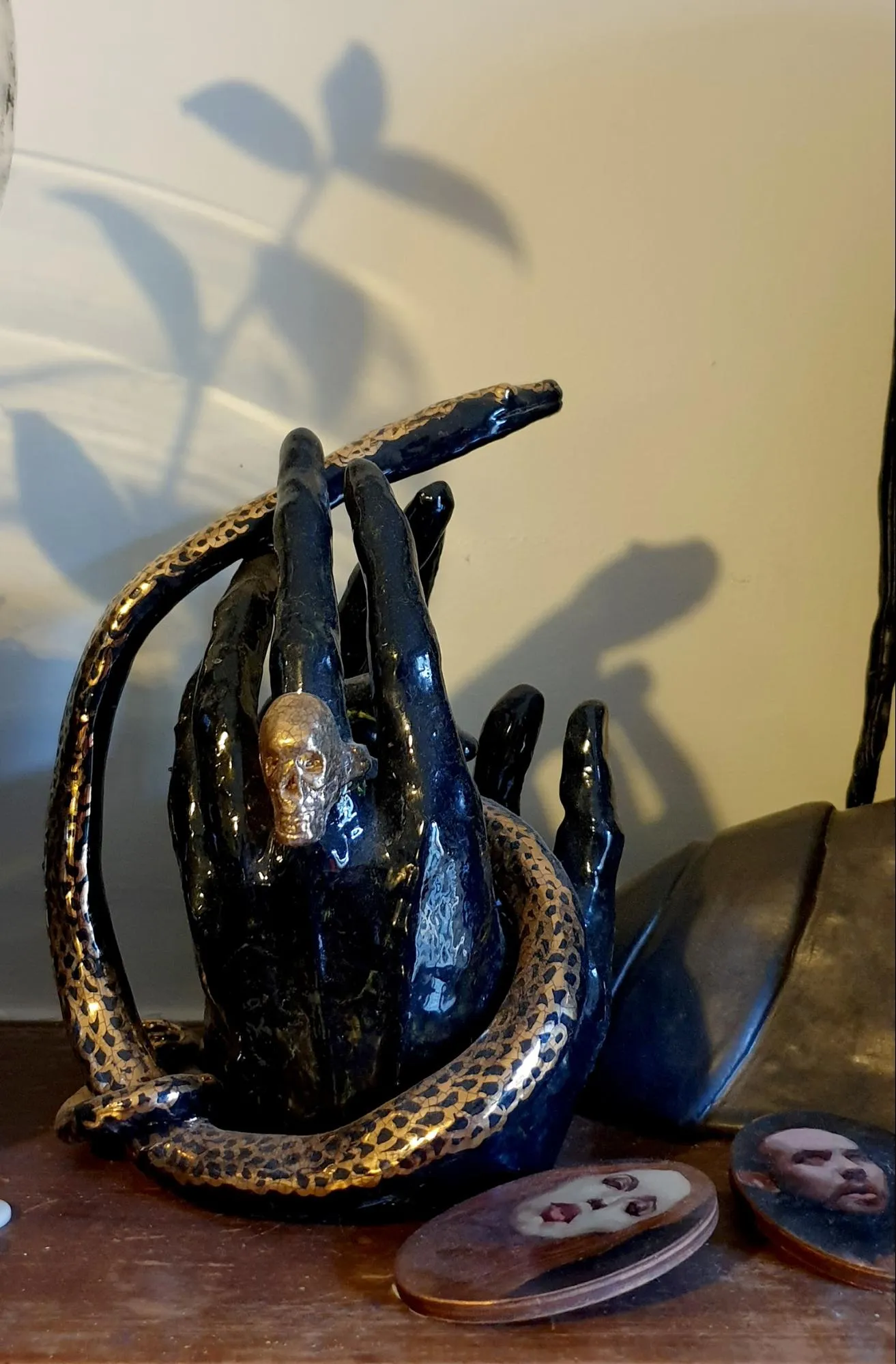 The doors to many of our favourite galleries and exhibitions are finally opening again. But the lockdown has opened our eyes to the curiosity of closed doors.
Whether it's a glimpse through a Zoom call or bubble photos on social media, what creative people choose to surround themselves can prove an inspiration to others.
Our 'House Visits' series takes you into the homes and working spaces of people in the creative world, to see what they have collected on their travels, what it means to them.
John Pusateri - Auckland
As the director of Auckland Print Studio and an artist, I work in a studio away from home – it's really the place I get things done.
I enjoy collaboration and process. On the one hand, I'm graining a slab of limestone, etching, tearing paper, mixing ink and pulling prints. This is absorbing and meditative. And on the other, I'm working collaboratively with artists, searching for the technique that is appropriate and conducive to their practice. This is a great joy and one way I gain creative energy and momentum.
With isolation from colleagues and no studio, I have taken pleasure in family life and spending time with my wife, our 3.5yr old son and 7-month-old daughter, the dog and cat not to mention the various jarred creatures – currently, 4 pet snails.
I have tried to capture the joy of process at home. We've started collecting and curing olives from our backyard tree and making terrariums to see what grows. Collaborative paintings were made with homemade corn-starch-paint on the sidewalk and fence, and sculptures have been in Lego and playdough.
And while I haven't been able to find the right time and space to be productive at home, I am luckily surrounded by work from artists I've collaborated with or aspire to.
The Tour Begins
Andrea du Chatenier's Snake Charmer (detail) (Ceramic from Seed Gallery) is one of my favourites. Andrea's work is inventive and exciting and nicely balances texture and form. The two portraits by Duncan Pepe Long (oil on copper from Seed Gallery) are small but detailed and beautiful. They remind me of how evocative an image can be, regardless of scale.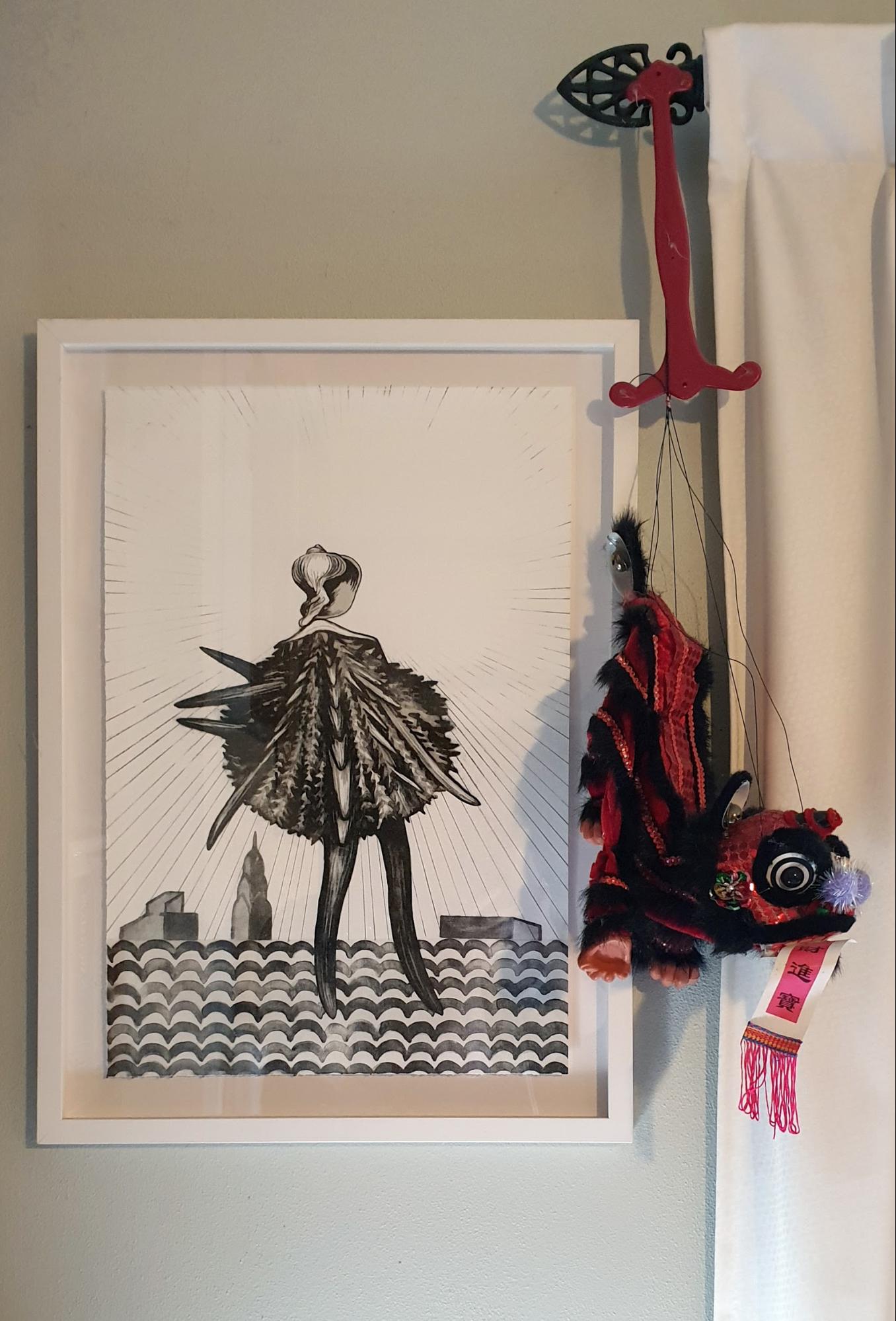 Julian Hooper's lithograph, Maryanne Uptown, is the very first print published by Auckland Print Studio back in 2009.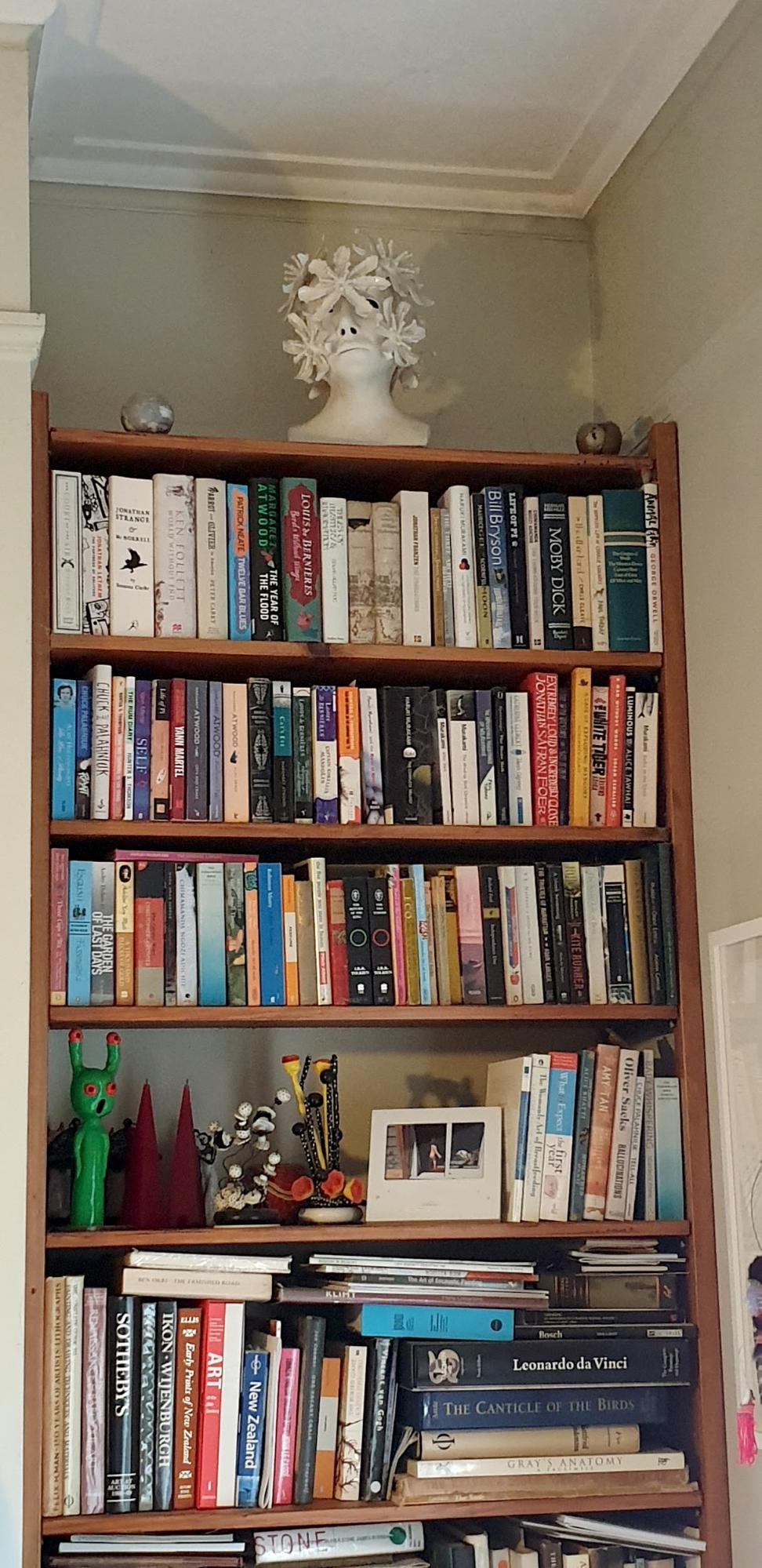 For us, books are a staple, and while the shelves are always crammed, we like to put works here too. Andrea du Chatenier's Skinbloom (Seed Gallery) sits atop the self, next to an industrial-looking hollow wooden sphere by Philip Trott and a beeswax apple by Tiffany Singh.
Our art collecting concerns have also developed to match our son's interests, hence Mark Rayner's alien ceramic work (Seed Gallery).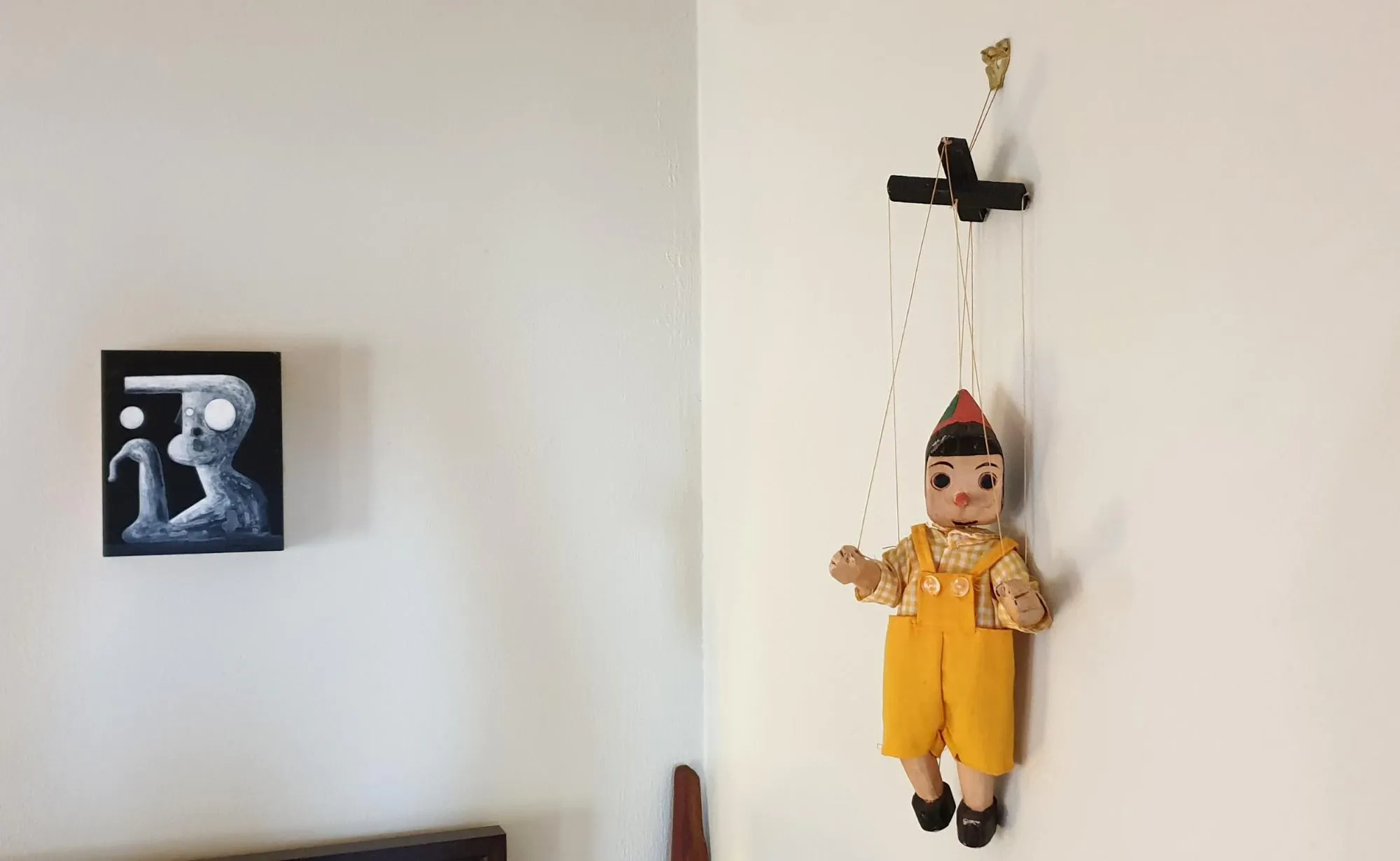 This small acrylic painting, Soft Rock, by Mark Braunias (from the former Bath Street Gallery) has an exquisite matte surface and a great composition. The work reminds me of the time I spent watching mark working in the print studio and of Mark's prolific form-making ability and mastery of any given medium.
In addition to artwork and books, my wife and I like to collect toys from our travels, such as the Pinocchio marionette from Naples and the black lion dance puppet from Taiwan. We look forward to being able to travel again in the future, though maybe more locally for a while.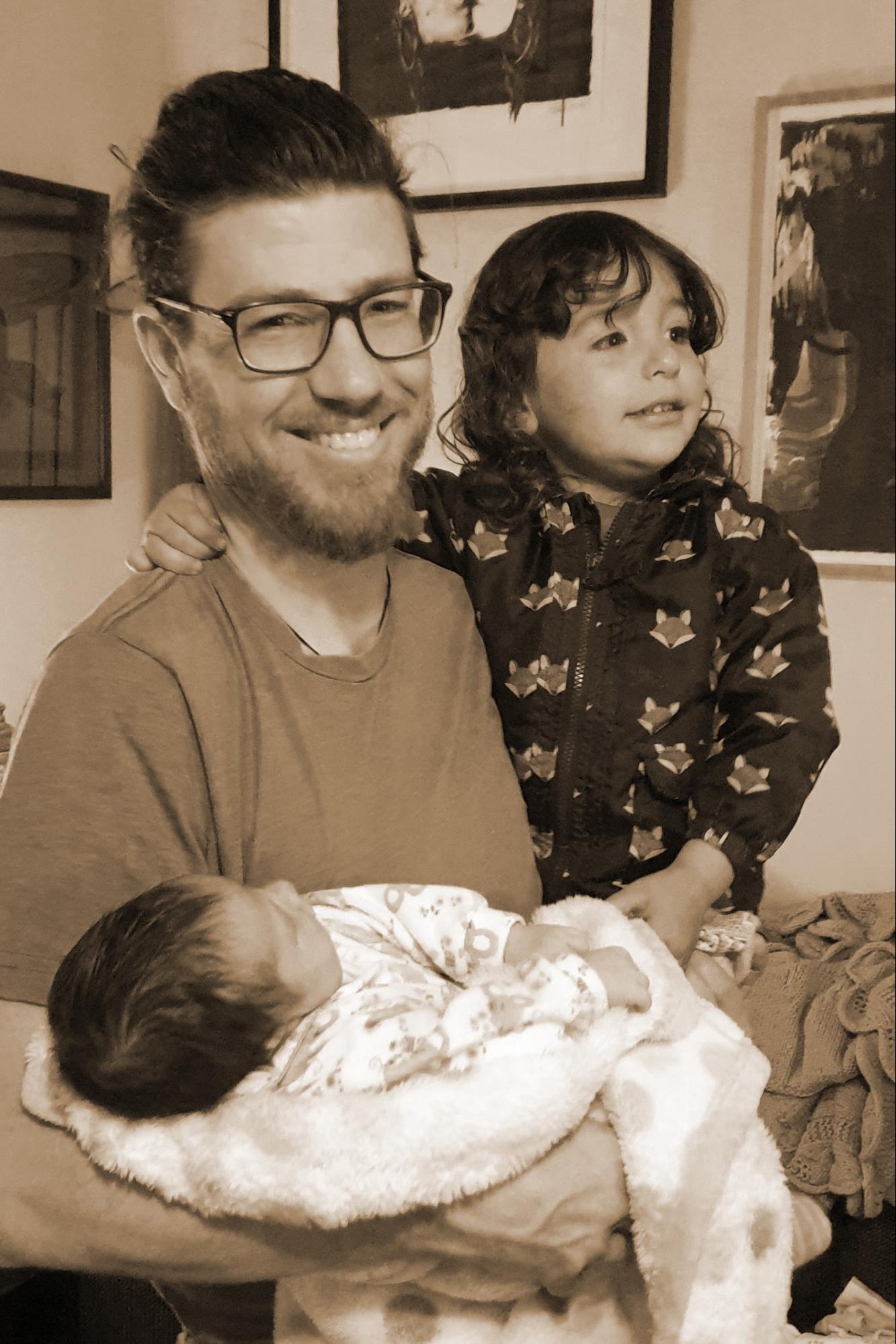 Ultimately, I am reminded of conversations and the many different ways of working when I look at these pieces. Each piece has its own story, and they remind me of the people that created them; in this way, I feel that our bubble wasn't isolated after all.
Images include works by:
Julian Hooper, Maryanne Uptown (2-colour lithograph from Auckland Print Studio)
Mark Braunias, Soft Rock (acrylic on panel from Bath Street Gallery)
Andrea du Chatenier, Snake Charmer and Skinbloom (Ceramic and Porcelain, respectively, from Seed Gallery)
Duncan Long, (small portraits on copper Seed Gallery)
Mark Rayner, alien (Ceramic from Seed Gallery)
Also included is a Pinocchio marionette from Naples and a black Lion dance puppet from Taiwan