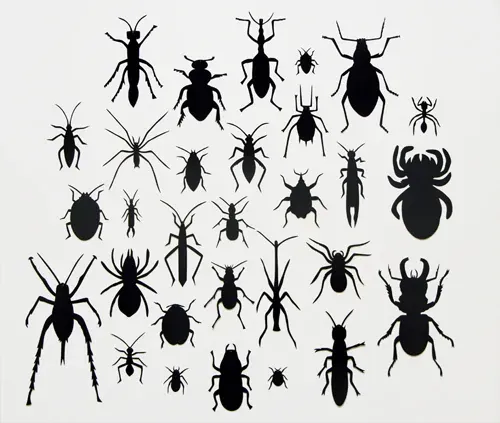 Bugs, Beetles and Butterflies at TheNewDowse examines how artists are inspired by the creepy-crawlies of the natural world.
Bugs, Beetles and Butterflies at TheNewDowse examines how artists are inspired by the creepy-crawlies of the natural world.
Opening on 6th November, the exhibition features insect-inspired works by prominent New Zealand artists including Richard Killeen, Elizabeth Thomson, Joanna Braithwaite as well as jewellery by Steph Lusted and Tania Patterson. A highlight will be Peter Madden's collection of hand painted (but real) flies.
The international centrepiece is the New Zealand premiere of Glowing Pathfinder Bugs, an interactive digital artwork involving virtual bugs on a real sandpit.
Glowing Pathfinder Bugs was created by Anthony Rowe, Gaz Bushell, Liam Birtles and Chris Bennewith (currently teaching at Massey University, Wellington) of Squidsoup and was originally commissioned by the Folly Gallery in the UK for its Portable Pixel Playground.
The work encourages a simple form of animal husbandry; a sense of 'looking after', controlling and caring for the bugs. It uses equipment and technology first designed to track human gestures in an attempt to blur the boundaries between the real world and virtual space. Because its computer-generated bugs are aware and responsive to their surroundings, the work is highly interactive. There is a strong sense of communication between bug and visitor, with children able to control the bugs' surroundings.
Bugs, Beetles and Butterflies demonstrates the links between natural sciences and the arts, allowing visitors to delve into both the beauty and the detail of the creatures that surround us. Coinciding with the exhibition is the opening of a new visitor lounge. This will be home to a changing programme of exhibitions and will include interactive activities for children, a reading corner and plenty of comfortable seating. The existing downstairs lounge will be turned into an exciting new gallery space, opening with Billy Apple's The Bruce + Denny Show on 20th November.
About Squidsoup
Squidsoup's work combines sound, physical space and virtual worlds to produce immersive and emotive headspaces. The company aims to allow participants to take active control of their experience. It explores the modes and effects of interactivity, looking to make digital experiences that provide meaningful and creative interaction.
Anthony Rowe, creative lead and Squidsoup founder, is also Associate Professor of Interaction Design at the Oslo School of Architecture and Design (www.aho.no). Gaz Bushell is the main programmer at Squidsoup, and also Lead Programmer for a digital marketing company specializing in viral games. Chris Bennewith is the visual designer at Squidsoup, and also Associate Professor, Head of the Institute of Visual Communication at Massey University, Wellington. Liam Birtles is Senior Lecturer in Digital Media Production at Arts University College Bournemouth.
Squidsoup's work has been shown at numerous festivals, seminars and galleries around the world including the ISEA (Belfast, Northern Ireland 2009 and Nagoya, Japan, 2002), the V&A (Late at the V&A, London, October 2008), Graphite (Perth Australia, Dec 2007), Late at Tate Britain (April 2007 and May 2006), Future of Sound (SAGE Gateshead and Goldsmiths London, early 2007), Cybersonica (Dana Centre, May 2006), Festival du Nouveau Cinéma (Montreal, 2004), Lab3D (Cornerhouse, Manchester, 2003), SONAR (Barcelona, 2001) and SIGGRAPH (LA, 2001), as well as several online exhibitions. Recognition includes an EMMA (Best On-line Art 2000) and a BAFTA nomination (Interactive Arts 2002).
Grants, project commissions and collaborations from (among others): Technology Strategy Board (2008, 2009), Oslo School of Architecture and Design (2009), ETHZ/Horao (2008), Folly (2008), Future of Sound (2007), Cybersonica (2006-8), Arts Institute Bournemouth (2006-7), Arts Council England (2003,5), NESTA Futurelab (2002-7), Clark Digital Bursary (2002,4), Bristol Old Vic (2004), Cornerhouse (2003), Watershed Media Centre (2002,4,5), Mobile Bristol (2004), Storey Institute (2003), Surrey Institute of Art and Design (2003), London Arts (2002).
Squidsoup's work can be experienced online at www.squidsoup.org, and in shared spaces, physical and virtual installations, games and software tools.