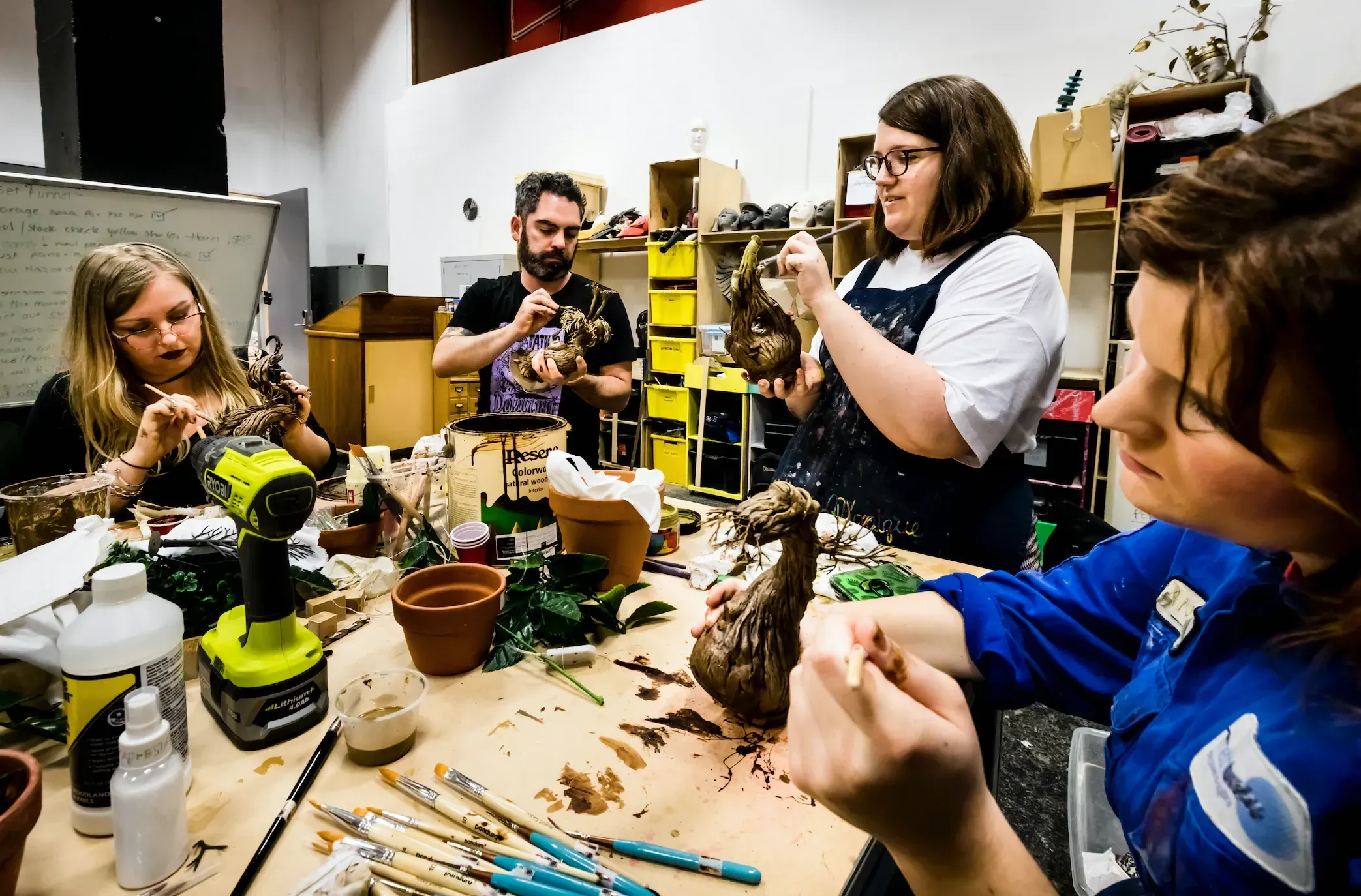 "As long as you have a vision and people get excited by that vision, you can do anything." - Fil Kopelman.
Being the national drama school, there's nothing surprising about Wellington's Toi Whakaari providing courses in acting.
But like any good performance, there's far more depth to their options than just the obvious – Costume Construction, Design for Stage and Screen, and Arts Management also feature in their educational offerings.
And now, it boasts the only specialist Set and Props course in Aotearoa, one that you won't find replicated anywhere else in the world.
1st Set & Props cohort stood in the arches of the Two Gentlemen of Verona set. Photo: Phillip Merry.
Global interest
That was what brought Swedish filmmaker Fil Kopelman here to sign up as part of the first intake - and now one of the first graduates - of the two-year course.
The first year covers everything from carpentry, painting, sculpting and moulding, right through to computer-aided design and manufacture, including laser cutters, CNC routers and 3D printers.
The second year focuses on each student's major project – in Kopelman's case, a short science fiction-themed film titled Excavation Point Thestias.
Kopelman already had a background in film over several years but says he wanted to expand on his knowledge and challenge himself.
"Part of the attraction with New Zealand is that while it's a small country, it does house some large productions. For me in particular, the types of films that I was able to work on in Sweden was quite different both in tone and budget.
"I was very interested in more construction work, building larger sets and working with props, and that's just not something that's easily facilitated in Sweden."
Practical solutions
Kopelman says the course, which results in the New Zealand Diploma In Scenic Construction & Properties, is not just theoretical but also develops craft skills, problem-solving and collaboration between the students of Toi Whakaari's various disciplines.
He describes the process as learning to fly - the challenge is to harness "what comes out of our heads" and make it work.
Excavation Point Thestias, which Kopelman calls his "passion project", is now in post-production.
Utilising both location shoots and two full-size sets, the film explores what happens when "a mission to excavate artefacts on the desolate planet Thestias is jeopardized when the crew come upon a strange find."
To make the film, Kopelman pulled together a team including industry professionals as well as students from four tertiary institutions.
"It gives a lot of people the opportunity to work in a professional setting but within the safe network of us as a team," he says.
"Because we're passionate about it. We're passionate filmmakers that want to tell stories that move people."
Graduate Lotte van Ginkel is a wing maker and has plans to travel to the states and intern with a professional wing maker. Photo: Heaps of Pics Photography.
Vision and Purpose
Head of Department Francis Gallop describes Kopelman as a "once in a decade student" with vision and sense of purpose.
His ability to bring people together is "a great skill to have when working in the creative industries and one of the values of our school.
"Toi Whakaari helps students like Fil grow into being an initiator, an innovator, not limited by boundaries."
Gallop says set and props construction was previously undertaken by Design and Management students but it was a lesser focus of their studies.
"Now we have a dedicated course, it has really ramped up the scale and professionalism of that work, but more importantly given a direct training pathway for aspiring makers into the waiting stage and screen industries.
Adds Kopelman: "Another thing I loved about Toi Whakaari was how connected it was to the industry.
"A lot of the guest tutors that we have are industry professionals, so it's a great opportunity to meet people that you're later able to contact when you're heading out yourself. And we've got close contact with graduates as well.
"It's just very much a place where you really get to work very close to the industry, following industry practise, so it really prepares you for what's to come. Right now the sky's the limit."

Written in partnership with Toi Whakaari New Zealand Drama School. To learn more about the Diploma in Scenic Construction and Properties, click here.