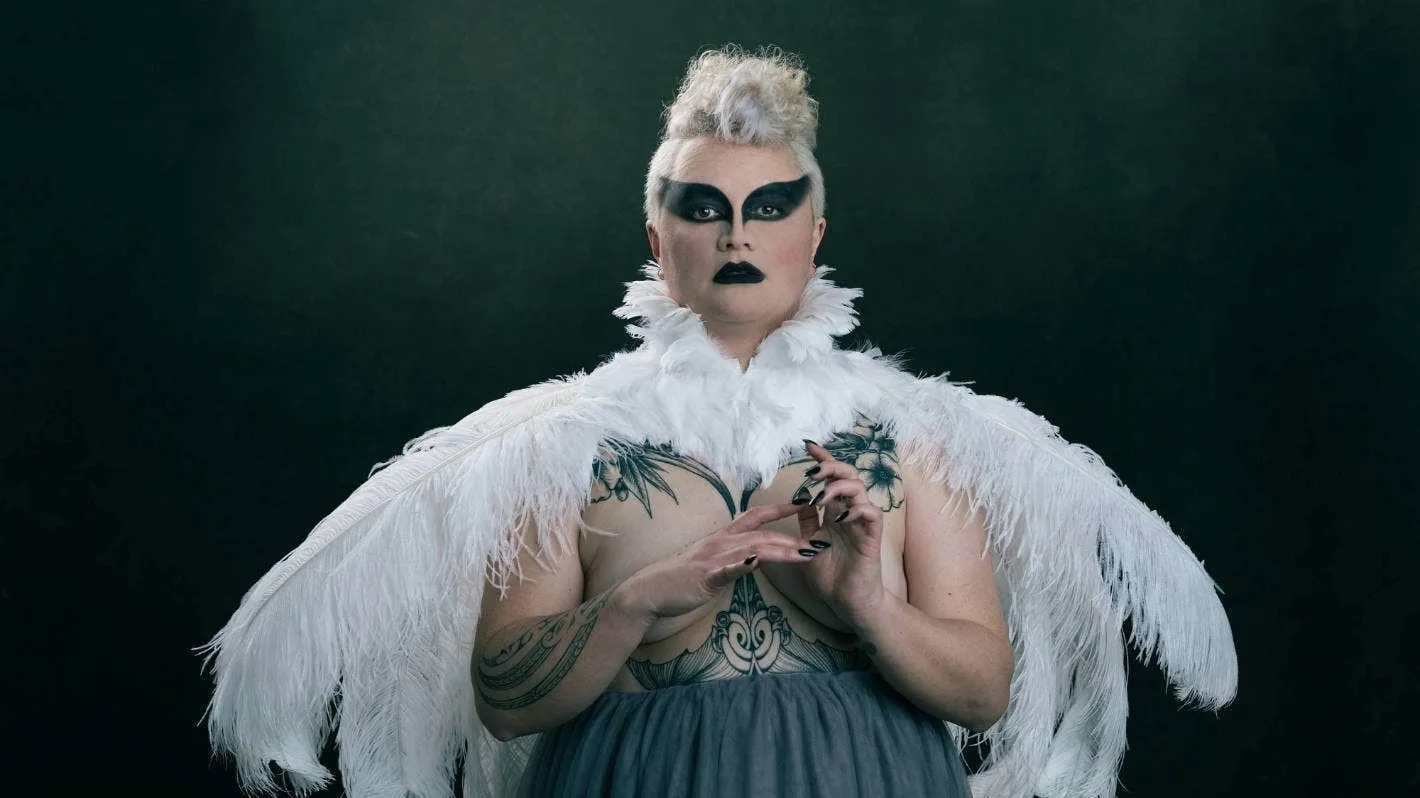 The richest prize in Aotearoa literature is a pretty handy title to have - and it's clearly a damn good one to win.
It's certainly one you can chalk up to a win for creativity and innovation.
Whiti Hereaka's much-heralded Kurangaituku was the hot favourite for the $60,000 Jann Medlicott Acorn Prize for Fiction at last night's Ockham New Zealand Book Awards - and it didn't disappoint the many critics and pundits who put it top of the list.
The win is getting widespread coverage across most media platforms today - and rightfully so, especially with Hereaka going to the effort of dressing in an outfit inspired by her titular character to collect her award at Auckland's Q Theatre.
It's a triumph for those who think outside of the box and challenge convention, not just telling well-crafted stories.
The design from Huia Publishers defies convention for a fiction piece - you can read it from front to middle, or flip it and read from the back inwards. The novel itself is equally as fearless, described by convenor of judges Rob Kidd as "poetic, intense, clever and sexy as hell" - not to mention "a game-changer". By retelling the traditional Te Arawa story Hatupatu and the Bird-Woman from the perspective of the story's villain, the Bird-Woman Kurangaituku herself, Hereaka has produced a work that resonates with readers from a diverse range of worldviews - while staying boldly true to te ao Māori.
Speaking of which, it's another name etched into what is an esteemed list of Māori writers and storytellers to have won the prize. Alan Duff, Patricia Grace, Witi Ihimaera, Paula Morris, Becky Manawatu.  Esteemed company indeed - and Hereaka has earned her way onto that echelon of celebrated talent.
Hereaka is no stranger to success and a high achiever - her mahi as a novelist joins her many other hats as a playwright, screenwriter, barrister and solicitor. Her latest trophy will sit alongside a burgeoning mantle that includes a Bruce Mason Award, Adam Play Awards and young adult fiction NZ Book Awards from her previous novels.  Not to mention a trustee on the Māori Literature Trust and a talented crafter.
She's currently researching for her next novel, with the working title of Ariā.
While having the most cash on offer usually vaults the fiction prize to the headline, there are many other talented writers who are just as deserving of the spotlight - and the not-to-be-sniffed-at reward of $10,000 each.
Canterbury poet, editor and writing tutor Joanna Preston's fantastical collection Tumble has claimed the Mary and Peter Biggs Award for Poetry. Preston's win continues what is becoming a noticeable streak with the Fiction and Poetry prizes. Females have won the most creative of the Ockham gongs for five years running now, with the last male to buck that trend being poet Andrew Johnston in 2017.
Men feature more regularly in the non-fiction categories - with highly regarded historian Vincent O'Malley this year's General Non-Fiction Award recipient for Voices from the New Zealand Wars | He Reo nō ngā Pakanga o Aotearoa.
And Claire Regnault's deep knowledge of our past as senior curator of New Zealand Culture and History at Te Papa has paid dividends with Dressed: Fashionable Dress in Aotearoa New Zealand 1840 to 1910 crowned the Illustrated Non-Fiction book of the year.
One of the most endearing elements to the Ockhams has been the embracing of new additions to the literary ranks, with First Book Awards also handed out. Many of New Zealand's most admired writers have won in these categories before, including Pip Adam, Tayi Tibble, Selina Tusitala Marsh, Eleanor Catton and Airini Beautrais.
This year's recipients also celebrate the immensely talented Māori authors in Aotearoa right now - No surprises with Rebecca K Reilly making it a double for Māori fiction writers on the night with her acclaimed Greta & Valdin, while Nicole Titihuia Hawkins' Whai stood tall in the poetry category.
Best first work of Illustrated Non-Fiction went to The Architect and the Artists: Hackshaw, McCahon, Dibble by Bridget Hackshaw and Dave Lowe's The Alarmist: Fifty Years Measuring Climate Change won General Non-Fiction.
All the Crystal Arts Trust Best First Book Award winners receive $2,500 and a 12-month membership subscription to the New Zealand Society of Authors.
Springboard to success
CONJAH. Photo: Supplied.
The next generation of talent in other elements of the creative community have been given a boost as well.
The Arts Foundation's now annual Springboard recipients have been named for, with seven artists receiving both a cash and career boost.  Along with $15,000, the successful Springboard applicants have also been paired with experienced and widely acclaimed members of the sector as mentors. The pairings are made on the basis of the recipients' area of talent - so skillsets can be matched and thirsts for knowledge quenched.
Turumeke Harrington. Photo: Supplied.
Recent Arts Laureate, sculptor Brett Graham is pulling double duty, mentoring two visual artists in Chevron Hassett and Turumeke Harrington.
Multi-disciplinary artist Ana Scotney will have the experience of Dame Gaylene Preston to draw on, while contemporary dancer & choreographer Bella Wilson has been given Strasborg 1518's creative powerhouse Lucy Marinkovich as a mentor.
Talented installation-based visual artist and Unitec graduate Tyrone Te Waa - featured in The Big Idea earlier this year - has been paired with renowned fabric artist Ron Te Kawa, sound artist Jesse Austin-Stewart will have the brilliant Pelenakeke Brown and her wide array of skills to bounce off, and the physically driven performance duo CONJAH - made up of Jahra Wasasala and Ooshcon Masseurs get to pick the brains of the much admired Lisa Reihana.
Tyrone Te Waa. Photo: Supplied.
Make no mistake - this is a golden opportunity to not just get financially supported, but to get insights from those who have been there and done that. Mentoring matters, with opportunities like this and the Creative Careers Services, which includes The Big Idea's Toipoto. It will be exciting to see how these talented artists use this opportunity to take the next step in already promising careers.
TBI Survey winner revealed - and more to come
DJ Rob Warner. Photo: Supplied.
Supporting emerging creatives is something that's important to The Big Idea's audience, judging by the reaction to our current audience survey.
We're really grateful for all the feedback and opinions coming through - all designed to make sure the TBI continues to make sure the creative community is getting the tools they need to forge successful, sustainable careers.
Everyone who completed the survey goes in the draw for $2000 worth of promotion on The Big Idea - with experienced Tāmaki Makaurau-based DJ Rob Warner randomly selected for the prize. You can check out his mahi on Facebook.
And the good news - we're doubling down with the offer of support and providing another $2K of promotion on TBI. If you haven't completed the survey yet, do so before 17 May and you're in the draw.
Everyone who has completed the survey already goes straight into the second draw as well.
Put your best foot forward
As well as awards being dished out - there's more opportunities on the horizon.
The Copyright Licensing New Zealand/ New Zealand Society of Authors annual Research Grants have opened for applications - with four $5000 grants put forward to help support a diverse range of writers and topics in either fiction or non-fiction writing projects.
Applications close on 8 June.
Creative New Zelaand's also kicked off their award nomination season with the opening of the  2022 Te Waka Toi Awards, celebrating the artistic excellence, achievement and contribution of Māori artists.
The three categories on offer so far are Ngā Tohu Hautūtanga Auaha Toi – Making a Difference Award to recognise leadership and outstanding contribution to the development of new directions in Māori art, Ngā Manu Pīrere Award to recognise emerging Māori artists and Te Tohu Iho Pūmanawa Award to recognise the contribution of a Māori artist with the lived experience of disability.
Nominations are open until 27 June - with the Arts Pasifika Awards and the Prime Minister's Awards for Literary Achievement likely to open in the near future, if recent history is anything to go by.
Doing it for the kids
There is lots to celebrate in the musical world during NZ Music Month - including an awards ceremony that doesn't often get the respect it deserves.
On Sunday, the NZ Children's Music Awards are handed out at The Tuning Fork in Auckland, with Best Children's Song, Artist, and Music Video awarded.
Too easily written off, these creatives may not cater to your tastes - but their audience is a crucial one.  Entrenching music, expression and creativity into our tamariki is vital not just to see the arts flourish in the future, but for the betterment of society for the generations ahead.  Everyone knows the role it plays, and without performers and producers like those featured in these awards, these inquisitive minds would get their induction into creatively solely from overseas.
As well as fun and imagination, the songs tackle issues like standing together against bullying and the importance of caring for Papatūānuku.
The Music with Michal trio of Michal Amy Bush, Andrew and Victoria Knopp have two bites at the cherry for the APRA Best Children's Song Tuī with their songs Family and Good Night, up against E Tū Tāngata – Stand Together performed by Mika Elley ft. Kurnel MC.
If you want to check out the finalists' work or are just looking for a break from The Wiggles when your children take control of the music - APRA AMCOS has put together a playlist on Spotify here.
Helping MusicHelps
Auckland's latest venue - Lilyworld at Mt Smart Stadium - had its debut last weekend, with almost 3000 people showing up to enjoy the opening event.
As well another place for artists to perform and music lovers to congregate, the free event also proved a useful fundraiser, with $14,130 raised for a worthy cause, MusicHelps - a charity that uses music to help change the life of New Zealanders, as well as providing emergency assistance to those in the music industry suffering through hardship and illness.
Anyone who has called on MusicHelps services knows how valuable the support they offer is. The way the organisation threw the doors open to all creatives from different sectors during the peak of lockdown should not be forgotten in a hurry.
MusicHelps Chair Ant Healey adds "it's been a tough time for New Zealanders who earn a living from music and those that use the power of music to help others. To have new live music opportunities in Tāmaki Makaurau is awesome.
"We are very thankful to the artists, crew, production, Auckland Stadiums, Banished Music and Auckland Unlimited who came together to present Lilypad - and importantly, all the Aucklanders who supported the event."
Have you seen the high profile departure from Creative New Zealand?, Breaking news: Government reveal stats for Arts & Culture COVID support