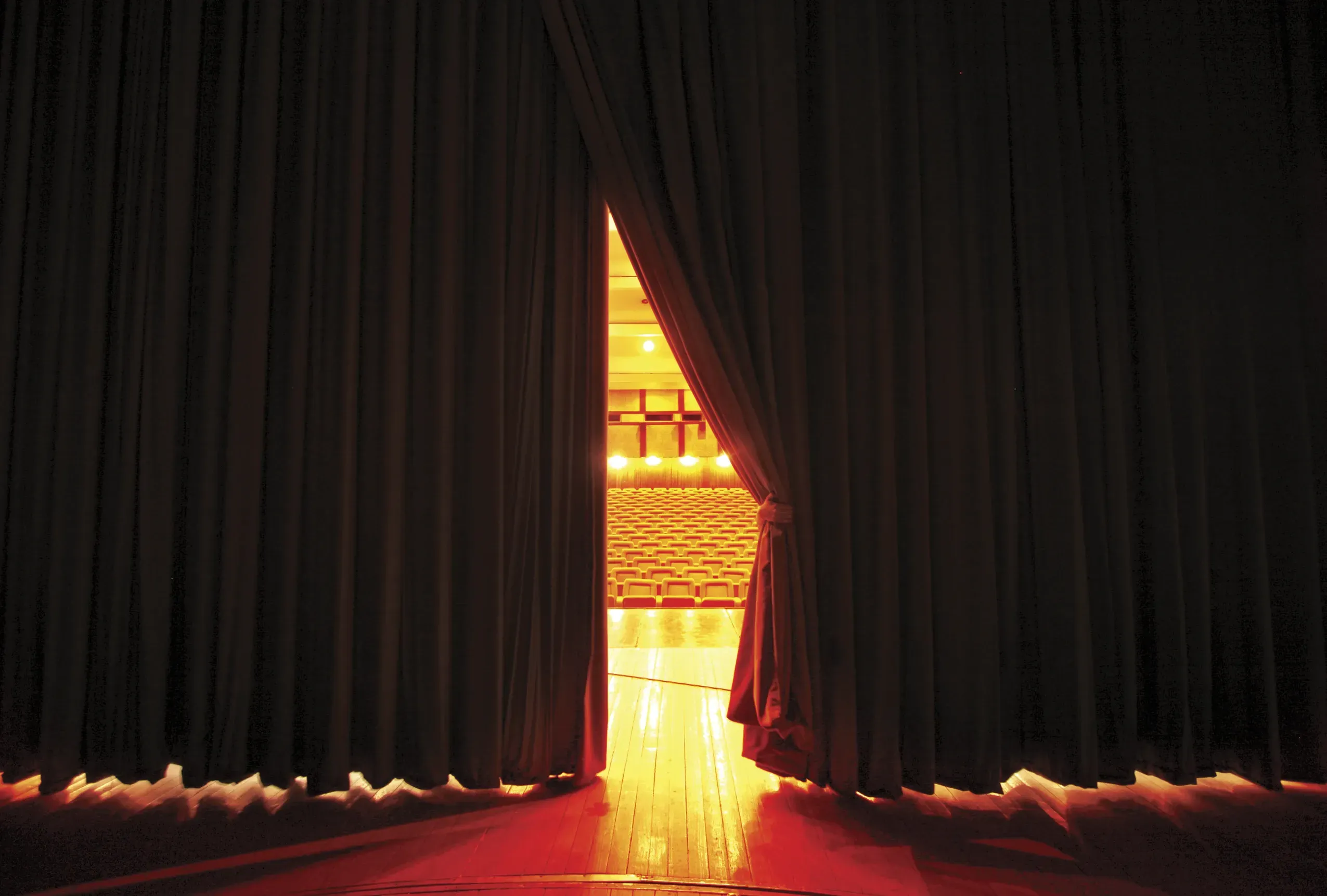 If 2020 was the year of the pandemic, for arts organisations 2021 is the year of the problematic.
Certainly, these are often the culmination of issues that have been brewing for some time - but they are all beginning to bubble to the surface in a similar fashion.
And they all have ongoing repercussions.
The public outrage over restructuring of City Gallery Wellington appears to be just the start in the capital, with Wellington City Council confirming a shake-up of its arts, cultural and community services departments to "effectively deliver on the (council's) new strategies."
Museums Aotearoa's entire board stepped down amid reports of "fundamental disagreements" with Executive Director Phillipa Tocker. Weeks later, Tocker departed too just before their AGM. One of the new co-chairs Eloise Wallace from Gisborne's Tairawhiti Museum has this week spoken to RNZ of doing "a reset around establishing the priorities" for the organisation.
And the future of dance advocacy in New Zealand is on a knife-edge with Dance Aotearoa New Zealand (DANZ) waiting on the outcome of a High Court ruling on a case regarding the process that Creative New Zealand followed to cut their funding in 2019. As we've discussed in The Lowdown, there is no quick fix. What that means for the dance sector is explored in the Dominion Post.
And then there's the saga surrounding Opera New Zealand.
Whatever you feel about the state of opera in this country - and even if you don't personally feel invested - one thing can't be denied.
There is some immense passion about it out there - and that passionate opinion is spilling over, rightly or wrongly. And something all sections of the art sector should be paying attention to.
May's departure of three New Zealand Opera (NZO) board members - Witi Ihimaera, Murray Shaw and Rachael Walkinton - sparked a debate across the creative community, including here in The Lowdown, about the direction this traditional performing art form is heading in.
It's been revived two fold over the past week, with news of an open letter to Arts, Culture and Heritage Minister Carmel Sepuloni calling for an investigation into how NZO operates - and TVNZ climbing into the debate with accusations of "predatory" behaviour when it comes to paying younger singers.
Even with a lens of 'there's no such thing as bad publicity', these are worrying headlines for any organisation to be associated with, particularly one that relies so heavily on public funds.
Artistic direction is one thing and open to interpretation, accusations of mismanagement and unacceptable work practices is entirely another.
Staff turnover has been reportedly high at NZO, which could be presumed to be a level of employee dissatisfaction. But it certainly wouldn't be the only organisation in the creative sector to have quickfire comings-and-goings.
Among the many names putting their name to this staunch stance as signatories of the open letter - according to RNZ - are the three departed board members, Dame Jenny Gibbs, Sir Tīmoti Kāretu and Simon O'Neill.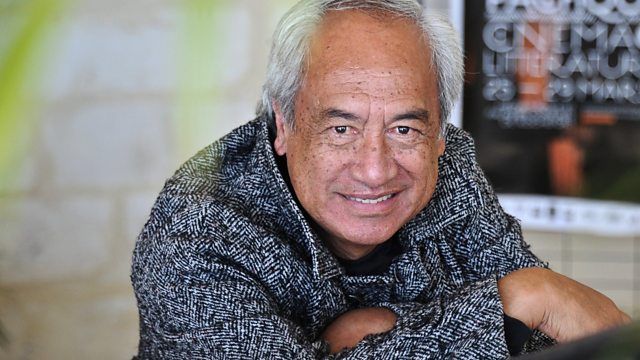 Witi Ihimaera.
The letter states Ihimaera, Shaw and Walkinton "were alarmed that since 2019 the generous investment of almost $9 million funded mainly through Creative New Zealand, had not been deployed in a manner resulting in the flourishing of opera in New Zealand.
The collective also cited "failures of board and company leadership, structural staffing imbalances, and the adherence to a funding model that has led to fiscal misdirection and inequities in distribution of available funds."
The request for a kōrero with those running the taxpayer-led funding doesn't appear to be gaining traction, with the Minister's office directing inquiries to CNZ, which states it has no plans to instigate a review nor does it have issue with NZO's financial viability.
The payment of performers issue has come largely from unnamed sources - not wanting to burn bridges for future opportunities.
But even in anonymity, they are concerning. Below are three comments from three different sources shown on the national broadcaster in prime time.
"Under current management, the fees are definitely lower than what one would expect from similar size companies internationally. NZ Opera seems unwilling to negotiate with artists on these fees."
"There are less opportunities and there's less money on offer and therefore young singers feel they have to say yes."
"What's frustrating is they have so many staff and much of the funding seems to go to the staff instead of hiring singers and performing opera."
One who's not afraid to put his name to his convictions is internationally regarded tenor Simon O'Neill. As well as being a signatory on the open letter, he's also gone on camera with 1News, referring to NZO's payments to young singers as an "abject failure."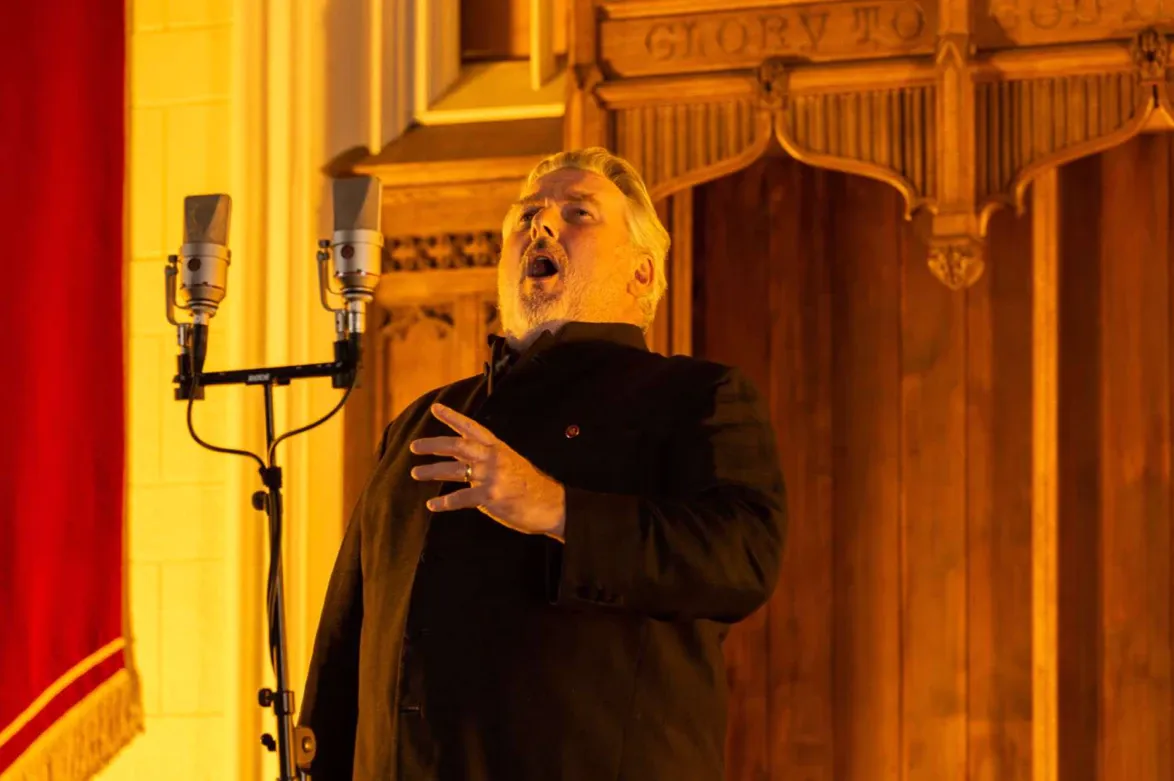 Simon O'Neill. Photo: Jessica Chloe Photography/Friends of St David's Trust.
O'Neill affirms "I've been so shocked by the predatory nature of some of these fees to particularly our young singers which are not in line with the going rate throughout New Zealand with things like the Dunedin Symphony Orchestra.
"We should all be supporting each other to support the artists and not to be lowballed."
NZO has refuted the allegations, saying the fees are set by the market via agents and its spending on singers has been consistent and appropriate.
CNZ issued a statement through Chief Executive Stephen Wainwright "We encourage organisations that contract artists to pay appropriate and fair remuneration within their means and be transparent with their fee structures," CNZ said in a statement.
There appears to be little give on this front.
Keeping the top talent in New Zealand is a challenge at the best of times. Samoan Bass-Baritone Samson Setu, who is midway through the Lindemann Young Artist Development Program at New York's Metropolitan Opera, says when he completes his studies, he will pursue auditions with companies off-shore.
He adds it is important for New Zealand to aspire to a high level of quality in opera.
It has to be pointed out, not everyone in the sector is singing from the same songsheet. Many have expressed their support for the artistic direction NZO has headed under General Director Thomas de Mallet Burgess.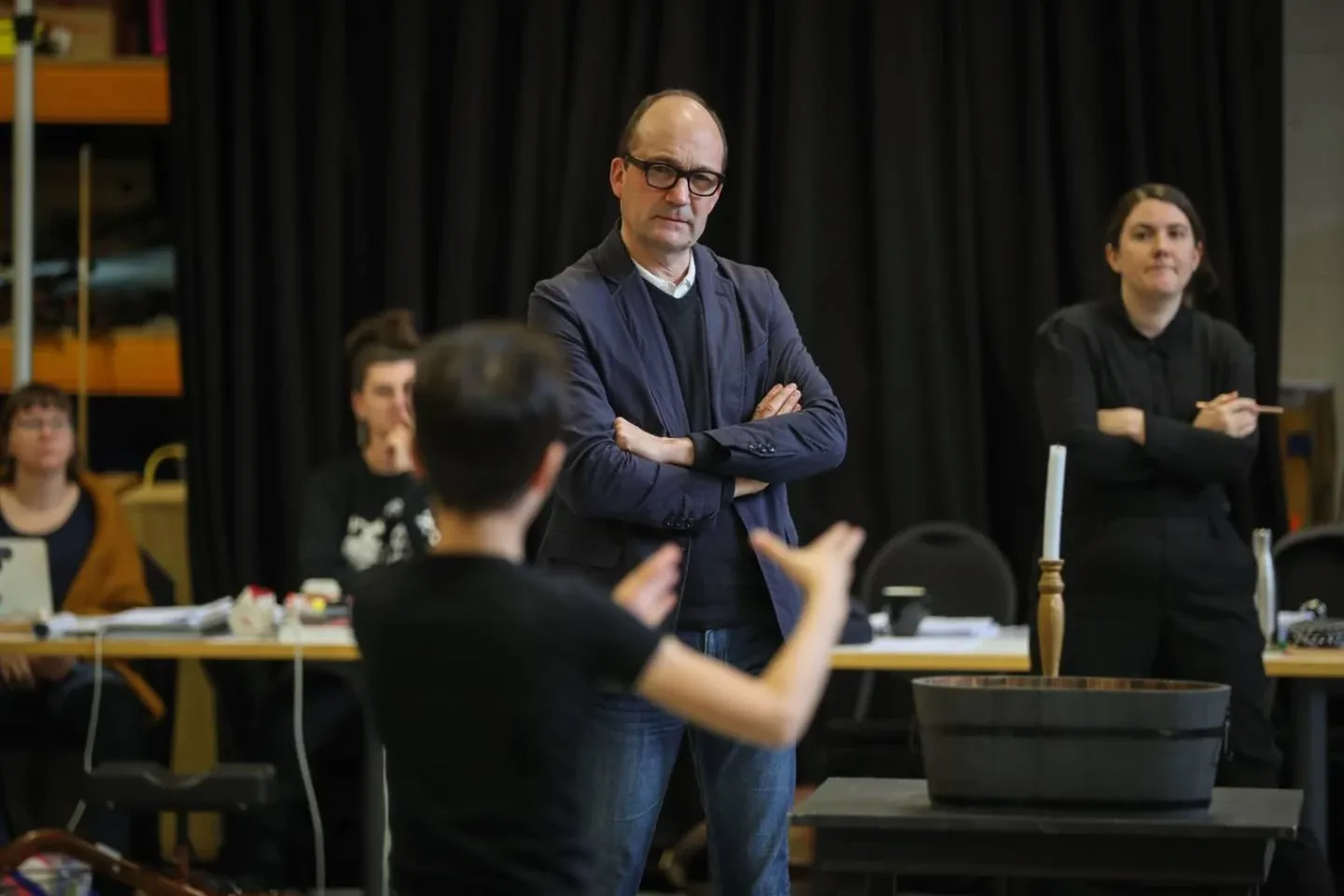 NZO General Director Thomas de Mallet Burgess.
Both before and after COVID, Burgess has been trying to work with smaller-scale productions given the pressure on the organisation. Even back in 2019, Burgess stated that his remit was "to ensure we still had a national opera company."
Respected music journalist and well-established follower of Aotearoa's opera scene Richard Betts speculated to The Lowdown that "there seems to be a concerted effort to dislodge Thomas de Mallet Burgess, and NZO is being attacked on multiple fronts - first artistic direction, then pay rates. What's next, why, who's behind it, and is that person or persons getting strategic PR advice? Are they going for death by 1000 cuts?"
As Ihimaera states, "emotions are still running high." This drama is yet to reach its final act.
Silver Scroll shortlist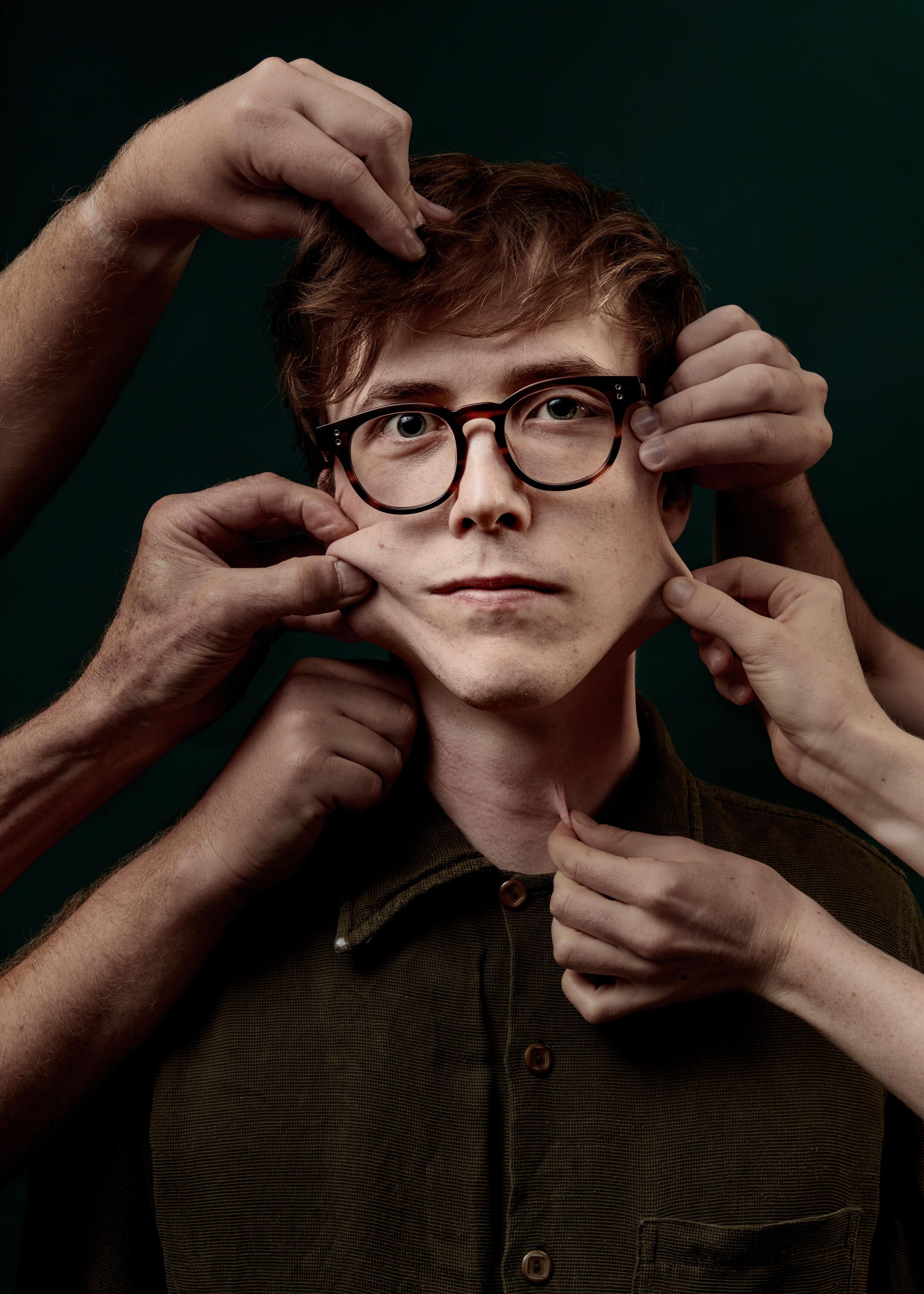 Silver Scroll Shortlisted Sheep, Dog and Wolf. Photo:Supplied.
The race to one of the most coveted awards available in Aotearoa's musical community has been whittled down from over 250 hopefuls to 20 finalists.
The shortlist for the 2021 APRA Silver Scroll Awards has just been announced this morning with some of the heavy-hitters of the industry as well as some of the indie darlings making the cut.
The odds are that a new name will join the list of winners of the songwriting prize like Sir Dave Dobbyn, Che Fu, Bic Runga, Lorde and Marlon Williams.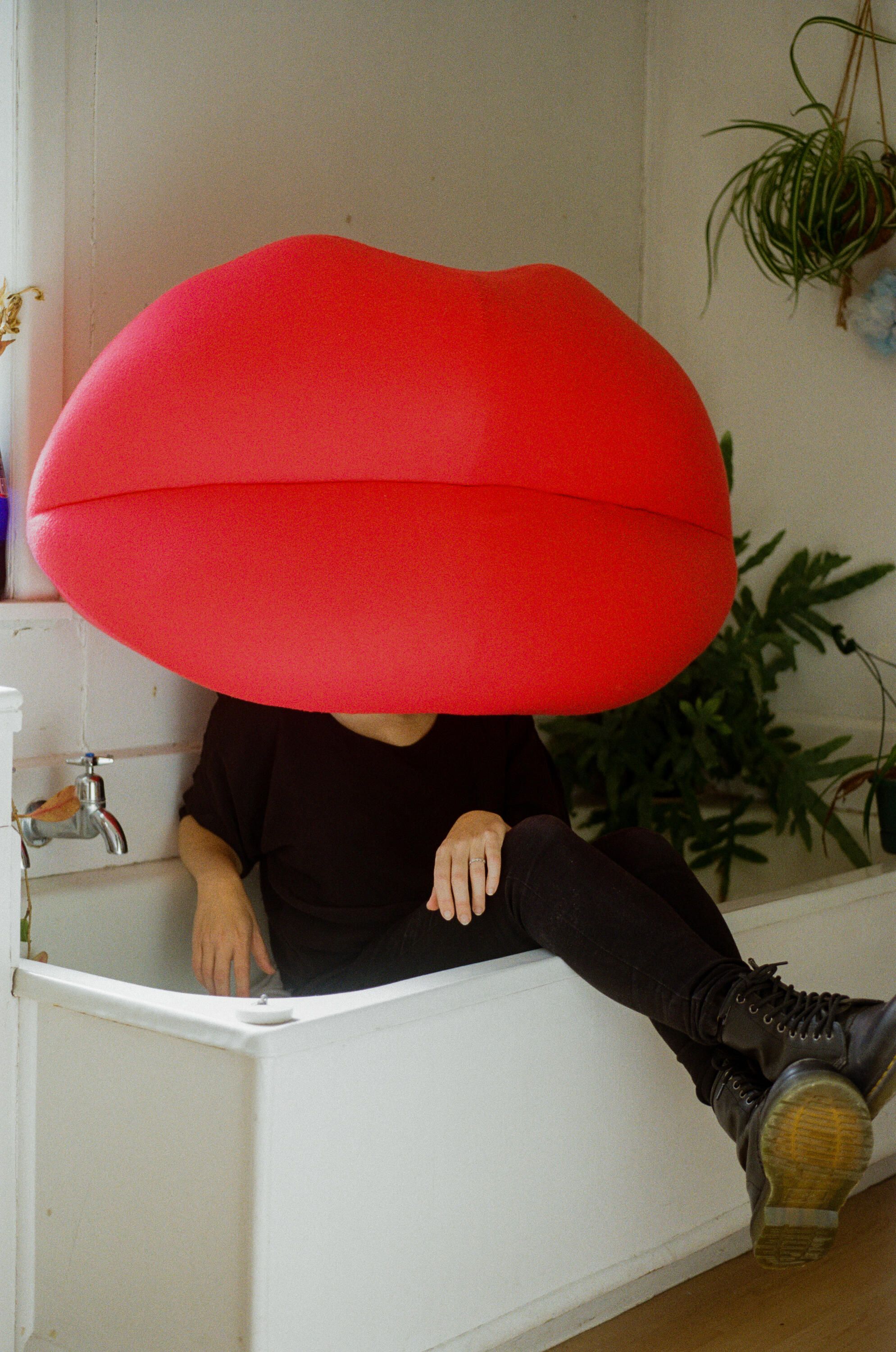 Silver Scroll shortlisted artist Lips. Photo: Supplied.
Of the remaining contenders, Stephanie Brown (Lips) has her name engraved on the silver scroll - and none of the mainstream headline acts like Benee, Six60, L.A.B. or Drax Project are included. Click here for the full list of finalists.
Maisey Rika has three bites at the cherry when it comes to the chance to leave October's event with an award. The Hiwa-i-te-rangi songstress is nominated twice for the APRA Silver Scroll - as is fellow Turangawaewae collaborator Troy Kingi - along with being one of five finalists for the te reo Māori-centric Maioha Award.
Sid Diamond is also a double finalist for the Silver Scroll, with both is solo project Don't Run and contributing towards Smashproof's Broken Chains.
The combination of Team Dynamite and Louis Baker is also pulling a unique double shift. Their song Dragon Fruit is up for the Silver Scroll as well as the APRA Best Pacific Song at the announcement of the Pacific Music Awards finalists.
The PMAs attracted a record number of finalists with 27 artists nominated across 13 categories - the soulful Tree is up for four awards come September from her self-produced debut album Mrs Tree.
Judging a book by its cover
Artists of a more visual nature have also been highlighted with the finalists confirmed for the PANZ Book Design Awards.
Most book awards are about the author and its contents, but this is purely about what it looks like. Type spotting, binding methods, illustrative styles and visual rhythm are among the considerations for the judging panel when debating the 150 entries.
September's awards do isn't just a chance for those in the publishing world to put on their best suits and frocks, it's backed up with a Book Design Workshop the following day for networking opportunities and plenty of discussion panels.
You can check out the finalists here.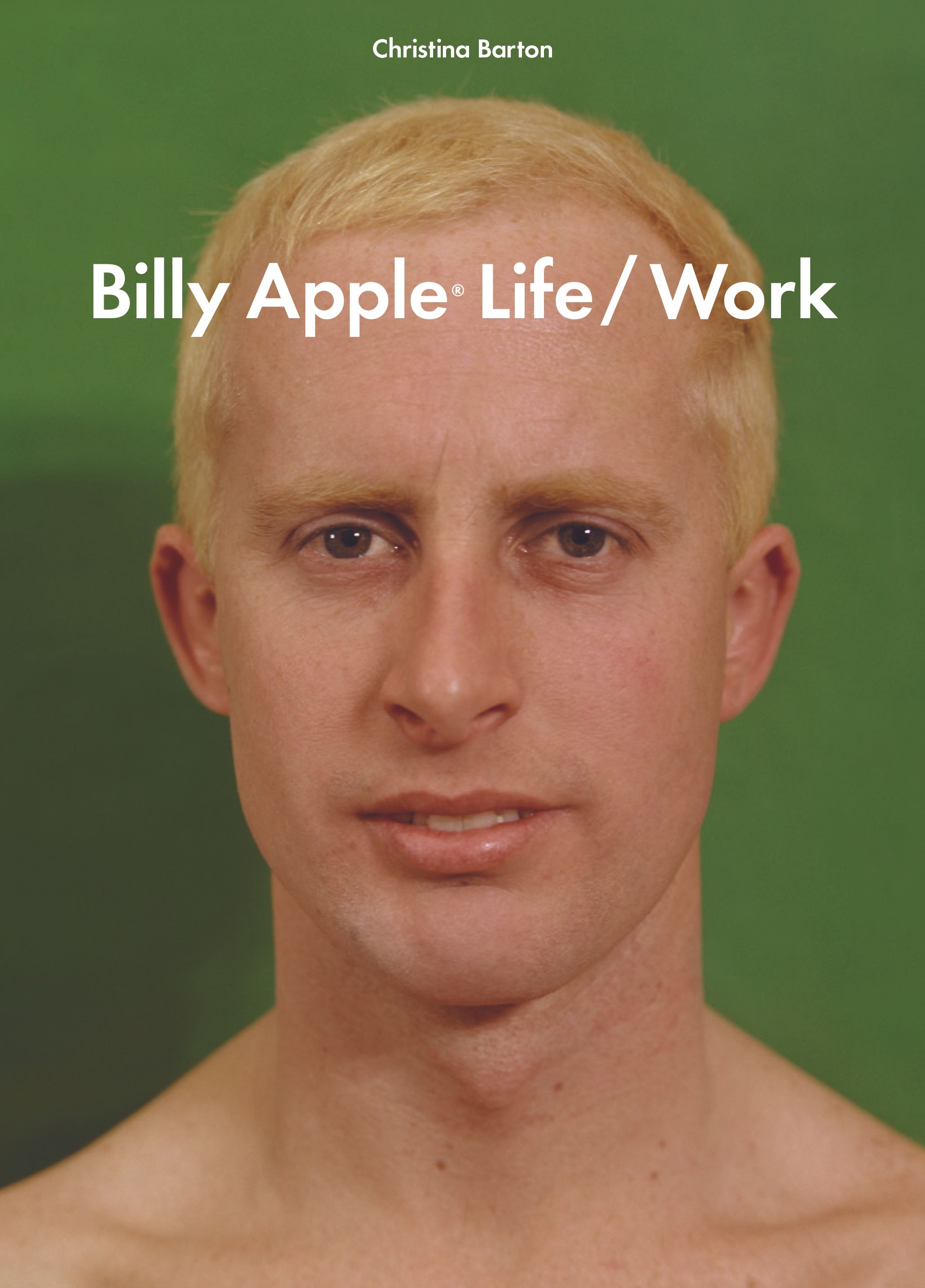 Interestingly, two books that feature iconic artist Billy Apple make the list - Kalee Jackson's design for The Mirror Steamed Over: Love and Pop in London, 1962 by Anthony Byrt is up for Best Non-Illustrated Book while by Arch MacDonnell and Alexandra Turner's work on Billy Apple®: Life/Work by Christina Barton is a Best Illustrated Book finalist, as well as Best Typography.
Light it up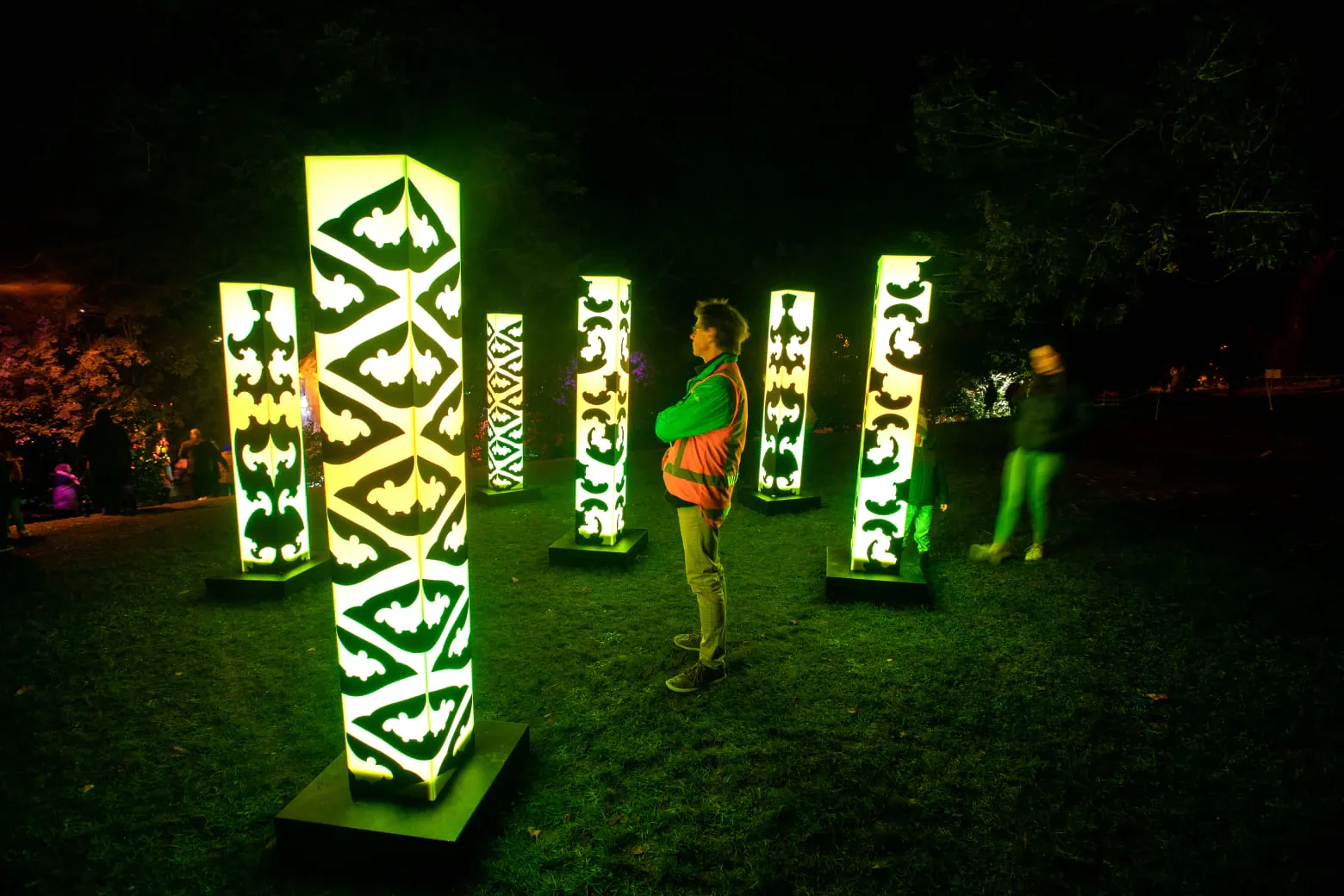 Photo: Te Ramaroa Facebook.
Some blinding success stories are coming out of the South Island arts festivals right now.
After receiving a new name and busting out of Queens Gardens through to the city streets, Te Ramaroa the Light Nelson festival drew over 50,000 visitors over its five days. The quality of display on offer looked thoroughly impressive - we recommend checking out the fantastic video attached to this Stuff article to see for yourself.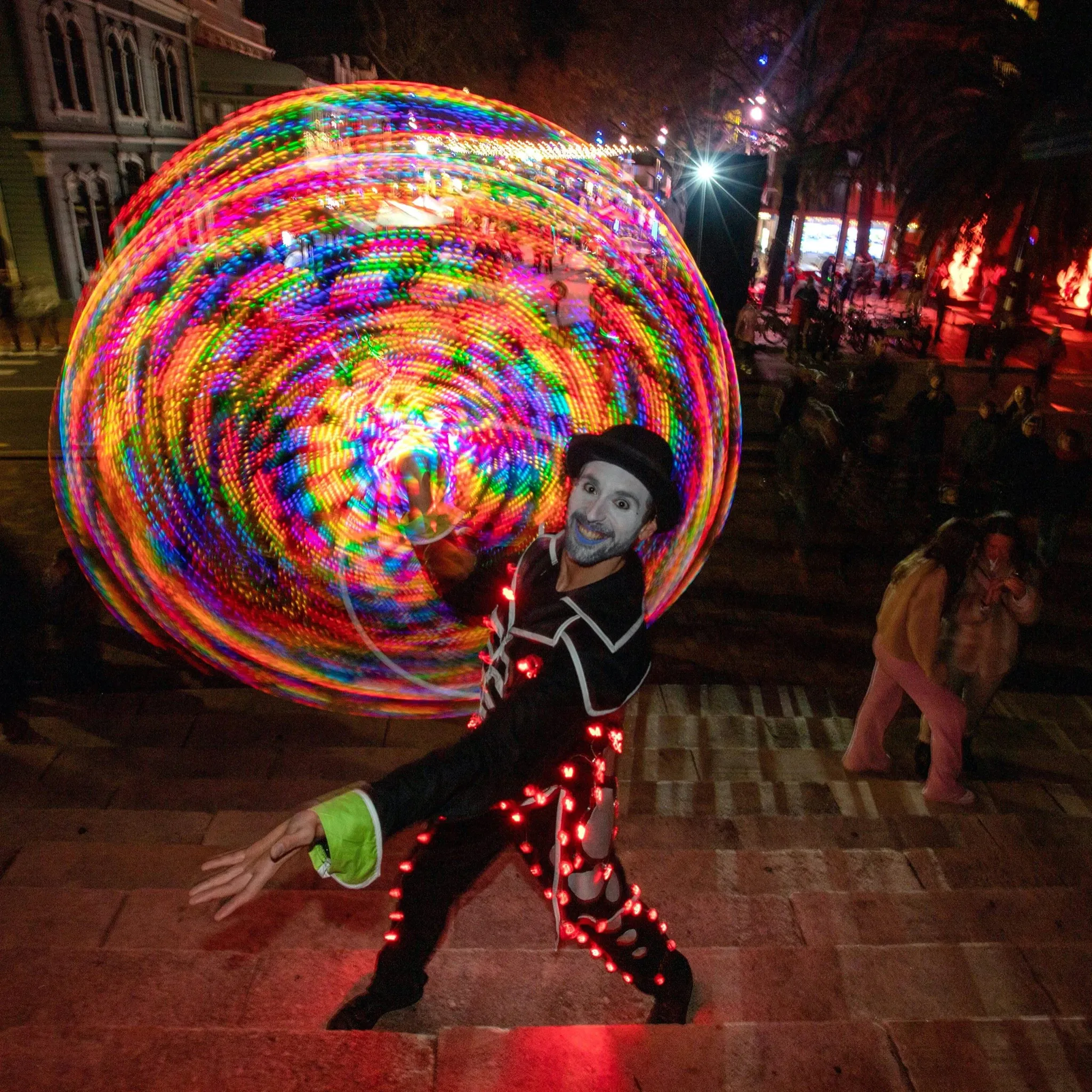 Photo: Te Ramaroa Facebook.
And the popular Festival of Colour in Wānaka has become such a hit - a new trust has been formed to "fast-track an arts and performance centre in Wanaka" according to The Otago Daily Times, with the aim of having it up and running to host the 2027 event.
Good things take time
We have had to become a patient lot when it comes to experiencing anticipated artworks thanks to a certain pandemic.
But thankfully - many of them are worth the wait.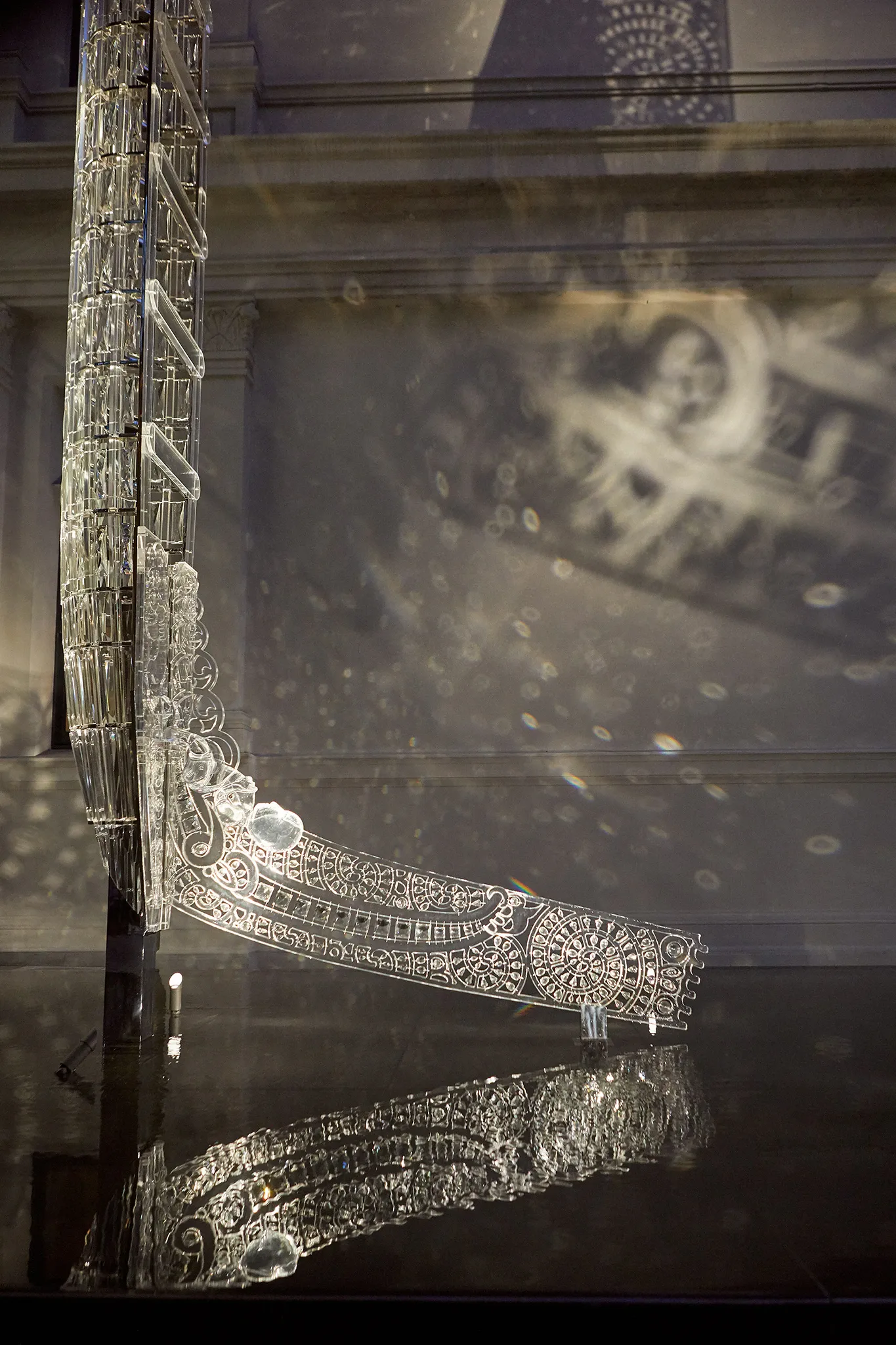 Reuben Paterson's Guide Kaiārahi. Photo: Hamish Melville/Auckland Art Gallery Toi o Tāmaki.
After a delay in delivery of a month, Reuben Paterson's eye-catching 10 metre high crystal waka, Guide Kaiārahi has now taken pride of place in the forecourt of Auckland Art Gallery where it is set to become a long-term feature.
Made up of almost 600 iridescent crystals, you certainly can't miss it when you enter the gallery space. Inspired by the legend of a phantom waka that appeared at Lake Tarawera 10 days before the eruption of Mt Tarawera in 1886, the sculpture has been described as "rising vertically like a needle out of the forecourt pool and casting a galaxy of stars over the Gallery walls."
Popular theatre director Shane Bosher's Everything After is also finally in front of appreciative audiences. Its run at Auckland's Q Theatre is coming to an end this weekend (Sunday July 18) but the rare subject matter of an older generation's view on queer stories has been hitting a nerve - especially for those living with HIV. Rave reviews from the likes of Canvas magazine (paywalled here) and Theatrescenes give more detail.
And three years after forming, Christchurch-based arts collective Th'Orchard will be making their debut public performance tomorrow.
What began life in 2018 as a free physical space for artists of all disciplines, cultures, ages, and experience levels to create and collaborate has led to becoming Te Matatiki Toi Ora The Arts Centre's fastest-selling show of the year - in its first outing.
Th'Orchard Dreams promises to be a diverse combination of original music, dance, poetry and live performance painting - with some veteran performers with decades under their belt and others showcasing their skills in public for the first time.