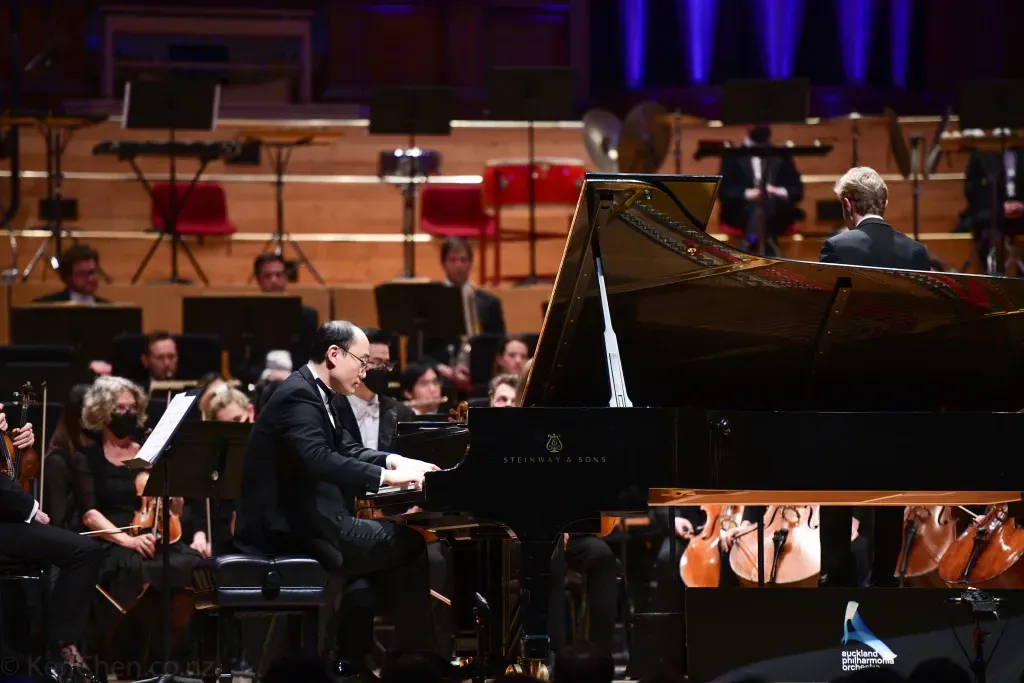 When Jian Liu steps out on stage at Wellington Opera House - he is bringing both his worlds together.
By day, the Capital local is the Programme Director of Classical Performance and the Head of Piano Studies at Victoria University's Te Kōkī New Zealand School of Music.
But he is a world-class performer in his own right - highly sought after for his creative expertise with experience in Europe, Asia, and North America, including commanding audiences at the likes of Carnegie Hall, Lincoln Center, and Steinway Hall in New York.
Liu's skills and knowledge of the distinctive Chinese classical music world will be on display in his Kiwi home in two performances of East/West - A Symphonic Celebration on 19-20 September.
The concerts are a combination of - as the title would suggest - classical works from both traditional Chinese and Aotearoa backgrounds. It's a special event organised by China Arts & Entertainment Group to work with Orchestra Wellington and specially invited performers like Liu as part of a cultural exchange initiative.
Liu's been given the key duty of finishing the evening in style, with the hugely popular Chinese concerto, The Yellow River.
The soloist explains "it is a virtuosic piano concerto in its truest form - combining grand and sweeping Romantic styles with traditional Chinese melodies, a perfect synthesis of Western and Chinese characteristics.
"The concerto represents the heroic and kind spirits of the Chinese people, and it requires the full gambit of physical and mental strength from the soloist. As a New Zealand pianist of Chinese heritage, it is a wonderful and emotional experience performing the work, especially collaborating with great orchestras like APO (when Auckland hosted concerts earlier this month) and Orchestra Wellington."
Auckland Philharmonia Orchestra performing East/West. Photo: Supplied.
For the Chinese Community, it will be a taste of home that isn't readily on offer from professional musicians in this country.
For many others, in an opportunity to encounter something new - to enter with open eyes and ears.
"Everyone has their own personal reaction and experience with the music, and hopefully they will enjoy something new and fresh from the concert."
Jian Liu performing at East/West Auckland performance. Photo: Supplied.
Speaking of the feedback from the recent Auckland performances, Liu reveals "some of the Chinese audience have quite emotional reactions hearing pieces like Yellow River Concerto.
"At the same time, it's given them a chance to appreciate New Zealand music, such as Lilburn's Aotearoa Overture.
"I also received many positive comments from other members of the audience about how beautiful the Chinese music is."
Liu is enjoying the opportunity to share the stage with other Chinese artists - and feels organisations like APO and Orchestra Wellington make great efforts to create outreach activities and events to engage with Aotearoa's Chinese community.
East/West in performance in Auckland. Photo: Supplied.
"Thanks to those efforts - regardless of age or background - more and more of the Chinese audience are developing an appreciation and understanding for the excellent output of the New Zealand creative sectors.
"I've seen many talented New Zealand based or raised Chinese creatives who have excelled in various different sectors - not just in music. With New Zealand's culture being so inclusive and welcoming, it allows many different voices to be heard and appreciated.
"I am very proud to be one of the creatives who have benefited from such a positive and supportive environment."
While the award-winning pianist is thriving in the here and now - Liu is also extremely optimistic about what lies ahead for the genre he has dedicated much of his life to. His roles at Te Herenga Waka give him an educated insight into the next musical generation.
​"The future of classical music in this country is very bright, with so many emerging young talents and a sophisticated audience who appreciate their works. A few of my students have just returned from music festivals in Europe, where their performance has been appreciated on international stages."
They've returned just in time to be able to see their mentor put on another masterful show.
Written in Partnership with East/West - A Symphonic Celebration performing at Wellington Opera House 19-20 September, 7.30pm. Click here for event details.