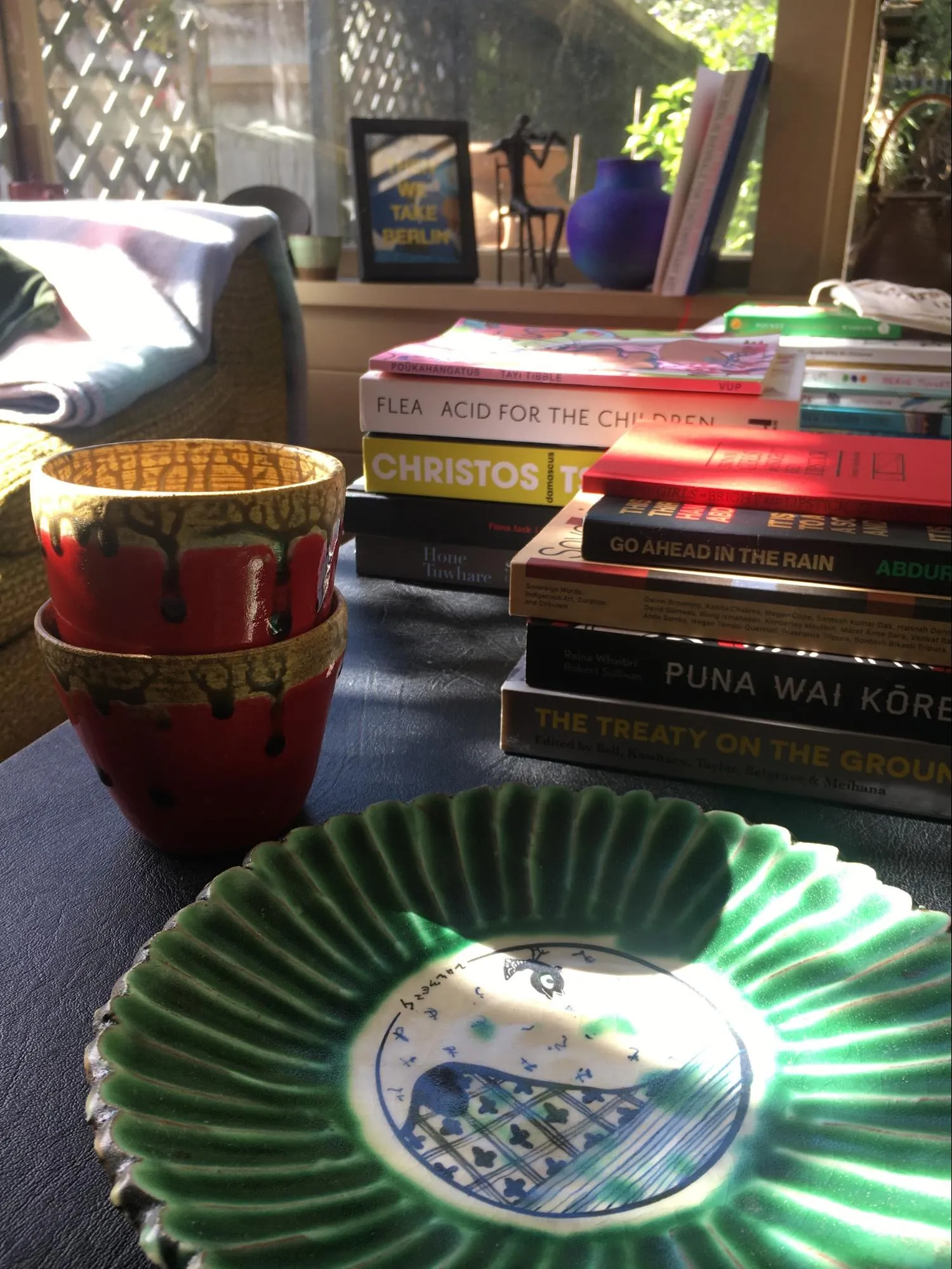 The days of visiting galleries and exhibitions are temporarily on hold. The lost opportunity to get motivation from walking through new spaces and soaking in different works is a void The Big Idea wants to help fill.
Our 'House Visits' series takes you into the homes and working spaces of people in the creative world, to see what they have collected on their travels, what it means to them and what they're using as inspiration inside their own four walls.
Dina Jezdic - Auckland
Although occasionally triggered, I am safe and happy in my mirumiru (bubble), spending it with my favourite people, in my favourite surrounds, my home. My focus during this hijacking has been on doing the things I care about most and trying my hardest to create a portal to place them back into my life routine.
But trying to take this great pause that has been given to all of us and to delink from my previous 'normal' is hard. We see now that the urgency on productivity is not as necessary as we once believed. I hope to do enough un-learning during this critical time to be able to shift that into my professional practice at Auckland Museum, Tāmaki Paenga Hira where the future is about stories that have not been colonised. I look forward to us once again gathering to explore this global fault line of our society together and imagine solutions to colonisation.
In the meantime, during this time of stillness, I am constantly asking myself to be vigilant about my values of equity and empathy. Practising these is important, as is your yoga in your lounge. Remember that there is plenty to go around and to work from a place of abundance in these trying times. As a friend of mine recently said, "No one is going to win quarantine", but there is still something called quarantine privilege.
With that in mind, here is the start of the privilege bubble tour: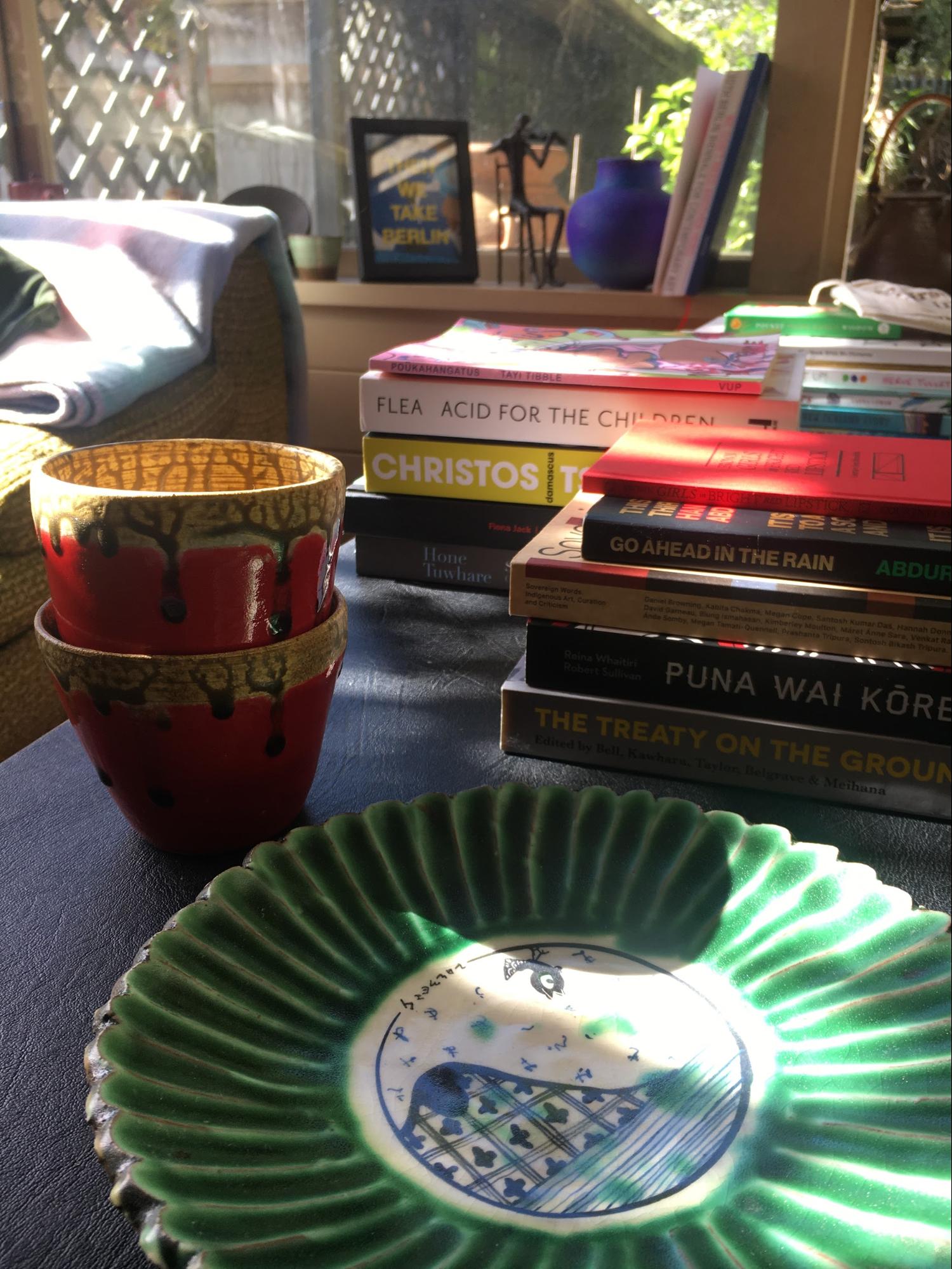 Apart from binging the truly polarising Tiger King on Netflix (accomplished swiftly in the first two days of lock-in) and watching endlessly entertaining COVID-19 posts on Chris Parker's Instagram, I have been reading books. Lots and lots of wonderful books that have been patiently waiting for me to wrap my paws around their covers and settle in with an otto8potts cup (pictured here without coffee. Rookie staging mistake) made by the talented artist Teresa Maria.
The green terracotta plate is by Aaron Scythe picturing Taranaki with a tui singing in code. The reverse of the plate has the words Ihoa o nga Mano, taken from the Ratana prayer of the faith-based Māori movement born a century ago resulting from land alienation, the effects of World War One and the devastating Spanish flu. It was a gift from my in-laws. They have great taste.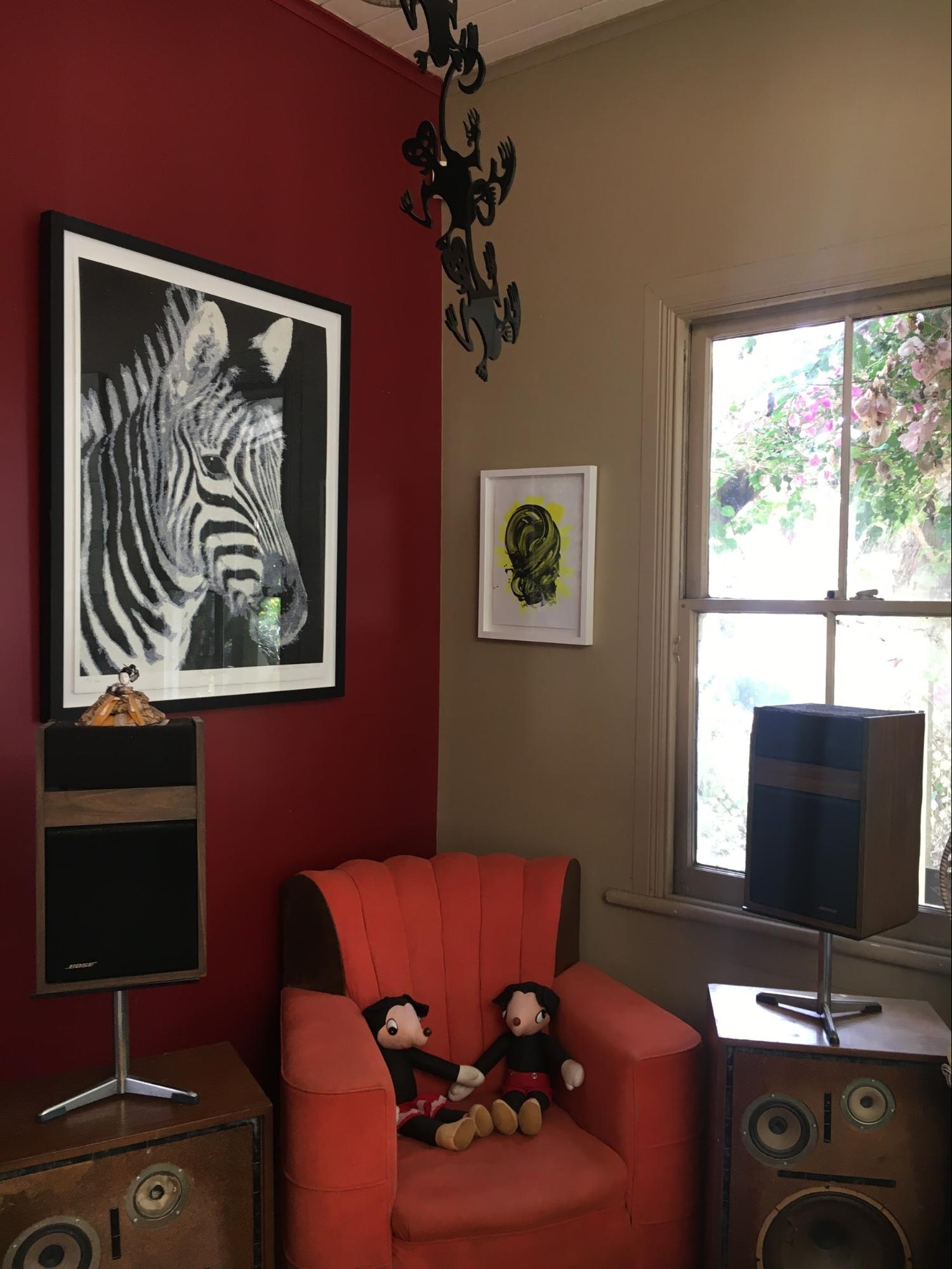 The glitter dust screen print zebra titled Prayer was a wedding gift from a dear friend and artist Reuben Paterson. It is supposed to be paired with a jaguar titled Blessing to form an active/passive or asexual, or perhaps a co-dependent couple, where Prayer is the predator, and the zebra, its prey. They would look good in the bedroom together.
It turns out that a group of zebras are called a dazzle (how fitting for a work of glitter!), and through exerting a barber pole optical illusion they cause pests and predators to mistake the zebra's movement direction and mistime their attack. The black and white lines appear as if the stripes are moving up or down vertically and just like love, the zebra coat stripe pattern is one of the oldest questions in evolutionary biology tracing right back to Darwin.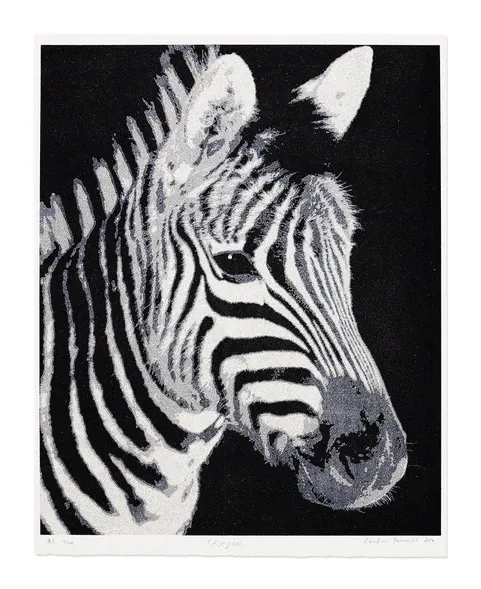 "Art has that purpose of connecting us to our times and as human prey under viral attack, we are now in our own dazzles fighting off a predator. We are that dynamic within a predator/prey system, a new relationship between the multicellular organisms of us, and the cell biology of the novel Coronavirus." – Reuben Paterson.
The Taniwha hanging are by Lonnie Hutchinson that she gifted to my husband on his birthday last year. Inspired by a sensory collection project she was working on with her late father while he was trying to cope with the onset of dementia, Lonnie created a family box including a barrel of monkeys game. From making monkey chains, paper chains and daisy chains as a child to looking at images of taniwha in the North Canterbury caves that finally took the form of taniwha cut-outs hooked together and interlocking to make a chain. I see them as our family bubble being together strengthened during these times.
"The taniwha has been written about in colonial history as bad and evil spirits, when it's actually a tohu that signifies that this is wāhi tapu." – Lonnie Hutchinson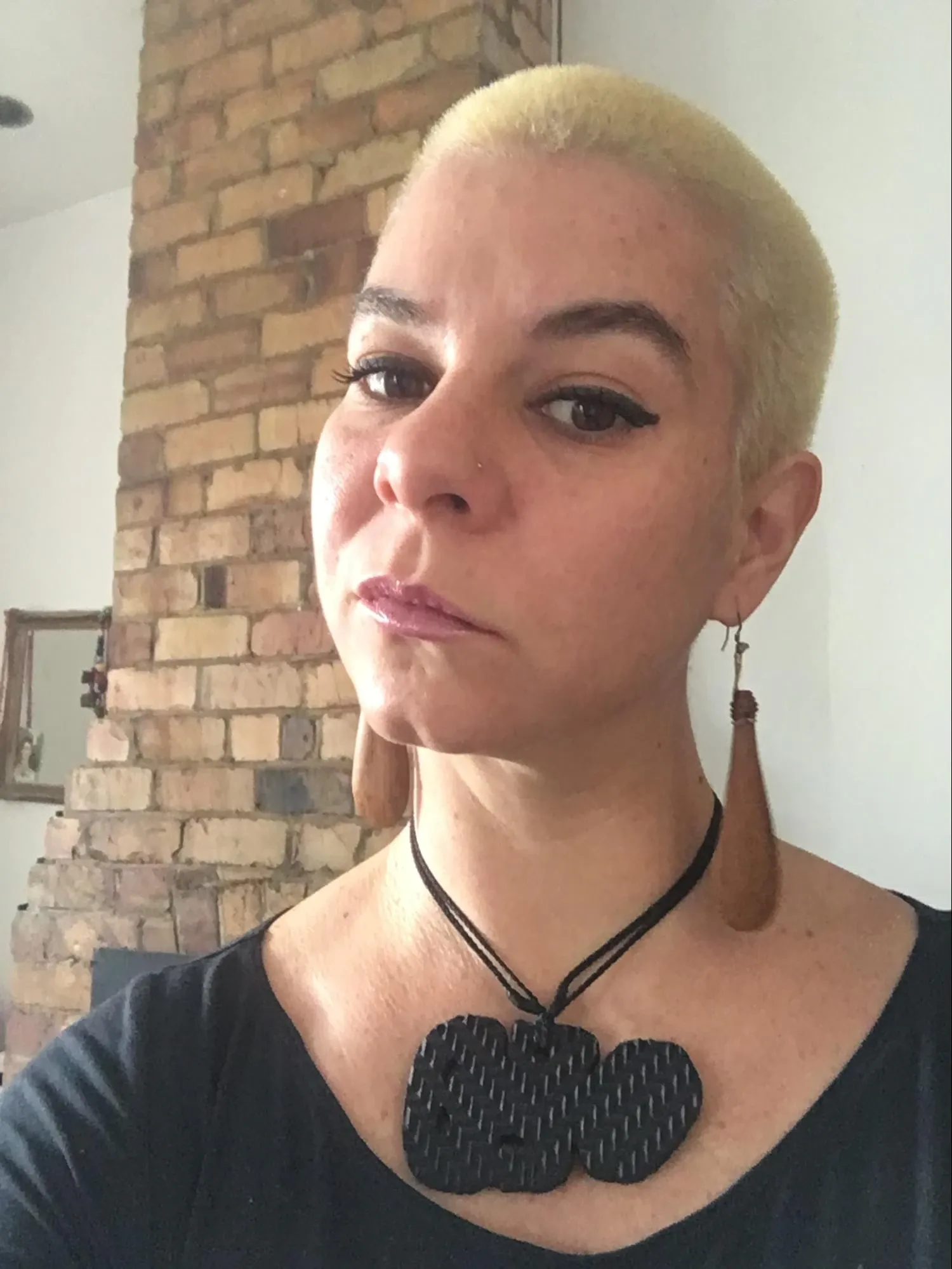 Adorned with:
Edward Giesen rimu patu earrings, based on pounamu mere, known as Te Maunga a Rongo or the Peacemaker. Formerly the property of the Chief Te Kooti and gifted by him to Ngāi Tai chief Wiremu Kingi. Collection of Auckland Museum, Tāmaki Paenga Hira.
Kereama Taepa 3D printed hei tiki taonga with a poutama stepped pattern usually seen on tukutuku panels and woven mats, symbolising genealogies and the various levels of learning. Twenty-five were commissioned as part of Te Whāinga, a Culture Lab I co-curated in partnership with Smithsonian Asian Pacific American Center at the end of last year. All the artist and curators received one. It's like our collective club patch.
The connections between art and artefact are at times so close in the world of contemporary art and I love that. A new space for artists to recontextualise the form through contemporary practice. I feel the connection and the kingship these new contemporary forms hold.
I will end the tour here.
Pay attention to how you are feeling right now. I hope we never go back to what seemed normal to us before. I hope we never go back to our consumerist needs, where the air was polluted, and everything we saw was photoshopped to death. And remember, even though watching Netflix without academic and work pressure is just not the same, perhaps we can find new ways to chase those thrills in our daily lives.
During his Easter sermon, Pope Francis said, 'Take care of yourselves for a future that will come.' He is speaking from an empty St Peter's Cathedral in Rome (well technically the Vatican). I quote him because he is right. It is never too early to start to think about that future that we collectively imagine, where we come out of this together and connected to each other and our natural world much more than before. Our spaces outside are now filled with space…and with that space comes potential and possibility.
But it is my luck and privilege to muse like this and post pictures of my 'happy' scenery while the lockdown for many 'other' New Zealanders is so very different. This crisis is impacting the most vulnerable among us because of our unequal society. Let's hope that what we chose to build is a lot more just for everyone. Selfcare that doesn't overlook anyone.
Take care from my dazzle to your dazzle, from my chain to your chain, from my mirumiru to yours.