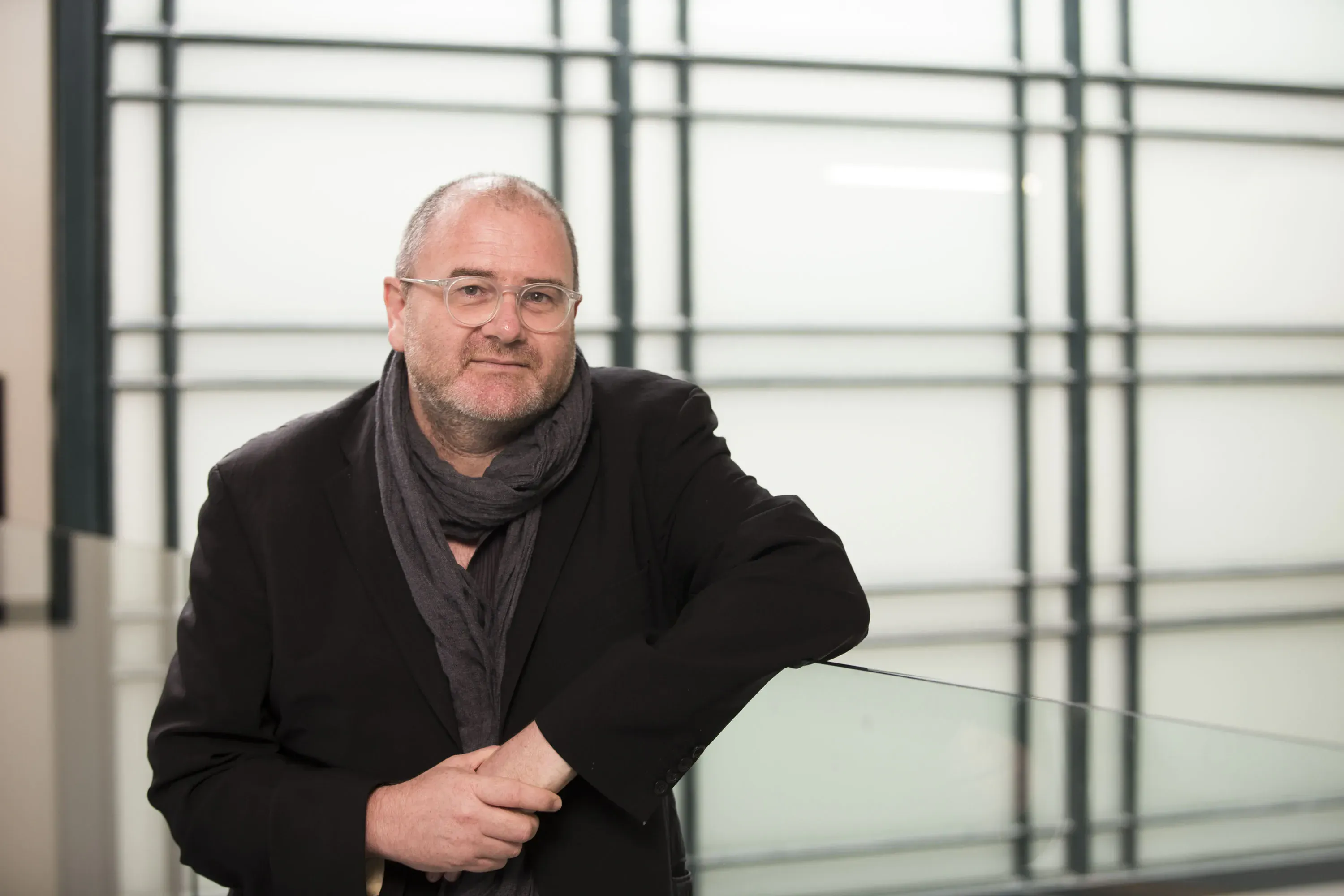 When Robert Leonard's position as Chief Curator at City Gallery Wellington evaporated in the Experience Wellington restructure last year, many in the art world were stunned, then aghast, then furious.
It seemed an odd way to treat the cultural influencer. The Big Idea caught up with Leonard for a chat, an exit interview if you will.
Early impact
Some of Leonard's early shows—including Headlands: Thinking through New Zealand Art (1992), Action Replay (1998), and Mixed-Up Childhood (2005)— are remembered for casting a new light on our art and art history.
"Headlands at Sydney's Museum of Contemporary Art was their first major international show and a huge opportunity for me - still in my twenties, still green," says Leonard.
"As a perverse remix of the New Zealand art canon, it ruffled feathers. At the time, John Daly Peoples wrote: 'Headlands will be reviled, revisited, reinterpreted and reassessed, but ultimately it will be the significant exhibition of the 1990s, having marked out the points of reference for the next decade.'
"That sounds rather grand, but I think it's true."
In the 1990s, the New Zealand art world was in a state of flux as old Eurocentric hierarchies were breaking down and new kinds of politics were beginning to assert themselves. International art movements suddenly seemed more accessible and yet, in some ways, more irrelevant. Race, gender, class, sexuality, and indigenous politics were beginning to find a new equilibrium.
"The Headlands catalogue-cover image—Leslie Adkin's photo of a man doing a headstand on top of a power pole in Levin in the 1920s—seemed to sum up the show's ambition, implying both isolation and connection, irreverence and a search for new viewpoints.
"Action Replay was a suite of exhibitions addressing 1970s post-object art as a missing chapter in New Zealand art history. I organised it with a team of other curators and it was staged at Artspace, Auckland Art Gallery, and the Govett-Brewster Art Gallery. It was a catalyst."
Taking pleasure in upsetting the apple cart, Leonard brought together the bleeding edge of international art and a deep appreciation of the local to help set many of the agendas for art in Aotearoa in the 1990s and early 2000s.
"I like doing code-clashing theme shows," he says puckishly. "Mixed-Up Childhood at Auckland Art Gallery tackled vexed questions about the way we depict and relate to children, placing international artists - like AES+F, Louise Bourgeois, the Chapmans, Henry Darger, Robert Gober, Mike Kelley, Mary Kelly, Sally Mann, Paul McCarthy, Grayson Perry, and Inez van Lamsweerde - in conversation with locals, like Richard Killeen, Yvonne Todd, and Sima Urale."
Mixed-Up Childhood proved surprisingly popular.
Metro magazine declared it the best show of 2005 and it won sponsor Simpson Grierson a bravery award. "Actually, the bravery award should have gone to Auckland Art Gallery Director Chris Saines for backing Janita Craw and I to curate it," says Leonard.
As curator-director of the Institute of Modern Art in Brisbane from 2005 to 2013, he continued to hone his approach. He presented a litany of sharp solo shows, with artists like Hany Armanious, Richard Bell, Olaf Breuning, Cao Fei, Chicks on Speed, Shane Cotton, Gregory Crewdson, et al., Mikala Dwyer, Marco Fusinato, Shaun Gladwell, Bill Henson, Shirin Neshat, Stuart Ringholt, Taryn Simon, Simon Starling, Yvonne Todd, Diana Thater, and Artur Zmijewski.
He interspersed these with topical think-piece shows, including Grey Water on pollution, The Same River Twice on historical re-enactment, Let the Healing Begin on art and therapy, and Daydream Believers on nostalgia.
City Gallery Wellington
Leonard arrived at City Gallery in 2014 with the stated ambition to do "bigger, more researched, more consequential shows, a lot of them dealing with local art history."
He says "part of the attraction was having the bigger, broader audiences that a public gallery provides - being involved in a more public discourse."
While he was in Australia, Leonard had stayed in touch. "I enjoyed a trans-Tasman existence, shuffling back and forth. I worked a lot with New Zealand artists, toured shows to New Zealand, and read EyeContact and Over the Net every day over breakfast. In many ways, it was like I never left."
Not that coming back was without its novelties: "When I returned to live," he says, "what surprised me was hearing kids in Wellington cafes casually conversing in Te Reo—not practising for exams, just chatting.
"That felt like a generational shift. From Australia, I hadn't appreciated the extent to which biculturalism was transforming grassroots life in New Zealand."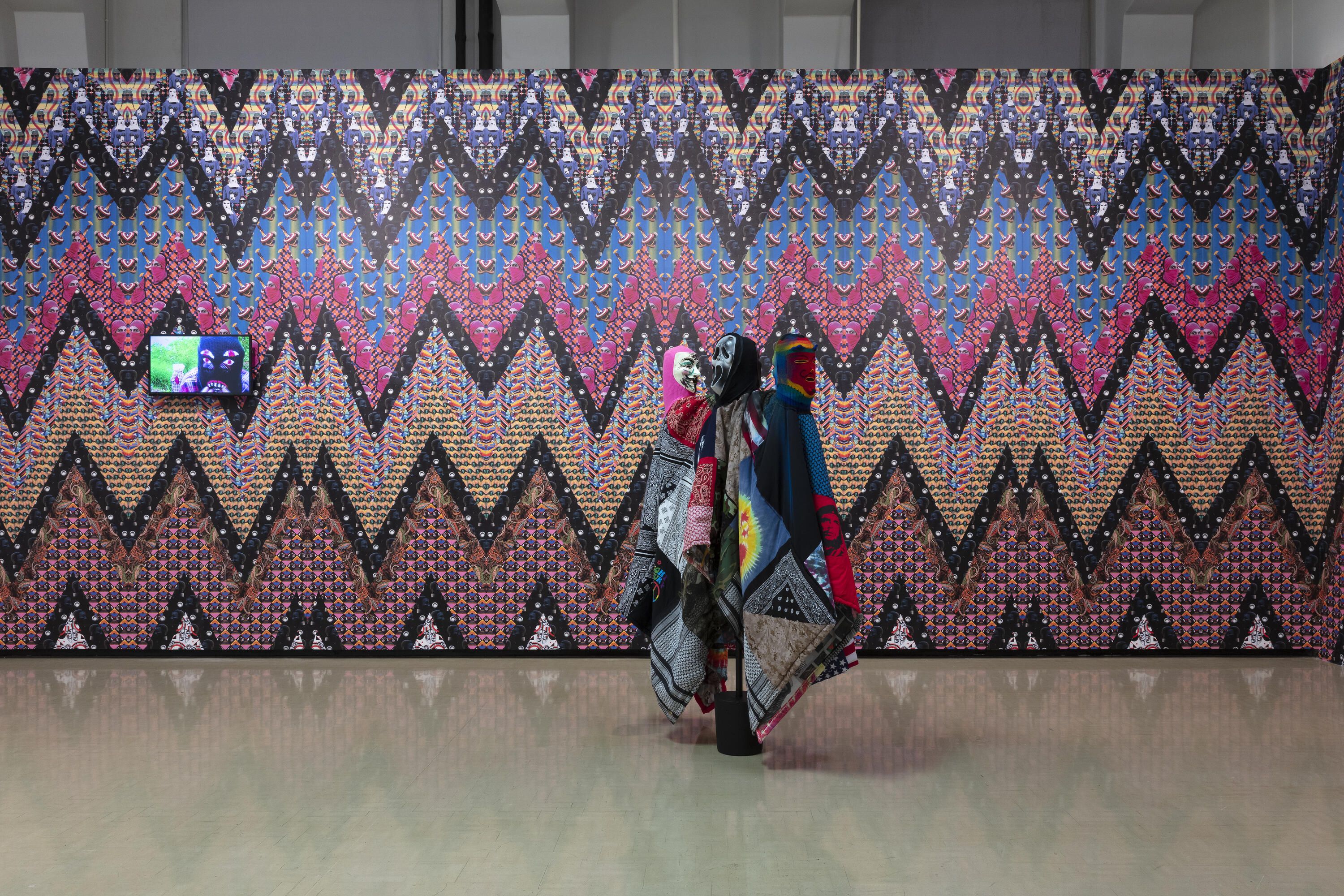 Jemima Wyman; Iconography of Revolt, City Gallery Wellington, 2018.
Leonard's City Gallery appointment coincided with the announcement that he would be curator of the New Zealand pavilion at Venice for 2015.
"It was a golden ticket. (Simon) Denny's Secret Power show would be one of the hits of Venice that year. It was amazing to see the international art world machine whir into action around it.
"I never experienced anything like that before or since."
At City Gallery, Leonard would do shows of Yvonne Todd, Julian Dashper, Candice Breitz, Francis Upritchard, Colin McCahon, John Stezaker, Semiconductor, Zac Langdon-Pole, and others.
Did he accomplish what he wanted to?
"I think so," he says. "Typically, the Gallery presents three or four shows at once, like a magazine—which I liked. But, on occasion, I used the whole space for a single show—a big statement. I did that with Yvonne Todd: Creamy Psychology and This Is New Zealand."
"When we filled the Gallery with Todd's work, it seemed risky and bold. I wanted to show the potential of bigger solo shows, which stretched out and drilled down. At the time, colleagues were worried that Todd wouldn't hold the space, but it proved engaging and popular."
City Gallery Wellington set the standard as a vital player in the Aotearoa art ecosystem. Its place in the national (and some might say cultural) capital gave it incredible influence—not least in giving Te Papa a run for its money.
"Doing This Is New Zealand with Aaron Lister and Moya Lawson turned out to be perfect timing. Our show played on a combination of nostalgia and repulsion for national-type images and gestures. Having been closed for renovations, City Gallery and Te Papa both reopened almost simultaneously, though that hadn't been anyone's plan.
"Te Papa returned with more gallery space, spruiking its commitment to contemporary art—our area. We reopened with a show addressing the legacy of national representation—their area. It looked like a bold, counterintuitive chess move.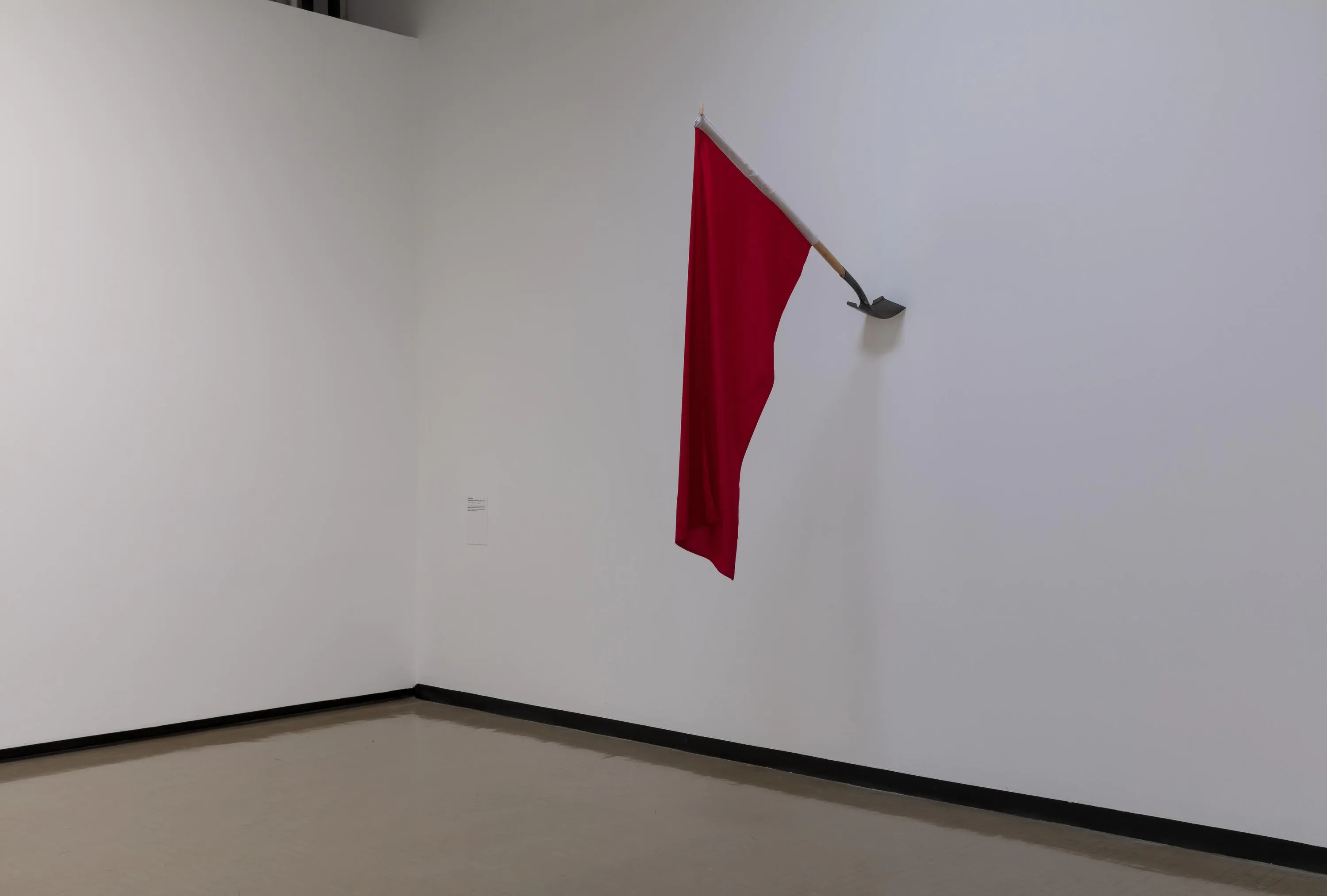 Dane Mitchell Untitled (Flag) from The Barricades 2007, Biering Family Collection, Iconography of Revolt, City Gallery Wellington, 2018.
"One of my pet-project shows was Iconography of Revolt—on the intersection of revolt and fashion, the mainstream and the marginal—scrambled art and pop culture in a disorienting mix of seriousness and levity.
"Another high point was my last four shows—Brett Graham, Tia Ranginui, Judy Millar, and Pierre Huyghe."
Months after his departure, Leonard is still unable to talk about the circumstances that ended his tenure - yet he looks back on his time at City Gallery Wellington as a mix of triumphs and some disappointments.
"I wasn't able to get a couple of big ideas off the ground. Several were victims of COVID. Also, I would have liked to have developed a stronger publishing base at the Gallery, publishing more, more often.
"But that's fed into my work with Bouncy Castle [his new publishing imprint with Bruce Qin]—though we are only just onto our second book."
Advice from an expert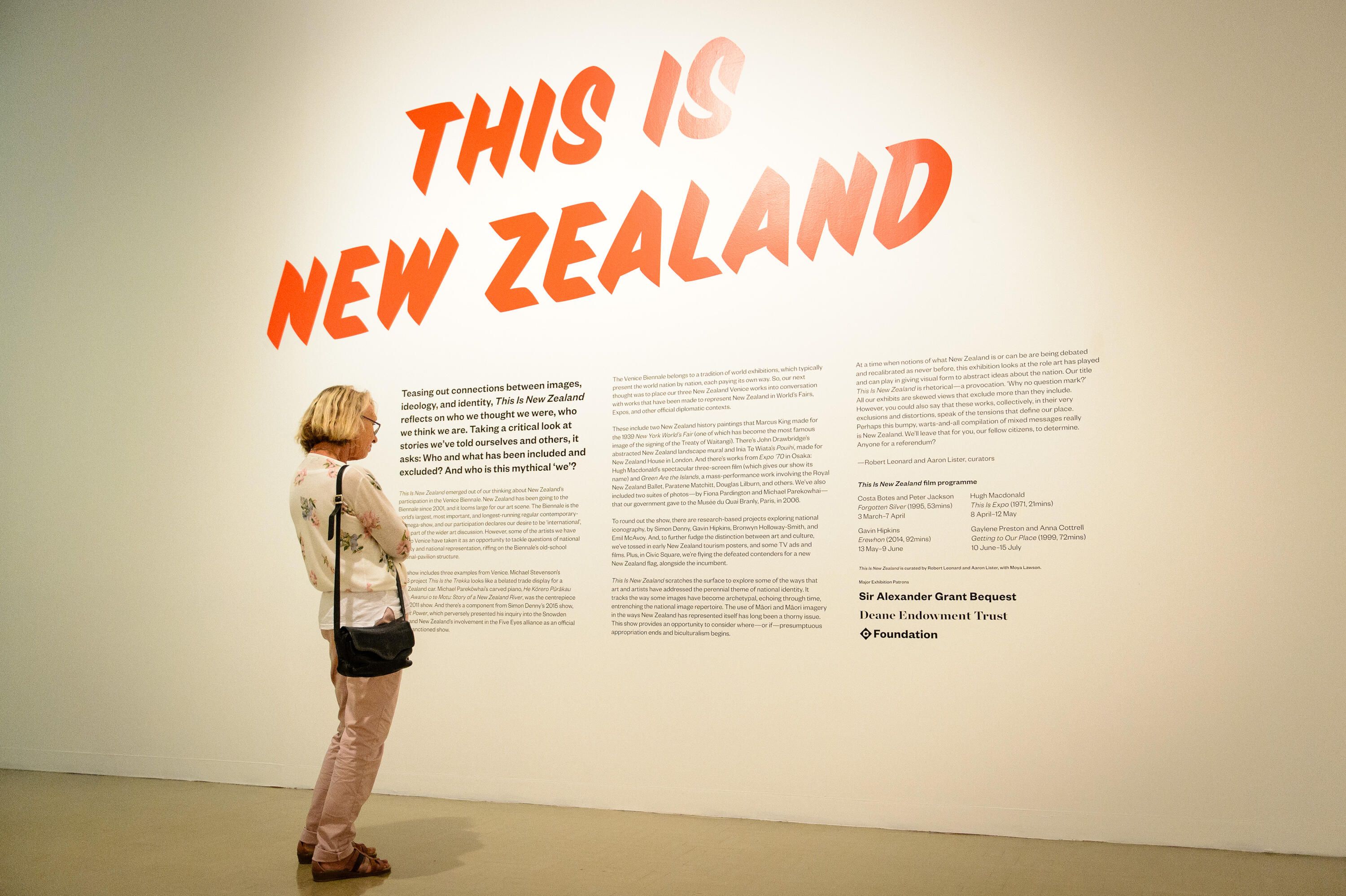 This Is New Zealand, City Gallery Wellington, 2018.
Since he was a young intern at the National Art Gallery in Wellington—long since absorbed into Te Papa—Leonard has seen great changes in the ways art is made and curated. He doesn't presume young curators will necessarily be interested in his advice.
"My approach," he says, "evolved in the postmodern 1980s, a moment that emphasised fluidity, irony, and play. For me, that defined curating—it was part of a curatorial turn.
"I value that way of working. I don't think it's any less relevant or insightful now, but it's not where young curators tend to start from today. They tend to be grounded more in questions of identity, less playful, more essentialist. Is it a pendulum swing or a sea change?"
When quizzed on how art is moving, he says, "I'm interested in the way climate-change thinking is transforming art. In 2020, I made concurrent shows with Zac Langdon-Pole and Simon Ingram where environmental 'more than human' thinking turned out to be a common thread.
"I'm interested in the tension between such approaches - which ask us to transcend ourselves - and identity politics - which grounds us back in ourselves - it's an ideological tug of war in art now. Of course, there are fascinating moments when these apparently contradictory agendas interpenetrate."
Leonard's next project
Where to now?
"I'm looking for opportunities to continue to do what I do: writing and making shows," says Leonard.
"I've been editing a collection of Giovanni Intra's writings. And, I've been working with John McCormack on editing Art News New Zealand—our Billy Apple tribute issue is out. Plus, I have a bunch of projects in progress or under discussion, but not yet ready to report on."
The Intra book is much anticipated.
Intra was a fascinating figure in New Zealand art in the 1990s, a leading light in a generation of Elam graduates that included Michael Parekōwhai, Tessa Laird, Denise Kum, and Daniel Malone. He made a splash as a gallerist in Los Angeles, only to have his life tragically cut short by a drug overdose in New York in 2002. He died at 34, the same age as Philip Clairmont—another New Zealand artist who celebrated drug experience.
"Chris Kraus at Semiotext(e), the Los Angeles publishing house, wanted to publish a book of Intra's writings. Andrew Berardini was editing it but had to pull out. Kraus emailed me, asking who might replace him. I said: me, me, me.
"So Clinic of Phantasms is now being published jointly with Bouncy Castle.
"Intra's tale is picaresque. He was an artist, critic, curator, gallerist—a driving force behind the Auckland gallery Teststrip, then LA's influential China Art Objects Galleries.
"He never had any working capital but got by on cunning and charisma. He's been an inspiration for artists and art baggers here—myself included—proof that one could make waves overseas (without trust funds).
"Intra's writings offer a breathless guide to the New Zealand and Los Angeles art scenes of the late 1990s," Leonard continues, "but what makes them special is his unique voice—informed by punk, situationism, surrealism, and 'theory', scrambled with Daniel Paul Schreber's hallucinogenic paranoia.
"It's easy to romanticise Intra for dying young, but I want to remember him for how he lived."