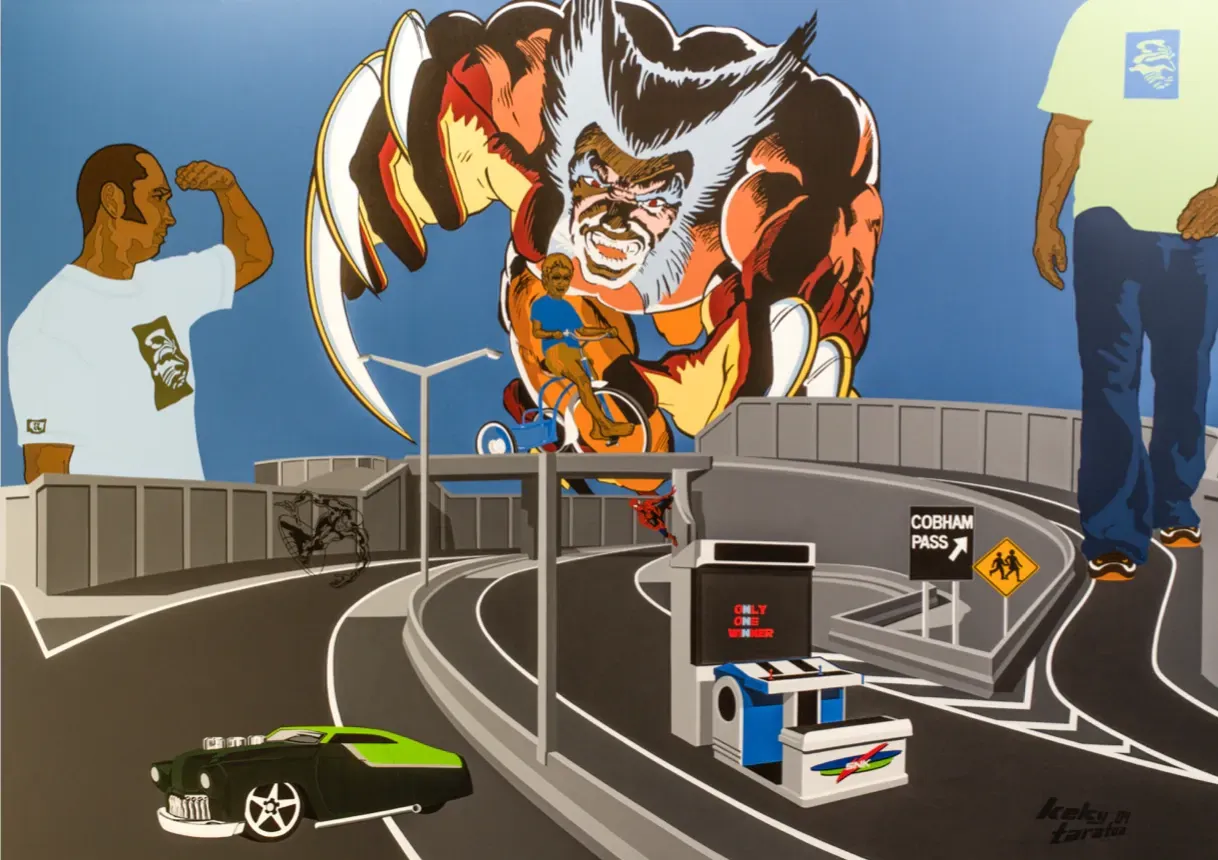 Kelcy Taratoa (Ngai Te Rangi, Ngāti Ranginui and Ngāti Raukawa) is a well-respected art educator and artist, known for his bold colours and large-size works which often reference comic books. Always one to push boundaries, his upcoming exhibition at Tauranga Art Gallery, 'Kelcy Taratoa: who am i? episode 001', will see him painting 7 metre high works directly onto the walls, exploring the cultural significance of Tukutuku panels. In the lead up to his opening, we caught up with Kelcy and asked him to share any pearls of wisdom with us that he had gleaned over the years.
Kelcy started by telling us that he believes it's not only vital to have talent, but it's important to have strong aspiration and an understanding of what is required to realise goals. He explains, "many years ago my friend made a couple of adages that I've never forgotten: ..talent is a dime a dozen…and talent will only take you so far." What he was referring to is that there is an abundance of people with innate creative talent, but it's what these talented individuals build around themselves that distinguishes them from their peers.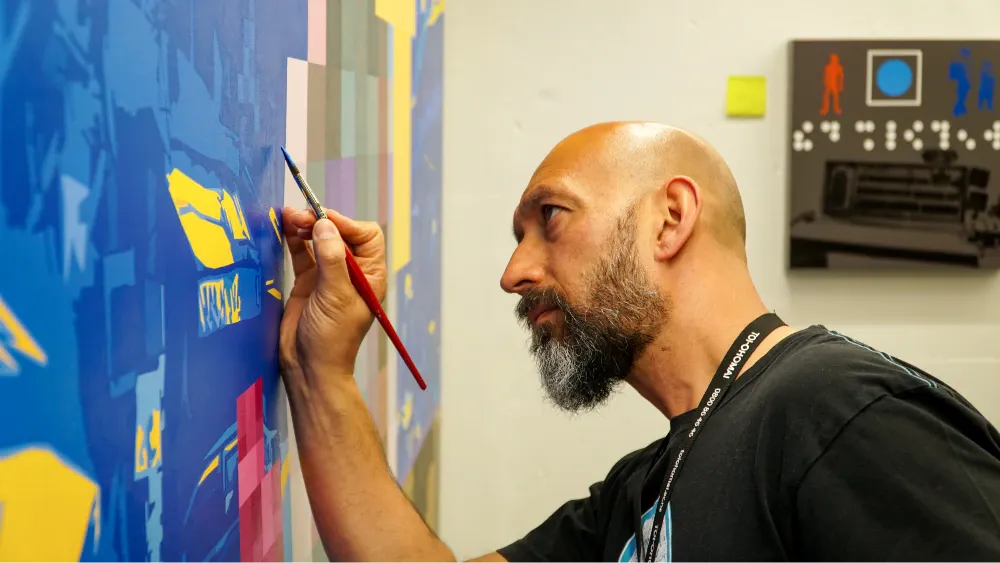 Kelcy Taratoa, supplied.
Kelcy's five pou
My response to these comments is to construct pou, a type of column, which are approaches and ways of being that encourage and support creative activity. What we all come to realise, is that creative flows can be sporadic and elusive. My pou assist me in connecting with the internal and external, to enable creativity to flow.
The following are five pou I have constructed as supports for my career as an artist and arts educator. Much of what I am sharing with you I did not come up with on my own, rather they are adaptations from creative practitioners.
Power of rituals
I use Zen as means of making associations with rituals - things we can do in the studio that help connect us with the act of being creative - like reciting a karakia, or changing into studio clothing. Rituals can establish meaning, rhythm and conditioning for the waiura (spirit) hinengaro (mind), and tinana (body). We creatives often require a state of being that enables us to transcend to a psychological/spiritual space where our creative genius can flow. I have found Zen-like rituals very helpful in encouraging creative connection and continuity, both settling and opening my mind. And they are now crucial to my creative practice.
Tama tū, tama ora. Tama noho, tama mate!
This is a Māori whakatauki: Tama tū, tama ora. Tama noho, tama mate! This proverb encourages youth to be engaged in life and pursue their aspirations and create their legacy. To be idle is to forsake oneself, and die. Turning up to the studio with self-belief and a determination to put in effort and time is essential for me. The discipline of daily studio time establishes a connectivity with my ideas and a sensitivity with the act of making. Being present in the studio conditions both mind and body to perform, and delivers desired creative outcomes.
Tama tū, tama ora. Tama noho, tama mate!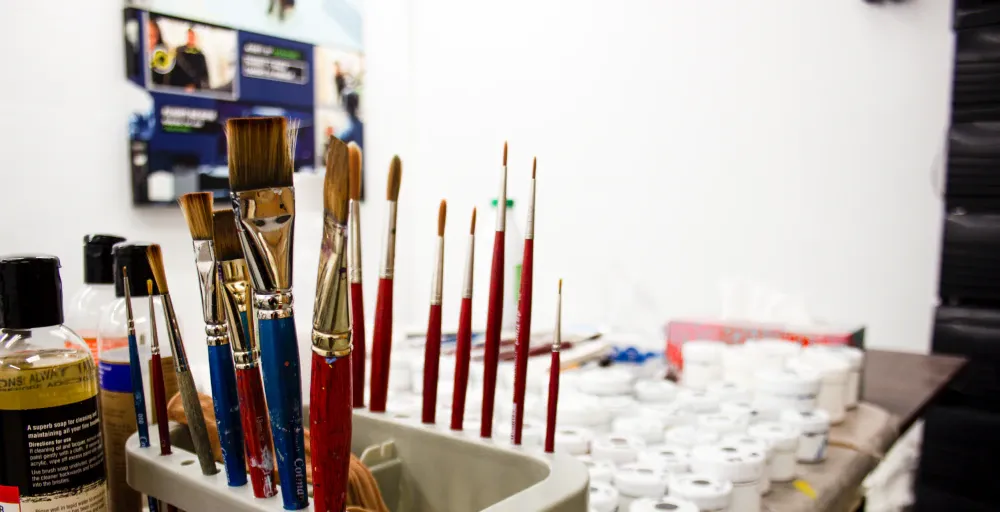 Photo by Kelcy Taratoa - provided.
Facing the blank canvas in the room
Facing the unknown - the blank canvas and raw materials yet to be worked into something resembling what is in the imagination, for many can be ominous. My advice is to trust in both your creative genius (your innate talent) and a creative process. Once you've established a creative process, return to it with each project, adding to it and adapting it as necessary. What I am suggesting is no different to the All Blacks having a game plan. The intent of the game plan is to accumulate more points than their opposition. To achieve this, they must trust in and execute the game plan.
All artists face a blank canvas. Taking up the challenge of bringing something into existence is what we do. My advice is to confidently face this challenge, with the aid of a creative process you develop and trust.
Build a Community
Working in the studio is only one part of an artist's activity. Being part of a creative community is equally important. Your community is where you draw support for your practice and give support to others. Some people will speak of networking. I prefer to say "build a community". Community has a warmth about it. When you're a member of a community, you're invested and more likely to support this community by participating in it. We creatives can be guilty at times of being self-absorbed. Building and maintaining relationships of trust and reciprocation is crucial for establishing and sustaining an art career.
Your community is where you draw support for your practice and give support to others.
Navigating the Terrain
Understanding the terrain of your area of the creative industries is crucial to your career. My advice is to study this terrain and map it out visually. You need to know how you will both navigate this space and operate within it. Describe the architecture. Who are the people working within the architecture? Knowing the type of artist you are and career you aspire to have will direct you toward both the institutions and people you will need to build relationships with. Navigating is about knowing and understanding the terrain to plot a course, having a strategy you will implement, and negotiating spaces in order to orchestrate career aspirations.
I hope these pou serve you well, as they have me.
Kelcy's exhibition 'Kelcy Taratoa: who am i? episode 001' opens on 5 October 2019 at Tauranga Art Gallery. For more information on the exhibition, please visit Artgallery.org.nz/whoami