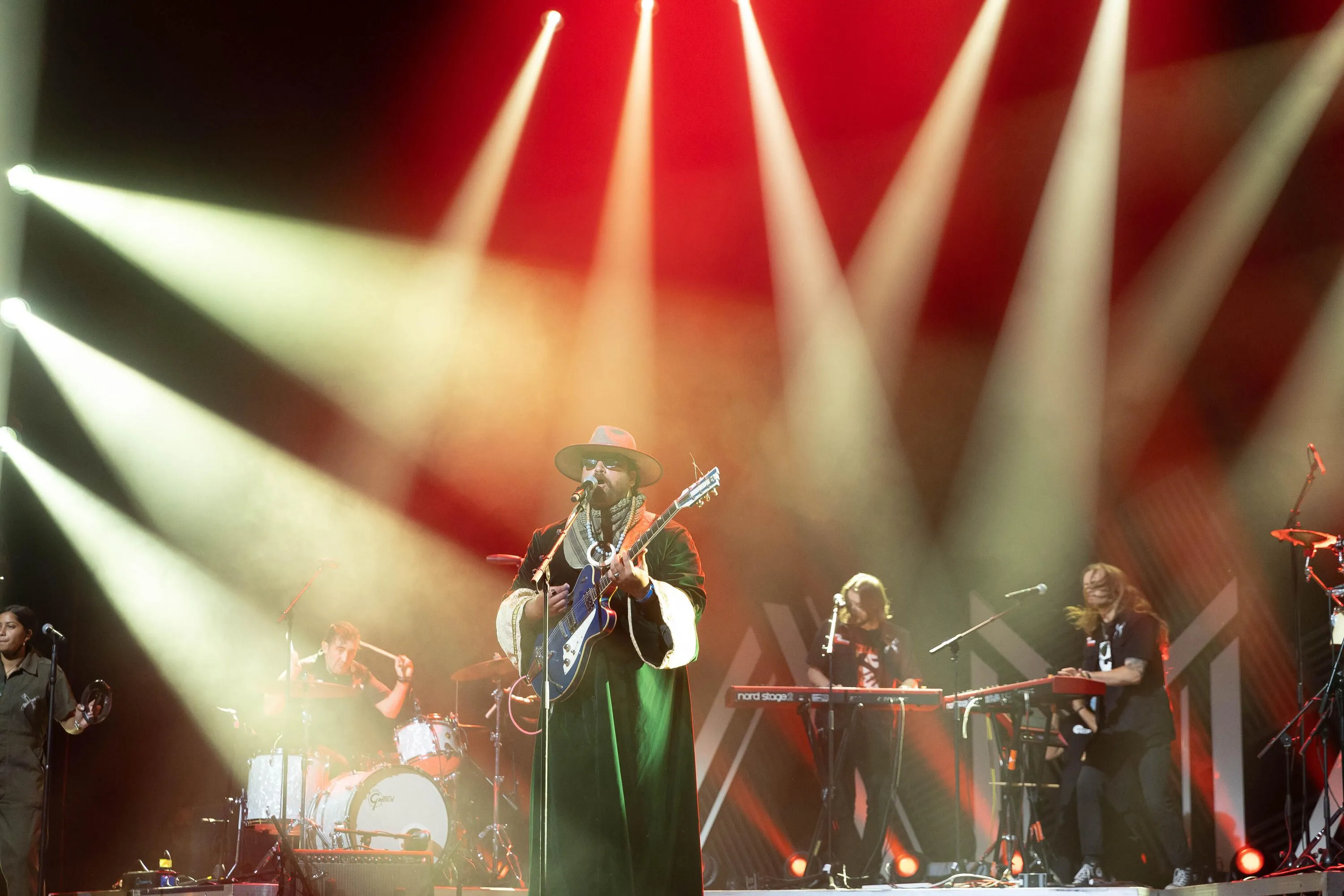 These are disturbing times for Aotearoa's music industry..
Yet somehow, the nation's proliferation of creative and talented artists have not only forged a way through - they've flourished.
And there's the determination to make 2022 even better for the world-class of oh-21.
The scope and depth of talent shone through the gloom at a scaled-down version of the Aotearoa Music Awards on a blustery Auckland evening on the cusp of Christmas.
It felt like a release. A reunion of talented souls as the finalists and industry leaders mingled with the masked media before, during and after an upbeat celebration of achievement and fired-up performances, inside the sparsely populated and socially distanced Aotea Centre theatre.
The popular L.A.B reaped a four-strong collection of Tūī on the back of their album L.A.B. IV including Album of the Year and Single of the Year. Soulful R'n'B sensation TEEKS marked his breakout year with three .. while the infectious 'PEKE' from Te Nūtube's 9 and 11 year-old girl cousins snared two of the impressive trophies designed by Weta Workshop guru Sir Richard Taylor.
The Big Idea's Chris Forster soaked up the unique atmosphere and caught up with some of the musicians who are set to shine even brighter in 2022.
TEEKS
Oozing soul, intelligence and compassion, TEEKS's debut album Something to Feel is the encapsulation of his talents and his hat-trick of Tūī included Best Solo Artist and Te Māngai Pāho Te Kaipuoro Māori Toa Best Māori Artist.
"This year has been pretty out of it, he tells The Big Idea. "I kinda lucked out, I decided to release my first album in the middle of a global pandemic. I think we should strive for artistry and mastery over success."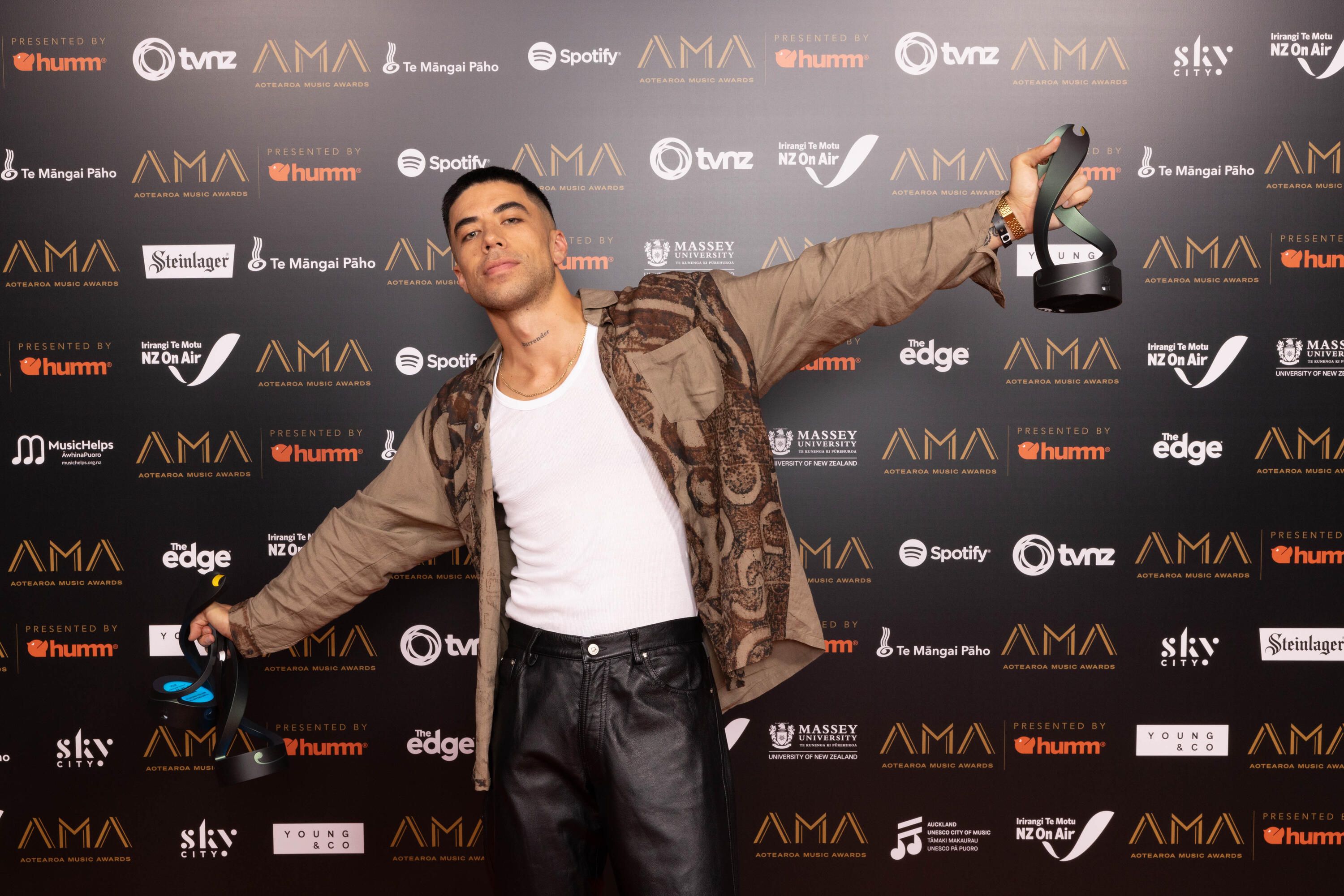 Tūi Meke - TEEKS had a big night out at the AMAs. Photo: Supplied.
Accompanied by his proud mum, the 28 year old wasn't holding back on the lack of women performing at the AMAs which created a moderate stir in the lead up to the event.
"The disparity that we see tonight is just a reflection of the wider music industry and it goes a lot deeper. Tonight brings that into focus. It needs attention .. people need to acknowledge that as creators … creativity is mainly a feminine trait … there's definitely an imbalance and it's something that needs to change.
"Women need to feel empowered so they are visible .. our wahine are out there .. doing their thing. There are plenty of wahine doing amazing things.
"But sometimes it comes down to release periods as well .. many factors.. Next year, it will be all women."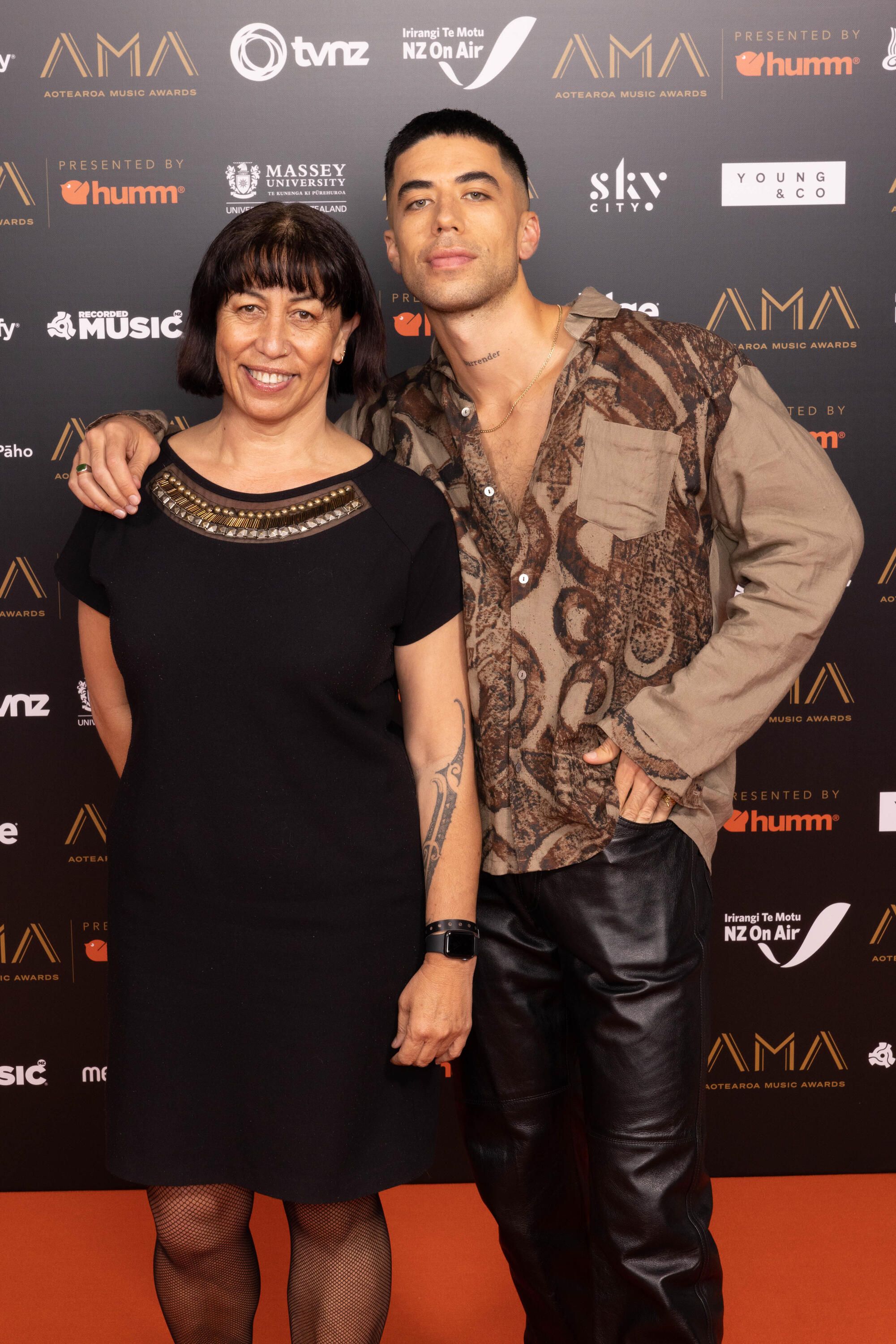 TEEKS and his mum. Photo: Supplied.
He's best known for his emotional, honest slow songs, but there is a mix on his successful album.
"I've got like three uptempo songs on my record but definitely there are a lot of ballads," he laughs. "I love ballads and writing sad songs. Like feeling the pain .. that's what I resonate with the most. I like to perform songs that I can do really well. I can make people feel something."
Harper Finn
New Zealand's famous Finn family has an emerging star, and he's only just getting started.
Harper Finn released the uplifting, catchy single Dance Away These Days late in 2020, and was rewarded with the Tūi for the Spotify Te Kaithura Pouro Toa o te Tau Breakthrough Artist of the Year. The 23 year-old is the son of the legend Tim Finn, and his signature tune about hitting the dancefloor and forgetting your troubles is the boost he needed to advance his career.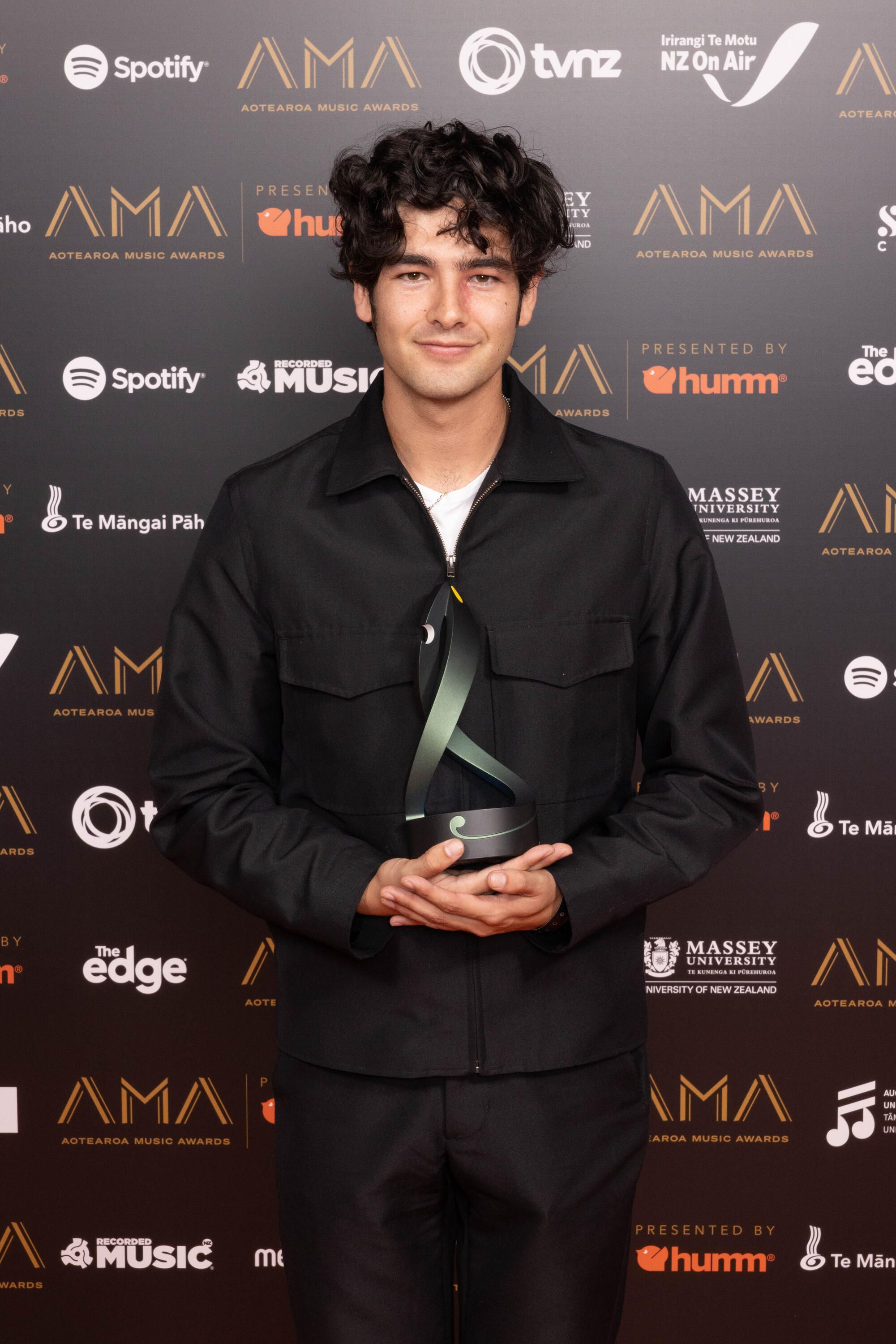 Harper Finn. Photo: Supplied.
"My song still resonates with people other than myself. We're still in a pandemic. It's a sentiment I still believe in, I'll always believe in. It's a song that hasn't gone away.
"As an artist I've still got a lot to say and a lot to do.
"I've been writing a lot this year, it's probably been the biggest writing year of my life. I've got an EP coming out next year. I'm very excited to put that out, I'm still in the early stages of my career.
"You're always going to connect with more people."
Crowded House were also nominated for Album of the Year for the excellent Dreamers are Waiting… full of slow-burners and plenty of verve as Neil joined forces with his old mate Nick Seymour and his two sons Elroy and Liam.
The year of the Finns perhaps?
Harper reckons so too. "Yeah it has been. I'm lucky to have so many musical members of my family.
"It's lovely when we all get together, we have that connection … it's rare when families can connect on something so deeply. A lot of the time they spend their time overseas .. so for us to be together is kind of rare in these times."
Paige Julia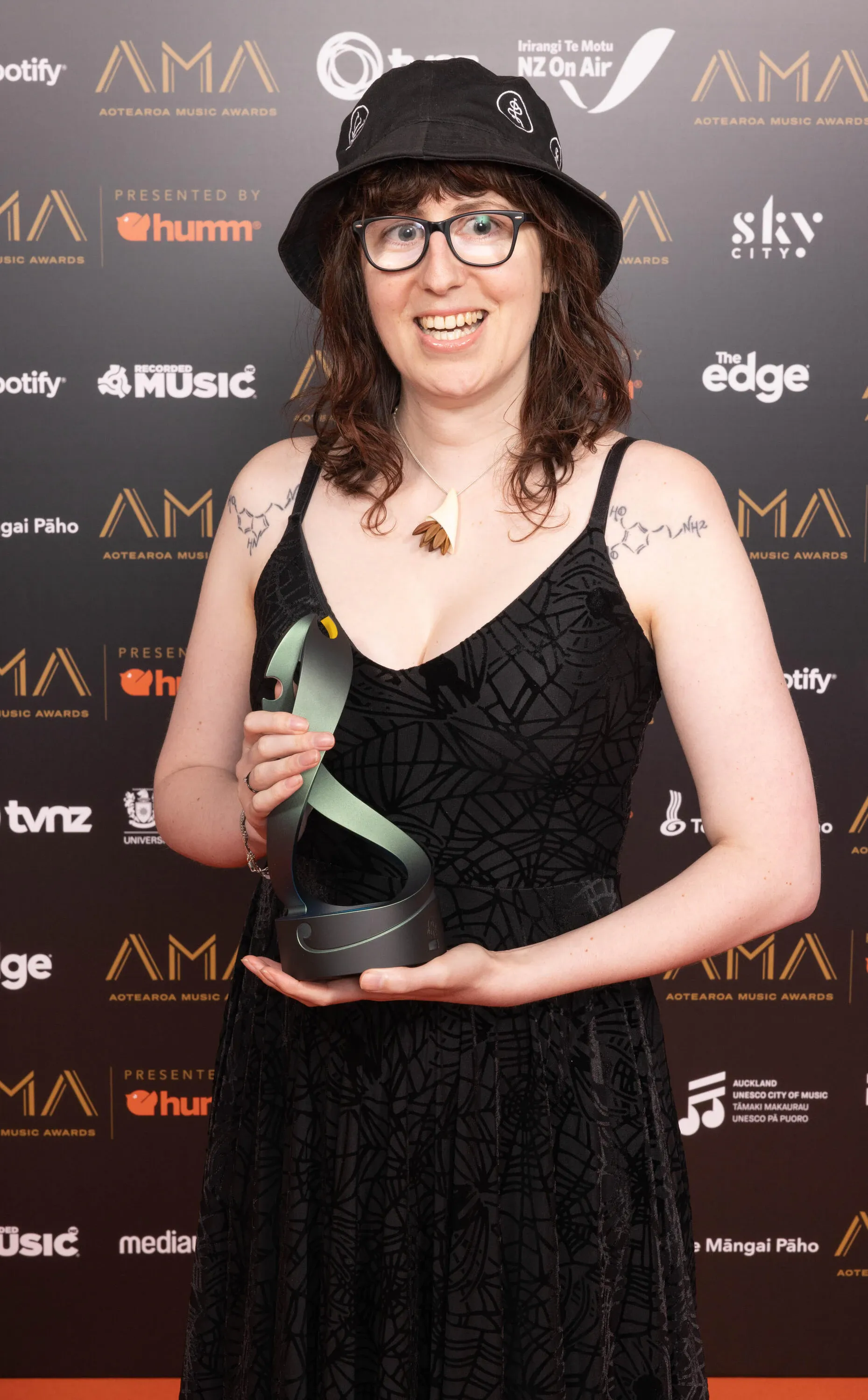 Paige Julia. Photo: Supplied.
When you upstage two of your favourite Kiwi bands to win the Best Electronic Artist, it's easy to understand why Paige Julia was buzzing.
Her blend of drum&bass, techno, breakbeat and dubstep on the Morphling digital album was made during lockdown while mourning the passing of her mum, who she paid tribute to on stage.
Julia explains to The Big Idea "I won the electronic award against Shapeshifter and Sola Rosa. Oh my goodness.
"I didn't expect any of this.
"When I saw the other finalists - already big fans of their work .. with Shapeshifter almost for my whole life to be honest.
"I felt if I didn't win this and they won it well that's amazing .. it's cool to come up here and hang out with all these beautiful artists.
"The other people I'd like to thank are my extended community from the festival scene all over Aotearoa. I've been able to live off music for the last two years. That's because of the gigantic network across the country of weirdos and interesting people who've decided to support me and give me money and let me make weird noise."
She's been able to battle through her own adversity to forge a dream career.
"I've been dj-ing for ten years and making music for eight and I'm involved in teaching a lot of women. I teach music production and DJing all over the country and I'm really passionate about it.. hoping to make a change for the next generation. It's my job and I love to tour and perform and I've got lots of plans."
Julia describes her work as "music to stay up late to .. it's very loud and bassy and aggressive. Maybe alien .. maybe witchcraft. I think it requires the right context to get into it.
"I'm just really stoked that music is my life and music is my job."
She's got plenty more on the electronic horizon.
"I do .. I've got a very exciting next year and the year after. I'll be touring non-stop.
Troy Kingi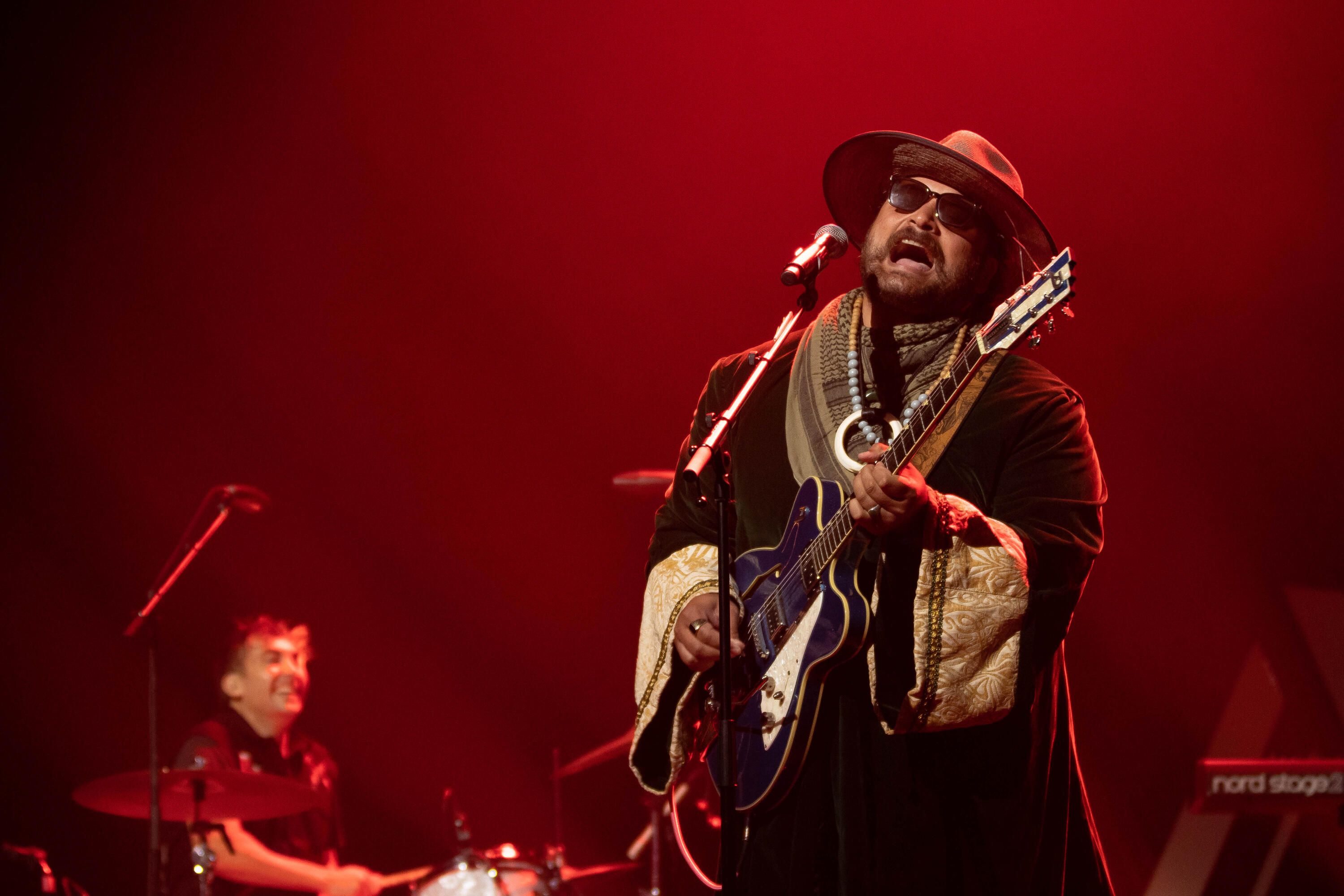 Troy Kingi performing at the AMAs. Photo: Supplied.
Clad in bush attire on the red carpet, complete with gumboots, Kingi reflected on the progress and accolades for his challenging 10/10/10 project. Ten albums, ten different genres in ten years.
He rocked the sparsely populated arena with his drum-fuelled Nam Must Stay from The Ghost of Freddie Cesar in 2019.
Kingi described the evening as "Quite strange. But we live in strange times right now .. it's my first outing from Northland in the last four months so it's great catching up with everyone, but it's still really strange."
His most recent album is the folk-infused collaboration with veteran musician Delany Davison'Black Sea Golden Ladder, which collected two awards for production and engineering.
"You know what, there's been so much amazing music coming out of our country in the last little bit. You can't be mad at that, it's just that everyone's on top of their game and that's so cool.
"I feel our seclusion down here just lends some sort of uniqueness to our sound, really uniquely Aotearoa. And we're not trying to be like anything, we're just who we are. We do have a really special sound down here."
The 37-year-old's finishing the mix for the next edition of his incredibly varied collection of work, but not giving too much away.
"I'm really super excited about that one. I feel this is going to be the one. It's like 1984 - that's all I can say."
Benee
A Tūi veteran at such a tender age, Benee exudes a unique star quality, mixed with next level Kiwi quirkiness, laced humour.
She's a born entertainer - a natural. Her acceptance speech for Best Pop Artist was hilarious. Her ninth Tūi in three years made it feel like home turf.
She was patient and attentive with the endless requests for Instagram videos, sound bites and career updates throughout the evening. Hell, she even recognised my ageing eyes above the mask from an obscure media event before she became globally famous.
An EP is due for release in 2022. "I love releasing an album but it's a lot of pressure and it's kinda like you put a lot of effort into it, then not making music for a year. Or not releasing for ages .. I like EPs. You heard it here first.
"I think it's good now with the whole streaming thing. You listen in little bunches, it's not like having to listen to a whole album.
"Except James Blake." (she loves everything he does - can't get enough).
Benee echoed TEEKS's sentiment.
"I think it's not enough women getting recognition.
"There's a really talented artist called Riiki who's in Wellington, who I would've liked to see perform tonight.
"The quality of the music across all genres has been sky high, but it's been a shit year.
"Musicians still manage to make music. And New Zealand's really good at it. You can do it all (production/recording/engineering) in a room, which is cool."
Vibe Check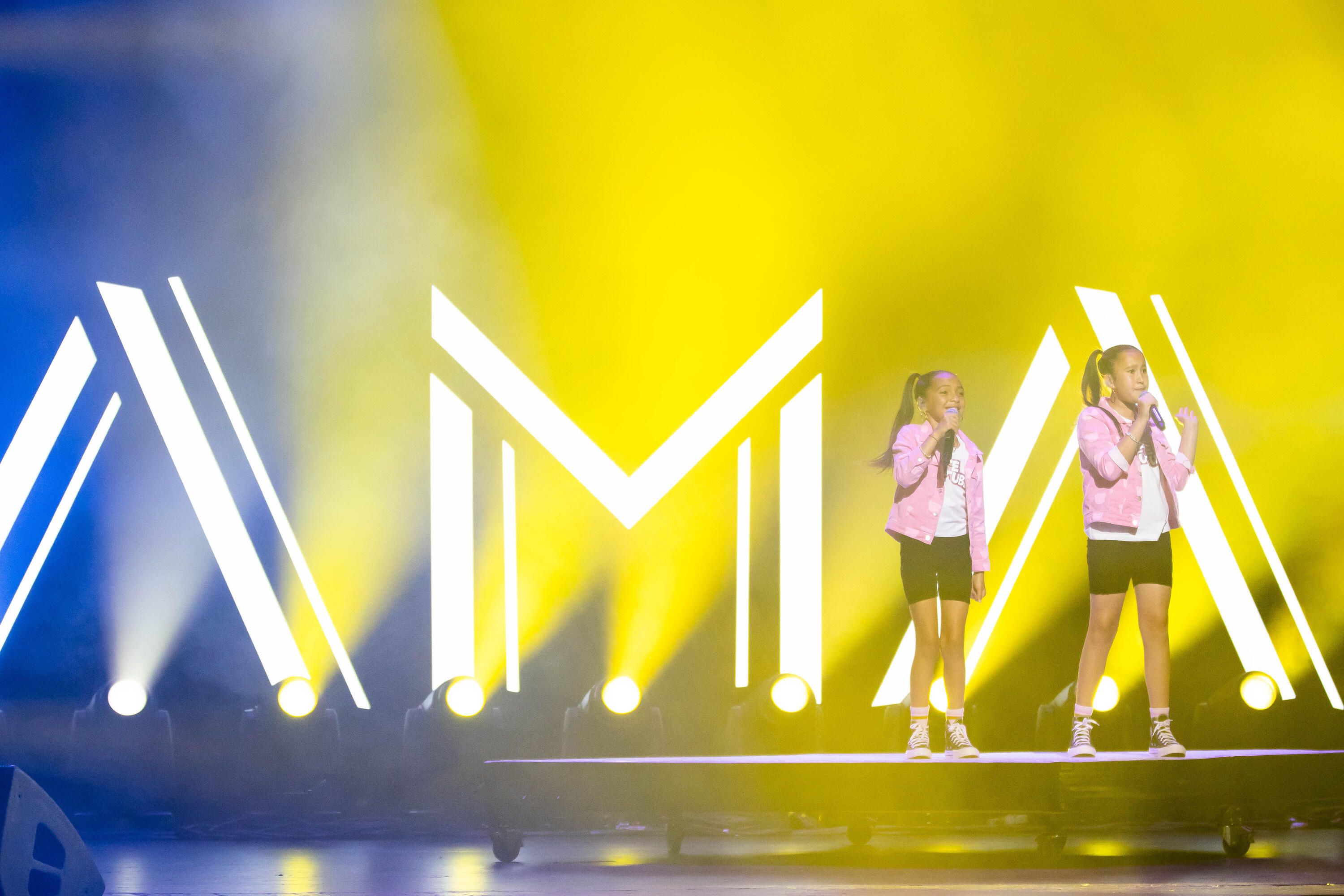 Atareta Milne (11) and Te Haakura Ihimaera-Manley (9) stole the show. Photo: Supplied.
It looked like the extended whānau of New Zealand's top artists were heading for a big night of after-gig parties, while I packed up my laptop and faced a brisk trot up Queen Street to catch the last bus home.
Walking across Aotea Square I caught up with Paige Julia, still beaming and glued to the barrage of well done messages on her phone. We exchanged a few words before going our separate ways.
The sense of community and togetherness in the NZ music scene was in full flight that remarkable night. There's no bitter rivalries or jealousies, just admiration and respect for each other's talent and achievements.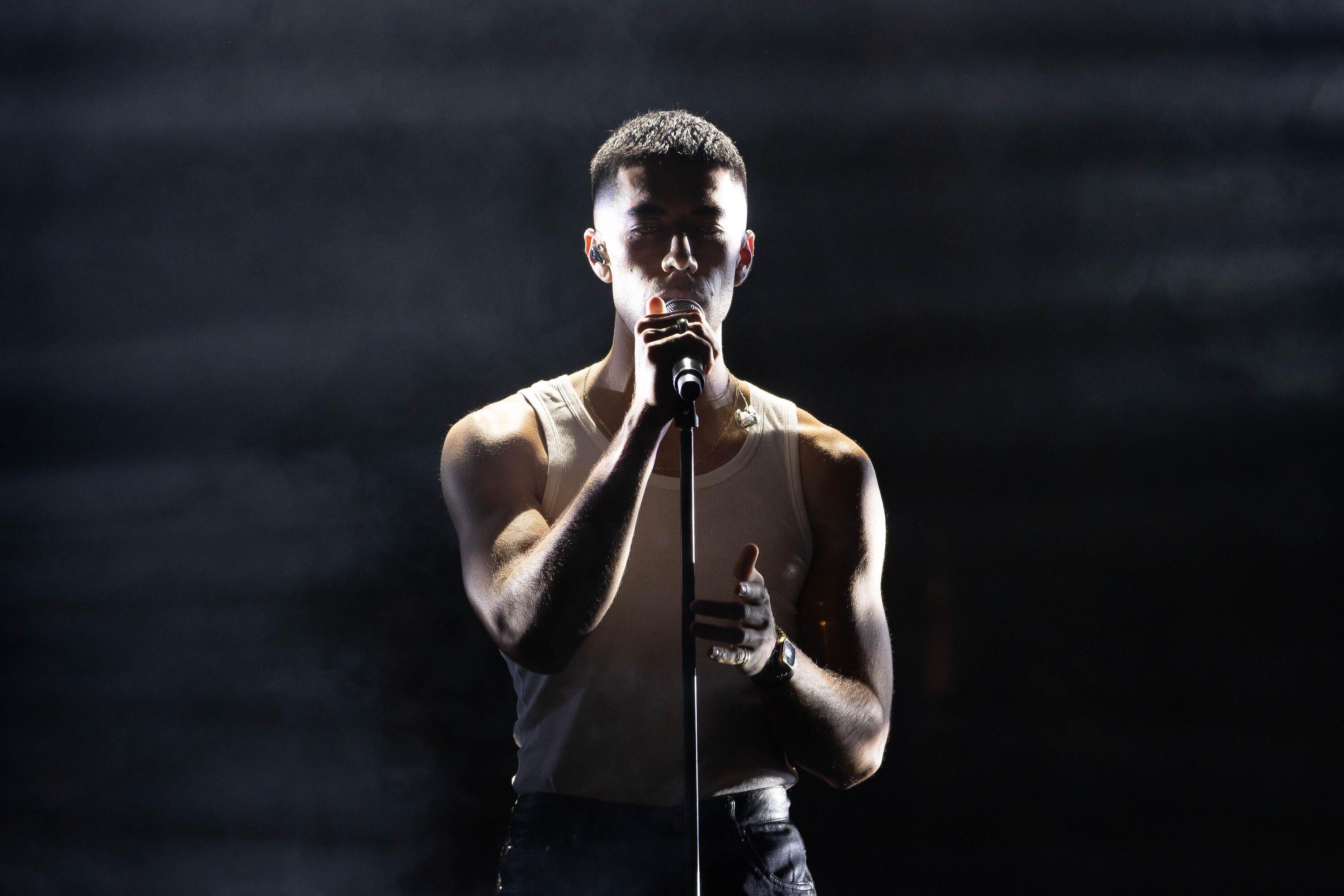 TEEKS performs at the AMAs. Photo: Supplied.
It was a soulful and joyous evening that showcased the people behind a wide range of different styles and objectives.
Vivacious AMAs co-presenter Hayley Sproull's take on the whole event sums up the vibe.
"We've been so focused on what we were doing and the job we have to do. We were lucky enough to hear the rehearsals and I was so emotional.
"It's world class … we're not just little old New Zealand … that music is like something else that moves you in many different ways."