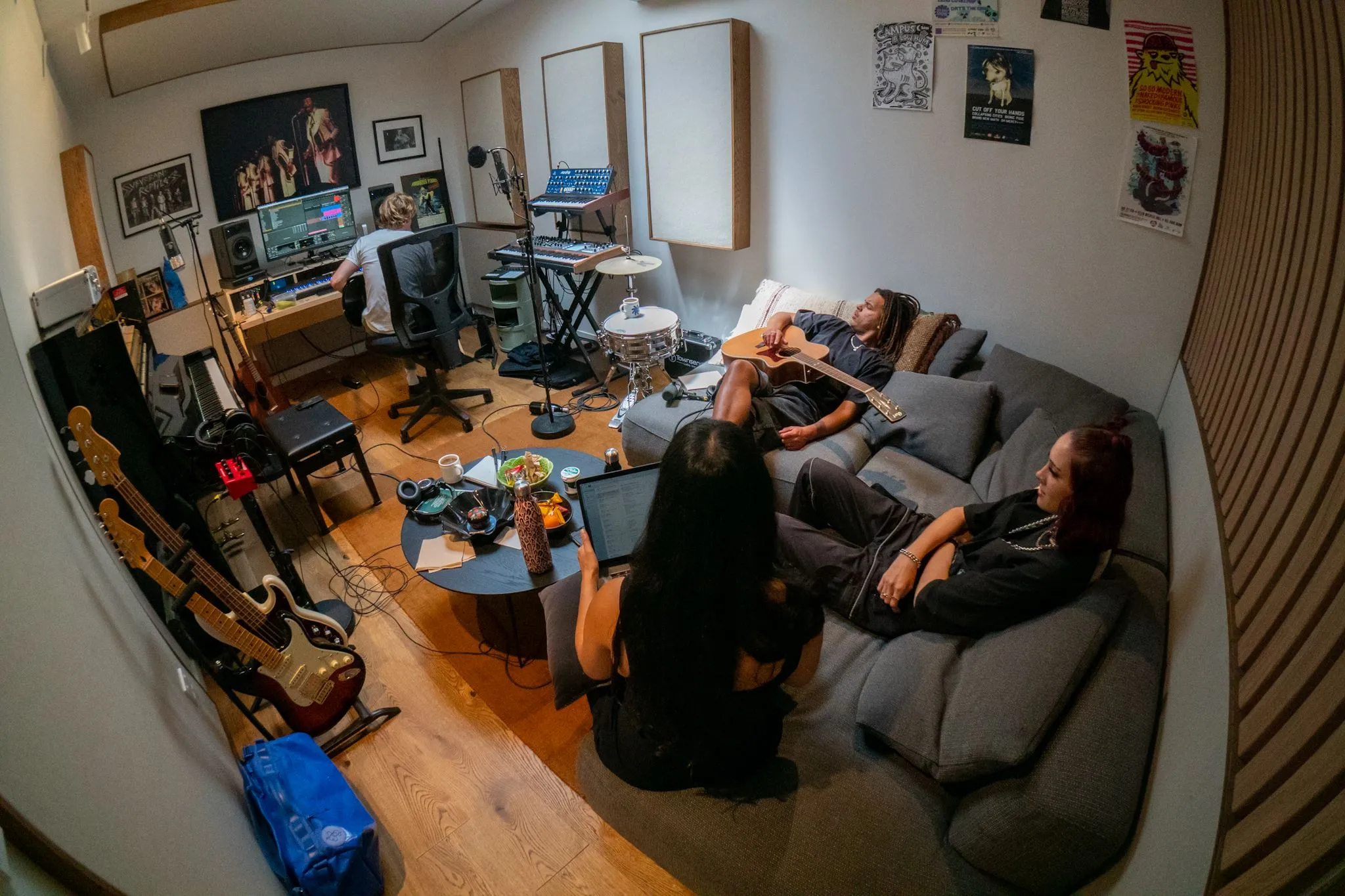 A wealth of fresh tunes from talented musicians in Aotearoa are set to make a splash on the internet, thanks to a generous British initiative and some serious international star power.
NZ-born electronica sensation Jordan Rakei, Alisa Xayalith from L.A-based The Naked and Famous, established producer Ben Jackson-Cook and popular English singer-songwriter Låpsley have this month honed the skills and impulses of 12 diverse local artists at APRA SongHubs UK/Tāmaki Makaurau 2023.
It's driven by the British Council, an organisation that has an ongoing commitment to share its nation's deep riches of cultural and musical knowledge to all corners of the planet - including the south-west Pacific.
The week-long venture is a big deal for the local industry too, backed by NZ Music Commission, NZ On Air and Recorded Music NZ, partnering APRA AMCOS and Joel Little of Big Fan studios.
So how does it work?
From more than 200 applicants, 12 local songwriters/producers were selected by Jordan Rakei, who curated the programme.
The Tokoroa-born singer songwriter/producer was once described as "the next white D'Angelo" after growing up in Brisbane and switching to London after his early EPs and success with Disclosure, and has won plenty of fans for 2020's ethereal 4th album What We Call Life, where he comes to terms with his Polynesian roots - "I always forget that I'm mixed race because I'm white passing" - he told Apple Music.
"For the British artists, the awareness of Māori music and culture - the connection with Māori culture is strong and special. Starting the day with a waiata, getting everyone to sing in unison grounds and centre you".
Holly Fletcher (aka Låpsley), Jackson-Cook and Xayalith were guest writers over the whole process involving four different groups of four artists, mixing it up over four days in a 'blind date' approach to their art.
Rakei adapted a genre-based strategy.
"I was thinking stylistically what types of music would work best with other types, while also selecting different people that would push each other in their sonic boundaries.
"So many good acoustic, hip hop, jazz musicians applied so I could pick one of each style to blend different worlds."
You can't deny the UK's remarkable and ongoing domination of popular music - from the Beatles and the Stones, to BritPop, rave, indy-pop, Amy Whitehouse and everything in between.
They are creative giants alongside the United States, with a fraction of the population. Distil that down to 5 million souls in Aotearoa and you get the drift of the challenge the gifted 29 year-old faced.
"The biggest thing about the UK/London is that everyone is so driven to make something happen and there are so many different scenes. Everyone's always working and collaborating. The world you live in affects your sound. There's an extremely multicultural influence in the UK - the close-packed cities and weather brings people together."
There's a microcosm of that in the kiwi version of SongHubs for Fletcher, who's attracted millions of streams since she burst into the spotlight in 2016.
"The UK has a very diverse music scene. Aotearoa New Zealand is just as diverse and colourful as the UK. The songwriters have been working across genres, in spaces that we've never worked before. It's been an incredibly colourful, learning experience.
"Day three is a sweet spot when everyone knows each other, they've spent hours together so their guards are down and with that comes a level of emotional vulnerability.
"Vulnerability - makes a way better song."
Locals hold their own
The overseas stars didn't overshadow the homegrown talent during this intricate interweaving of creative impulses.
All 12 songwriters and producers have already laid down their credentials for commercial success, over an impressive spreadsheet of musical shapes and forms.
HINA, BOY SODA, Muroki, Edie, Judah Kelly, NEVER KNOWN, Reiki Ruawai and Emily Muli are among the dynamic dozen to have already attracted international followers and acclaim across music streaming platforms and the NZ music scene.
Producers Alex Wildwood, Alistair Deverick, WHO SHOT SCOTT and Kiboko are collaborators in some of the most vibrant songs emerging from the nation's artistic pores.
You'll need to investigate them individually depending on your musical tastes, but Rakei has chosen wisely, with an eye on commercial success and multiculturalism.
Perhaps the most remarkable story is from a refugee with a traumatic background, welcomed into Aotearoa and emerging from his troubles with driving beats, defiant lyrics and his own catchy brand of alternative rap.
Zaidoon Nasir fled Iraq with his mother when he was a toddler, settling in Moscow before starting a new life in New Zealand. He found solace with a young friend sharing a love of hip-hop. Then his partner was drawn into religious beliefs and WHO SHOT SCOTT was born from "a professional apocalypse". A wrenching true story that gave this young man a chance to challenge himself among the nation's brightest young talents at SongHubs (NZ).
HINA is unashamedly neo-soul poppy and relished the chance to expand her repertoire in such a creative environment.
Amy Boroevich writes, records and produces everything, and takes her name from a deity of the moon known throughout Polynesia.
"When you bring UK songwriters together with artists and producers from Aotearoa New Zealand, it creates this really interesting mix. Cultural differences and different industry insights offer a wider perspective that speaking personally can be lost sight of in NZ because you get in your own space in a smaller country. It's nice to remember there's a whole world out there."
It sure is. And the venture from our former colonial masters is set to reap a handsome reward from the best of the nation's diversity and collaboration.
The inimitable Rakei and British expansiveness has set the tone for 12 bright prospects to make a splash on our connected planet.
Muroki, Edie, BOY SODA and others from the excellent entourage are set to accelerate their popularity, alongside their quartet of offshore inspirations as sonic gems emerge from a crammed week.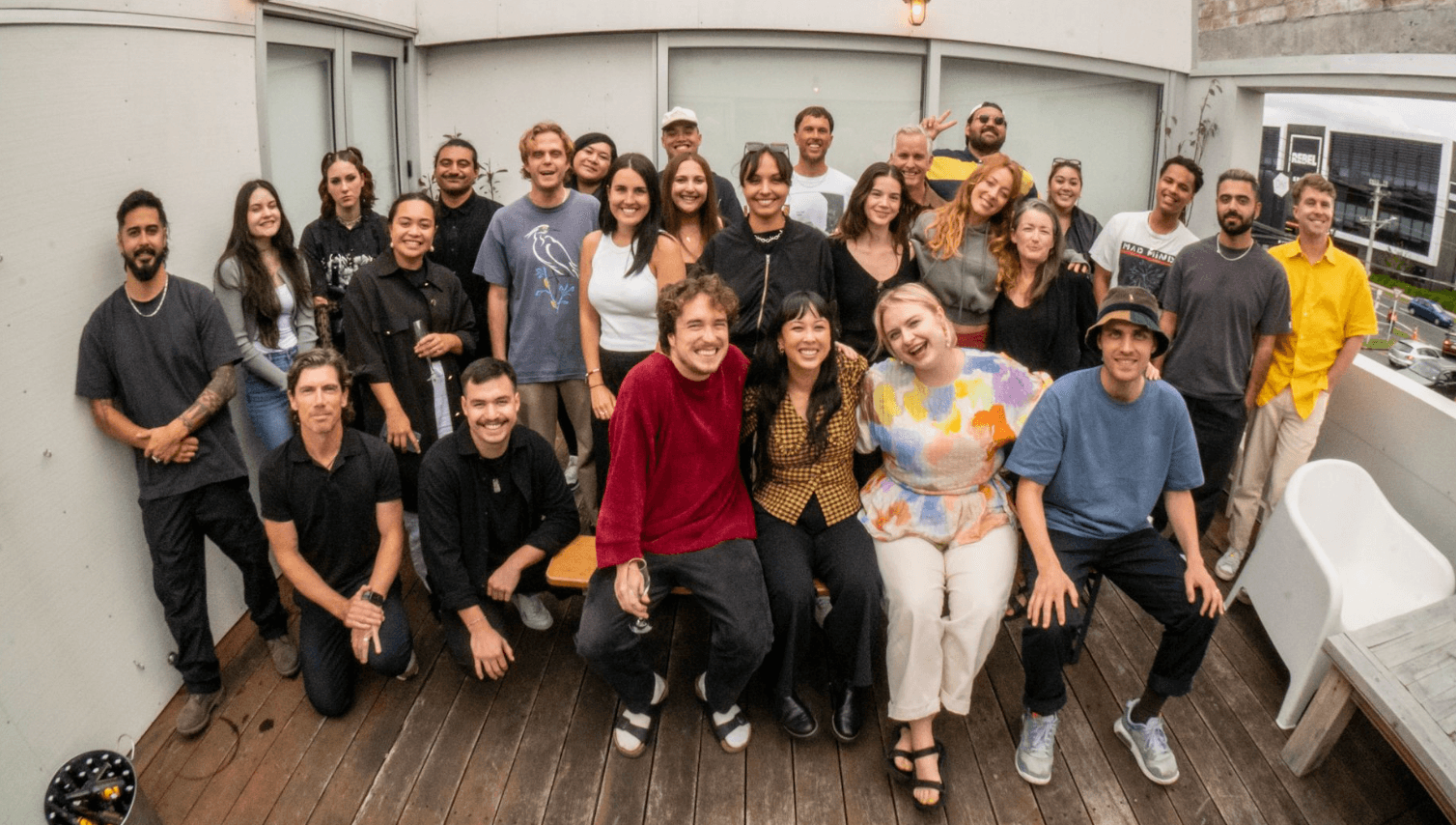 Back row: Te Kuru Dewes, Aubrie Mitchell, NEVERKNOWN, Emily Muli, Albert Folasa-Sua, Harry Charles, Chryssie Tamate, HINA, BOYSODA, Jessie Elsby, Holly Afoa, Alex Wildwood, Judah Kelly, Anthony Healy, Noema Te Hau III, Anna Edgington, Abbie Rutledge, Stormie Kereopa-Lloyd, Muroki, WHO SHOT SCOTT, Alistair Deverick.
Front row: Mike Hall, Sasha Te Whare, Ben Jackson-Cook, Alisa Xayalith, Holly Fletcher, Jordan Rakei.