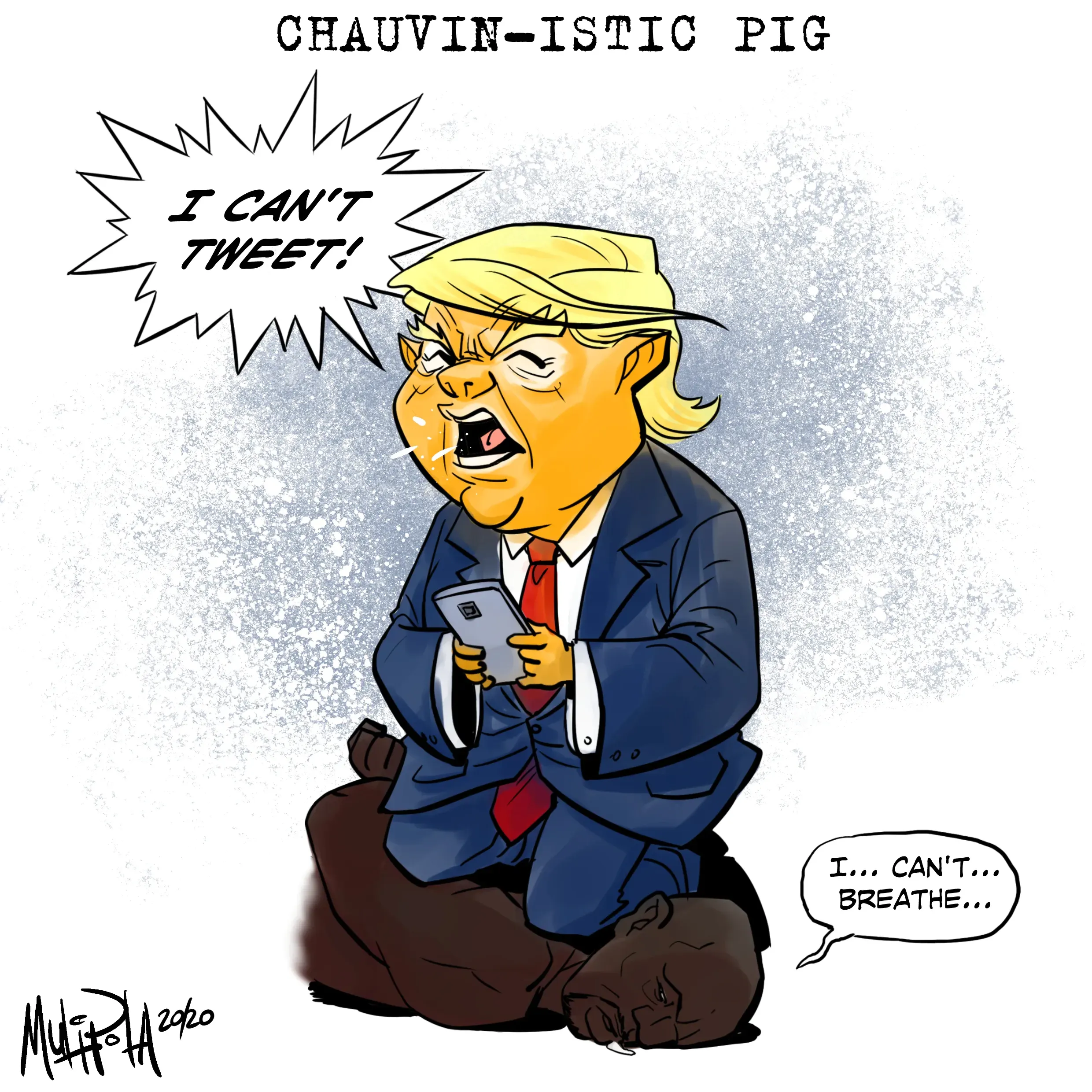 There is one word that can raise the hackles of virtually all in the creative community.
Censorship.
Art should always stir something inside the beholder.
Whether it's inspiring, hitting a nerve, opening eyes, delivering nostalgia, making them smile, laugh, cry - even making the gush over the colours.
And often, that art can be political, uncomfortable and uncompromising.
Details have emerged this week of a censorship stand-off that unfolded during lockdown in Tāmaki Makaurau - one that deserves a little daylight on it.
Tautai Gallery, unapologetic champions of Moana Pacific art and artists, are currently exhibiting Oh My Ocean, curated by the highly regarded Nigel Borell with the talents of last year's Tautai Fale-ship recipients. It opened under lockdown on 30 October and runs through to 29 January.
As part of this exhibition, Tautai had partnered with Link Alliance to display 24 works by comic book artist Michel Mulipola along an otherwise blank inner-city wall.
The 24 pieces chosen to adorn the wall worked as an anthology of Mulipola's career to date - one that sees his work in demand overseas.
One of those pieces has hit a nerve. Exactly what it was supposed to do. No different from when he first published it last year or when it was reviewed and signed off by Link Alliance.
Mulipola's Chauvin-istic Pig was a commentary on then-President Donald Trump's anger over having his Twitter account suspended while the US was gripped with the Black Lives Matter movement following the death of George Floyd. The title is both a play on words of Derek Chauvin - the office who killed Floyd - and Trump's misogynistic reputation.
Here is what the work was supposed to look like. Everything was prepped, signed off, printed and ready to be installed.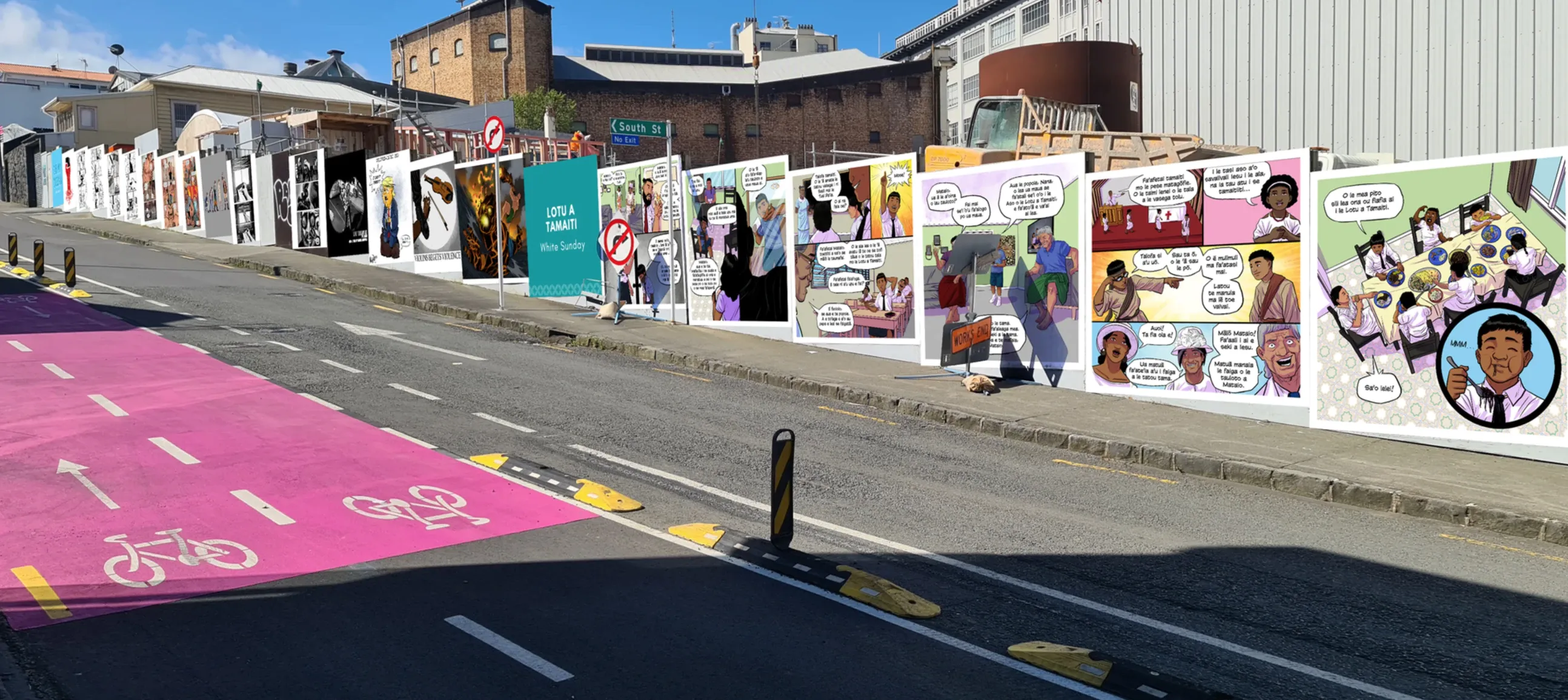 Mocked up Moana Wall exhibit on East Street. Photo: Supplied.
Instead, this is what the wall currently looks like.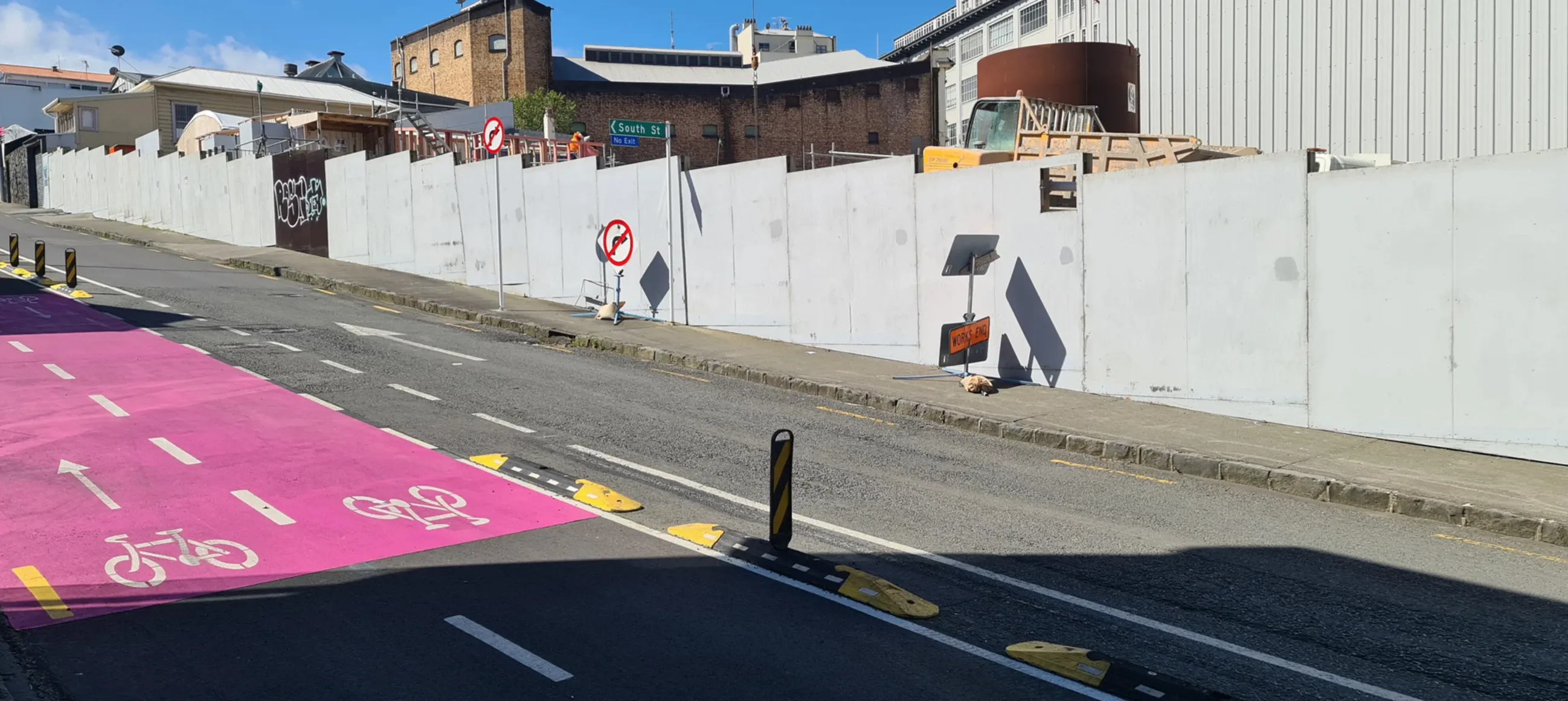 East Street. Photo: Supplied.
The Moana Wall installation was set for 27 October before some weather delays but on 8 November, Mulipola was informed by Tautai staff that Link Alliance suddenly refused to install the Trump piece.
This was an instruction, not a conversation.
A spokesman responded to The Lowdown's inquiry by saying "City Rail Link and its main contractor, the Link Alliance, is proud of the project's active support for art," pointing to its role as a sponsor of Auckland Art Week.
"While the agreement between Link Alliance and Tautai does not explicitly provide guidelines around the use of political imagery, it does state that: "The work should be uplifting, positive and create a sense of pride and connectivity with people engaging with the construction site. We believe the depiction of a politician engaging in an act of violence does not meet this criteria.
"The merits of the artwork are not in question but the political theme of its content is. City Rail Link Ltd and Link Alliance believe that it is not appropriate for a construction project funded by New Zealand taxpayers and Auckland ratepayers to display political views of that nature."
While stating it is "open to discussing how the partnership (with Tautai) could continue to move forward", Link Alliance also reaffirms in other correspondence "the clients' view is still that the piece with Trump is depicting a specific, controversial individual political figure and falls outside an artistic commentary on the cultural history, characters and people of the Karangahape community here in NZ."
Many in that community beg to differ.
Tautai Director Courtney Sina Meredith explains "Michel's richly relevant Trump panel is a metaphor that has merit far beyond the US political system. His work reveals an honest, gritty, and raw critique of problematic power dynamics and the systematic silencing of the other."
It does need to be pointed out - the wall belongs to Link Alliance and it has every right to have a say in what goes on said wall.
But it had every opportunity to do so from when the artwork design was approved on 16 September right through until late October. As with any partnership, both the artist and Tautai believe a dialogue could have resolved any concerns.
A last-minute call - after everything has been signed off and printed off - coming from 'upon high' by a nameless manager rather than Alliance Link staff working at the ground floor who have a good working relationship with Tautai, did not sit well. As Mulipola puts it, "it's their prerogative to protect their milquetoast image."
Meredith even offered for her team to receive any complaints and to mediate them. She told The Lowdown "I tried to explain how important it was to view the work in its entirety. I likened it to removing a page from a book, you simply can't do that.
"Creatively, it was an opportunity for Michel to show range, it takes a lifetime of effort to reach a place of contrast, texture, dimension.
"On top of being censored, which baffles me in 2021, it's also just extremely unprofessional - seeing as we had sign off, in writing, and kept to the deadlines fastidiously, all during lockdown."
Mulipola, who operates out of his Bloody Samoan art studio, is used to a fight - he's also a local professional wrestler and gaming (specifically Tekken) personality. The self-taught creative told The Lowdown he felt "disappointed with a tinge of anger" over the situation.
"Corporations advocating for one thing but then doing another is commonplace. I was not surprised that it happened. I was surprised there was no real consultation or open dialogue before it became a problem.
"I don't regret including the 'offending' Chauvin-istic Pig piece in the Moana Wall works. I've always been an outspoken outlier in the arts scene, I've had to in order to survive and thrive in a space that never accommodated someone like me, so I don't regret being me.
"If consulted in the early decision-making process, I would've been more receptive to changes or replacing the image.
"The whole situation does feel like creative censorship but more importantly, it feels like corporate censorship.
"These corporations who are happy to utilise an artist's works until it no longer serves their corporate image."
Mulipola outlined his stance in a blog post that has had plenty of support. "Integrity, artistic and moralistic, is integral to a meaningful existence. Without it, how many lines and lives will you cross to achieve your goals? I don't roll like that."
Tautai felt the same way - Meredith and Borell supporting Mulipola's stance and refusing to remove the Trump panel on principle. In fact, it's been added to the internal Oh My Ocean exhibition (see below).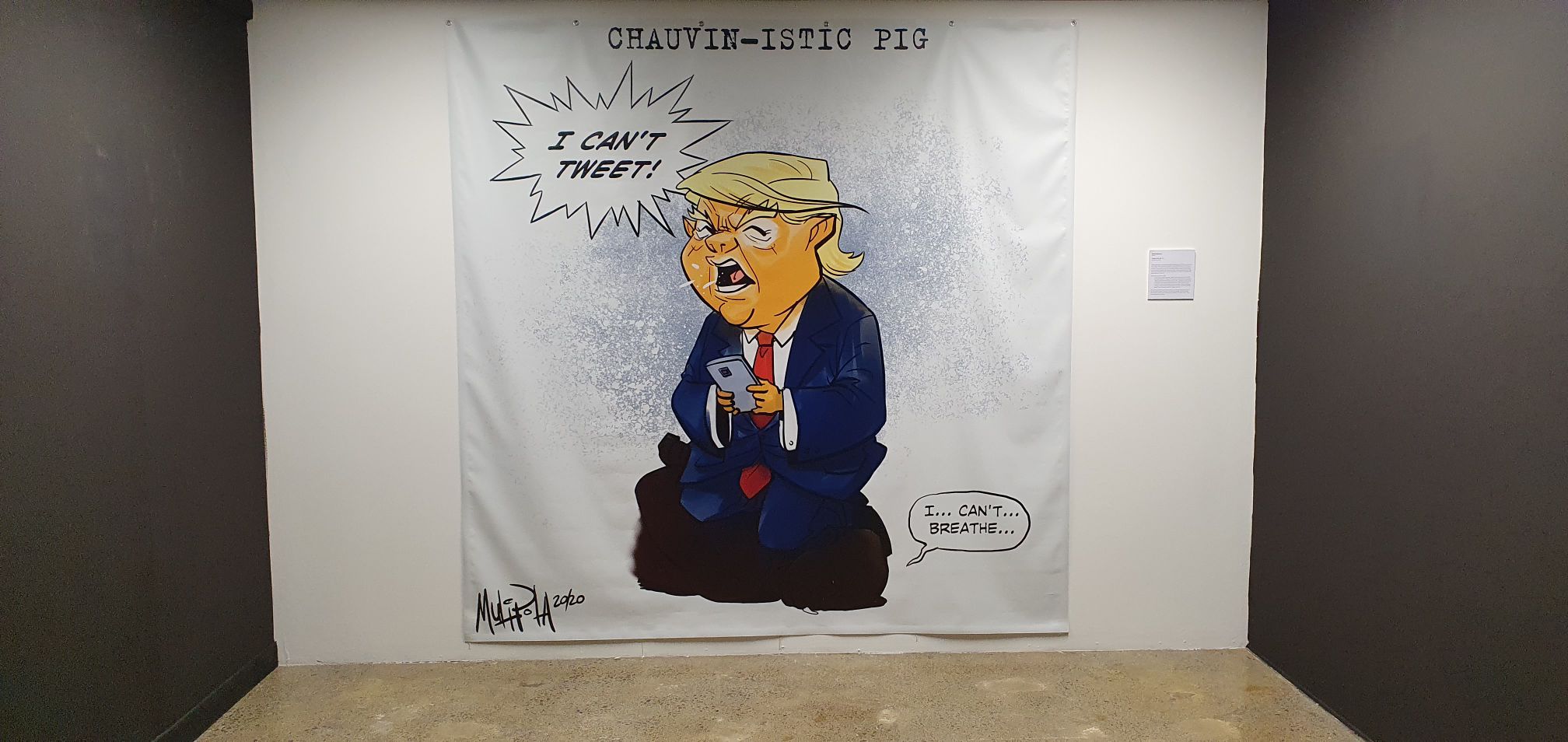 Meredith declares "in our world view at Tautai, Moana communities are not the exception - we are the rule. There's a rapid rise in the visibility of Pacific art and artists from various organisations both private and public, but that's not to say that the rise in investment equals an advancement in cultural awareness.
"A lot of what we do is actually pastoral care, standing in the gap between our community and organisations like Link Alliance/ City Rail Link. Our artists think in ways no one else in the world does or ever will - they are resilient, unstoppable, expansive - their works inspire shifts in the very fabric of society.
"Situations like this remind me there is still an urgent need for formalised systems of support for Moana creatives.
"I acknowledge Michel and our curator Nigel Borrell for both being incredible on this journey, behind the disappointment of the project there is an abundance of alofa because we have each other's best interests at heart. There is nothing more valuable in my eyes, that's the true tautua - the service - that Tautai exists to uphold."
So the wall lays bare - a loss not just for the artist and the exhibition, but for the community. We're not talking about some trendy street frequented by the movers and shakers of the business world. East Street houses a community needle exchange and a working-class history.
The project was personal for Mulipola - his childhood Sundays were spent at the Church that once stood tall on East Street, this was to be his way of helping beautify the area.
He says "What I have learned from the experience is how important it is to maintain your artistic voice and mana. It's ok to stand for what you believe in, as long as it doesn't come at the expense of someone else's rights and freedoms.
"If your art can create robust conversations about issues without attacking vulnerable and marginalised communities, I believe it deserves to be displayed in a public space."
Meredith adds "My message to other organisations like Tautai who are not founded on Pakeha mainstream value systems is that I know how much energy it takes to hold this space. I'm still learning how to ask for help when I need it and that's a true superpower I wish on the next generation.
"It will never be easy to navigate these waters but it will always be worth it."
Tautai's unwavering stance on standing by Moana creatives doesn't just include the Oh My Ocean exhibition, it continues with the current crop of Fale-ship residencies.
The latest being showcased is Poneke-based Samoan multidisciplinary artist Etanah Falagā Talapā who "operates at the intersections of public installations, digital art, photography and mixed-media."
Top Queer idea
There are countless other corners of the creative community that don't get the acknowledgment they deserve as well.
But - at least in one case - that is being rectified.
The prestigious Arts Laureate awards will have a new addition in 2022. The Arts Foundation announced this week the establishment of the Toi Kō Iriiri Queer Arts Award, which they've described as the first of its kind in Aotearoa.
The award is described as celebrating "an outstanding artist or collective of artists whose practice has a meaningful impact. The artist/s will come from the queer community, and their work will be representative of the community and contribute to social change."
It joins the already established Laureate awards, the name gifted by artist and Green Party MP Dr Elizabeth Kerekere, who interprets it as "art that transforms – that moves us in or out of discomfort, but always to a new place."
The $30,000 accompanying gift for the winner is underwritten by new Arts Foundation Trustee Hall Cannon over the next 10 years. He states that Aotearoa has "a really exceptional opportunity to be, frankly, a global leader in this space. And I hope that in the process we can show that while we're a small country, we can be very mighty with our voice."
The process for picking the winner will clearly need to be not just someone from the queer community, but by the community as well. An advisory panel has been set up that includes Kereke and former Laureates val smith and Elyissa Wilson-Heti - a member of FAFSWAG and Creative Director of PRIDE festival. They will then choose the award selection panel.
Creative recognition
Creatives are also in the running for a number of categories in the New Zealander of the Year awards.
With the semi-finalists confirmed, a recently minted Dame is torch-bearer for the arts in the overall NZer of the Year.
Dame Hinewehi Mohi is one of ten in the running, her mahi with the Raukatauri Music Therapy Centre and with APRA AMCOS in driving the Waiata Anthems Week among the many reasons highlighted for her nomination. Among her competition, Olympians Lisa Carrington and Dame Valerie Adams, along with Associate Arts, Culture and Heritage Minister Kiri Allan (predominantly for her work demystifying her own cervical cancer journey).
Zak Devey's among the Young New Zealander of the Year contenders for his work setting up Te Kāhui, a creative writing workshop for rangatahi at Mt Eden Prison. He's up against admired performer Stan Walker and author of After the Tampa: from Afghanistan to New Zealand, former refugee Abbas Nazari.
Respected Māori artist Te Warihi Hetaraka's dedication to his craft, culture and community has seen him nominated for both the Senior New Zealander of the Year and Local Hero award.
While on the subject to saluting long-running careers, Annie Crummer, Debbie Harwood, Dianne Swann, Margaret Urlich and Kim Willoughby - collectively known as When The Cat's Away will be inducted into the NZ Music Hall of Fame.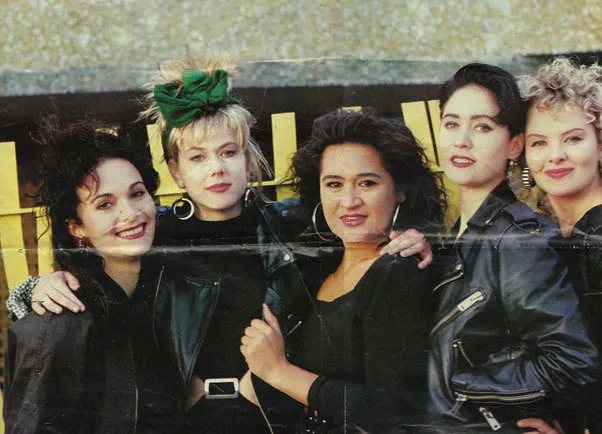 When The Cats Away in all their '80s glory. Photo: Supplied.
It will happen at the Aotearoa Music Awards - which will also feature a new take on the famed Tūi statuette, this latest interpretation designed by Weta's Sir Richard Taylor.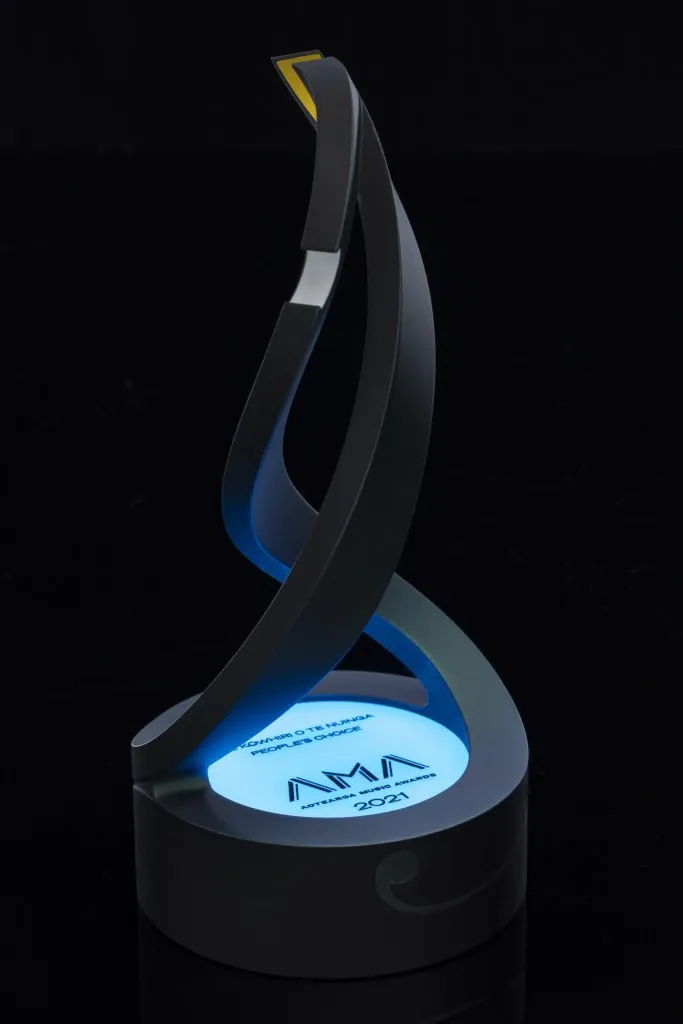 The New Tūi trophy, designed by Sir Richard Taylor. Photo: Supplied.
A fresh approach as well to decide New Zealand's Top Potter.
This year's Portage Ceramic Premier Award has gone….to a photograph. Teresa Peters has had a big year, including the debut of her passion project DISASTROUSFORMS.COM. Her Portage entry, entitled ECHOES, captures Peters' collection of folded raw clay works, presented as a large-scale black-framed archival photograph.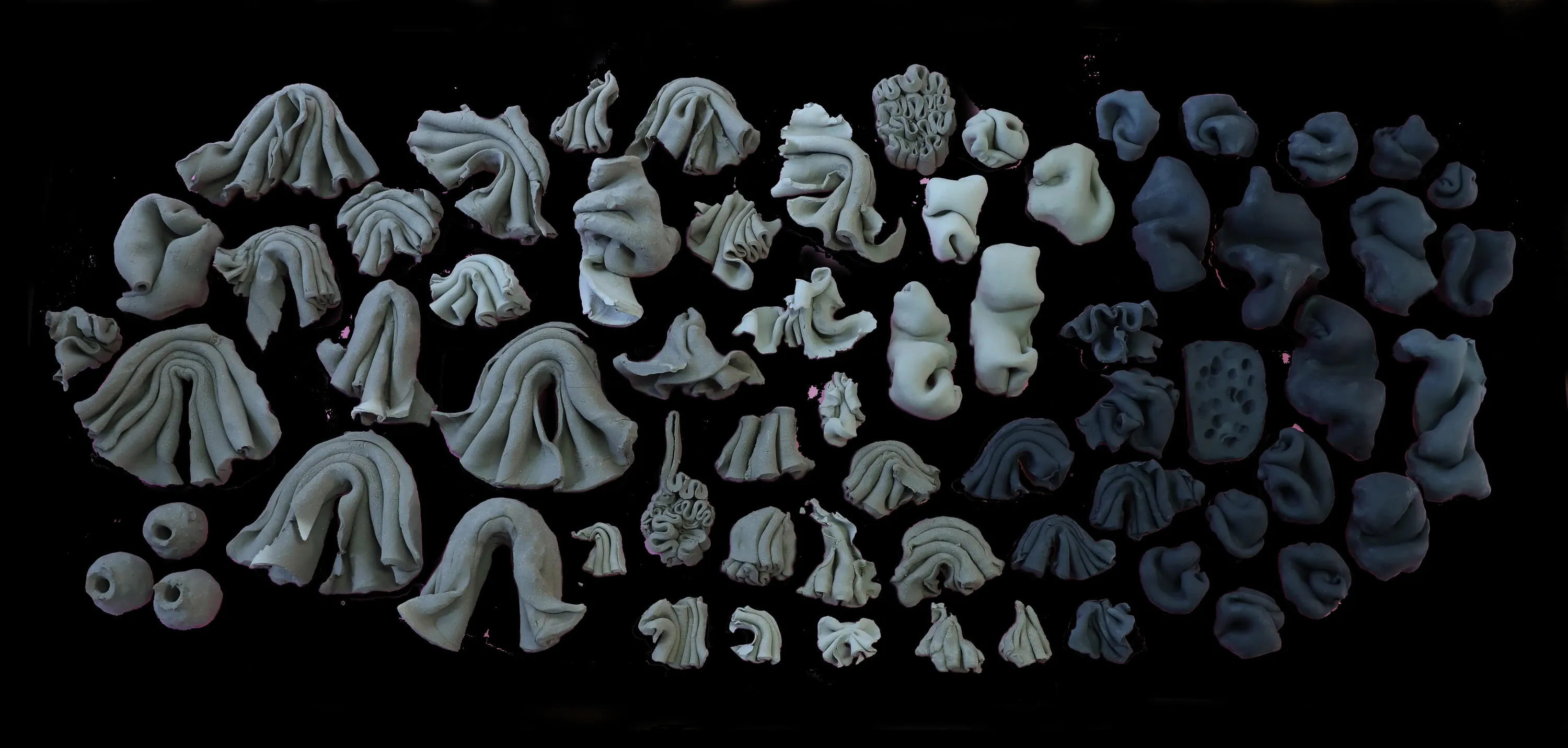 Peters' and all of the other 32 finalists' work is on display at Titirangi's Te Uru Contemporary Gallery until 27 February.
Multi-talented and multi-faceted creative Dominic Hoey's added yet another accolade to his impressive collection - he's now an award-winning short story writer to go with success as an MC, poet, playwright and novel writer.
His story 1986 has claimed the $6,000 top prize at the Sunday Star-Times short story awards - it will be published sometime after Christmas.
Hoey's skills also extend to looking out for other creatives as a mentor for Toipoto - where there has been plenty of success stories this year.
The latest is Priscilla Hunter, who's just launched Poison Spike, an art-fashion line that she's been working on with her designer mother since April.
Traditionally a painter, Hunter tells The Lowdown "I have always enjoyed working with fabric, but had never before ventured into making clothes. The reason I really wanted to start Poison Spike was partly to collaborate with my mum, who does beautiful work, and also to give people a kind of wearable art that really is wearable! Getting dressed should be fun and expressive."
pattern design from Poison Spike. Photo: Supplied.
Silo is golden
It's been over a year since Silo Theatre were able to stage a show in their hometown of Tāmaki Makaurau.
But they're entering 2022 with a sense of optimism and excitement about getting back to where they belong, announcing a four production season.
Starting with Auckland Art Festival co-partnership Live Live Theatre: Night of the Living Dead in March, it's followed by seven methods of killing kylie jenner in June, #MeToo themed international hit The Writer in September and the world premiere of up-and-coming NZ playwright Nahyeon Lee's stage debut The First Prime-Time Asian Sitcom in November.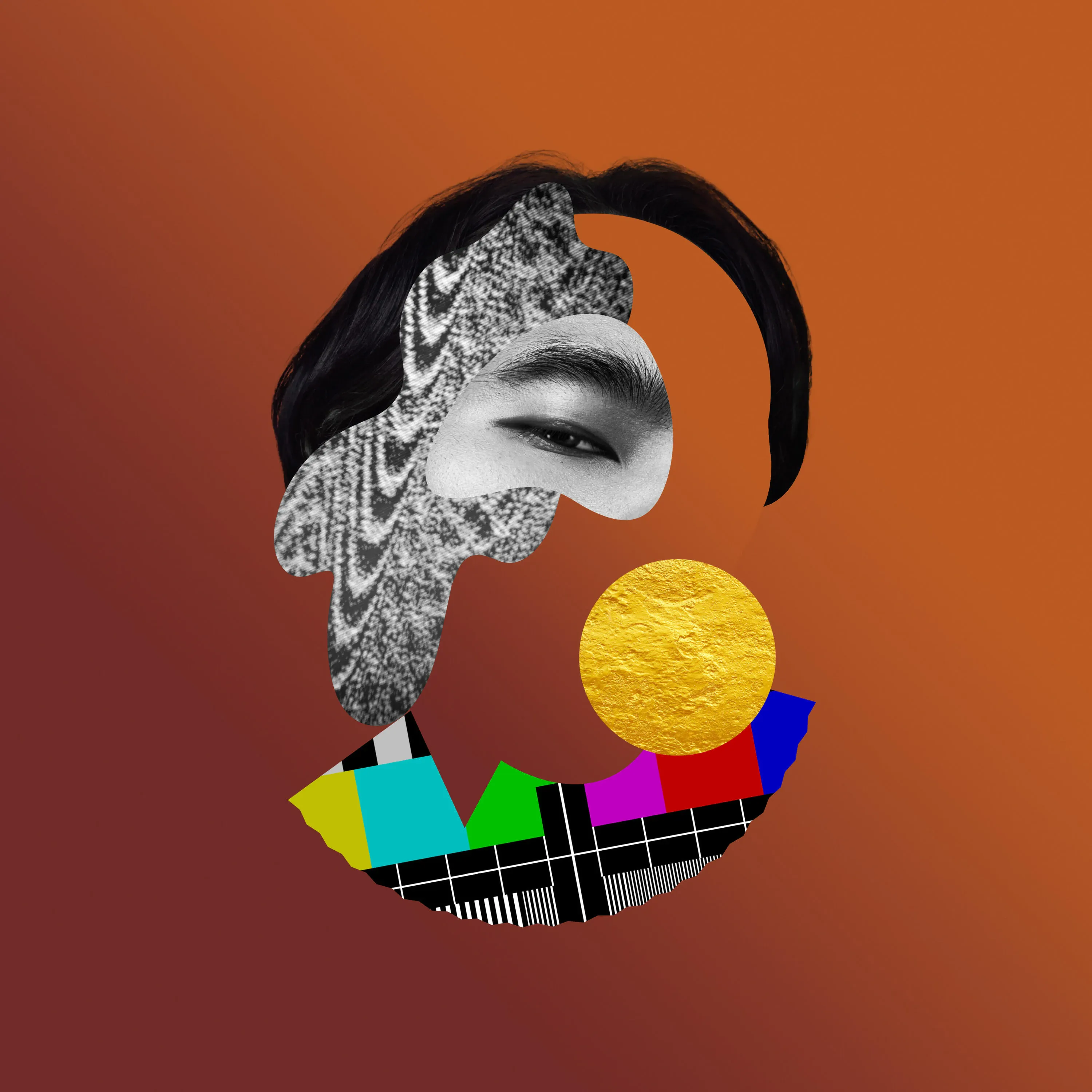 Silo Artistic Director Sophie Roberts to The Lowdown "I'm pretty much always just guided by instinct and curiosity when it comes to programming – what are the conversations that feel essential right now, who are the artists I'd like to see really extend themselves, what are the works that push the possibilities of theatre forward.
"These plays all shook something up in me when I read them, at a time when I felt like I needed shaking up and to use my brain for something other than doom scrolling and freaking out about COVID and the future.
"These are all works with a clear vision for that better world and what needs to go in order for us to achieve it. They're all stories that in one way or another take aim at power structures refusing to budge and make way for new ways of seeing.
"It feels especially important to present these kinds of works now as I think there's a danger in this post COVID landscape where we might start to see risk-averse reactions to presenting challenging or politically charged stories on stage and there are all kinds of important conversations that could get swept under the rug."
While there's anticipation of being back where they belong, there will be some scars still left to heal after the difficulties the pandemic threw at the performing arts.
"One thing on my mind a lot right now is how many of my colleagues, friends and family have had to leave the industry in search of other work over the last 2 years. These are artists at the top of their game, many of whom have spent decades honing their practice and building a life in this industry.
"It's devastating and it's revealed just how fragile our sector is."
Like many creative organisations, Silo's done well in the shift to digital delivery, including their current offering Break Bread.
"We obviously think there is nothing more powerful than being in shared space with live storytelling. But we're also operating in strange times and this past year, it felt like if we stood still or held too tightly to old ways, our artform was facing a very real danger of extinction.
"It's exciting to think about a future where some hybrid artform might emerge that's informed by the knowledge and tools born out of this time. The upside to a big disruption like this is you get to ask yourself - what do we want to throw out from the old way of doing things that wasn't actually working and where are the opportunities for innovation and renewal?"