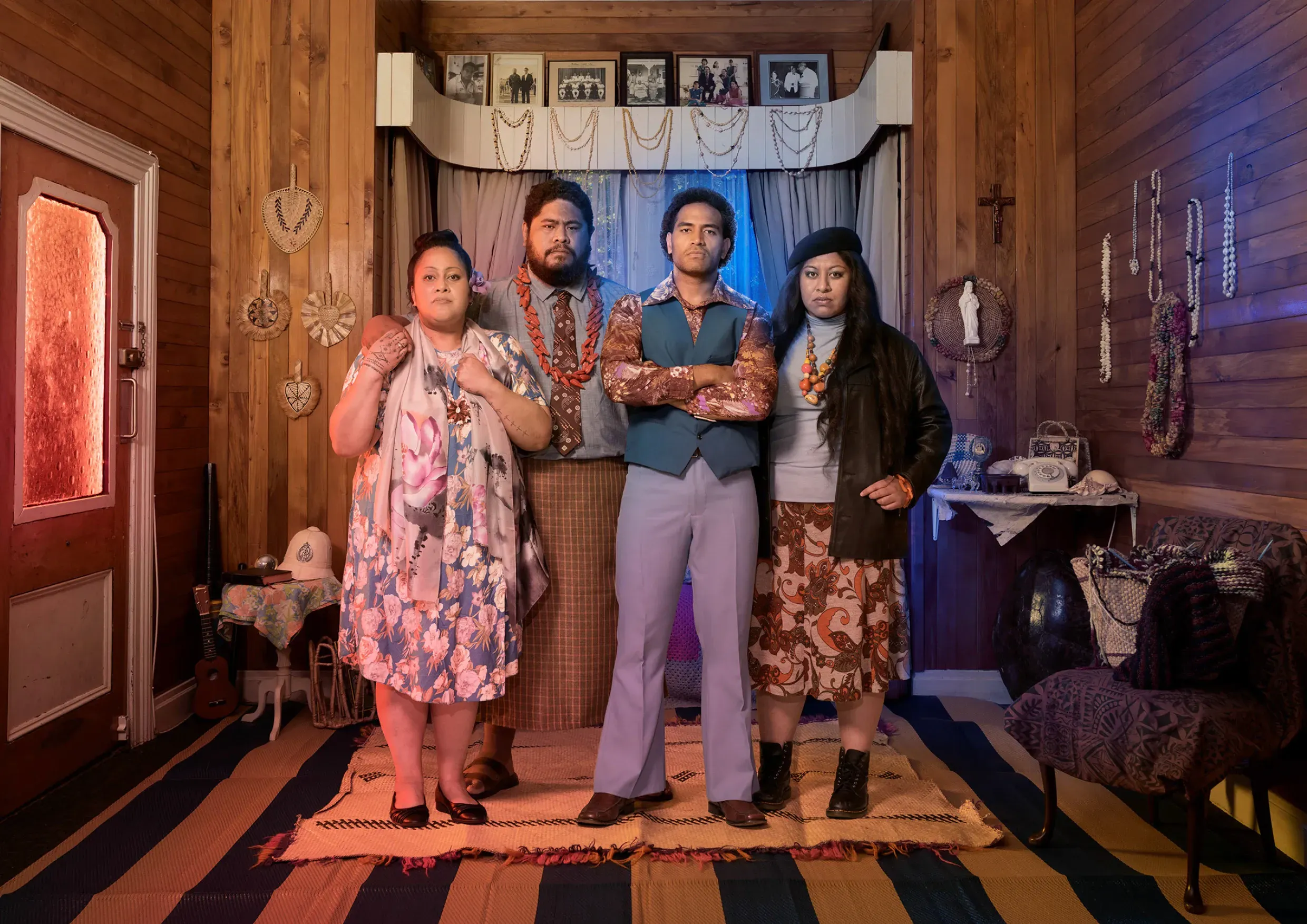 On the eve of re-launching the play Dawn Raids 25 years on, the topic of bullying is once again to the fore - questioning what changes have occurred since the New Zealand government of the mid-1970s wielded its controversial, racist policies.
That legendary Pasifika theatre collective Pacific Underground are co-producing Oscar Kightley's groundbreaking play with Auckland Theatre Company shows there's been progress since the practice of terrifying police dawn raids almost took place 50 years ago.
The Big Idea caught up with producer and Pacific Underground co-founder Tanya Muagututi'a (MNZM), no easy feat given she was ensconced in rehearsals ahead of opening night on 18 August (running through to 3 September at ASB Waterfront Theatre).
We finally managed a breakfast Zoom, reflecting on both the play and how her award winning career has unfolded since the debut of Dawn Raids.
"Since first staging Dawn Raids in 1997 in Auckland - and then a decade later in Christchurch - there's much more awareness about the dawn raids," says Muagututi'a, to the point that some are under the incorrect impression that Kightley wrote the play as a response to the Labour government's apology last year to the Pacific community.
She says those seeing the play for the first time will come away with a more personal perspective; the story showing insights into the experiences of this family being on the receiving end of government persecution.
"For Dawn Raids, the work stands alone in its significance to our history. With the latest media and interest in the dawn raids being related to the 2021 government apology, and The Panthers TV show, we are more focused on this story coming from inside a family's point of view."
Tanya Muagututi'a. Photo: Supplied.
The play set in the inner-city suburbs of Auckland in the 1970s (the dawn raids were carried out between 1974 – 1976) is a world away from the values that have changed over the decades in Aotearoa New Zealand (Tāmaki Makaurau Auckland facing the likelihood of its first NZ Samoan mayor).
From one generation to another
The play itself too an opportunity for Pacific Underground to leverage those new gains: Pasifika stories finding a new audience with Auckland Theatre Company and equally significant the founders of Pacific Underground passing the baton onto the next generation of Pasifika theatre makers.
"There's not that much difference in the published version. For us, we really wanted to collaborate with ATC in order to have a new generation lead on stage. Us oldies are still leading some parts off stage but in saying that, we have a few newbies with some production roles as well.
"We've wanted this production to give a new generation this experience to learn in a hands-on way."
Her daughter Talia-Rae Mavaega is playing the role of Teresa, originally played by Muagututi'a's sister Mishelle (also part of the production's creative team in charge of story sovereignty & well-being). There's also a strong musical element in the play, with husband Posenai Mavaega the Musical Director, leading a live band on stage (Muagututi'a is also part of the ensemble).
Talia-Rae Mavaega as Teresa. Photo: Auckland Theatre Company.
Muagututi'a's own story is far cry from the hostile environment depicted in Dawn Raids. Born and raised in Christchurch, her father Muagututi'a Pulusila Meafou Sagapolutele, a high achiever came to New Zealand in the early 1950s on a scholarship attending Whanganui Collegiate.
"We didn't really know anything about it, he just casually mentioned it one day that he'd gone to the same school as Prince Edward – he's like 'oh yeah that's my old school,'" Tanya says of her father's humble ways.
It seeded the idea for a script and two years ago Muagututi'a won Best Play by a Pasifika Playwright for her script Scholars, based on her father's experiences as a Samoan scholarship student in New Zealand.
"My father's from that generation where they don't reveal a lot, you have to be there at the right moment."
The apple hasn't fallen far from the tree - Muagututi'a and her husband were recognised in the Queen's Honours list last year, made Members of the New Zealand Order of Merit for services to Pacific performing arts.
When I ask what it was that like to have your work acknowledged – producing theatre and festivals - she is humble and defers to her parents and ancestors. "So much to our Dads, eh. They're elderly and almost couldn't make the ceremony. We accepted for them, for our late Mums and their journey. Their dream of us doing well in school - we didn't go for the degrees lol but we did well in life - is something that sticks with you…"