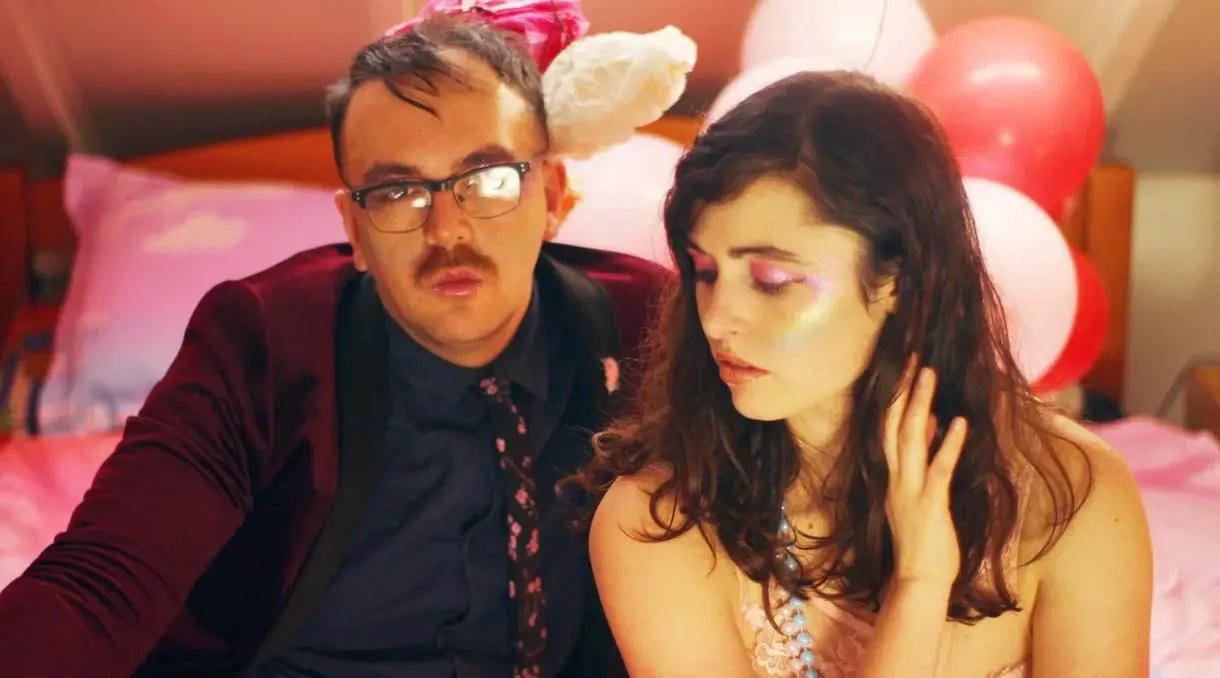 Where do ideas begin?
For a musician, an idea can present itself as a melody, a phrase or a concept – or some other ethereal essence entirely.
Like a liquid filling a glass, performers and performances traditionally take on shapes and sizes: musicians perform songs, comedians tell jokes or improvise a clown act, actors do a scene and tell a story through character.
But often, the creative process is far from linear.
Ideas shift and bend, they fit into various forms of expression. They emerge from lived experience, stories ready to be told and shared. An idea might start out serious and get comedic, or start out comedic and find social commentary or philosophy along the way.
To examine different approaches to ideation, I spoke to four musicians who also happen to be actors, comedians and theatre-makers. All four are multi-hyphenates: an illustrator/actor/musician who uses their work to tell stories, funny people who make 'serious' music as a two-piece band, and a singer-songwriter who writes deeply meaningful songs that just happen to be funny.
Different styles, but this quartet of creatives are united through a shared process: the happenstance "luck" and the determination it takes to make an idea come to life.
Songwriting as storytelling
Ana Scotney (Ngāti Tāwhaki, Ngāi Tūhoe) is about as multi-talented an artist as they come.
A dancer, singer, actor, artist, and musician, Scotney released an EP of original music under the name Kōtiro last year. Readers might know her as Adult Mata in Cousins (2021) or Sepa in The Breaker Uppers (2018), or for her theatre work – the award-winning solo piece, Scattergun from earlier this year. Scotney incorporates elements of music into her original theatre work, and points out that music and theatre are similar in a lot of ways.
"They are both storytelling devices, which are both contemporary and ancient," Scotney says, "which is important for me in terms of being able to express [myself] without restraint. I like going between different mediums, based on what intuitively feels like it might be the best vehicle to talk about an idea."
Kōtiro began for Scotney as a zine, and eventually grew into a music project.
Ana Scotney. Photo: Supplied.
"Kōtiro came about in quite an unconscious way initially. I started making zines when I was a teenager," says Scotney. "I liked the idea of being able to have sovereignty over telling stories. I feel protective of stories from a tangata whenua perspective too - not being gatekept or pigeon-holed into these ideas of what we are and aren't by third parties who may not necessarily have an embodied experience of being from a diverse experience or point of view."
The zines soon morphed into music, and Scotney released the Kōtiro EP. This progression – of one medium into another – reflects the way Scotney approaches her work, and the way she considers her music and theatre practice.
"I find most things I make - regardless of what they are - take about two years. It doesn't matter if it's a piece of live performance or screencraft or whatever, I know it's going to be two years in the making."
This understanding means that Scotney can move away from an idea for some time, and return later on, often to an idea that no longer works in its initial medium.
"I really like going away from things for ages and coming back so that it always has a bit of a freshness. Some people like to tussle really hard with their ideas and go through a painful birthing process, which I think must be really cathartic. I think I like to just go fast and then leave it and then go slow and do other stuff and come back."
Scotney is able to distinguish the difference in form, and how music better helps bring some ideas to life. "Songwriting is a really private form, in terms of expressing things anecdotally, or from lived experience. Theatre is a cool way of consolidating multiple voices – to bring together the stories or voices from a community or people of contrasting communities."
Kōtiro is experimental, interesting, and reflects Scotney's creative ethos: "keeping things zany, experimental, coming from a puku or a belly," she says, "embedded in my understanding of an indigenous experience, which is urban and punk, where you use whatever tools that you have around you to recontextualize or reflect that experience."
Improv comedy hits the band room
Using tools and whatever you have around you is also the ethos of Wellington-based garage rock duo, Bored Housewives Club.
Bored Housewives Club is Alayne Dick (vocals, drums) and Aaron Pyke (vocals, guitar). The pair first met while doing a comedy show called Stoge Chollenge 2006, a satire about high schoolers who did a Stage Challenge about Steve Irwin's death.
"I played a stuck-up ballerina character," Dick reflects. "And I played a weird homeschooled kid," adds Pyke.
Both theatre/comedy improvisers in their own right, Dick and Pyke bring the ethos of improvisation to the rehearsal room for Bored Housewives Club.
In improv, one player will come in with an idea (an "offer") and initiate a scene. The other player will respond, and build on the offer. Both players go back and forth until a scene is underway. That's when the magic happens.
Aaron Pyke and Alayne Dick - The Bored Housewives Club. Photo: Supplied.
The same is true with Bored Housewives Club, who are preparing for a national tour next month. One member will bring in an idea, present it, and the other member will do what they can to help flesh the idea out.
"We give each other offers," says Pyke. "Obviously, you've got to write the words, but there's guitar and drums and we improv that quite a bit."
"I think the tenets of improv are very strong in how we write songs," Dick picks up. "We never block each other. If someone comes up with something we do everything to try and make it work and support that idea. We're not quick to shoot each other down."
Because of Dick and Pyke's comedy backgrounds, their music is inherently funny. The humour comes through as a device to counteract some of the heavier material that the duo sings about.
"We do tend to make a joke," says Dick. "If we're going to tackle something serious, we're going to do something silly to undercut. We want it to be fun."
Preparing for a national tour next month, Bored Housewives Club's lyrics are funny but they also tackle real issues: like bad landlords and feeling unfulfilled at work. They name a few singer-songwriters as inspiration, who write lyrics that tell stories often with a self-deprecating delivery.
"Lucy Dacus and Sarah Mary Chadwick aren't particularly big, but they write lyrics that are hilarious and also super sad," says Pyke. Australian singer-songwriter Courtney Barnett and British band Wet Leg are also influences, who write songs that have funny social observations strung together to form unique stories.
Adds Dick: "I guess you just gotta play to your strengths, right? Our strengths are making a bit of a joke. And then also punk suits our vocals. So yeah, just lean into whatever you got."
Musical theatre to musical comedian
For Wellington singer-songwriter, comedian, and theatre-maker Mx. Well (Maxwell Apse), what they had was musical chops and an appreciation for comedy. They ended up a comedian almost indirectly, through their love of musical theatre.
"What made music click for me was musical theatre," says Mx. Well. "The idea that you can say so much on a stage, not only with the lyrics being sung, the way the actors are performing, but what the instruments in the band are saying. Individual instruments can be characters. [So] in a musical, you're telling the story in another way."
After performing in musicals in high school, Mx. Well soon felt the urge to write their own musicals.
"People love Grease, and they want to see it 1000 times. But how about we try something new? Maybe that could be out of our reach - I don't know, who knows? - but we won't know unless we should do it."
They worked on a musical with some friends, but ended up shelving it. The pressures of producing the next Les Miserables, of staging a polished production with perfect songs and a big budget, made the prospect insurmountable.
Mx. Well. Photo: Supplied.
Mx. Well soon moved to Auckland to pursue acting, and continued writing music. Along the way, they wanted to create their own opportunities for performance.
"As an actor, [the show] has already been written, it's already been designed," says Mx. Well. "I wanted to be a part of the stories we were telling and the messages we were giving out."
So Mx. Well kept writing music for themselves. It wasn't until they were part of a lineup at a cabaret show produced by drag king Hugo Grrrl that they realised they had something truly special.
"I'd just finished working on The Glitter Garden, which was a musical for kids. That was with Hugo Grrrl, and we worked together writing music and I also played my own tracks. And he was like, 'You've got to get into this show we're doing.'
"So I ended up doing this show, and I was singing these older songs that I had never performed live before, and they were getting a really good reaction. And I was like, 'Okay, this is the next thing. I'm moving into comedy now.'"
Mx. Well's music is inherently funny, but the songs weren't always written to be funny. In fact, they would write original songs to cheer themselves up. "That is where it comes from," they say. "It is coming from a place of trying to accept something or trying to get through something."
Their song You're Fucked began as a 'cheer-up song'.
"I was in a really bad place and I was like, 'What's the worst thing that someone could say to me right now, that would actually be the best thing?' And I started just saying to myself 'you're fucked' and then realised 'oh, actually that's really good'."
Mx. Well wrote the song in a motel room on an acoustic guitar, and it soon became a staple of their live comedy act. "I'm fucked," jokes Mx. Well, "and there's some joy in that. 'Oh, you're fucked, but eventually things are gonna be okay.'"
"I can't help but be kind of a funny musician. That's what's cool about doing comedy: they want me to be funny here. I can come here. I can be funny."