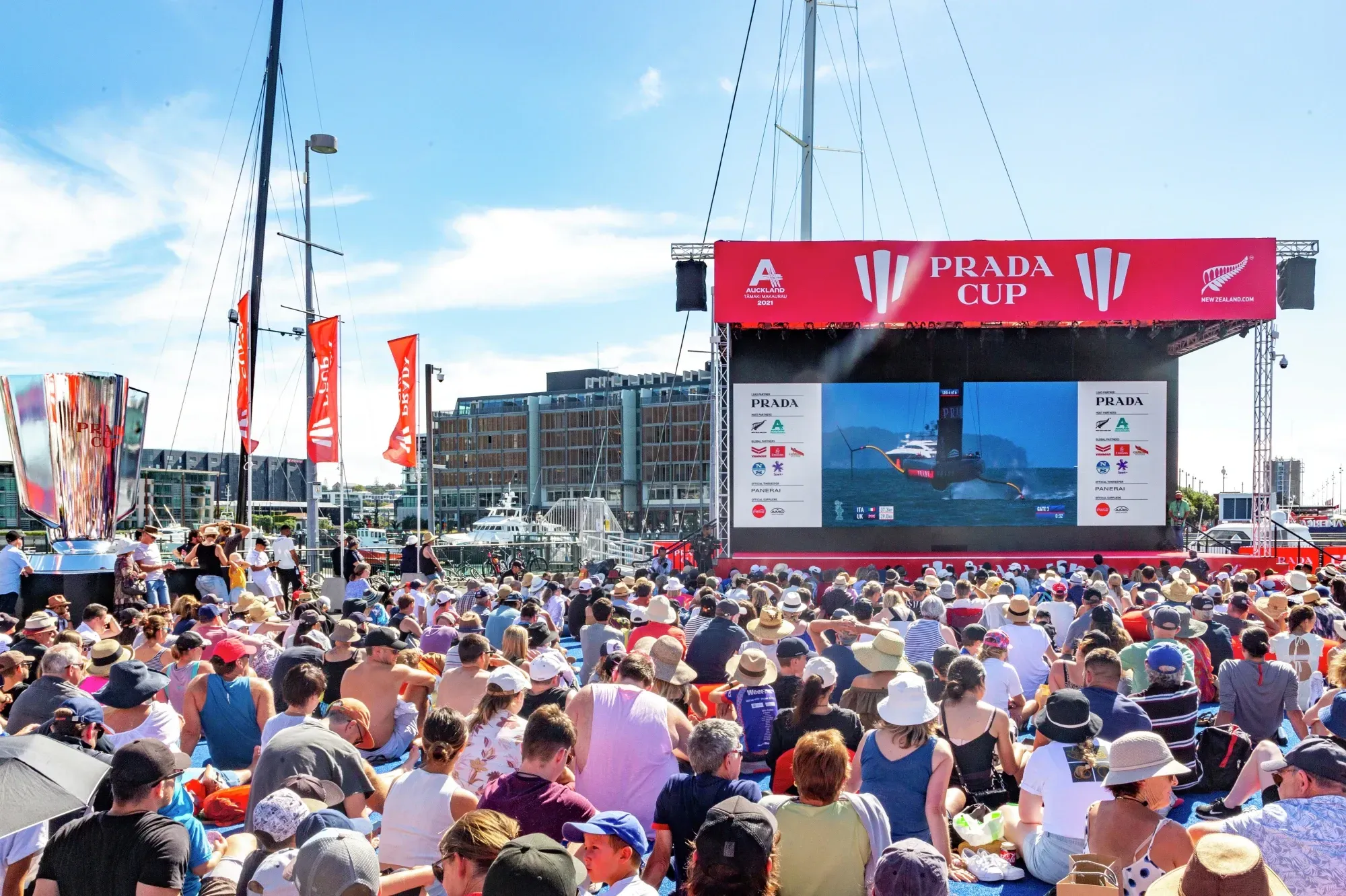 The conclusion of one of the biggest events our shores have seen in the Pandemic era should be viewed as the start of something big for the entertainment and live performance industry.
As the nation was captured by Team New Zealand's America's Cup success on Wednesday, the sight of the heaving America's Cup Village was simply breathtaking. It doesn't matter if you don't like sailing, sport or even Auckland - there is no doubting those scenes on Tāmaki Makaurau's waterfront were electric.
So, how does this relate to the arts?
There is now a huge opportunity to strike while the iron is hot. New Zealanders (as many flocked there from around the country to take part) have built an affinity with the Village area. They can trust it and recognise it as a venue.
It's close to public transport outlets, bars and restaurants and places of culture like the NZ Maritime Museum and a short walk away from a host of the city's finest theatres and galleries. It's also outdoors, which can make short-notice Alert Level alterations a little easier to negotiate. The revitalisation of Wynyard Quarter has turned the waterfront into an ideal destination for Aucklanders.
Frankly, it makes perfect sense for this to become a public performance hub.
The Lowdown understands the large performance stage has been dismantled (or will be very shortly) and the Village will be cleared out by the end of the month. The space is owned by Auckland Council and managed by Panuku Development Auckland as part of a $3 billion portfolio of Council land and buildings. Sources the Lowdown has spoken to inside Council and its events arm Auckland Unlimited are certainly receptive to the concept of using this space in creative ways by the creative community.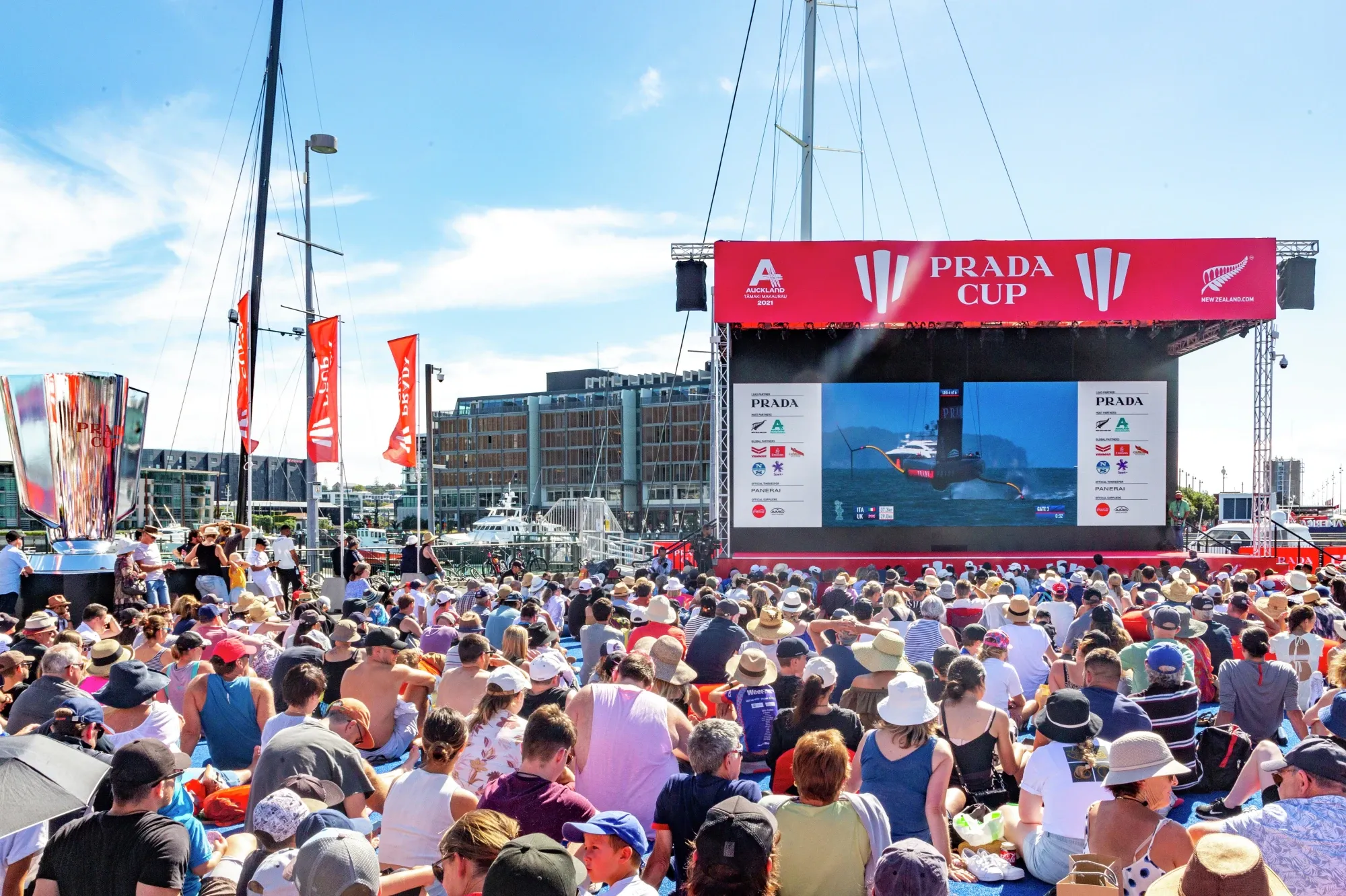 Photo: America's Cup website.
It should be noted that Council's budget has its own COVID-19 related limitations - but no doubt they, along with promoters, events organisations and entrepreneurs would have seen the impact of having a public destination in the once heavily populated downtown area. With so many CBD based companies utilising the work-from-home and the very distinct lack of overseas tourism, the arts and cultural industries have the ability to play pied piper and bring people back into the city more regularly.
Granted, the public buy-in to retaining the America's Cup is at a level that won't be regularly replicated. But it's now a space that the public will have a connection with and an instant knowledge of where it is and where to go.
To not take advantage of these factors would be a missed opportunity for both Auckland and the Arts.
Flexible Festival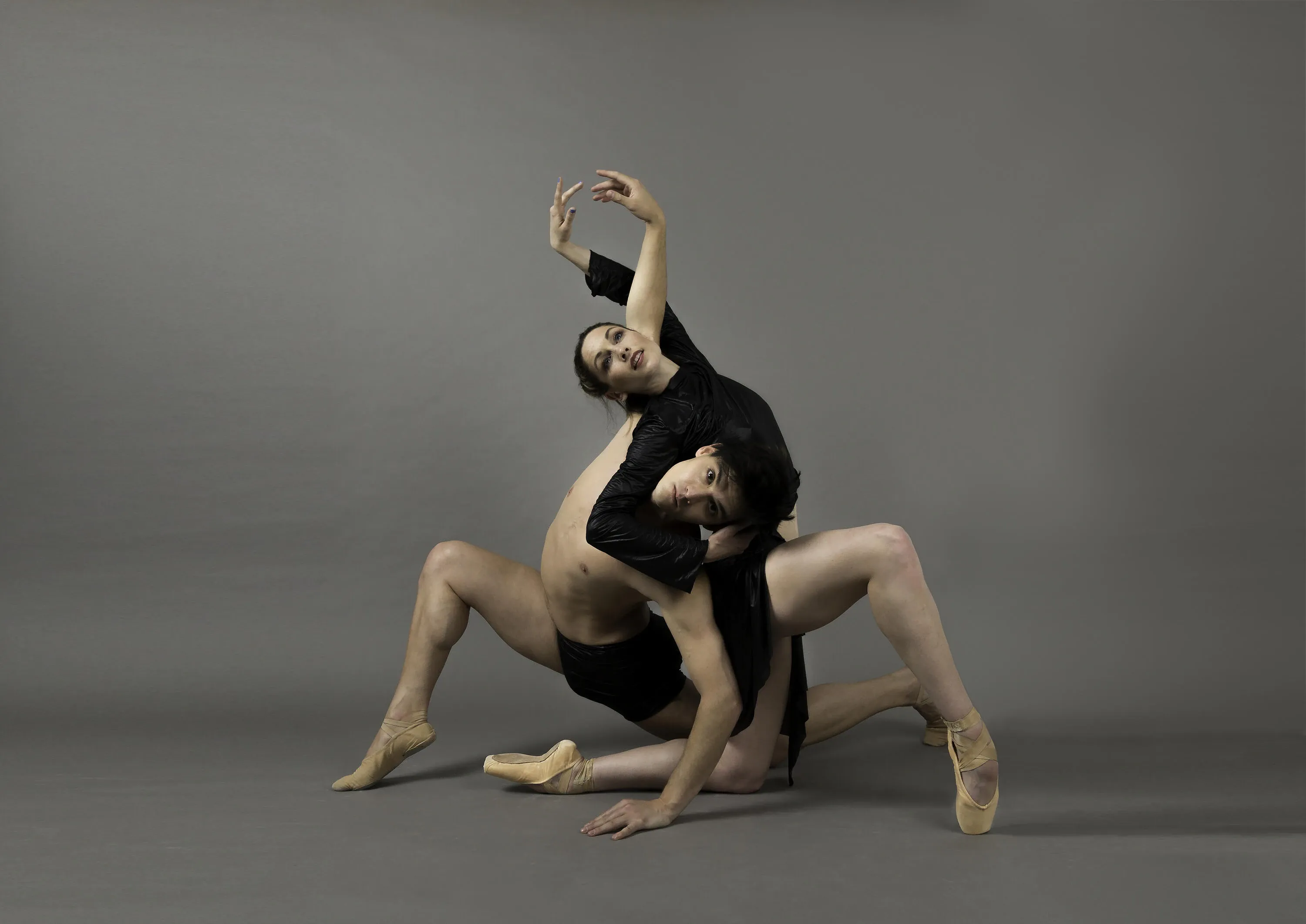 Subtle Dances. Photo: Supplied.
Speaking of making the most of things - the resilience and rescheduling of the Auckland Arts Festival is to be admired.
Now entering its last few days, the programme was hit hard by Alert Level 3 and hampered by Level 2 - but has been firing on all cylinders over the last week - as highlighted in this NZ Herald review of Heavenly Bodies and Sing to Me.
Piecing the schedule back together took on Di Vinci code levels of focus and coordination, as AAF crew seemed to find new homes and slots for dozens of performances. There's a list of rescheduled gems to look out for here on The Big Idea.
It has involved helping push some events beyond the Festival's window of 22 March, including Reb Fountain and the Black Quartet through to 7 April and BalletCollective Aotearoa's much-anticipated debut with Subtle Dances through to 8-9 April.
The 2021 festival theme of Aroha is perhaps best portrayed by the support displayed from international performer Thom Monckton and the crew behind his one-man production The Artist. Upon seeing the wave of cancellations during Level 1, they reached out to fellow theatre-makers Trick of the Light almost immediately to revive their scuppered show The Griegol, volunteering to share their stage space with them at Q Theatre (which runs through until 21 March).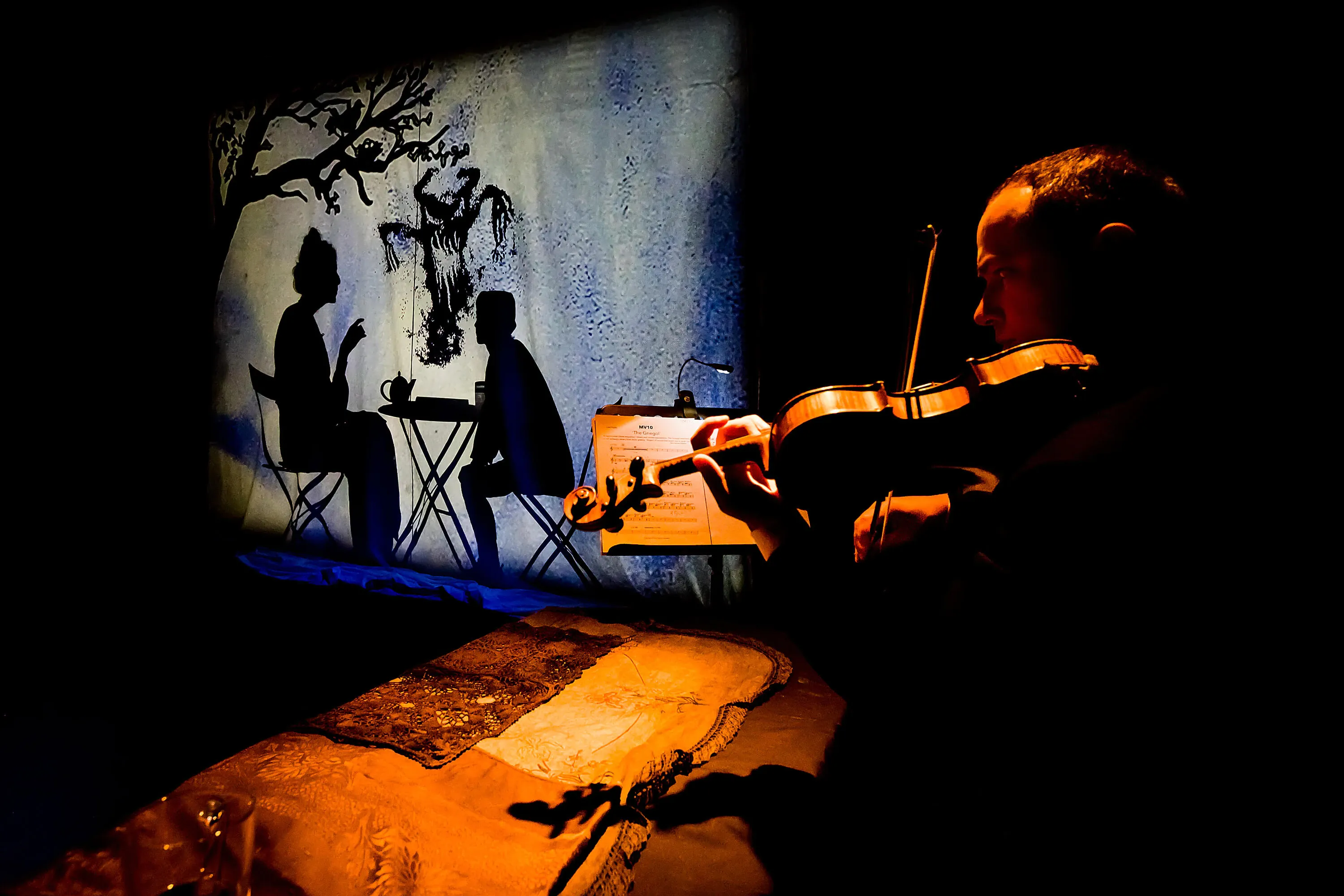 Performance of The Griegol. Photo: Philip Merry.
Trick of the Light's Ralph McCubbin-Howell told the Lowdown the offer came after "a real déjà vu gut punch - we were four days out from opening a big new show this time last year when the first lockdown happened (Lysander's Aunty at The Court) and never got to do the season. We're thrilled to be able to get this one up and in front of some humans."
It's a good reminder in the 'be kind' era that the communal nature of the arts sector can always provide collaborative, pay-it-forward opportunities. McCubbin-Howell says "If you're in a position to do it, absolutely - we're all in the same waka and it's better for all of us when we've got each other's backs.
"Every situation is different - this was possible for us and Thom because of the particular shows we were bringing and the support we had from the festival, and it's still going to mean a lot more work for everyone involved. Sharing a space isn't always possible for everyone, so don't beat yourself up if you can't do something like this. The last year has taught us to keep our eyes out for new ways of working, but also to recognise when things are beyond our control."
There are still plenty of artists and performers who you can get out and support with your attendance this weekend - you can see what's still to come at AAF here.

Keeping PACE
The Creative Careers Scheme is taking shape, with all the five pilot programmes now up and running with Nelson joining Waikato and its three Auckland counterparts.
Standing Room Only's Lynn Freeman spoke to Nelson Chamber of Commerce's Ali Boswijk and Creative Waikato's Jeremy Mayall about the services on offer and the interest in the regions so far.
The ability to grow the Creative Career programme to other parts of the country sits on the success of the pilots over the next two years. But there's no doubt having something to fill the void of the PACE scheme can only bring positive things for those involved. PACE alumni and developers have spoken of the benefits they found from arts-specific mentoring and how it can be change careers earlier this week.
Bonds that last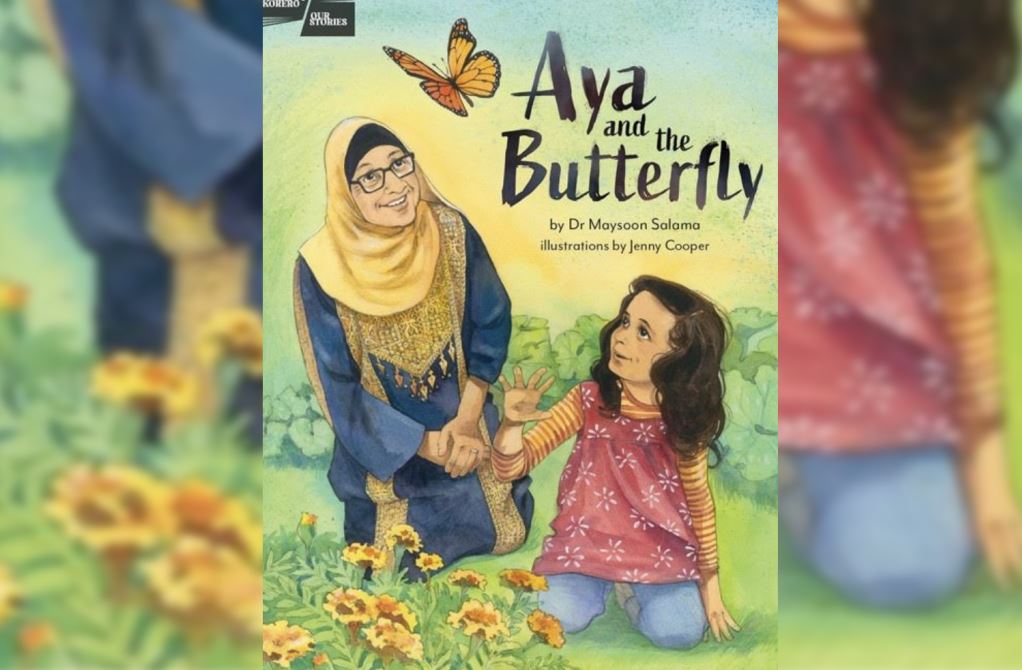 The week will be remembered for a national triumph, but started with a reflection of a national tragedy.
Monday marked the second anniversary of the Christchurch terrorist attacks. The region's bond with the Muslim community in that time has strengthened, as illustrated by Christchurch Museum's current exhibition Mosque: Faith, Culture, Community - reviewed here by Nigel Malthus. It goes far deeper into the culture than just serving as a tribute or memorial to the events of 15 March 2019.
Sadly - but even sadder, unsurprisingly - social media isn't in solidarity with the desire to support the Muslim community, with The Spinoff publishing an article from Anjum Rahman calling on Aotearoa to "not forget and not brush aside" the sentiment of 'They are Us'. It highlights there is still work to be done amid the "pockets of hate" but highlights there are also beams of light to celebrate.
They include the launch of Aya and the Butterfly, a children's book written by Dr Maysoon Salama, the mother of one of the men who lost their lives two years ago. The book is the first in a series of four designed to celebrate the Muslim community in New Zealand and has been developed alongside the Islamic Women's Council and Ministry of Education - helping children deal with loss and trauma.
NFT - WFT?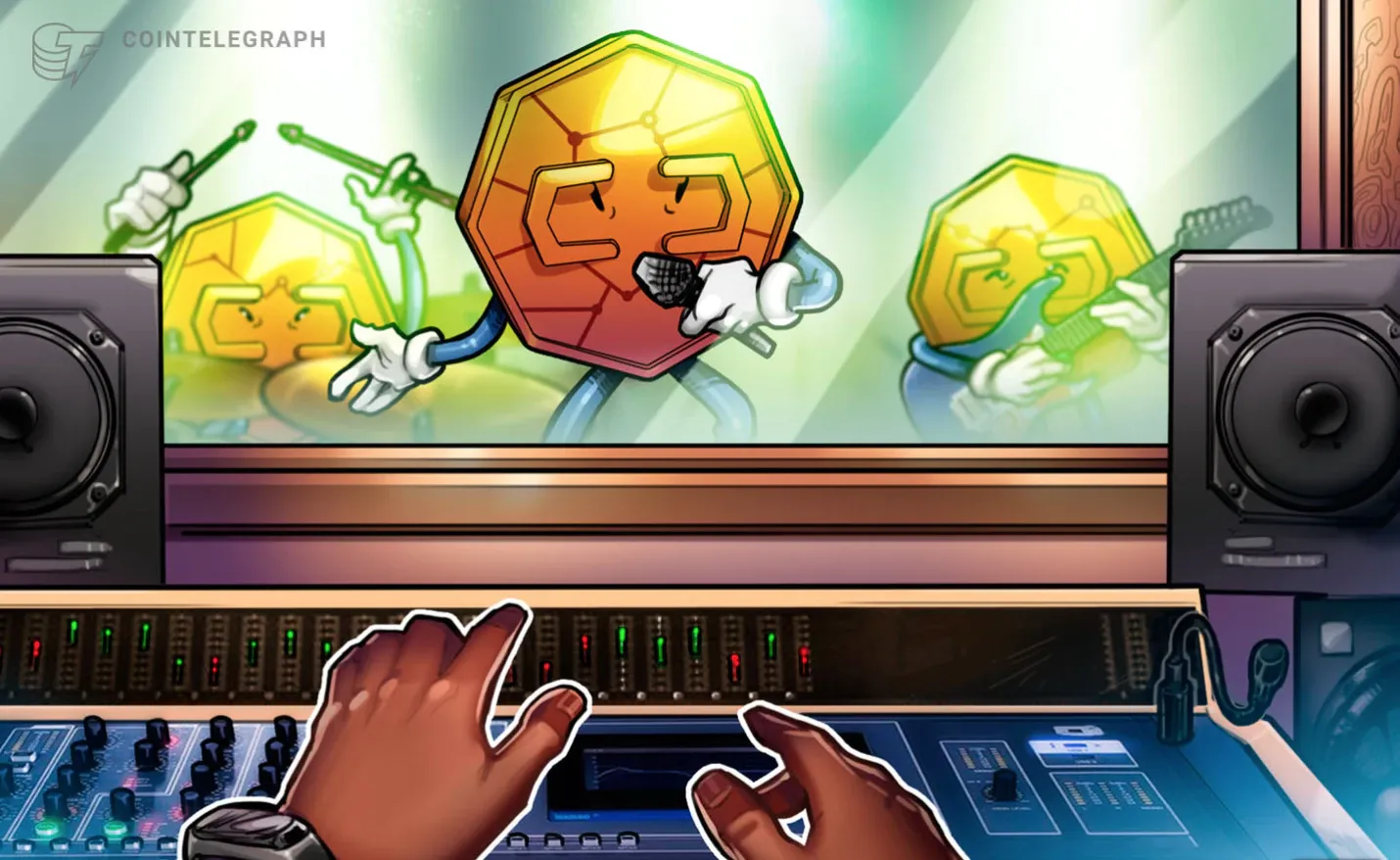 Image: Cointelegraph.
A few weeks ago, this writer wouldn't have been able to tell you a single thing about NFTs. I'm sure I wouldn't be the only one in the creative sector in that boat.
But Non-Fungible Tokens is fast becoming a term that should be known in our sector. Using blockchain technology, it's changing the way that artworks, music and other creative outlets can - and certainly will - be traded, with the potential for artists intriguing to say the least.
Ben Jardine here on The Big Idea has broken down what it means for the artistic community - amid a host of other pieces including RNZ and Stuff looking at how NFTs are exploding worldwide.
And if you wanted to know how big (and insane) they're getting, polarising but unquestionably technically educated Elon Musk is selling a song about NFTs as an NFT, and it's already crack $1 million in bids. Let's hope some actual musicians fare as well.
Laughs stay local
Like so many festivals and events, The New Zealand International Comedy Festival has gone local for its 2021 iteration, with a confirmation of dates and talent as tickets go on sale this week.
May's four-week extravaganza features more than 80 events, culminating in the handing out of the iconic yellow towel for the Billy T Award - last year's finalists never got a chance to compete for the honour thanks to a very unfunny reason, so Last year's nominees Brynley Stent, James Mustapic, Josh Davies and Lana Walters have carried over to this year
Third time lucky
It's take three for mother-daughter combo Tui Emma Gillies and Sulieti Fiema'a Burrows exhibition at Tautai Gallery - 'Voyagers: The Niu World.' The Tapa display's opening has been twice cancelled due to Alert Level rises in 2021, and finally gets its moment in the sun tonight.