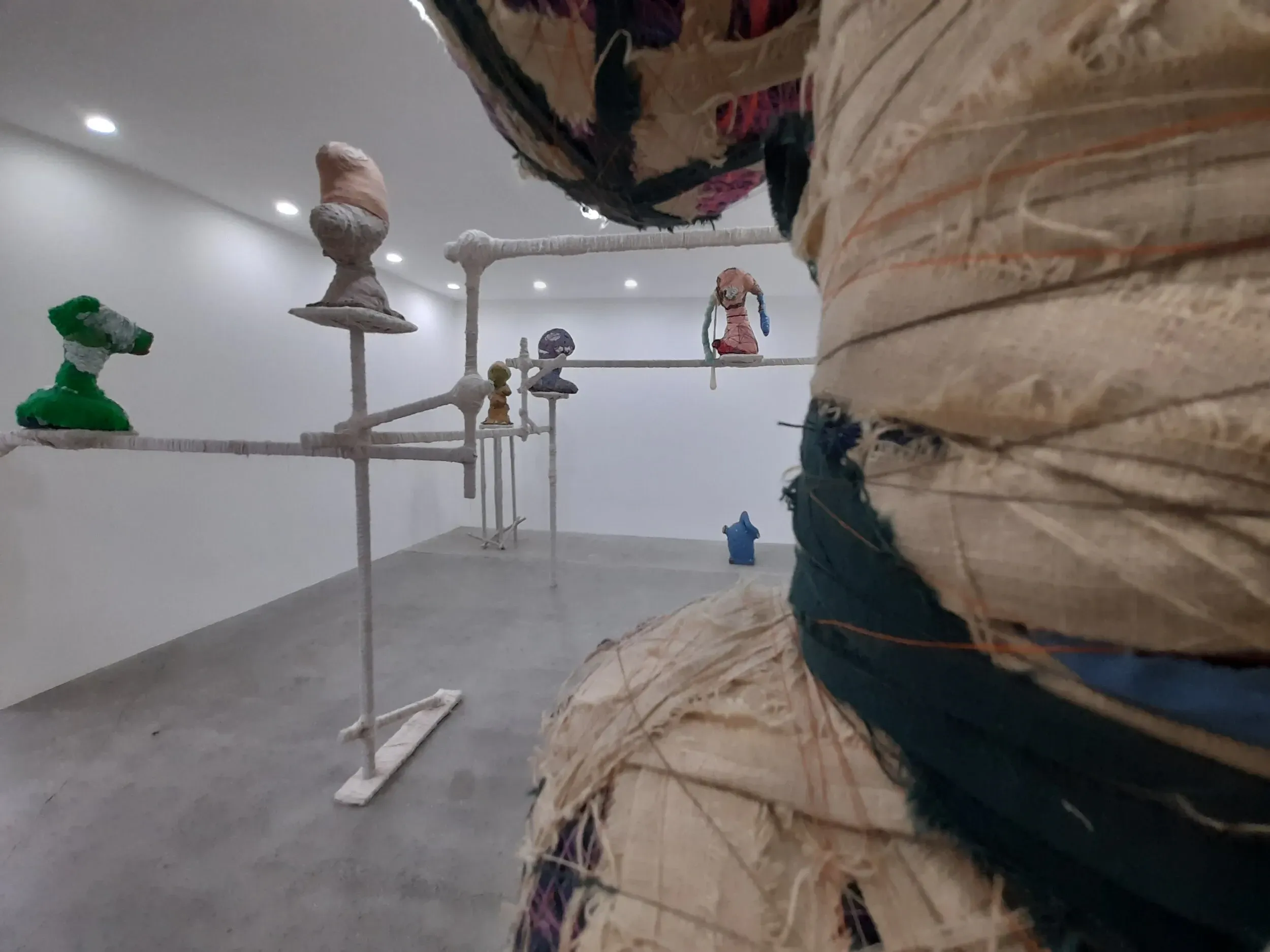 Who am I?
It's one of the most common questions a creative asks of themselves - though the answers are anything but stock standard.
Few artistic minds are identically wired. But there is a commonality that comes in questioning, challenging, discovering and embracing one's identity - as well as a refusal to accept having your creativity pigeonholed.
Tyrone Te Waa (Ngāti Tūwharetoa, Ngāti Hine) considers himself "a maker interested in the process - as opposed to the artwork as an outcome. Following intuition and spontaneous methods of making and letting that lead the practice.
"When you work in that kind of way, it then becomes about identity, it becomes autobiographical."
Fellow Unitec Masters of Creative Practice (MCP) graduate Gabriel Faatau'uu-Satiu also isn't about being constrained within a single discipline. "I see myself as a well versed and rounded storyteller, who isn't confined to one form of art."
Identity - and the quest to connect with and harness it - sits at the centre of both of their practices.  For both these creatives, the search and discovery of their identity come through their indigenous roots; Te Waa through binding, Faatau'uu-Satiu through untying knots.
Te Waa sees the advocacy of identity as a major social shift - allowing light to be directed to less visable kinds of stories and ways of thinking.
"Everyone's so conscious and open to speaking about all the trauma and different things that people experience - it's a huge conversation. 
"When I started making, where I angled my art practice was natural occurrence - unpicking personal experiences and trying to locate the main points of why I would do something the way I would. I was just working automatically and not trying to contrive some kind of narrative behind the work. 
"It was just stuff I wanted to make, with no thought of conceptual underpinning that I was purposely putting into the work. So then I had to go back and ask 'why am I doing it this way?'"
Tryone Te Waa's work as part of A New Net, Tim Melville Gallery.
Part of that thought process saw Te Waa focus more in-depth on the material he was naturally drawn to. 
"My family are all builders and makers, so wood is a material I'm really interested in. I've always been around construction sites." 
A proud Sāmoan, born and raised in Aotearoa but now living in West Sydney, Faatau'uu-Satiu also ties his creative decisionmaking to his roots. 
"Growing up, I was surrounded by culture, traditions and lots of food. Each of these rituals and activities have a performative aspect to it - birthdays, weddings, church activities and even funerals. At a young age, I didn't realise how much of it was embedded in me until I took the time to really reflect on my upbringing.
"The works I have produced thus far are not limited to writing. They are storytelling. My work is in the creation of the story, despite what the creative output is. Each of these works has advocated for Pasifika visibility, showcased a different part of Sāmoan culture, and highlighted the dynamics of coming from a large family."
Writer/Director Gabriel Faatau'uu-Satiu (right) working with performer Greg Semu. Photo: Nikita Eves-Faitau.
Aiga is at the heart of Faatau'uu-Satiu's world - he moved across Australia to be close to his family when his father was diagnosed with cancer in 2019.  
It meant not only uprooting his life, but also his studies. Faatau'uu-Satiu was allowed to continue his education remotely - prior to the COVID era. As digital platforms have become more effective and flexible, Unitec's Creative Industries Post Graduate students have the option to personalise their study arrangements in response to changing times.
There were certainly challenges with time differences and isolation, but Faatau'uu-Satiu found benefits. "In some ways I feel like I got a leg up before the pandemic hit us. When it finally did, I was already a zoom expert, I was comfortable learning online so I was used to being physically alone in my room. As writers, we generally write alone - mostly in the wee hours - but learning online had taken this whole experience (of being alone) to the next level." 
Te Waa's work transforms recycled material into visually arresting pieces - his creative education was never one that was destined to be heavily text-book based. He was drawn to learning that was hands-on.
"It really needs to be handmade," he says of his studies. "It has to be physical and tangible, it has to show the different shifts that have occurred during the process. All that speaks to the handmade quality of things, it ties back into the whole 'artist as a maker' approach, reflecting in real time, every day. 
"I feel like that's what happens when you make, you're really involved and laborious in your studio process."
Te Waa's time in the MCP programme brought that to the forefront. 
"The studio space that was available, the flexibility of the teachers most importantly - they really care about the students. This isn't always the case from what I hear from my mates who went to other Universities.
"There was a lot of freedom in what you can do, little restrictions - when I first started there were piles of material everywhere. 
"Unitec's a little bit punk, I guess. Everything is quite self-directed."
Tyrone Te Waa. Photo: Supplied.
From across the Tasman sea, Faatau'uu-Satiu found the tutors "always made the space safe for me to share, and never pushed me when themes or topics were uncomfortable. 
"A big part of my research looked into taboo themes within Pasifika households and some of them stemmed from personal experiences."
Faatau'uu-Satiu agrees the hands-on learning and actively being involved within the industry during studies is crucial.
"It is rewarding because of the recognition we receive for all the work we put in and a great way to network and connect with other more established and emerging artists too. I also absolutely think it is necessary. 
"As artists, it isn't as easy to be self-sustainable as opposed to those who have full time 9-5 jobs. We live in a world where everything costs money. Although artists are very resourceful and can make work/s with little or less than, we depend on grants and funds in order to survive, pay rent and put food on the table. 
"So actively practicing our art during our studies is a necessary way to gain the skills we need to make art so we can survive."
Before and during his MCP studies, Faatau'uu-Satiu has honed and utilised his writing skills with the likes of Black Friars Theatre Company, South Pacific Pictures, Whitebait Media and Māori Television - as well as theatre reviews for several Australian outlets and guest writer for The Guardian. He has since launched his own independent production company, Satiu Studios. 
In working with the Pacific Noir programme - producing Pasifika stories from west Sydney - he was given the opportunity to shoot a proof of concept for something he was developing.
"That 'something' happened to be the same series of scripts I was developing through the MCP, Breaking Bread. In late 2020, I shot the pilot episode of an anthology series (made up of eight 15 minute episodes)."
Cast & crew of Breaking Bread pilot episode at the Pasifika Film Festival 2020. Photo: Kumehani K.
The pilot was released publicly in early 2021, two days after his father's passing, and is currently on the film festival circuit. 
"We're in the midst of applying for funds for further development and pre-production. The producer of my works has told me that the Pacific Noir recipients we'll be meeting with Australian networks, SBS and Stan, within the next month or two."
Te Waa's making the most of his opportunities.
"My Unitec connection enabled me to sit with ideas and develop my understanding of the dialog I have within my practice. Along with facilitating connections with peers through Sanc Gallery,
where I had a solo show called Clingwrap (2021) which was the first time I showed the bust works on the framework."
Those sculptures have now become a trademark. That show saw him invited to be one of four early-career Māori artists to contribute to Tim Melville Gallery's A New Net - an exhibition inspired by Witi Ihimaera's 1977 short story collection The Net Goes Fishing - Te Waa created five head-like sculptures from fabric, wood and thread. They are installed on a custom-made wrapped architectural structure attached to the gallery walls. 
"I would say the work at Tim Melville ties in a way to make the work embody a lot of different things to me - combining the masculine (wood) and the feminine (fabric), in terms of materiality and the approach to different materials that I enjoy."
Tyrone Te Waa, Uncle, part of Te Tīmitanga.
That style has continued through to his work as part of Te Tīmitanga, the first ever te ao Māori inclusion in Auckland's Pride Festival, which can be viewed online. Te Waa has more exciting opportunities coming up in 2022, including being part of Twisting, turning, winding // Takatāpui + queer material culture in Aotearoa, Objectspace's planned June exhibition with fellow practitioners across architecture, design and visual arts.
Like Te Waa, Faatau'uu-Satiu is excited about what's on the horizon this year. 
Behind the scenes at Breaking Bread pilot shoot. Photo: Nikita Eves-Faitau.
On top of his aspirations for his Breaking Bread anthology series, he has a video installation that will be part of April's Juxta Jams exhibition in Sydney, an experimental film exhibiting April-May, a children's book inspired by his Sāmoan/Australian nieces and nephews in its final stages of printing and he's in the early development stages of writing a theatre play, a music video dedicated to his late grandmother, and a short film about grief, in memory of his father. 
"My research through the MCP focused on my practice as a scriptwriter, but the end result of my project produced so much more." 
Written in partnership with Unitec. To find out more about the Master of Creative Practice, click here.