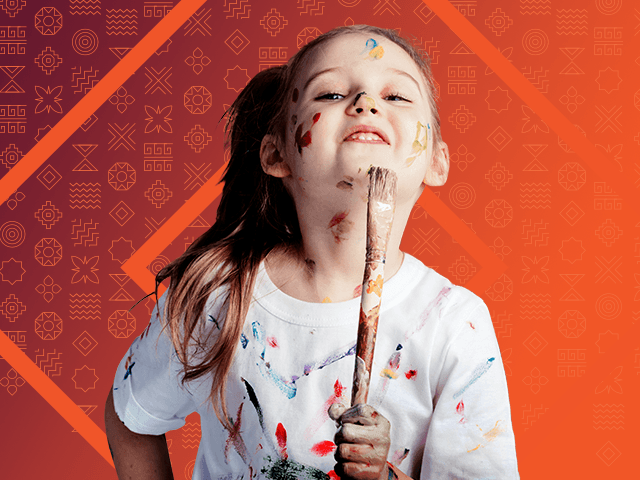 Artistically minded individuals have an opportunity to change the lives and career trajectories of rangatahi all over this country - and get paid to do it.
The Creative in Schools programme is open for applications until 21 August - providing an opportunity for professional artists and teachers to work together to provide engaging learning experiences for ākonga (students).
With up to $17,000 available per project, the canvas is blank and ready to be filled with your ideas.
Applications aren't everyone's cup of tea - and any process that requires paperwork can be daunting.
However, the opportunity to leave your creative imprint on the next generation of New Zealanders is more attainable than you think.
We've spoken to those who oversee the Creatives in Schools programme - and those who are part of its track record of successful projects - to find out what you need to make your application stand out.
Who can apply?
The first part is a no-brainer. Creatives - it's in the name.
Julia Novak, General Manager – New Zealand Curriculum and Te Whāriki, Curriculum Centre, Ministry of Education says "We welcome artists from all areas of expertise, backgrounds, and communities across Aotearoa New Zealand, who want to be involved in a project with a school and feel they can spark the creative imaginations of our rangatahi.
"Creatives in Schools provides creative learning experiences that are over and above what a school is already delivering to their students.
"The project could either be completely new or could expand an existing art project within the school. We want projects to promote creativity and to connect our ākonga with their community."
That means it could be anything from ngā toi Māori, Pacific arts, visual arts, performance arts, digital arts or a hybrid of art forms. Joe Fowler, Pou Mataaho o Te Aka Tūhono Deputy Chief Executive, Investments & Outcomes for Manatū Taonga Ministry for Culture and Heritage says they're open to outside-the-box ideas.
"The creative community here in Aotearoa is a richly diverse group, and we're keen to receive applications that reflect this vibrant community.
"We're especially keen to hear from creatives who enjoy working with tamariki and are eager to share their knowledge and collaborate with students and teachers to further their creative development."
Inside knowledge
Those who have already walked this path are best placed to explain the process.
Alanah Knibb used her skills as a science communication artist to run the Comics for Change project at Ormiston Junior College.
"It was a 10-week project where students challenged problematic topics in their communities to do with science or society - like stereotyping, discrimination, conspiracy theories - through the medium of storytelling. These stories were written as a one-page comic and were exhibited in the local mall (below).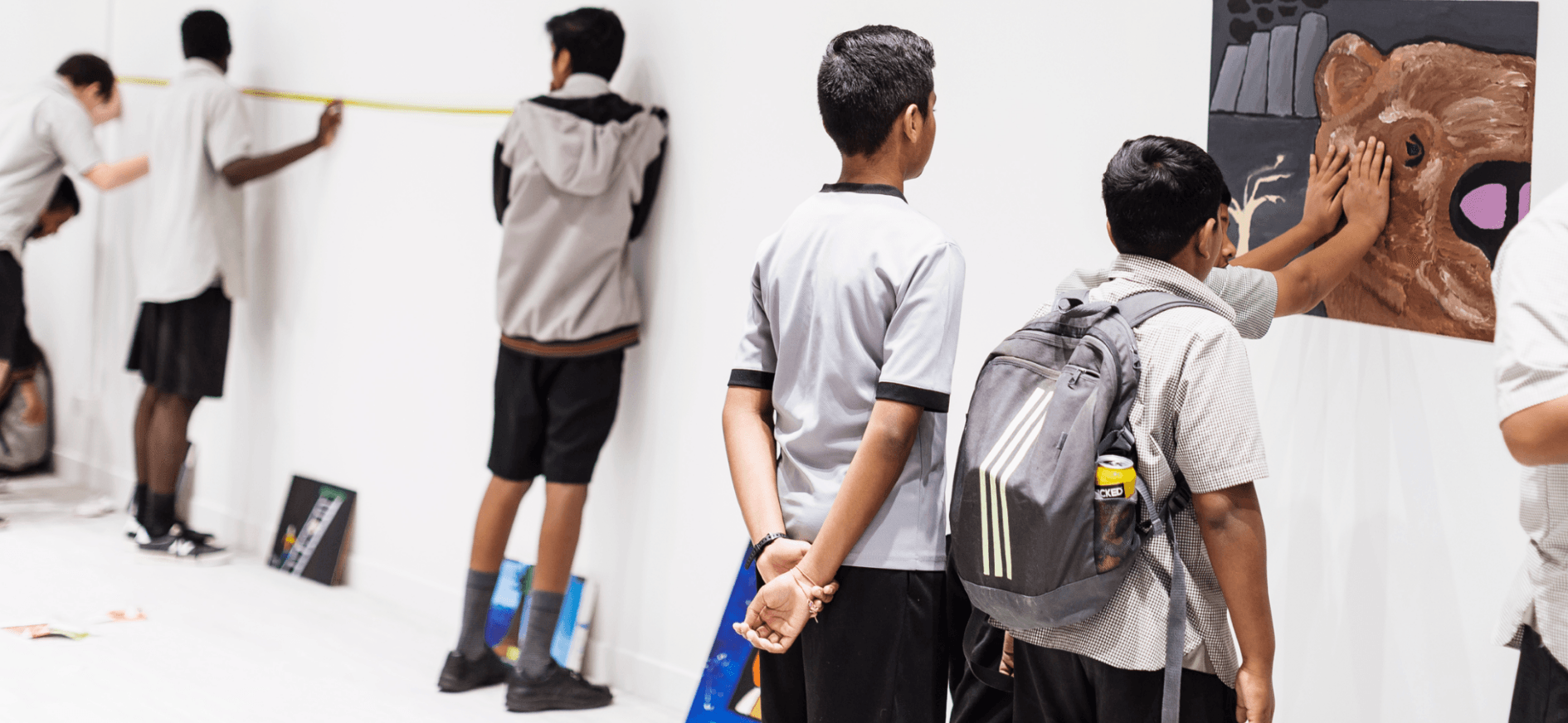 "My project fit neatly into the school's existing timetable. Students at Ormiston Junior College get about an hour each day for an independent interdisciplinary project - so the ākonga in my class had all opted into the project, which was great for buy-in. I tailored the format and schedule to their timetable for that session.
"I thought it was a good opportunity to try out a project I had been thinking about that used a new, experimental approach. Doing the project through Creatives in Schools gave me the confidence to pitch it to clients afterwards and use the same approach for bigger projects.
"I also liked the amount CiS offered for the artist's fee - a longer project with a decent fee was appealing for the stability and security it could offer. I was also a fan of this particular school and their approach to learning, so I was keen to collaborate with them somehow."
Multi-disciplinary artist Bernadette Shea is the Founder of Expressive Art NZ, creative entrepreneur and art tutor. Of English, Irish and Filipino descent, Shea runs spontaneous art classes for adults and children alike, for people of all cultures experiencing grief and loss.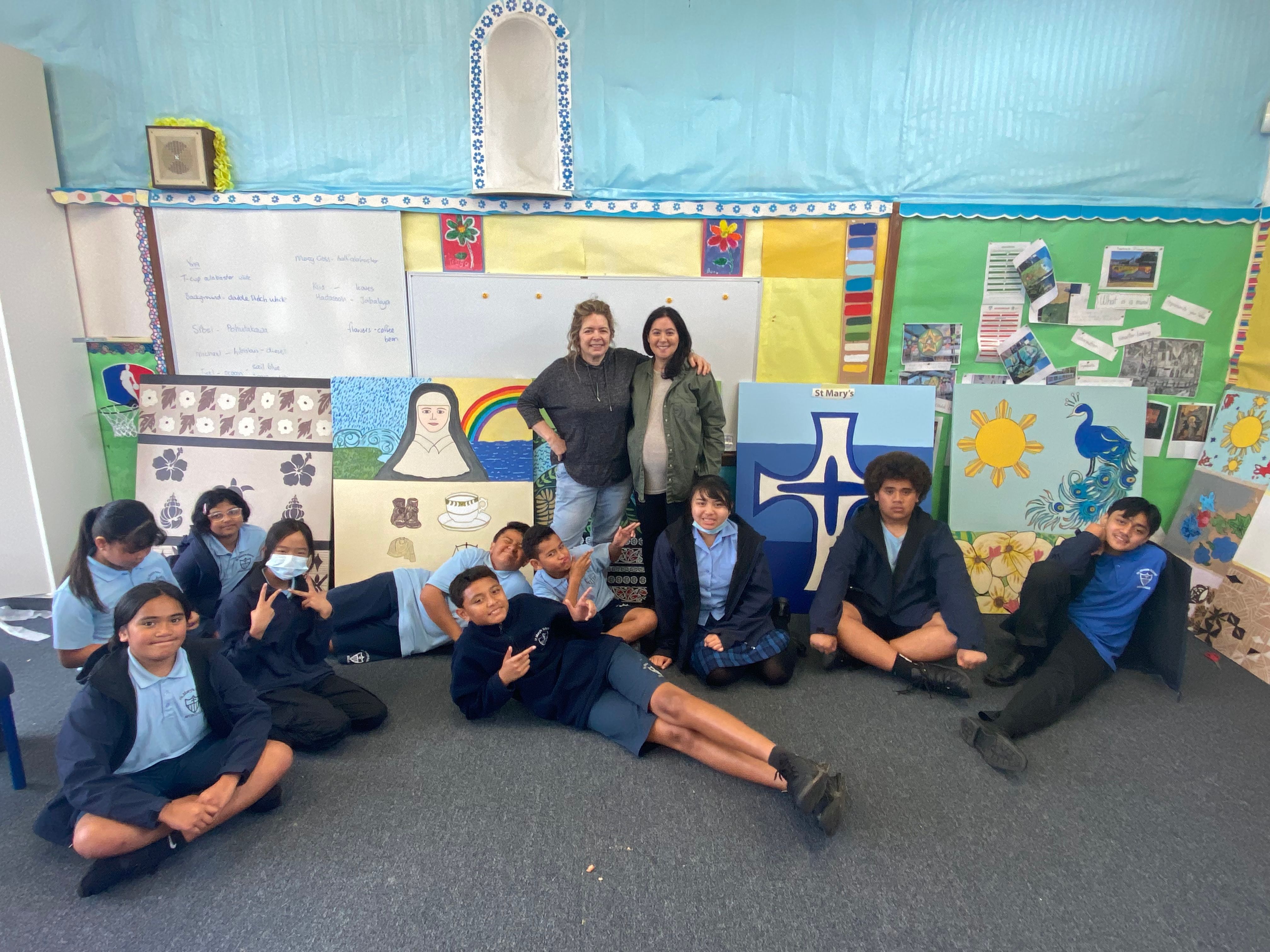 She worked with two Auckland schools in 2022. First, a Values Mural Project for St Mary's Catholic School's centenary with students aged between 7-12 (above), "To create and enhance a sense of belonging, hauora, and learning, and reflect the individual character and the diverse cultures of the school."
The process saw students gain new creative skills - sketching out, practising and then painting the final murals on plywood under the guidance of Shea and the lead teacher. Shea notes "The murals are now central to St Mary's School and are the focal point to stop and reflect - providing visitors, parents, students, parish church, and the local community in Avondale to enjoy the mural artworks for a long time to come."
This was followed by a Creative Art for Well-Being Project with Waikowhai Intermediate, where students produced artworks each week using different art forms and mediums - from Mandela art for stress release and sensory experience by making sand tray mini gardens - to help them process challenging emotions that were difficult to express verbally.
"I hope my art classes help future generations to create openly, to use creative problem-solving skills and develop coping skills, using art to create a story of their inner worlds. The artworks were kept private and only the students shared them if they felt OK to do so."
Finding the right school/creative
While it can be helpful to already have an existing connection, it's not essential.
Professional artists and creative practitioners will work with kura or school to plan and deliver the project. The partner kura or schools will then submit the application for Creatives in Schools.
Novak explains "There are a couple of ways for creatives to get involved. They can make contact with a local kura or school to discuss collaborating on a creative project, or they can submit their profile to the Creatives in Schools website so kura and schools can find them."
Shea used both methods to complement each other. "It was helpful as I used this web page to email out and send my Creative ID link to local Schools. By contacting schools directly, I could then make the initial introduction and privately share my information about the art project proposal.
"Make your email clear and in the title ensure you write 'Creatives in Schools,' introduce who you are, attach a simple creative CV and examples of the work you do. Make a list of pros on how the creative project you suggest would benefit the school, students, teachers, and community. Go ahead and pitch your idea!
"Some schools were not aware of this funding and were quite excited to hear more about it.
"Creatives should keep in mind that you may not hear back from a school just by adding your profile. They simply do not have the resources to go through each creative profile.
"For schools, you can use the dropdown filter under 'available creatives' to sort by 'location' and filter by 'art form' - for example visual arts to help narrow down your search for the disciplinary medium you would like your kura and ākonga to participate in."
How to ace your application
Having an idea is one thing, expressing it in the right way can be another.
Fowler comments "The Creatives in Schools programme is very much an innovative space for creatives, and naturally, we receive a broad range of applications pitching brilliant proposals.
"It is important that you ensure your project is realistic in its scope and that you consider and respond to all aspects of the application. The better the information provided, the easier it is to understand what you're aiming to achieve."
Novak adds:
The most important thing to get right for the application is to make sure the creative aim of the project stands out in the application and links to the culture and community of the school.
"Applications are assessed against the application questions and how they will deliver impact for students, teachers, whānau and creative practitioners."
The key step is to read the application carefully - the Creatives in Schools website has all the programme details as well as examples of successful projects.
"When schools start filling in the application form, we highly recommend that they take time to think each section through and fill it in with the necessary detail. When applicants skip parts of the form or put in very little information about their project, they might miss certain details that would increase their chance to be selected," Novak notes.
"As this is a joint proposal, schools and creatives must also show that they've planned this project together."

When it comes to the most important thing to get right in your application, Shea is unflinching - planning and organisation.
Figure out what you are good at and what you enjoy doing - and start brainstorming ideas.
"You need to engage students in a short amount of time, and you may only get an hour or so each week. Therefore, you must be flexible with the school and how much time you have with the staff and students. After you have planned out the 100 hours needed to complete your project, build a timeline on how this will be achieved - this can be spread over one or two terms (but no more than 20 weeks).
"Choose how many teachers are to be part of the creative learning - the funding covers their extra time and a teacher to relieve them. Develop the project together and utilise a school meeting room to bounce around ideas.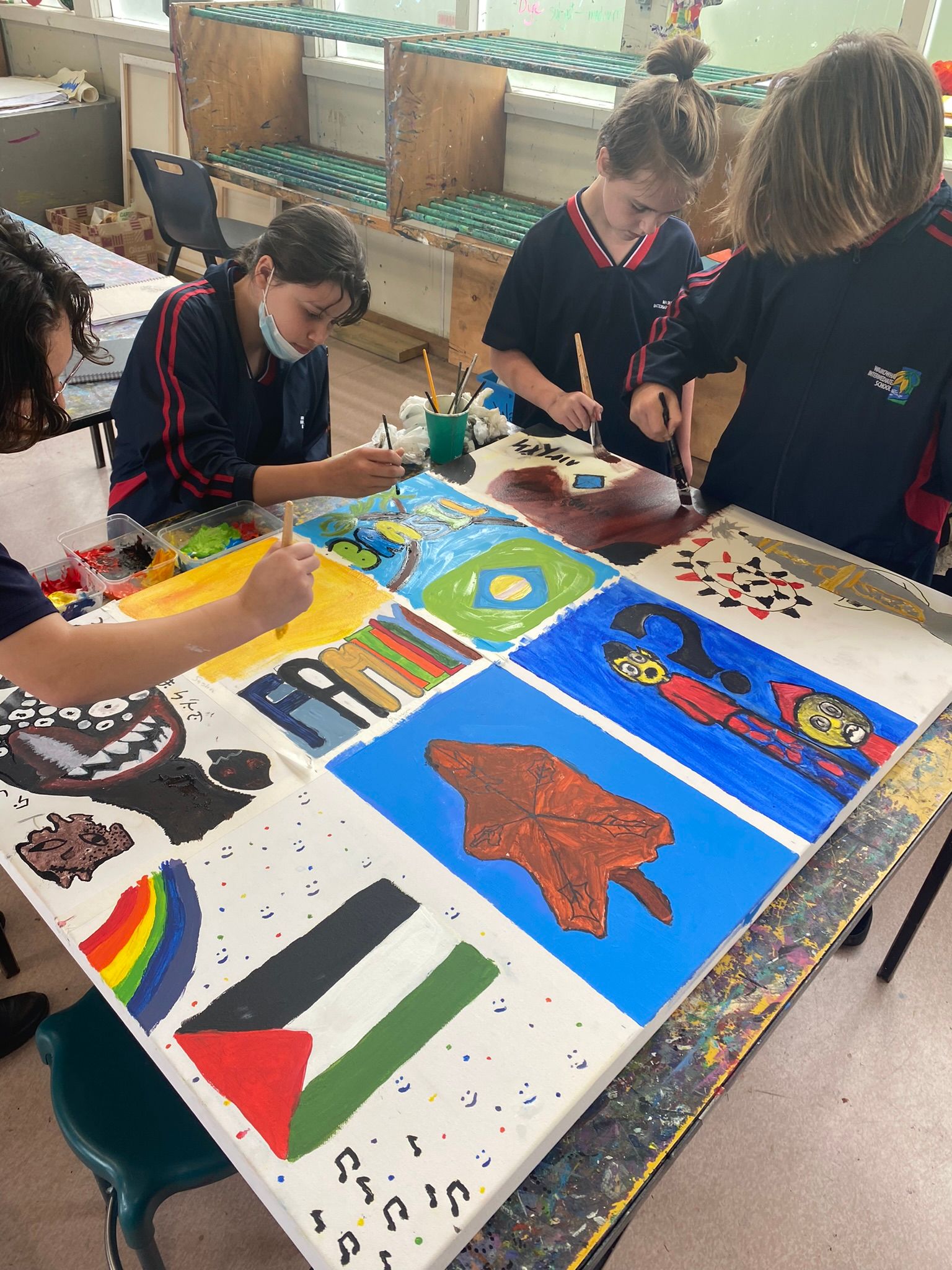 "I worked with the lead teacher, other teachers, and the school counsellor to help develop criteria and select students, based on the creative project. Firstly, we looked at student ages and how many students you can work with at one time. Include the student numbers based on your creative idea – this also helps when planning the budget, so you can order enough materials.
"Remember - you are the one with the creative specialist knowledge, so as the creative, don't be shy to promote your unique skills!
"Try to make your application stand out. You can do this by providing extra visual supporting documents, using Illustrator or Photoshop to layout designs and provide mockups."
Shea also advises keeping an eye on your file size when uploading large photos or visual files – knowing there's a total allowance of 16MB per application is useful to know ahead of time, rather than trying to reduce down later.
"I found the application process takes a lot of time and work but with careful planning, it doesn't have to be so daunting – it can be enjoyable. On average the planning and application process – along with providing supporting documents – took me about 15-20 hours of work for one school."
Knibb believes the most crucial thing to nail in your application is explaining the outcomes.
"The application asks you to describe how your project will benefit not just the kura, but also the akōnga and their whānau.
"It's important to think about and include all of these groups into the project and clearly plan and articulate outcomes for each group. I included whānau in our project by inviting them to participate in a focus group to feedback on the students' work. They were also invited to the exhibition launch to celebrate the outputs of the project."
Why it's a rewarding experience
Knibb took great pride in her mahi with the Ormiston Junior College students.
"There was a lot of raw energy in the classroom that I wasn't used to working with, as I primarily work with adults. Even though I have worked with children before, I hadn't done it for 100 hours across 10 weeks – that's a lot of time!
The accumulated time in that rich environment was both a significant challenge but also a fertile learning space.
"A lot of really great, serendipitous things happened for us along the way so the final exhibition looked great and was easy to organise. There was great feedback from the students and teachers. I included a professional photographer in the budget so I could get some good photos for my portfolio afterwards. That really helped and I think is well worth the cost."
Shea has no hesitation in describing her Creatives in Schools project results as a success.
"You know you have done something meaningful when the students and teachers are fully engaged and excited to be part of the creative project every week. That is what this funding is for - making high-quality creative projects more accessible to New Zealand schools. Exposing young people to the arts is important and should be more valued.
"This became more than just teaching for me, as I was also learning from the students – it was a shared creative experience, and a journey that allowed the children to explore and develop themselves, creating a sense of purpose. It made the students feel proud of what they achieved, and it was something we made a point of celebrating together.
It has been an absolute honour to take part in these two Creatives in Schools projects and the most satisfying creative experience I have had.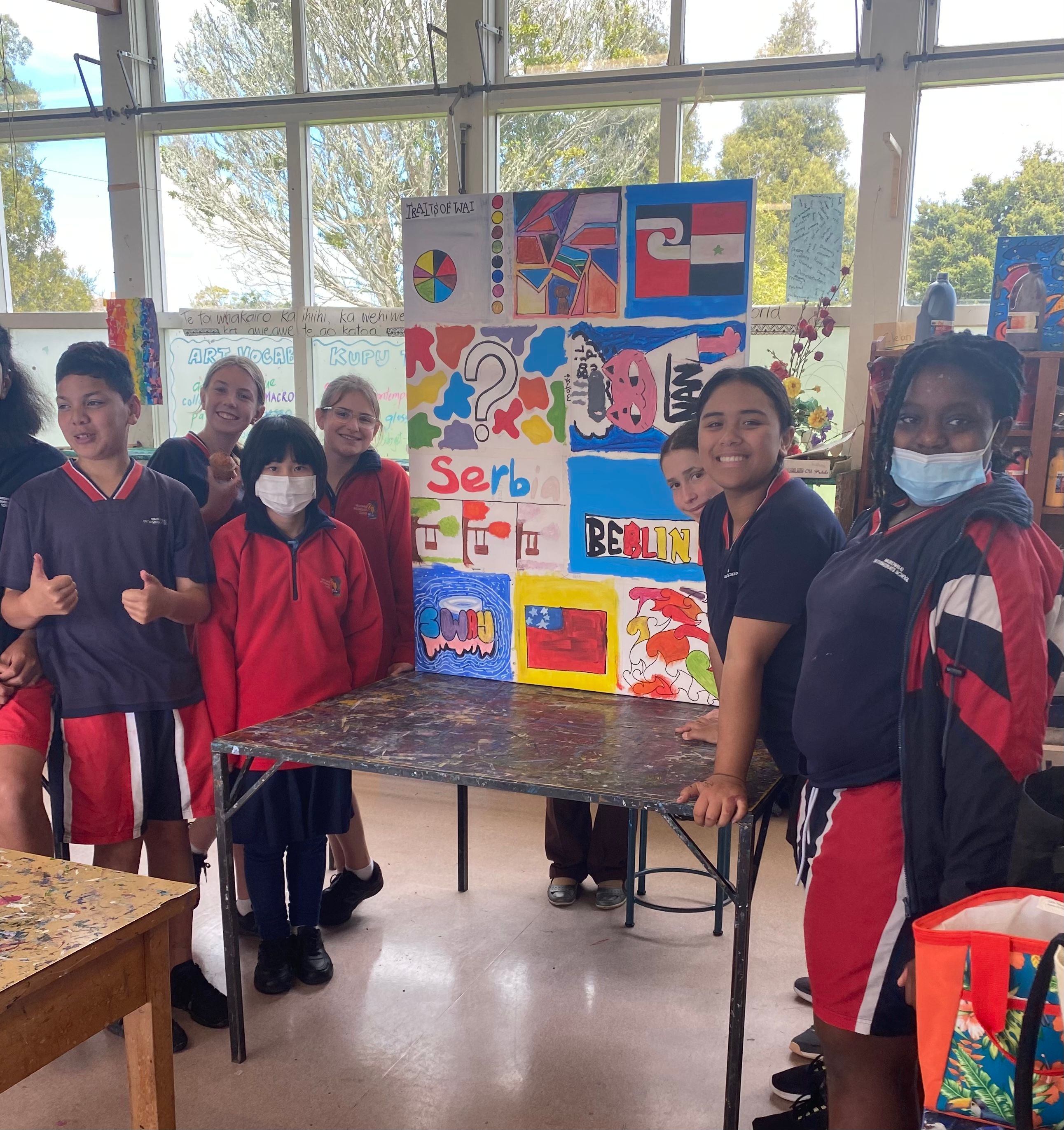 Advice
As for further advice for hopeful applicants, Knibb was forthright.
"I was quite ambitious for the project and so I tried to include a lot. Once it was in my application and accepted, I felt a duty to deliver all those elements.
"My advice is to be realistic and think practically about your application. It can make your application sound really good by putting in all these extra bits and pieces, but remember that you will have to actually do all those things if it gets accepted – and there will be a whole bunch of other stuff you will have to do that you don't expect.
"Lean into it – and don't be too hard on yourself. The teachers and students seemed really glad to have me there, so even if I felt the project was 'failing' or running behind schedule – I realised I couldn't hold everyone to my same standards and expectations and that actually, just being in the room is already great experience for everyone.
"Something else I had to think hard about was how to share design control. It was surprisingly tough for me to give control of the final outputs like aesthetics and design over to the students, and it was a good experience for me to learn how to find the balance in a collaborative project like that.
"I'm glad that, in the end, I gave most of the design control to the students – it was important to be able to hear and see their individual voices through their work.
The weight of a child's voice is very strong if you give it a platform.
Fowler adds "My main advice for future applicants, given the school environment, is to consider how your project is addressing the needs of the specific school or community. Communicating this in your application, as well as outlining potential ways for whānau to get involved, is what we're after."
Novak advises "As with any successful project, it starts with careful planning. Make sure to spend the time thinking about what you want to produce creatively and how it links to the school and community.
"Here's another tip: if you submit your application several weeks before the closing date, our team can do an initial assessment and give feedback. This gives you a chance to update your application and fill any crucial gaps before the formal selection process begins."
Shea muses "Be patient with the schools. Remember school teachers have a lot to do and their workload is already quite high. So make it easier for them by filling in draft forms and draft up lesson plans for each class for the lead teacher to review.
"Once the application is uploaded by a teacher and complete, please pat yourself on the back for sticking with it and then all you can do is wait. But your time will not be wasted and there is always something to learn along the journey.
Please don't let the application paperwork put you off starting the process - the sooner you work on the planning the easier it gets.
"If you are chosen and lucky enough to get the funding, please remember to share your creative education or pathway journey with the students and how you got to where you are.
"Suggest and share the pathways into creative industries for young people - students may not be aware of the pathways after finishing school and how to further their education through the arts.
"Who knows, you may be the creative inspiration they need!"
Written in partnership with Creatives in Schools - applications for 2024 projects are open until August 21 2023. Click here for application details.