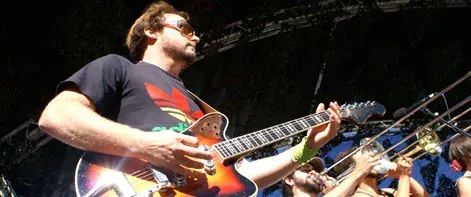 Hikoikoi is bringing its old-school-authentic Jamaican sounds and earthy beats to the March session of Late Lounge. The three-piece roots/rock/soul group, well known for its infectious, soaring vocals and sub-sonic roots vibrations, perform from 7pm on the 4th of March in TheNewDowse Lounge.
The evening warms up with exhibition tours at 5:30pm and 6:30pm - Bill Viola's extraordinary spiritual video work, The Messenger, providing the perfect preamble to Hikoikoi's invigorating lyrics and soulful sounds. Entry for the evening is by koha with all galleries, café, cash bar and Shopette open until 9pm.
Last year, Hikoikoi's self titled debut album shot to number four on the New Zealand charts. The band's sound is an organic fusion of earthy beats and grooves, peppered with rich harmonic interplay drawing on themes from early gospel and roots reggae, blended with jazz and funk grooves. www.myspace.com/hikoikoi
Since 2006, Hikoikoi has played festivals throughout New Zealand, including Wellington's One Love, the Cuba Street Carnival and The Jackson Street Fiesta; the Nelson Winter Festival; the Parihaka Peace Festival, the Rotorua Mardi Gras, Palmerston's North's Festival of Cultures and Auckland's Music In Parks. More recently, Hikoikoi enjoyed an opening slot with Katchafire for the Original Wailers in Porirua.
As well as providing the perfect setting to immerse oneself in The Messenger, visitors to Late Lounge can experience the playful exhibition Bogle Bogle by Seung Yul Oh; ogle at Lisa Walker's quirky jewellery in Unwearable and catch HotHouse Season 2 and Long Live the Modern. Full details on www.newdowse.org.nz