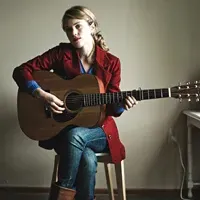 TheNewDowse art museum hosts country-tinged singer-songwriter Jess Chambers on Thursday 4 February as part of the monthly Late Lounge series.
This is a great chance to wind down after work, listen to some great local music and check out TheNewDowse's exhibitions. Entry is by koha, with all galleries, café, bar, shopette and visitor lounge open until 9pm.
Jess Chambers spent time growing up in sunny California before settling in Wellington in 2002, where she bonded with like-minded musicians and established herself as a solo and collaborative artist. After working with electronic artists like Rhian Sheehan, she released her 2008 debut solo album 'Jess Chambers and the Firefly Orchestra' to critical acclaim. The NZ Herald, for example, said it was at times haunting, at times joyful… a well-crafted collection of lullabies.
The 'Orchestra' includes some of Wellington's finest musicians, including Samuel Flynn Scott (Phoenix Foundation), Rio Hunuki Hemopo (Fat Freddy's Drop, Trinity Roots), Tessa Rain (Fly My Pretties) and Andy Hummel (Rosy Tin Teacaddy). The captivating composition 'Island', which ends with an all-ages sing-along, was chosen by the Green Party as the theme song for their 2008 election campaign.
In 2009 Chambers was part of 'The Woolshed Sessions', a band that grew from a jam in a former shearing shed in Takaka Valley, featuring some of New Zealand's most respected independent musicians: Age Pryor, Justin Firefly Clarke, Lee Prebble, Brett Skinner and Al Fraser. A new musical phenomenon was launched, celebrating original New Zealand songwriting driven by lashings of lap-steel guitar, lush vocal harmony sing-a-longs and banjo punctuations.
Chambers brought to the project her most uplifting songs to date, in particular 'Stringing Me Along' which won the 'APRA Best NZ Country Song of 2009' at the Golden Guitar awards in Gore.
Chambers says "I love how country is considered slightly un-cool but if you really check out the old-school legends like Hank Williams, Patsy Cline and Johnny Cash etc you'll find that these artists had amazing showmanship and song-writing skills. Their songs are often quite subtly complex even while they seem so simple."