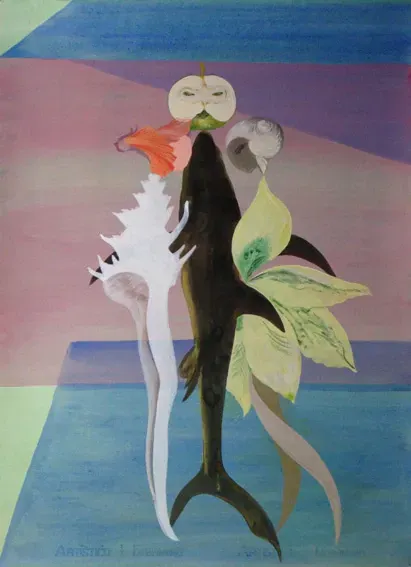 Watercolour has become synonymous with cloyingly sentimental depictions of colonial landscapes, cottage gardens and softly modelled portraits and seemed destined to be locked in the classrooms and studios of the hobby artist. But in Liquid Dreams, six New Zealand painters revitalise the medium for the 21st century.
Kushana Bush, Linden Simmons, Michael Harrison, Kristy Gorman, Brendon Wilkinson and Julian Hooper represent a new breed of artist who not only extend watercolour and other water-based media out of the realms of nostalgia and cliché, but add a metaphorical hard-edged twist.
"Liquid Dreams provides a contemporary take on a centuries old European tradition," says curator Karl Chitham, "The six artists represent a renewed freedom in the use of watermedia."
Michael Harrison is New Zealand's most well known proponent of water-based media. Drawing on dreams and mysticism, he creates delicately rendered dreamscapes populated by totemic animals and lovers, undercutting any romantic tendencies with tension and uncertainty. Uncertainty is also a characteristic of Brendan Wilkinson's mystical works, as female apparitions find themselves in webs of entanglement – the nature of which is unclear.
Kristy Gorman's paintings are even more ambiguous, as she explores the territories that lie between figuration and pure abstraction. Meanwhile, Julian Hooper plunges the viewer into a surrealist world inspired in part by the pages of fashion magazines with architectural fancies, populated by a posturing parade of creatures haphazardly assembled from a disparate array of objects from shells and fruit, to fish tails.
Dunedin-based Kushana Bush abruptly introduces a different tone into the exhibition. Influenced by the highly decorative tradition of Indian miniatures, Bush produces curious entanglements of the athletic kind as clusters of men – a sports team, a dance troupe, a war party? Largely naked except for a pair of stripped sports socks, they strike a series of complicated, rhythmic poses in preparation for what we do not know. Last year, Bush was the inaugural recipient of the Asia:NZ/Arts Centre of Christchurch Residency Exchange, based at Changdong Art Studio in Seoul, Korea.
Linden Simmons takes a more analytical route, using the medium to painstakingly record tragedies of our age from the sinking of the Princess Ashika to Haitian refugee camps – events which make the news one day, but are fish 'n' chip wrapper the next. Simmons is currently in Solothurn, Switzerland, on a three-month artist's residency, after winning the 2009 Kaipara Foundation Wallace Trust Award.
19 June – 26 Sept 2010
TheNewDowse
45 Laings Rd, Lower Hutt