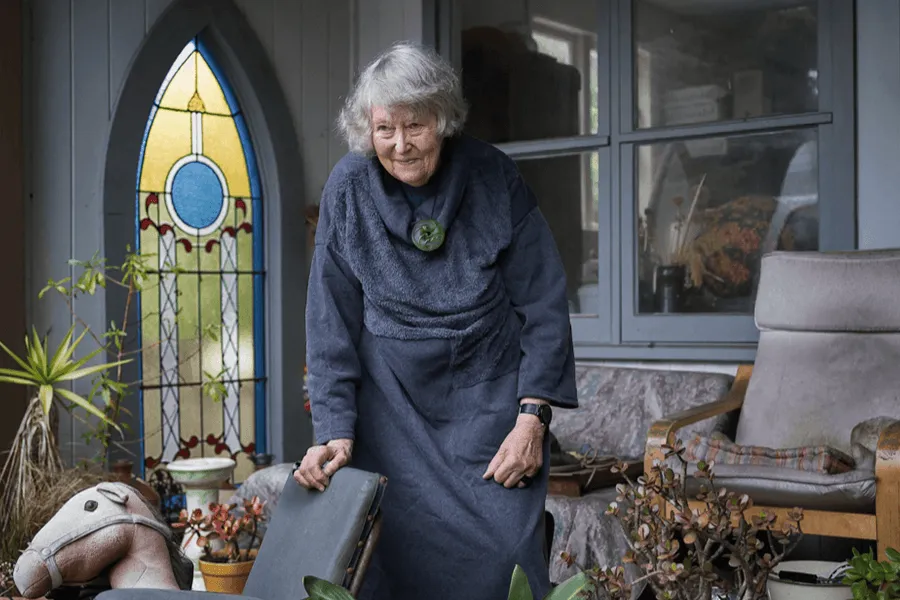 The creative community is mourning the loss of one of Aotearoa's most notable photographers, with the passing of Ans Westra at the age of 86.
The news filtered through on social media on Sunday evening - and through a statement from Suite Gallery Director David Alsop, who has managed Westra's famed print archive for the last decade and developed a close friendship.
In a career that captured her a Companion of the Order of New Zealand Merit and a place in the exclusive Art Foundation's Icon list, Westra's remarkable ability as a documentary photographer has had a long-lasting impact on the country that she called home after immigrating here from the Netherlands as a 21 year-old.
After a stint working at Crown Lynn potteries in Auckland, Westra's life-changing decision to travel the country with her camera has produced hundreds of iconic images and helped shape documentary photography. It was also a trailblazing decision for the self-taught photographer, making her one of the first women to work in this area in Aotearoa New Zealand.
On her life of capturing life and culture through a lens, Westra understated told RNZ's Standing Room Only last year "I've documented history and people relate to seeing these images in how it used to be."
In 2015 she received an honorary doctorate from Massey University in recognition of her long-standing contribution to New Zealand's visual culture.
Archiving Ans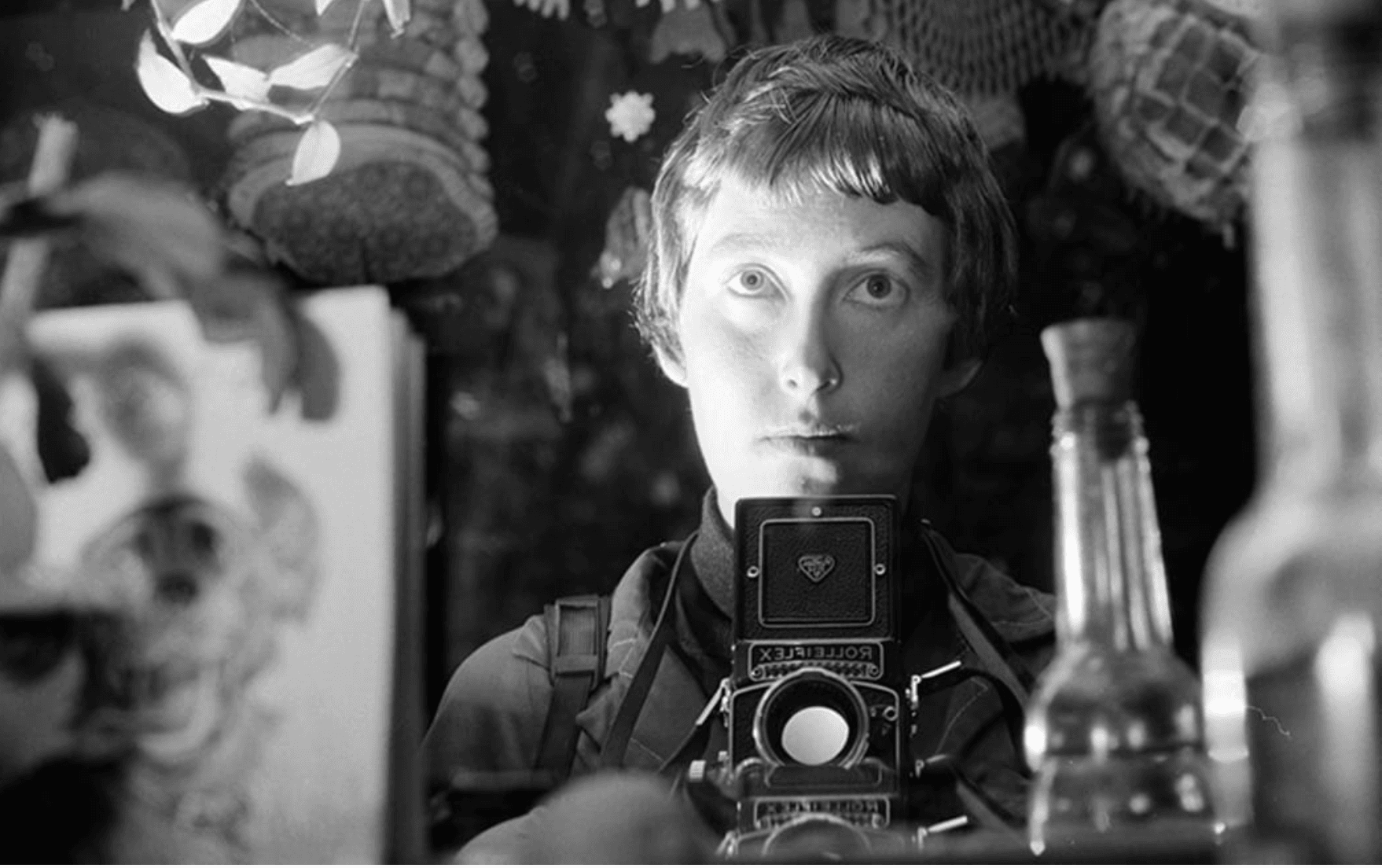 Ans Westra Self Portrait. Photo: Alexander Turnbull Library.
Alsop's lasting friendship with Westra and subsequent and role as her agent has helped build a home for her legacy.
Alsop once told an audience at Te Papa that he has "lived and breathed" Westra and her work for the last fifteen years. He noted "Ans just spent her life photographing. She had no time to catalogue."
It's something that Alsop took on board to presume her work - as a full-time freelancer, so much of the publication of Westra's photographs in books have been done so by others. Alsop estimates that there are over 300 publications where her images appear but only about five that she would say are 'her' books.
While there is a permanent display of Westra's work at Suite's Ponsonby gallery, it's in Westra's adopted home town of Wellington that Suite hosts a "living Westra museum dedicated to celebrating the artist's lifetime of work and images," containing archives of articles and books that feature her images.
Suite also has an online gallery of Westra's work, while a three year collaboration Suite and the National Library of New Zealand has built a digitised archive of Westra's negatives.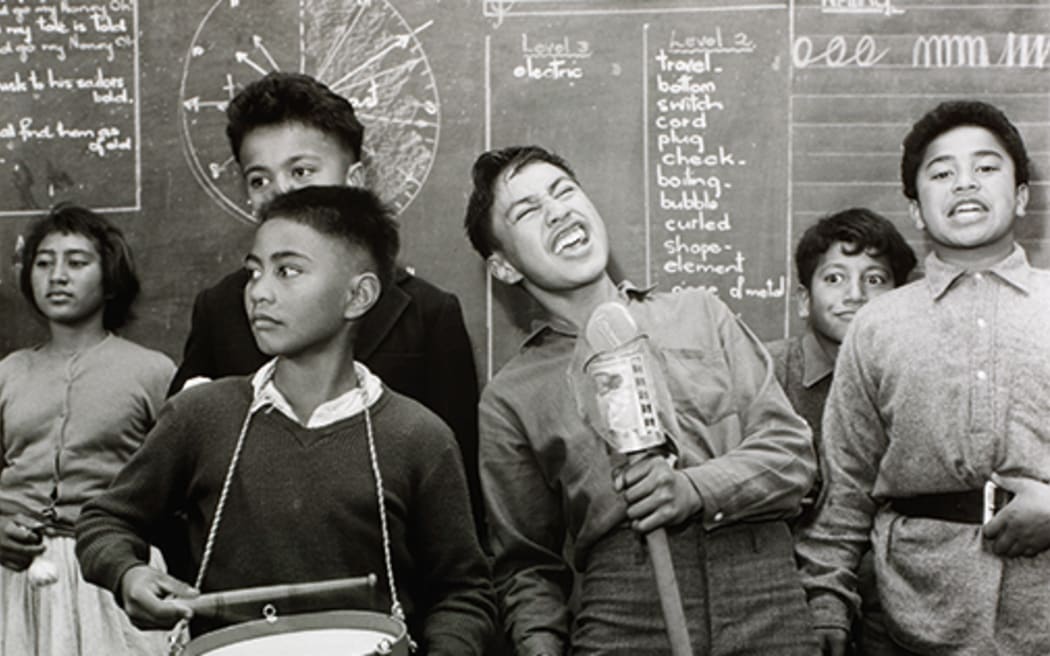 Ans Westra, Students performing at Whatatutu Primary School, near Wairoa, (1963).
Controversy
Westra's work is hugely acclaimed and admired, but some have held conflicting views on her work.
As reported by RNZ, her most famous and controversial work Washday At The Pa (1964) was intended as a schoolbook picturing a day in the life of a close but impoverished Māori family in Ruatoria.
The Māori Women's Welfare League was outraged, claiming the photographs must have been posed to show such poverty.
The then-Minister of Education, Arthur Kinsella, changed his mind about using the book as a school resource and it was banned from classrooms. Westra had previously stated she was perplexed by the uproar.
Writer and poet Talia Marshall (Ngāti Kuia/Rangitāne o Wairau/Ngāti Rārua/Ngāti Takihiku) wrote extensively on her views of Westra's work in a City Gallery Wellington online essay, highlighting both the positive and culturally frustrating elements.
Upon hearing the news of her passing, Marshall tweeted "She asked me to do a book with her after this critique and told me the man in the mesh singlet was from Te Kaha (a topic raised in Marshall's thought-provoking essay). Maybe we were lucky to have her, I think we were."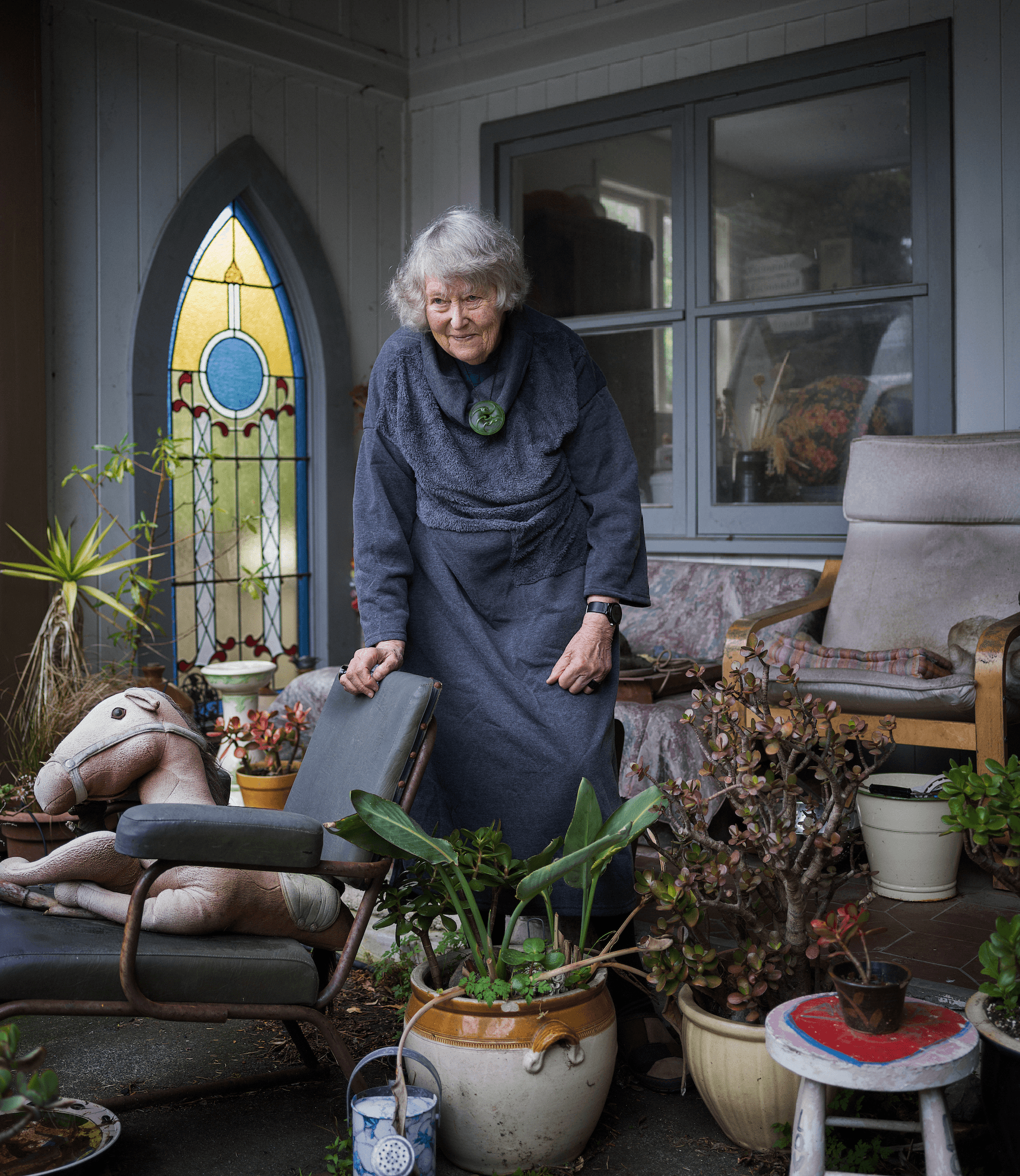 Ans Westra by Joseph Kelly (2020)
Reaction
There was an outpouring of emotions, gratitude and memories on social media as the news began to filter through the creative community.
Minister for Arts, Culture and Heritage, Deputy Prime Minister Carmel Sepuloni led the tributes, saying she is "saddened to hear of the passing of acclaimed photographer Ans Westra — my thoughts and prayers are with her whānau. Someone who, through her skill of photography, gave life to our stories & history."
Scott Lawrie - director of the Auckland gallery by the same name - posted this tribute. "Ans Westra's photography captured parts of life in Aotearoa which many had simply never seen before. She was one of the very few artists that I'd known about while living overseas - such was her reputation.
"Her images never felt invasive or gratuitous; just a gentle - sometimes seemingly random - capturing of both the quiet mundanity and magical spontaneity that life throws at us.
"Her capturing of raw social history was unparalleled in this country. Steeped in authenticity, yet gently unflinching in their gaze, occasionally these photographs got Ans into a wee bit of bother. But we're all the better for them, and they'll forever be woven indelibly into the cloth of New Zealand's national psyche."
High regarded photographer and artist Raymond Sagapolutele took to Twitter to state "I never met Ans Westra but I knew her art. Her legacy is not just the images she captured, but image catchers she inspired.
"Rest in alofa, much love to her aiga & faafetai tele lava for the inspiration.
"Her amazing photos are a conversation left open for all to enjoy & join."
Journalist and video-maker Damian Christie remembers Westra as "a pioneering woman who came to Aotearoa and saw things that most here didn't - her photographs of Māori in the middle of last century are unique."
Photographer David Straight echoes those thoughts. "A pioneer of documentary photography in New Zealand. Hugely influential and an enormously important body of work. What a loss."
Word Christchurch's Programme Lead Kiran Dass described her as "one of the most important documenters of social and cultural history in Aoteatoa New Zealand."
Artist Sian van Dyk "Moe mai ra Ans, thank you for seeing us all as we are, and always finding the humanity and warmth within us."
Curator Greg Donson remembers "Ans is such a huge part of the Sarjeant's collection. Her time spent in Whanganui has left such a remarkable number of images that document this place and the awa.
"Thank you Ans for your beautiful eyes on the world, we are all the richer for it. We'll miss her visits to the gallery, it was always wonderful to see her, albeit a little less mobile recently but still with that sparkle of wonder at the world that she had in her eyes."
Artist Caroline McQuarrie declares "it's hard to think of another photographer who chronicled so much of this country for such a period of time. An incredible legacy."
Westra is survived by her half-sister, three children and six grandchildren.