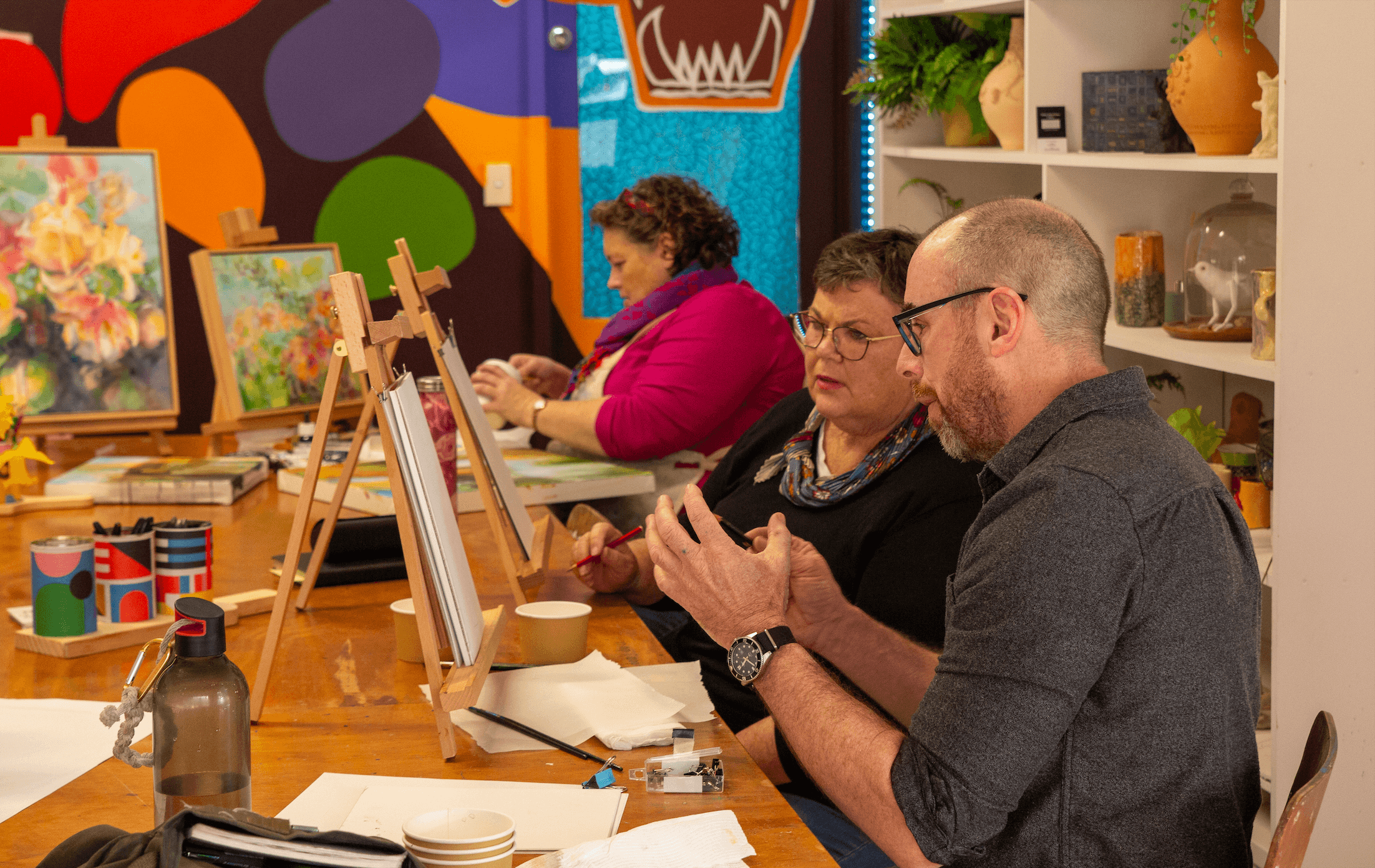 This is a refreshing feeling.
A Creative New Zealand (CNZ) Arts Grant round opened a little under a week ago - and it's still open (you can apply here).
No soul-crushing application caps, no untenable 24-hour windows with crashing online portals, no tears or rage pointed towards the cornerstone arts funding body.
The huge angst caused by the last cycle of arts grants - even when the cut-off point of 250 applications was raised to 450, it did little to abate the broken process - and CNZ's regional roadshow to get feedback has seen a raft of changes being planned.
The first of which has kicked in this round - there are no limits to applications and they're open for a full 2 months - closing 31 October.
That means creatives can work at their own pace, and equity around time to apply and access to technology and support is easier to reach.
The Arts Grants are for project support between $5,000-$75,000 in short-term funding for artists, arts practitioners, and arts organisations to complete a project within a 12-month period.
CNZ confirmed to The Lowdown applications have begun rolling in for the latest Arts Grants round, but nowhere near the pace as what has been dubbed 'the Hunger Games application era' by many creatives.
However, CNZ has highlighted there is one crucial element about how they're assessing this round.
There will be two lots of decisions – about halfway through the round, CNZ will review applications and make funding decisions at that stage. Then at the end of the round, the organisation will do a final assessment of the remaining applications. This is to encourage people to apply earlier – the sooner you apply – the sooner you'll hear. This is also to assist with CNZ's planning – it allows them to split the workload to make removing the cap more manageable to administer.
Given there are now no parameters to how many applications they'll get in this phase - that planning is crucial. With a pool of more than 500 assessors, CNZ told The Lowdown they feel confident they can manage any numbers received this round.

It also means applicants can make two applications between 4 August and 31 October. Instead of running the two short rounds (in August and October), CNZ has made it one long application process to give people more time to make an application in a timeframe that works for them.
$4.6 million has been earmarked for these two rounds.
No one can argue this model gives more artists an opportunity to be in the running - and to get their applications up to speed (considering applications are like a foreign language to many creatives).
But the proof will still be in the pudding. Many organisations, companies and individuals still have a lack of faith in the independent assessor model and feel their cards are marked.
CNZ has also just announced their Annual Arts Grants recipients for 2023/24 - different from the arts grants cycle with only those with a proven track record with CNZ funding able to apply - The Big Idea has the details on all 36 projects and has spoken to some of those given the good news in the $4.3m boost.
And there's also been the first drop in the new festival funding model created by the Ministry of Culture and Heritage's (MCH) one-off top-up for CNZ - see where the $2.2m was distributed here.
Creatives empowering creatives - new survey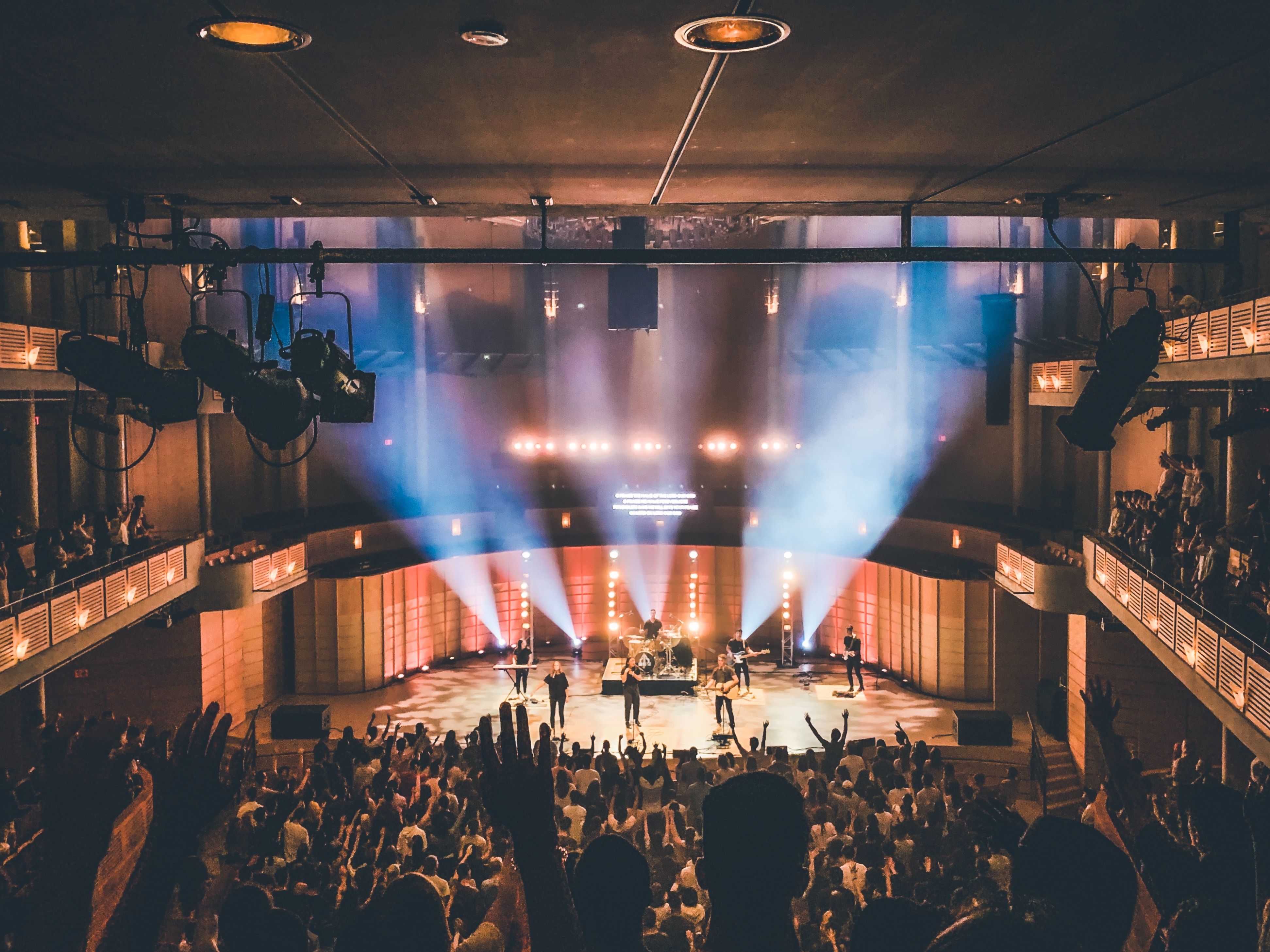 As the above CNZ chatter proves - there's never enough money to go around.
The creative community is full of innovative thinkers - and those unwilling to accept the status quo, especially when it leaves so many out in the cold.
Long may challenging such positions continue.
And the latest call to action from committed creative thought-leaders has lofty ambitions to create a new platform that could change the game.
SUBZY is described as being about creatives empowering creatives - aiming to become the 'Netflix of live performance.'
Set to be developed for the NZ market by the Point Chevalier Social Enterprise Trust (PCSET) and driven by fellow social enterprise HEEBEE, its objective is to become a membership programme for the Arts which "will give members continuous access to a full range of arts and cultural events while also generating revenue for the arts sector."
SUBZY was set up to address "the challenges faced by the unsustainable, inequitable, and under-funded Arts ecosystem in Aotearoa New Zealand."
Among its lead points - 80% of SUBZYs revenue (after the license fee) will be redistributed to venues, promoters, and producers by PCSET to create regular work and a sustainable income for Creatives. The proposal is for that to be done by a 'Pay What You Can Afford' membership platform with a $5 per week minimum, paid monthly or annually, subscription for an individual.
To find out more about its validity and potential - a survey has been created to get feedback from the creative community - you can find it here.
Those behind the survey state "The demand for local and central government funding for the arts via Lotteries is extraordinary and never-ending.
"The higher the demand, the more cynical games Lotto will develop to lever even more money out of places that can least afford to buy tickets - which represents 83% of people buying tickets. For most, it is the last bastion for financial independence.
"Do we want to unfairly place the demand for more funding on those that can least afford it, No!
"Or, is it better if we create our own future and create a self-sustaining arts ecosystem to develop new pathways to employment, new funding platforms, housing opportunities, maker spaces, create venues and rehearsal spaces, as well as provide regular income, and opportunities for all creatives to go to a multitude of events, exhibitions and entertainment, all for less than one cup of coffee per week?"

Local actor Bruce Hopkins is quoted in the survey "The current systems for funding face continual attack from politicians led by corporate mindsets that do not assign the creative & performance arts as vital or in some cases even worthy.
"If SUBZY were to generate an environment that sidestepped those gatekeepers, it has the potential to ignite a creative blaze across creative sectors & set an example for others around the world to explore."

Graeme R. Bennett, one of the drivers of the survey and SUBZY concept told The Lowdown "Investing in arts infrastructure is not just about supporting the arts; it is about investing in the cultural and economic well-being of a society.
"By prioritising and adequately funding arts infrastructure, we create spaces for cultural enrichment, community engagement, and economic growth.
Just as a well-maintained road network enables smooth transportation, a robust arts infrastructure paves the way for artistic expression to flourish.
"Let us recognize the immense value that the arts bring to our lives and take the necessary steps to strengthen and expand it for the benefit of present and future generations"
There is plenty of water to pass under the bridge - and who knows if it will take off. But the chances of creating more equitable and supportive platforms are slim-to-none without creative thinkers prepared to back themselves.
Avia's latest accolade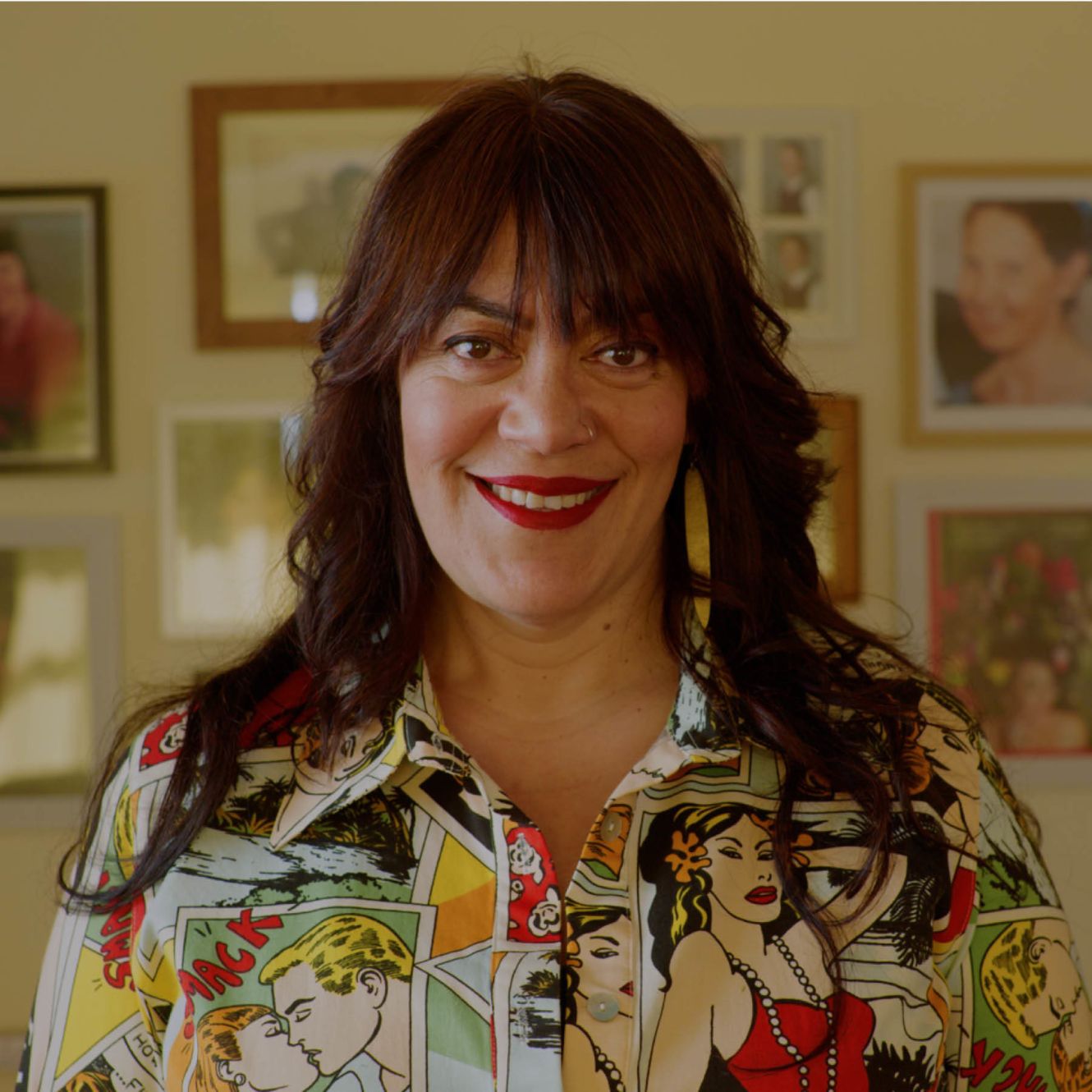 Tusiata Avia's name is never far from the headlines these days - for reasons sometimes out of her control - but the celebrated poet and unrelenting creative force (above) has earned herself yet another honour.
And one she didn't expect.
She's been named as one of four Distinguished Alumni Award winners by Te Herenga Waka Victoria University of Wellington for her incredible deeds in the literary world.
She's in fine but wide-ranging company - with Solicitor General of New Zealand Una Jagose, venture capitalist and global agritech leader Arama Kukutai and drug harm reduction advocate Wendy Allison.
VUW states "Each recipient displays leadership, creativity, and entrepreneurship, whether social, cultural, scientific, or commercial, that reflects the University's core values and purpose", praising the recipients for their extraordinary commitment to creating positive change in the world.
Avia told The Lowdown "It's such an odd thing, you know? Thinking about it in the shower - that's my thinking space - about getting all these letters after my name and other kinds of recognition. About how lovely it is, but also how weird it is because my day-to-day life bares little resemblance to all those kinds of things.
"Hated by some, in trouble with others, completely ignored by some people and then having these kinds of recognitions - there is a whole lot of kind of conflicting things going on at the same time, but having said that, I do really appreciate it."
Just adding to Avia's latest big week - the news that her iconic works Wild Dogs Under Her Skirt and Savage Coloniser have received $120,000 of Creative NZ Annual Arts Grant funding to tour Australia, produced by FCC's Victor Rodger (again, see the full list of who's received CNZ Annual Arts Grant Funding here). Given these works have been the centre of such spiteful controversy, Avia's thrilled their message is being supported into its next step.
"Wild Dogs is now 20 years old as both a book and a play - it's stood the test of time for sure. Victor has worked really hard as a producer to get Wild Dogs on the world stage and we have the most amazing group of actors and crew that embody the work.
"Having an Australian tour is a really great thing, the way that it speaks to racism will create a lot of discourse and piss a lot of people off over there. Those universal messages around racism, colonisation and the effects of it - no one knows that better than Australia."
Avia and the other Distinguished Alumni will be presented their awards on 19 October.
Melodownz on the up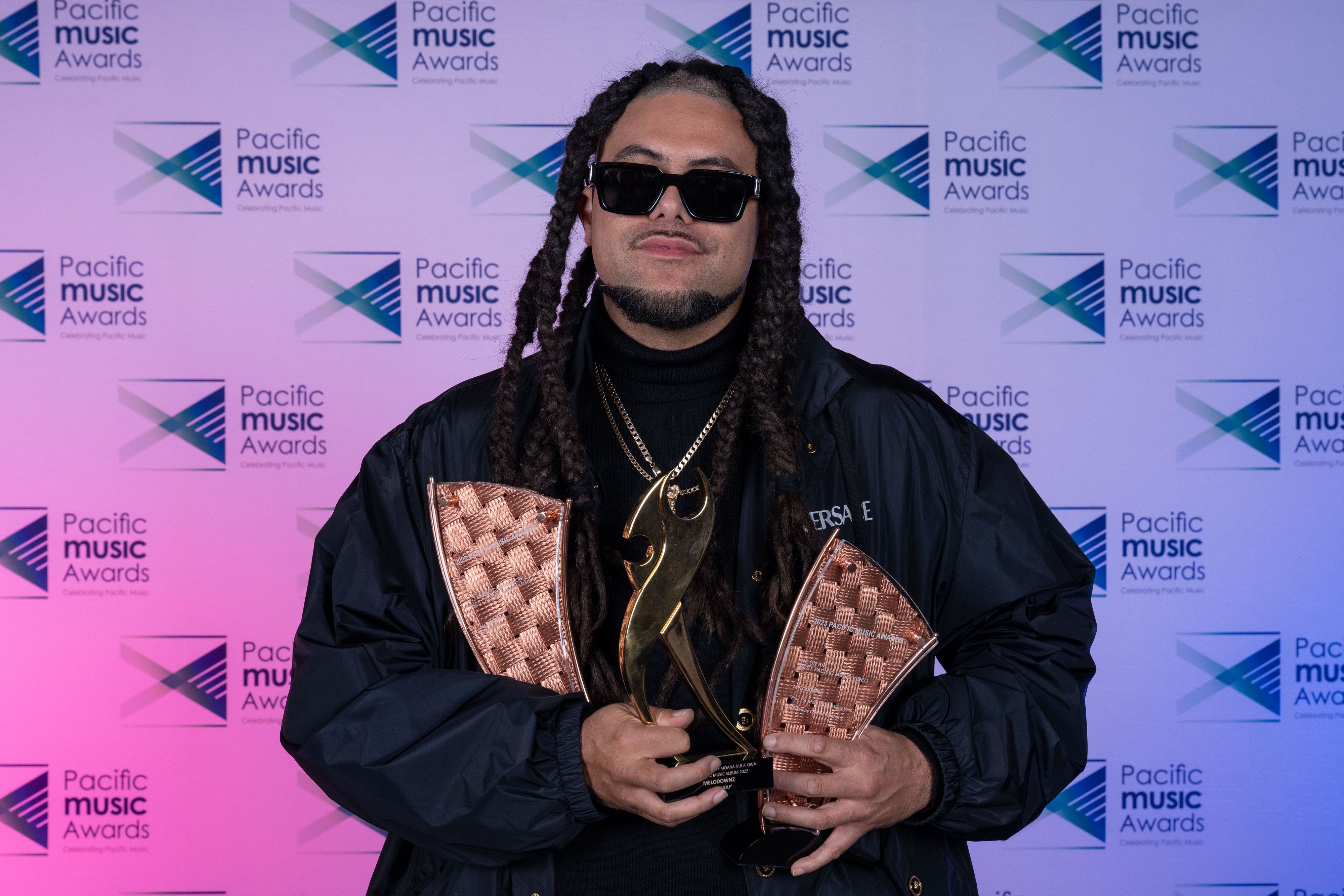 Melodownz (above) was the big winner at last night's (Wednesday) 2023 Pacific Music Awards at Manukau's Due Drop Events Centre.
The Avondale-born artist walked away with three awards - Best Pacific Male Artist, Best Pacific Music Video with Pray For More, and Best Pacific Music Album for Lone Wolf.
Olivia Foa'I also had a night to remember - crowned Best Pacific Female Artist and won Best Pacific Language for Sunlight.
Victor J Sefo also bagged a pair of awards - Best Pacific Song for 685 (co-written with Ventry Parker and Elijah Tovio) and the Arch Angel Independent Music Award.
Local hip-hop royalty Deceptikonz latest album Perpetuity delivered them Best Pacific Group, Poetik's Hamofied Tre was recognised as the Best Pacific Hip Hop Artist, while Sam V's The one, the lonely EP earned him the Best Pacific Soul/RnB Artist award.
SWIDT feat. Lomez Brown received the Radio Airplay Award for Kelz Garage, while Savage ft Aaradhna's They Don't Know claimed the Streaming Award with over 28.2 million streams across Spotify and YouTube.
Also getting their time in the sun, Punialava'a (Best Pacific Gospel Artist) Three Houses Down (Best Pacific Roots/Reggae Artist), Josh Tatofi (Best International Pacific Artist), Mareko and Ricky Paul (Best Producer), Wayno (People's Choice - Best Pacific Artist), Teo Glacier (Phillip Fuemana Award for Most Promising Pacific Artist), Lady Shaka (Creative NZ Award) and Mark Vanilau (Ministry for Pacific Peoples Special Recognition) and the late Toni Williams (Lifetime Achievement Award).
Following famous (and family) footsteps
Commemorations for Katherine Mansfield have been prolific this year - a century after her death - so being selected to follow in her footsteps is quite the honour. Even more so when you're also following in your father's footsteps.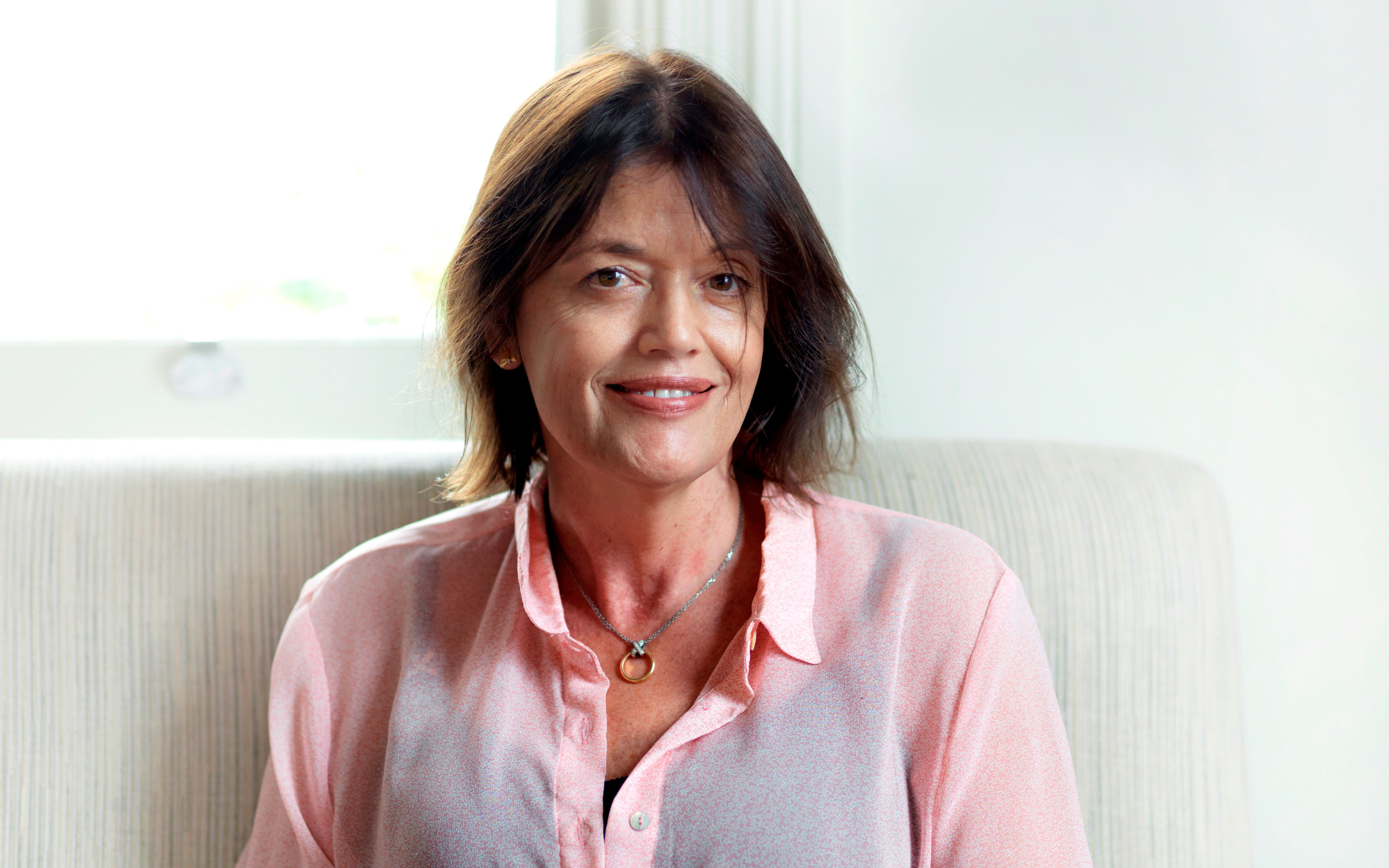 Award-winning author Charlotte Grimshaw (above) is the 2023 Katherine Mansfield Menton Fellow - Aotearoa's only privately funded international fellowship awarded to an established creative writer to spend three months or more in Menton, in southern France, to work on a project. As well as a hefty $43,000 to cover travel and accommodation, a room beneath the terrace of Villa Isola Bella - where Mansfield spent long periods in 1919 and 1920, is available for use.
Grimshaw explains the special link and family connection to both the location and the residency.
"I am delighted to receive the Katherine Mansfield Fellowship. I spent a year in Menton as a child, when my father C.K. Stead held the Fellowship. Menton was the place where I first went to school, aged five. This was a formative experience for me.
"The town is a source of rich and intense memories; it comes up in my novels and short stories; it features in my imagination and in my history. I feel that to live there and write will be highly productive, and I am grateful for this wonderful, exciting opportunity."
As well as her father, Grimshaw joins an impressive list of recipients of the famed Fellowship, including NZ literary luminaries like Janet Frame, Witi Ihimaera, Michael King, Paula Morris, Mandy Hager and Bill Manhire.
Incubating the Bay's next creative wave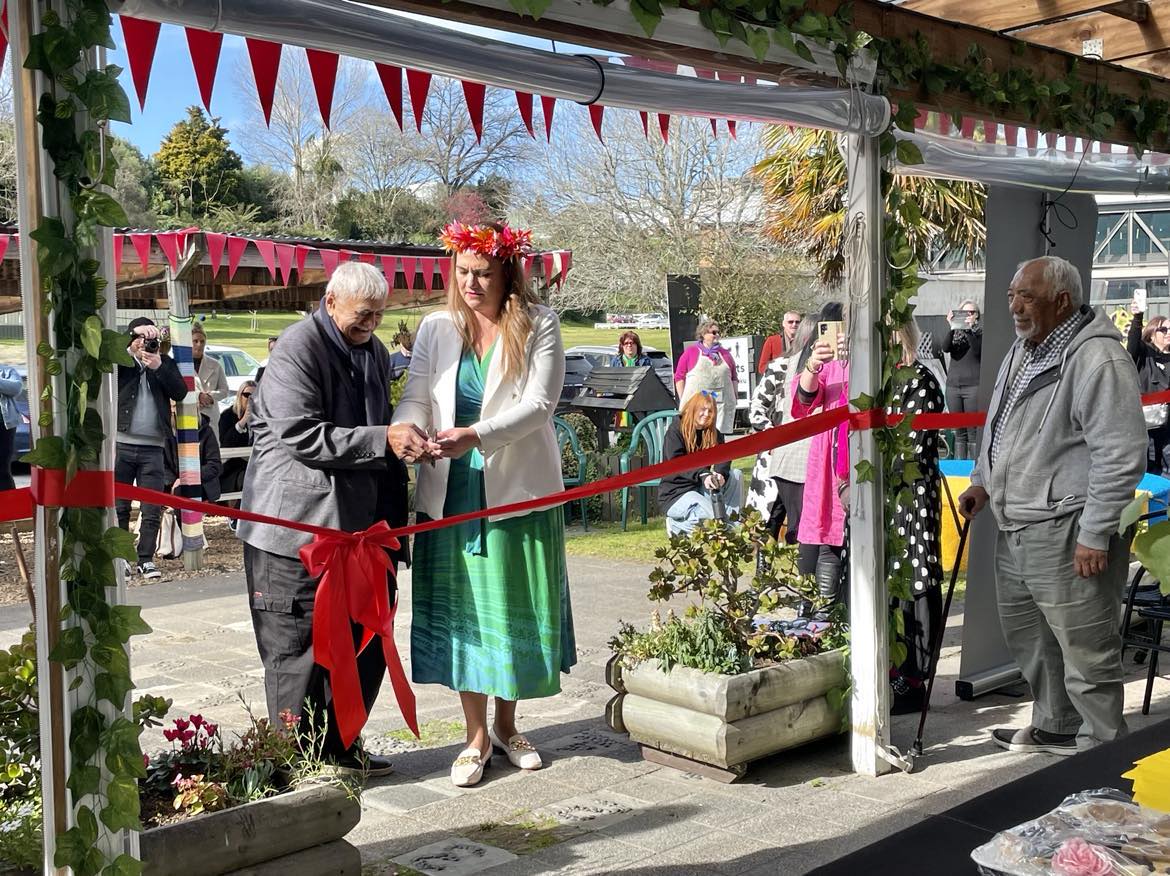 Tauranga's long been an under-appreciated hive of creative activity - and now there's a new base for the community to get involved.
Minister for Arts, Culture and Heritage, Carmel Sepuloni formally opened the Creative Community Campus – the newest development of the Incubator Creative Hub on Wednesday afternoon, getting a chance to see a Pacific tavaevae quilting group, a multicultural ethnic sewing group, a Ngāti Ranginui rangatahi workshop, and a community pottery group all using the space.
After 10 years based in the Historic Village, Incubator Director Simone Anderson describes the new campus as "A taonga from us to our community."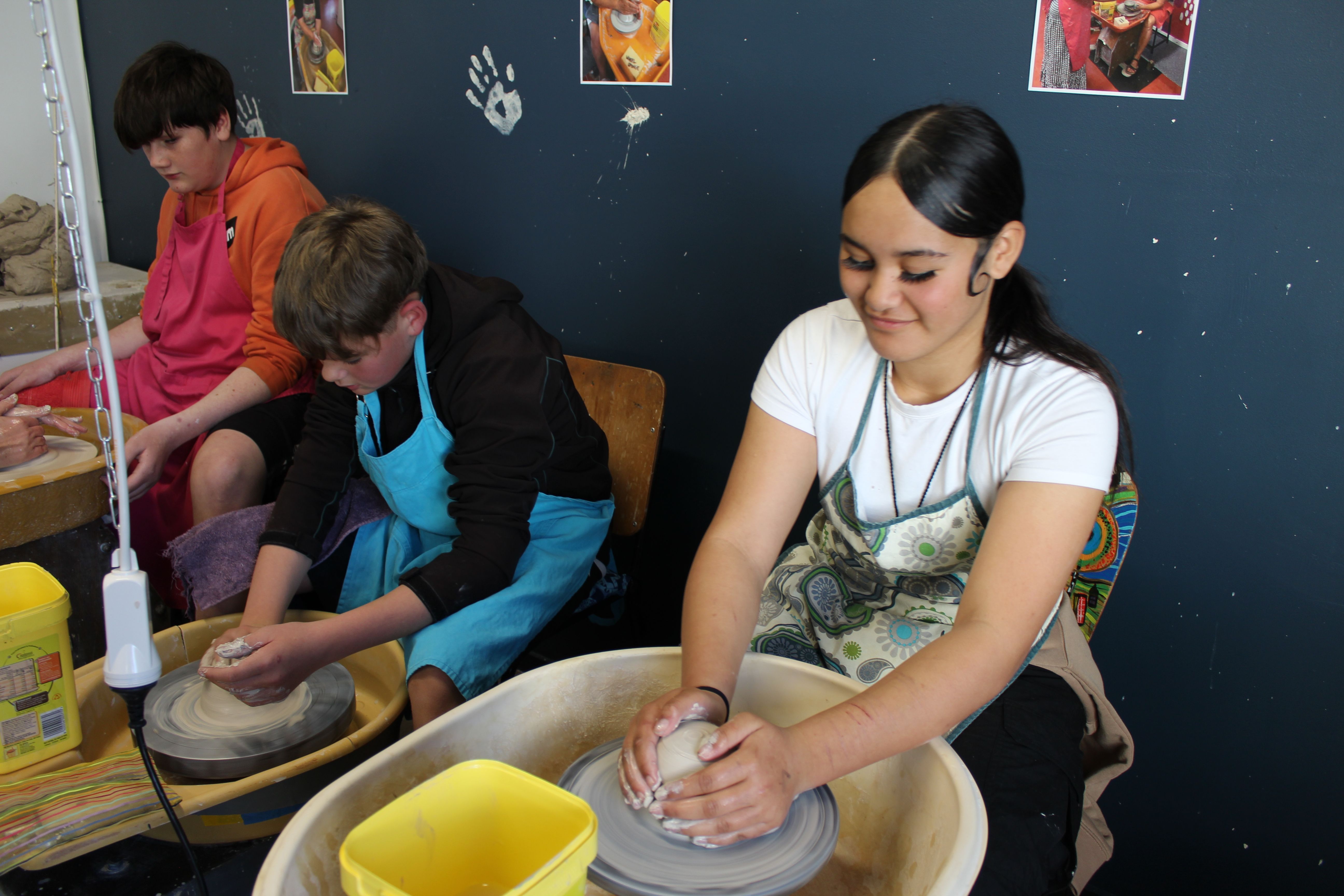 She told The Lowdown "The opportunity to purchase this building was a no-brainer for us. We have a commitment to creating access to Community Arts in Tauranga Moana and to providing opportunities for creatives to develop, upskill and teach. This building has enabled us to do this like never before.
"We are all excited for this ambitious, inclusive, vibrant incubating space to nurture creativity from the grassroots up and to become a generator of positive and happy outcomes for individuals, groups, and our diverse community."
New vision for Ngā Taonga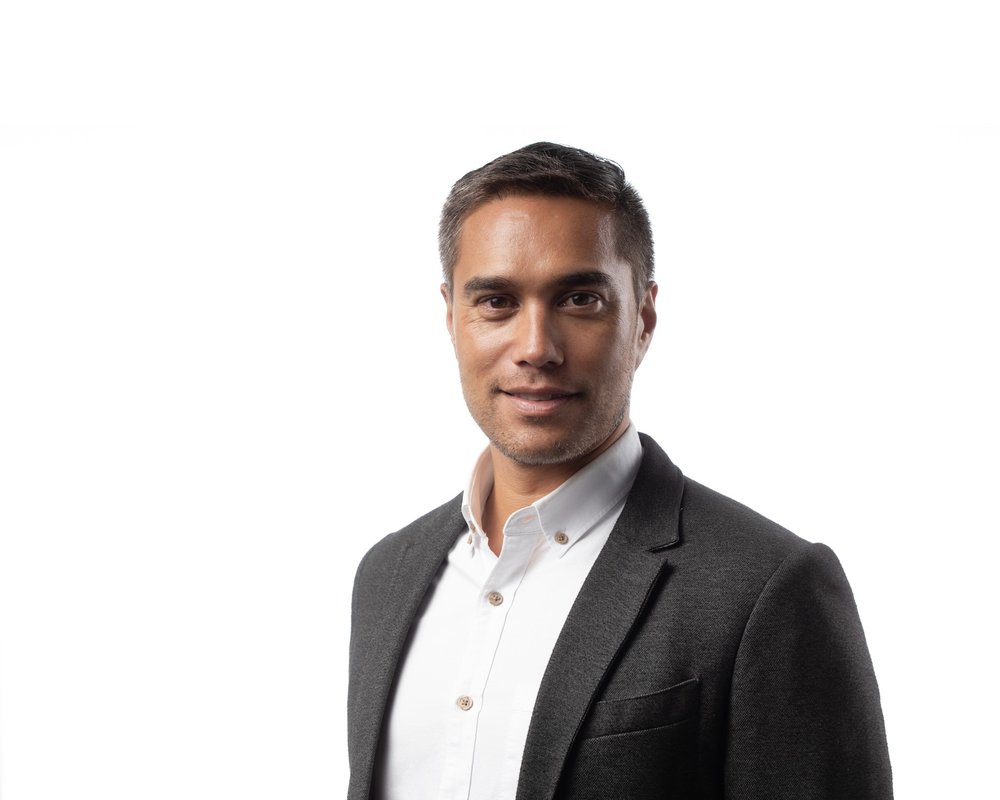 An opening forced by a shake-up at the New Zealand Film Commission (NZFC) has finally been filled.
Koroninia Dickinson (Ngāti Kahungunu ki te Wairoa, Ngāi Tahu) is the newest member of Ngā Taonga Sound & Vision's Board of Trustees - taking the spot Annie Murray (Te Arawa) vacated in April to take up the role of NZFC's Chief Executive.
Koroninia is an executive producer of television and film production company, The KOHA Project Ltd, as well as a government relations expert, former diplomat and NZ triathlete. Dickinson is also the Chief Executive of Poutama Trust, a Māori Charitable Trust that supports Māori businesses across Aotearoa. Koroninia is also a member of The Institute of Directors NZ.