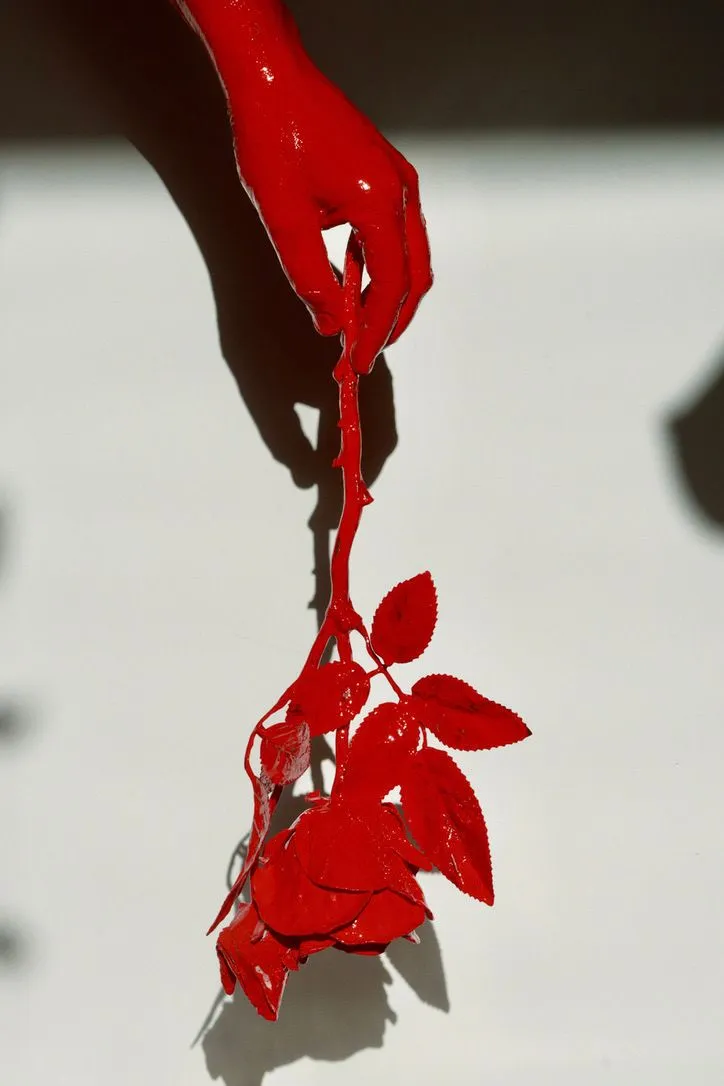 Whether it's due to meteorological or financial reasons - it's been another gruelling seven days for the creative community.
Just as many were coming to grips with the shock of the shortest ever Arts Grant funding window, Cyclone Gabrielle turned from an ominous threat into a devastating reality for much of the North Island.
Physical safety, of course, became the top priority - and while the effects will be felt by some for months and years to come, the impact on their artistic endeavours and creative careers is starting to hit home as well.
The dreaded cancellations began to roll in. For the areas worst affected, these are no brainers, but painful ones nonetheless.
Napier's Art Deco Festival, due for this weekend, stood no chance with the area isolated with major damage to infrastructure like roading. Without power, without their usual channels of communications, this information was passed on via a photo of a handwritten note - then a request for help to circulate on social media.
It noted "in consultation with the Emergency Operations Centre and Napier Mayor Kirsten Wise, it is impossible to proceed with any event at this time."
They're far from alone. In fact, many contingency plans have been dusted off with the word 'COVID' deleted and replaced with 'Cyclone'.
Many have pulled the pin entirely, others have pushed back where they can. For example, Whanganui's La La La festival - featuring musical talent like Anika Moa, Valkyrie, Lips, Ripple Effect - was due to take place on Saturday, but has now been pushed back until November.
Hell, even a planned arts fundraiser to support Auckland flood victims has had to be postponed due to the gallery leaking.
And spare a thought for everyone involved in Auckland Pride - 184 events involved over the course of February and already at least 35 of them moved, cancelled or postponed.
Tāmaki Makaurau's Pride Festival has been among those consistently hit since the start of the Pandemic, with February bringing fresh headaches every year including a cancellation of all live performance elements in 2022.
It's another blow, but they're refusing to let it break them.
Auckland Pride Creative Director Nathan Joe told The Lowdown "despite the multiple interruptions to this festival, it's been heartening to see the incredibly healthy attendance of audience members. People want live performances! I think, more than ever, we really are craving that sense of community.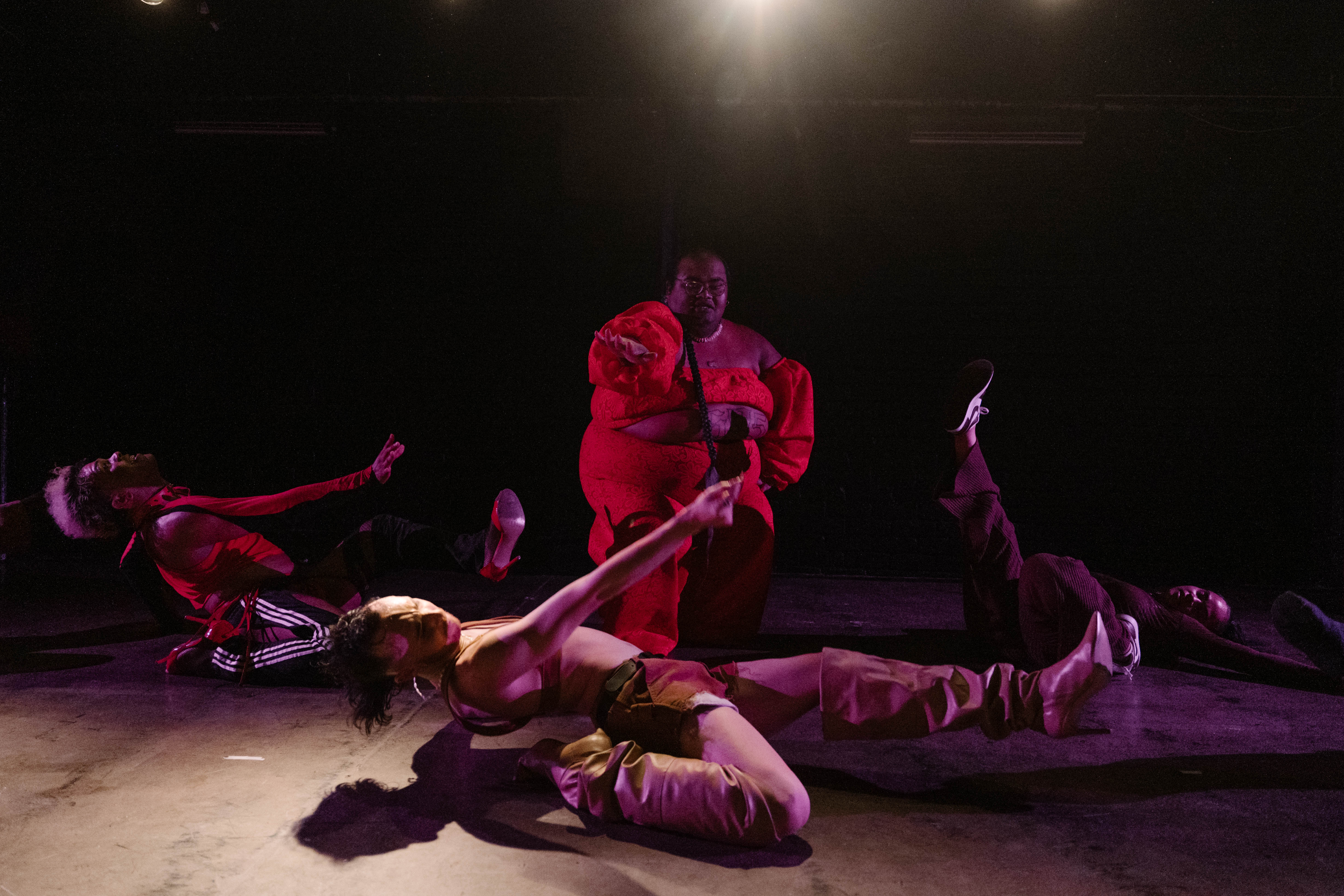 Cxnt Vol. 1, Basement Theatre. Photo: John Rata.
"But it's deeply frustrating to have the momentum of a festival thwarted, and the team and wider community can only take it a day at a time. It's devastating to see that some shows have had to make the decision to postpone or cancel. The postponement of Big Gay Out, The Supreme Ball (dates TBC), and now FAFAGANDA (dates TBC) are three events the community were incredibly hyped for.
"Our events producers have been through a lot of unproducing in the last two years. It's a recipe for PTSD, and I don't say that glibly. It's a little tragicomic when the silver lining is that COVID-19 has prepared you to handle unprecedented events as an arts producer. This was meant to be a smooth festival, but here we are.
"I've said it before, but I'll say it again, event producers need audiences more than ever to buy tickets and attend shows."
Among the big attractions for this year's Pride has been the Festival of Live Art - F.O.L.A - trying to rebound from last year's cancellation with what Joe describes as a world class programme of the most exciting, cutting edge, performance artists."
But the hits keep coming - the quartet driving Nisha Madhan, Julia Croft, Nahyeon Lee and Hannah Moore, had to release a gut-wrenching update.
"We may have thought we were through with Cyclone Gabby, but she wasn't through with us.
"During our pack-in at the venue today (Wednesday), we lost power at the venue, which is not expected to be restored until Friday. This has had run-on effects to our tech times, which means we have had to make the heartbreaking decision to cancel the majority of our shows and reschedule two."
That means a whopping cancellation list of NSA Libation, Their feet did not touch the ground, Takirua - Two Together - Double Bill, Vinay Hira by Morticia Antoinette Godiva by Vinay Hira, Extanz 1.5, Vast, First Buzzard At the Body and Once More, With Feeling.
That leaves only a rescheduling of Into the Well: Sounds From the Deep and SADBOI to Saturday (times TBC), as well as A Rain Walk - ironically - holding its spot as ticketed events, with free events HULLA GULLA Chaos Party, Liquid Light, Diaspora Rendered, Flea Pit & the Moonrise Keynote Speech also still going ahead.
The F.O.L.A leaders continue "unfortunately, this has resulted in a huge financial loss for us, so we cannot offer comps for these shows. We would be over the moon if you purchased a ticket to our Festival. If you would like to support us in another way, please consider supporting our artists or the Festival by visiting our store.
"The words 'urgent' and 'resilience' in the arts just took on a whole new meaning."
CNZ funding revamp timeline
Those two words have also lent themselves to the overwhelming reaction to the latest funding fiasco - with Creative New Zealand's (CNZ) latest Arts Grants round reaching its 250 application cap in less than 24 hours.
No strangers to intense receptions with its funding models in recent times, CNZ's had to weather another backlash from a frustrated creative community. Those voices were shared here on The Big Idea and followed by The Spinoff and Stuff.
It's clear - the model is broken and can't go on - CNZ have noted it themselves late last year and the wheels have been in motion to review since December.
If the feedback is anything to go by, many creatives feel those wheels haven't moved fast enough.
There's been a barrel of backlash and a call for answers. Among the wero being sent CNZ's way, a request shared with The Big Idea to use some of the newly acquired millions from Manatū Taonga Ministry of Culture and Heritage (MCH) for "the immediate addition of a supplementary funding round (with a much more reasonable application window) ahead of the current opening date of Round 4", citing it would "re-inject some measure of fairness towards many highly vulnerable artists/arts bodies who were reliant on Arts Grants Round 3 for project/organisational viability and survival."
When asked for details on the stages ahead for fixing the funding model, Gretchen La Roche, CNZ's Senior Manager of Arts Development Services told The Lowdown "we're about to announce details about our upcoming workshops and will have information available on the CNZ website on Tuesday 21 February.
"What we can tell you now is that we will be hosting a series of workshops around the country from March 8 to March 25 where we'll be seeking advice from the sector around a number of different areas, including future funding pathways, which will then inform the co-design of a new approach to arts development. People will also have the opportunity to join online workshops and share their thoughts in other ways too.
"In the short-term, we can confirm that some of the new $12 million dollar investment from the government will be used to top up Arts Grants this year, starting from the February round. We are also looking at ways that we can accept more applications into the April Arts Grants round."
Residency roots
Jade Townsend. Photo: Harry Were.
One of Aotearoa's oldest residencies will be an emotional homecoming this year.
The Sarjeant Gallery in Whanganui have confirmed their three recipients of this year's Tylee Cottage residency programme.
Along with craft/object-based practitioner Areez Katki (Feb-June) and photographic/new media artist Christopher Ulutupu (from July), Jade Townsend has been selected in what was the highest number of applications seen in the residency's 37 years.
Townsend's time in residence isn't until this time next year, but after being announced as the Lilian Ida Smith Award for 2024, the multi-discipline creative powerhouse is already counting down the days.
Townsend (Te Ātihaunui-a-Pāpārangi, Ngāti Kahungunu) told The Lowdown ""when I told my mum - who still lives in the UK - she cried at her desk at work. She knows best how much I have battled with homesickness.
"Since I was a dot, I have always aspired to be one of those people at the cottage and to show work on the handsome walls of The Sarjeant. In many ways, it is a small-town dream but I have carried it with me for a long time and to faraway places. I'm honoured and emotional about being awarded the residency so I can make work about home, at home.
"The Sarjeant Gallery Te Whare o Rehua Whanganui and the Tylee Cottage Residency have been part of my consciousness and my world since I can remember. I have fond memories of walking through the gallery as a small child with my Dad dreaming of exhibiting there one day, my mum would also take me regularly because my god-mother worked there. I was very lucky to have this site of prestige and power normaIised in such a way that I felt like I could belong there. The engagement and introduction to the arts that my parents and Whanganui provided me has shaped my life.
Jade Townsend, Whanganui Awa. Photo: Supplied.
"The physical cottage was intriguing as a child because of its location, it stood alone close to my mum's church and there were always different and interesting looking people (artists) living there. It was mysterious enough that I could make up stories about who or what was happening inside.
"I was born in Whanganui but I left with my mum in 2000, at 14, moving to her hometown of Liverpool, England. That year I inherited my mothers homesickness and teenage rebellion which I have been unpacking through my art practice ever since.
"I have many local people and stories to reconnect with during this residency - research on historical exhibitions, artworks in the collection, places I must visit. I hope to get into the rhythm of the awa and aspirations that ripple from it today to inform new works."
Townsend is Co-Founder of Season Aotearoa gallery in Auckland with Francis McWhannell, and the planning is already underway for the gallery to be set to run in her upcoming absence. "I feel very supported and excited about the ways this residency will enrich all parts of my life."
Prime viewing
If the weather is keeping you confined, last week's Prime Minister's Award for Literary Achievement is worth a watch.
The online panel event (sans Prime Minister, who has had a certain national state of emergency on his plate) had some interesting insights on the impressive careers and obstacles overcome by James Norcliffe (Poetry), Stephanie Johnson (Fiction) and Vincent O'Malley (Nonfiction).
Perhaps the most heartwarming part of the whole proceeding is the genuine joy and satisfaction shown by the participants when talking about what this level of recognition means to them, when discussing with facilitator and author Nick Bollinger.
Creativity reigns in capital
Wellington's set to be the centre of creative attention for the next few weeks, kickstarting Aotearoa's Fringe calendar.
Tomorrow, the capital based New Zealand Fringe officially launches 23 days of the weird and wonderful, the artistic and the abstract, the unusual and the underappreciated.
For many creatives, it's the biggest event of their year, and for some, it's the start of something that changes lives - and mindsets.
That includes Wellington Ballroom, an art collective made up of Queer, Trans and People of Colour, ready to unleash the underground culture of Ballroom, with new show ARAWHATA set to shine at Hannah Playhouse (17-19 February).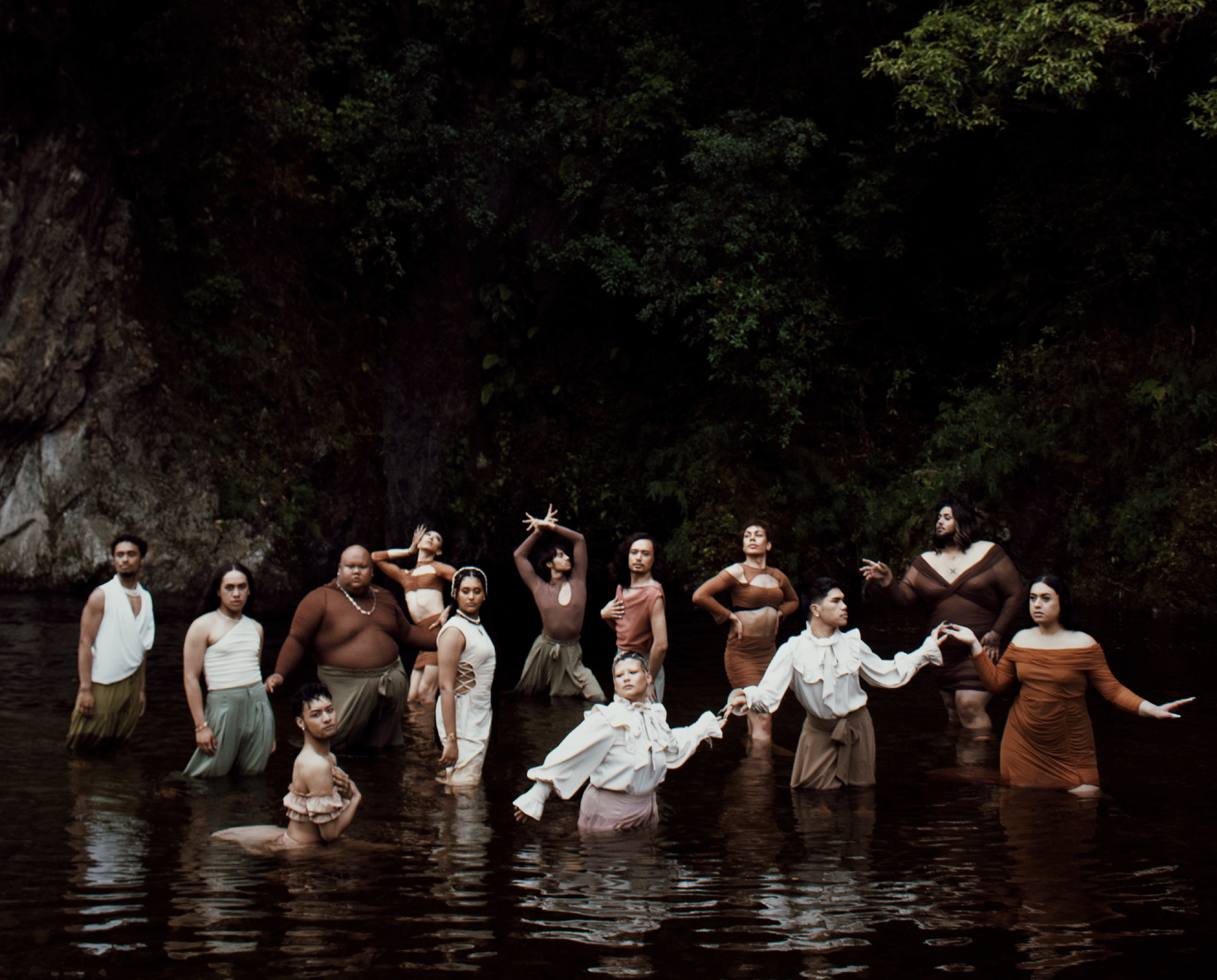 Featuring a cast of 15 Indigenous performers (above) and original sound work by Wellington musician and producer, Neil McLeod; the 1 hour show is described as "the bridge that connects boundless bodies of essence in the telling of Queer tales."
Ballroom culture has been building in Aotearoa since game-changing Pasifika Art Collective, FAFSWAG held the first event in 2013 - with Wellington getting its first taste in 2020.
That was the catalyst for Wellington Ballroom founders Carym Wharerau, also known as Karamera, and Jerome McLean AKA Rome' to start the capital's first and very own Ballroom community, both serving as co-director and co-producer of ARAWHATA.
Together they envision the future of Wellington Ballroom as being the "new foundation of queer expression here in Te Whanganui-ā-Tara. Whether that be through performance, activism, education, the way you hold yourself, the strength in your voice, the way you dress, all of it."
Karamera states "Ballroom is a space for those who are struggling to connect with the world. However, through Ballroom, you will come to realise that it is in fact the world that struggles to connect with you and that you don't owe it anything."
But not all of Wellington's creative roads lead to Fringe.
BodyCartography's long wait to perform its environmentally-driven dance performance Resisting Extinction has been five years in the making.
From 22-26 February, audience members will be shuttled from Whairepo lagoon to a performance location by minivan before unfolding into a series of three experiences - weather walk, a one-on-one performance journey; the missing, an invisible performance that flickers on the periphery of consciousness; and dying and decomposing meditations – practicing for potential climate realities.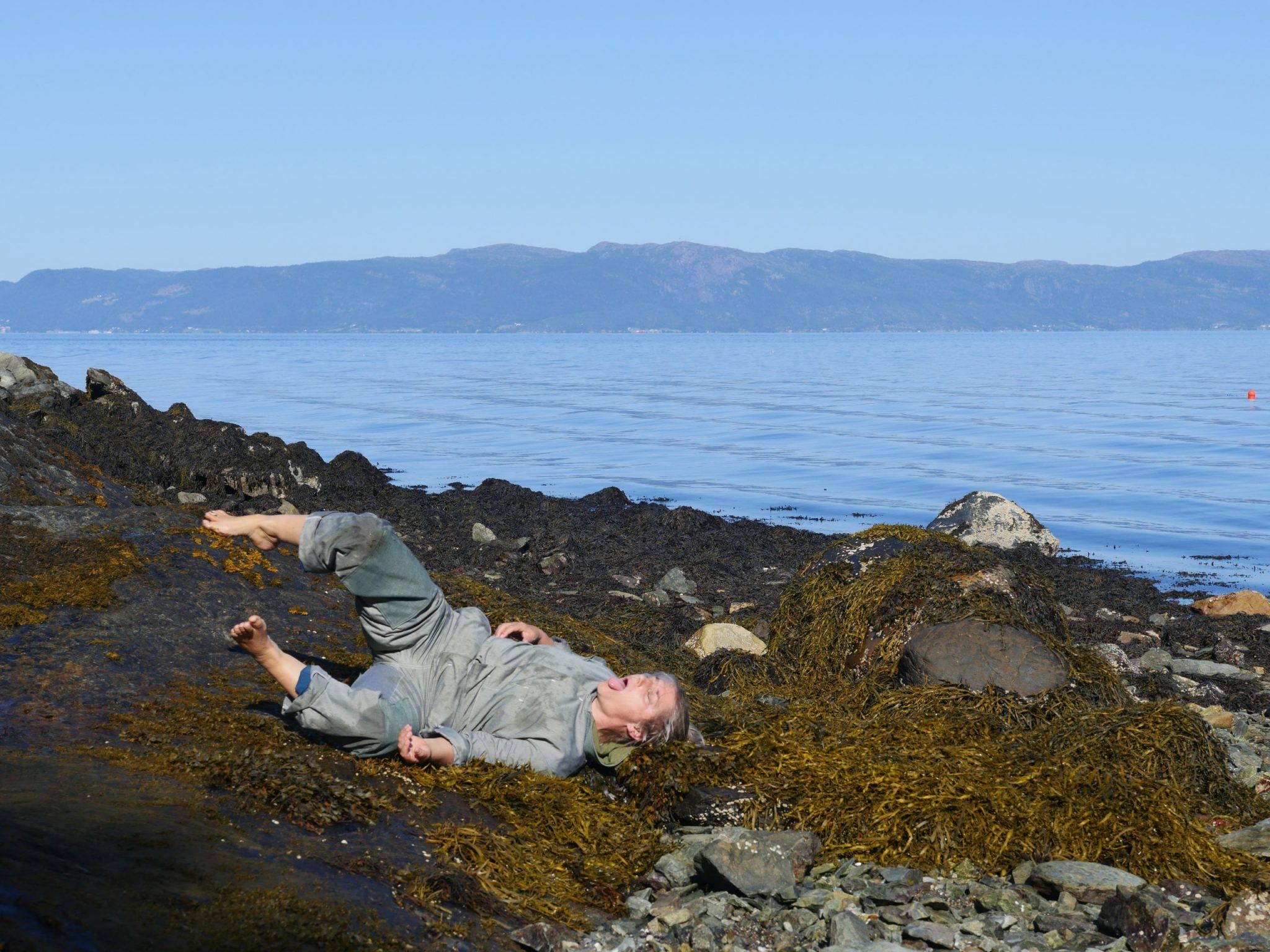 With an international cast of performers - almost half of which grew up dancing in Wellington, this is special to BodyCartography's Olive Bieringa (above).
She told The Lowdown of the experience of spending half a decade working to this moment - delayed by pandemics, border shutdowns, illnesses and deaths within their families.
"It's easy to build an idea on paper and always far more complicated to make it a reality.
"It is definitely an evolving beast, and being in different geopolitical contexts at different stages of the process has been both a challenge and a supportive element to get to the core of the work. Life is obviously constant in its challenges on all scales, but yes, these past few years have definitely felt like a bit of a marathon.
"I think also, as we sit with a work, and life keeps it from being physically realised, there is a kind of tension that builds up both physically and creatively that is sometimes hard to sit with. The work wants to live outside of us, and there are blocks along the way that resist that process.
"As a partnership - or in our case, family - making work without the support of a major company or collective, we have to constantly absorb these forces that come along, and when our lives seem to be increasingly stretched in our greater collective in terms of arts support, living support, and in the context of a rapidly evolving climate/ecological state of being, there is a deep digging into personal resources in order to keep going with a project.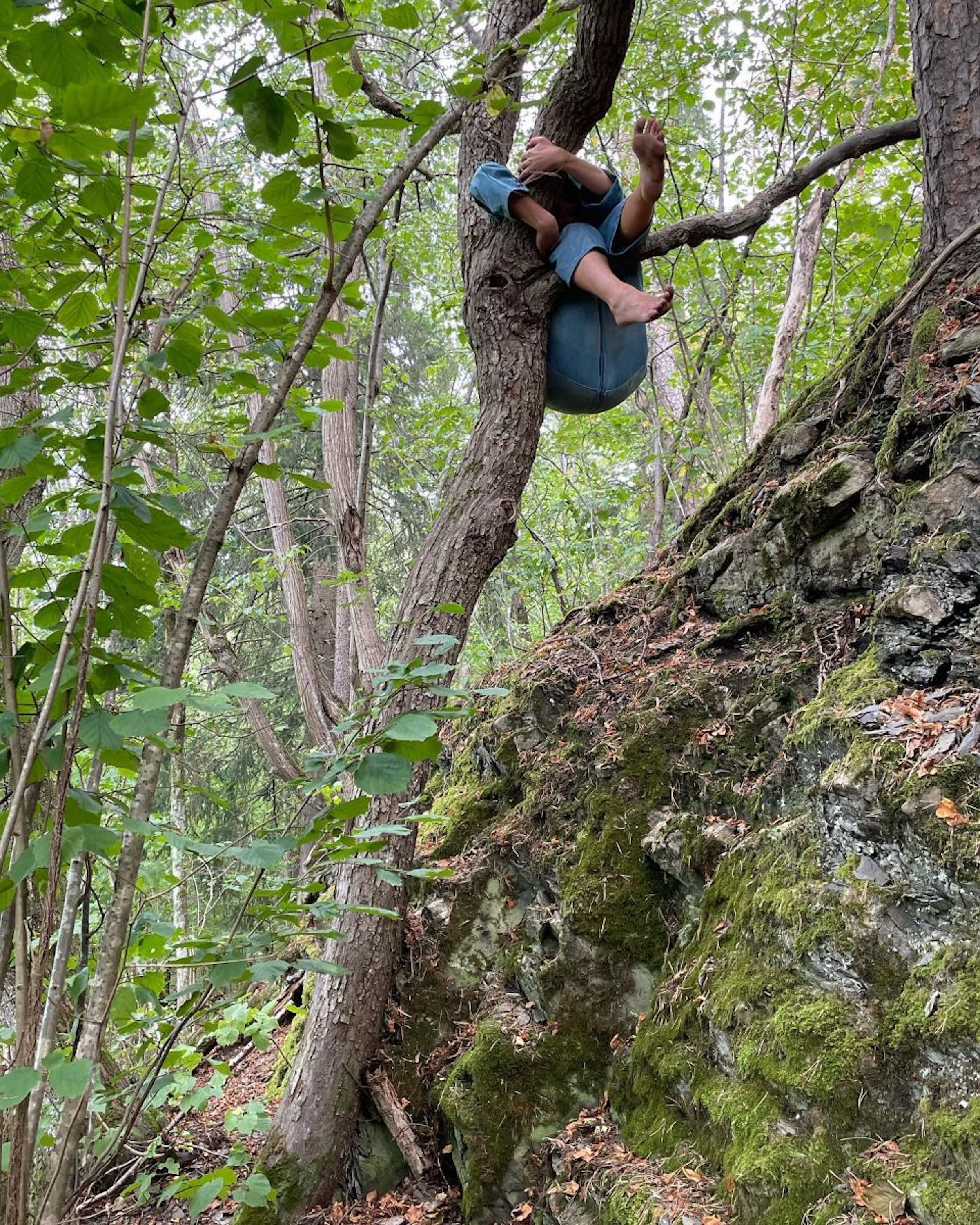 Resisting Extinction. Photo: Supplied.
This is in some ways also the reason why it is important for us to be doing this. We have some resources that other people don't. We have personally felt the support of our dance and somatic practices in the face of some of these big, complex questions.
"We have seen the reality that many wonderful, talented artists are not being supported in the way they really need, and in part that is a lack of recognition of the skills dance and somatic practitioners have and potentials of these practices to be living outside of a purely dance or art framework.
"We believe in the power of art and somatic processes to realign and regenerate human and ecological relationships."