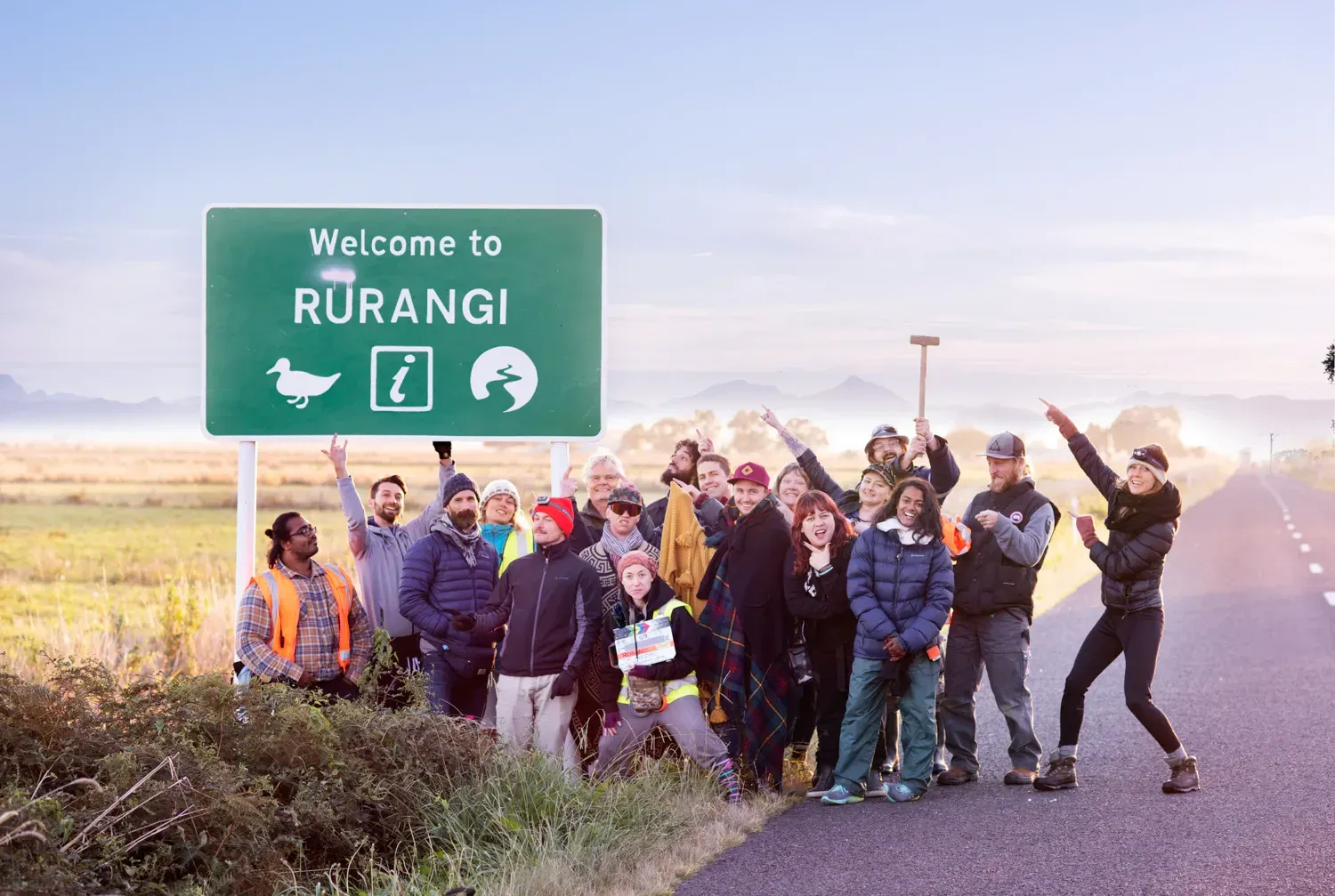 When Rūrangi first hit screens around Aotearoa two years ago, it was groundbreaking.
But now, not only is it pushing perception boundaries in New Zealand, it's earned international recognition of the highest order.
It's hard to imagine a more validating honour for this creative endeavour than to see it acknowledged with an International Emmy Award for best short-form series in the bright lights of New York this week.
The news has been picked up by all the mainstream media sites in the wake of its success - something that could barely have been imagined not that long ago.
Not bad for a local production that many would have previously written off as 'niche'.
A story centred on contemporary society in Aotearoa through a trans lens in a rural setting, Rūrangi ensured all transgender characters - including the impressive lead performance by Elz Carrad - were played by trans actors. There was a similar commitment behind the scenes, empowering the oft marginalised gender-diverse community in key production roles.  It started at the top with co-writer and co-producer Cole Meyers and director Max Currie - all the way down to a world-first internship programme.
The production also has a strong Māori kaupapa, with Māori actors making up over half of the tight-knit cast. 
Keep in mind, while shot in mid 2019, its premiere landed peak pandemic - July 2020 at the COVID-enforced online pivot of Whānau Marama: New Zealand International Film Festival.
That would originally have been enough to take the wind out of anyone's sails.
But it proved the beginning of a remarkable journey around the world - released both as a feature film and a web-series in an intelligent move to cater to the 'binge watch' phenomenon and get in front of a range of audiences. 
Later that year, it also featured at Frameline44 - one of the world's largest and most recognised LGBTQ+ film festivals - where it was acclaimed with the Audience Award for Narrative Feature.
Image from Rūrangi: Photo: Supplied.
The ball was rolling - Rūrangi received nationwide release on our shores and was shown at the BFI Flare: London LGBTIQ+ Film Festival, the Melbourne Queer Film Festival and the Sydney Mardi Gras Film Festival.
The following year, streaming services both here and abroad jumped on, with American big hitters Hulu and the UK's Peccadillo Pictures signing it up.
Rūrangi is powerful, important - and truly engaging storytelling on a situation that many will be able to identify with. A story that can enthrall a wide audience, but speaks directly to an audience that doesn't feel spoken to enough.
Image from Rūrangi: Photo: Supplied.
It's also authentic - with Meyers a leading light in so many ways - an educator and activist for trans representation for years. Creatively, Meyers has worked as a consultant on trans and gender diverse narratives and inclusion in film, television, web series and theatre - including at Shortland Street as a dialogue writer and a story-liner. He has been on the board of Samesame But Different LGBTQI Writers Festival and Breaking Boundaries. Meyers is also the creator of Gender Diverse Performers Collective, and runs workshops on performance and writing. 
At the time of its release, Meyers stated "Productions like Rūrangi provide a platform for trans people to see themselves in narrative and in pop culture, but also represents and validates trans people as respected and talented human beings to the general public.
"It's a lot harder to hate and hurt people you fully see."
Cole Meyers. Photo: Supplied.
For those interested, Rūrangi is on Neon (subscription needed) as well as in the exclusive club of Kiwi Emmy winners.
Pride on the rise
Another to support Rūrangi and its kaupapa is Auckland Pride - who have been another vocal and proactive voice for inclusion in the creative community.
And despite being one of the many to be dealt a funding cut blow in the last few months, there's no dampening their enthusiasm for the opening announcement of their 2023 programme - the first under Creative Director Nathan Joe (below).
The theme for the next instalment  - Elevate. Executive Director Max Tweedie explains. "Drawn from a desire to rise above the challenges our communities face, take our Festival to the next level, and lift up the voices of our community - elevate perfectly encapsulates our aspirations for the 2023 Auckland Pride Festival."
Running 1-26 February, the cornerstones are well-established; The Pride March (which this time heads to Queen Street), Rangatahi led public art & digital festival Te Tīmatanga returns to highlight the talent of emerging Takatāpui and the aforementioned Samesame but Different literary festival. 
The first wave of over 35 events revealed involves a wide range of venues from the expected Q Theatre and the Basement, to the less predictable locales like the Auckland Old Folks Association and Howick's Uxbridge.
To help nine of these acts get the support they need to prosper, Auckland Pride's put together a Boosted campaign with the goal of raising $60,000.
Festival facelift
Also unveiling their lineup for 2023 is the newly renamed/rebranded Hamilton Arts Festival Toi Ora ki Kirikiriroa (formerly Hamilton Gardens Arts Festival).
The 2023 programme is brimming with talent - both Waikato local and beyond. It contains plenty of creative performances from dance to circus, theatre and cabaret.
The musical performances contain the likes of Tami Neilson, Tiny Ruins, Lawrence Arabia, Julia Deans, Anna Coddington and the return home of Theia, bringing her critically acclaimed reo rangatira project Te Kaahu for a special performance in the Te Parapara Garden (New Zealand's only traditional Maaori productive garden).
And live performances of famous music soundtracks are a theme, with Aotearoa talent putting on Moulin Rouge!, Reservoir Dogs  and Pulp Fiction (below).
According to Festival Director Geoff Turkington, the event more closely reflects the regional arts festival's position of national significance.
"Not only has our presence grown locally but the festival has also evolved into a destination in its own right with visitors travelling from all over New Zealand Aotearoa to experience it."
Turkington told The Lowdown the festival is proud to be a major employer of artists – especially over the past three years when the industry has been severely impacted by the global pandemic.
"That we managed to squeeze in a festival in 2021 was nothing short of a miracle. Having to cancel 2022 was nothing short of heartbreaking – though essential.
"Throughout, we've been able to provide a financial lifeline for many artists, as well as the businesses that provide essential infrastructure for live events, many of whom had lost the best part of two years' work," he says.
The event runs from 24 February to 5 March, with a strong focus on free shows that "provide local artists a platform to showcase their mahi, and audiences the chance to engage with emerging artists and musicians."
Light it up
Image of Kaktos installation. Photo: Suppplied.
After a three year 'hiatus' - it's great to see the return of the HighLight Carnival of Lights.
And it's moving up in the world, geographically.  But not to worry for Wellingtonians, it's not moving by much.
Previously located in Lower Hutt, HighLiight is shifting to Upper Hutt for the first time - to run across Easter Weekend 2023. It's set to be a ticketed event (on sale from next week) but under 14s will be free, as well as some light installations across the region.
It comes amidst a change of ownership last year, with the creation of Late Night Lights as a charitable trust and funded by the Upper Hutt City Council.
According to Festival Creative Director Carla Steed, "we have already secured a number of local, national, and international light installations - including Kaktos which is a giant inflatable cactus forest and Checkmate which is an engaging chess board experience that transcends culture and language.
"HighLight is a uniquely Wellington region event, which provides a creative laboratory for performers, artists, and technicians to innovate and grow."
And in the name of accessibility and inclusiveness, there will also be a low sensory evening, working with charity partner Autism New Zealand.
Soaking in short stories
It's been a good week for lovers of the short story medium.
The winners of the Nine to Noon Short Story competition have had their work read on RNZ all this week (you can also peruse them at your leisure here).
And the annual Sunday Star-Times short story awards were handed out, with Wellingtonian Bernard Steeds (below) claiming the $7000 open category, with his entry Home, described by judge Owen Marshall as "a tale of two of life's casualties in a portrait that is wistful and poignant" with "an emotional intensity that makes this a remarkable story."
An impressive double for Auckland's Elsie Uini, crowned the competition's emerging Pasifika writer with her story A Good Thing, backing up her success in the same category last year with No Small Thing.
Kiri Soloman (Ngāti Porou, Ngāti Kahu ki Whangaroa) was named the emerging Māori writer for her mahi on Our Tūī, and Youjia Jennifer Liu's The Lotus winning the Secondary School writer scholarship with her story The Lotus, after moving to Aotearoa two years ago and enduring lockdowns away from family.
Uini, Solomon and Liu are all awarded $1,500, with their stories to be published over the summer from New Year's Day.
Carmel cleans up
They clearly love their art in St Heliers, one of Auckland's more affluent suburbs.
Just ask visual artist Carmel Van Der Hoeven, who had all 63 of her works, including large scale canvas pieces, on display sold at Turua Gallery.
That's an impressive enough feat, but when you consider that it all happened on opening night of her solo exhibition Mortal Dreams, and achieved within two hours - it's something many artists only dream of.
Patrons were reportedly lining up at 10am for a 5.30pm opening, travelling from as far afield as Queenstown to attend.
Van Der Hoeven (above) reveals "it is both equally terrifying and amazing to be in this position. I'm very honoured people want something I have created in their homes and lives. At the same time there is some melancholy, that it is over and all my thoughts and feelings, struggles and elations I had during this body of work are now finished, completed in marks of paint.
"And that the bar is continuously setting itself higher, but I must admit I do enjoy a challenge…"
But it's not new ground for Van Der Hoeven - it's the second year running she's had a sell-out opening night at Turua Gallery - last year's show sold out in 50 minutes.
Panthers pounce
And finishing where we started with on-screen successes...
A story 50 years in the making has proved worth the wait - with The Panthers dominating the creative fields in last night's New Zealand Television Awards.
It was on the cards when the production - created by Tavake Limited and chronicling the rise of the Polynesian Panthers in 1970s Tāmaki Makaurau - amassed a huge tally of nominations.
The Panthers ended up successful in eight categories, including the coveted Best Drama prize.
Best Director: Drama/Comedy Drama was always a lock, given the show had all three finalists, with Miki Magasiva emerging the winner. Best Post Production Design (James Gardner), Best Costume Design (Sammy Salsa), Best Contribution to a Soundtrack (Native Audio), Best Editing: Drama/Comedy Drama (Sacha Campbell), Best Cinematography: Drama/Comedy Drama (Andrew McGeorge) and Best Pasifika Programme also found their way into The Panthers' hands.
End of life choice drama The Pact also had a big night. Along with Best Script: Drama for Harry McNaughton and Natalie Medlock, the show collected three out of the four performance awards.  Decorated veterans Ian Mune and Irene Wood were recognised with Best Actor and Best Actress respectively, while Timmie Cameron won Best Supporting Actress.
'Kura star Scotty Cotter broke their dominance with his Best Supporting Actor triumph.
Also of note - New Zealand Opera's performance of Semele that was recorded and shown Sky Arts was awarded Best Entertainment Programme, with Rebecca Tansley, Rochelle Leef, Tash Christie credited in the joint production with Greenstone TV.