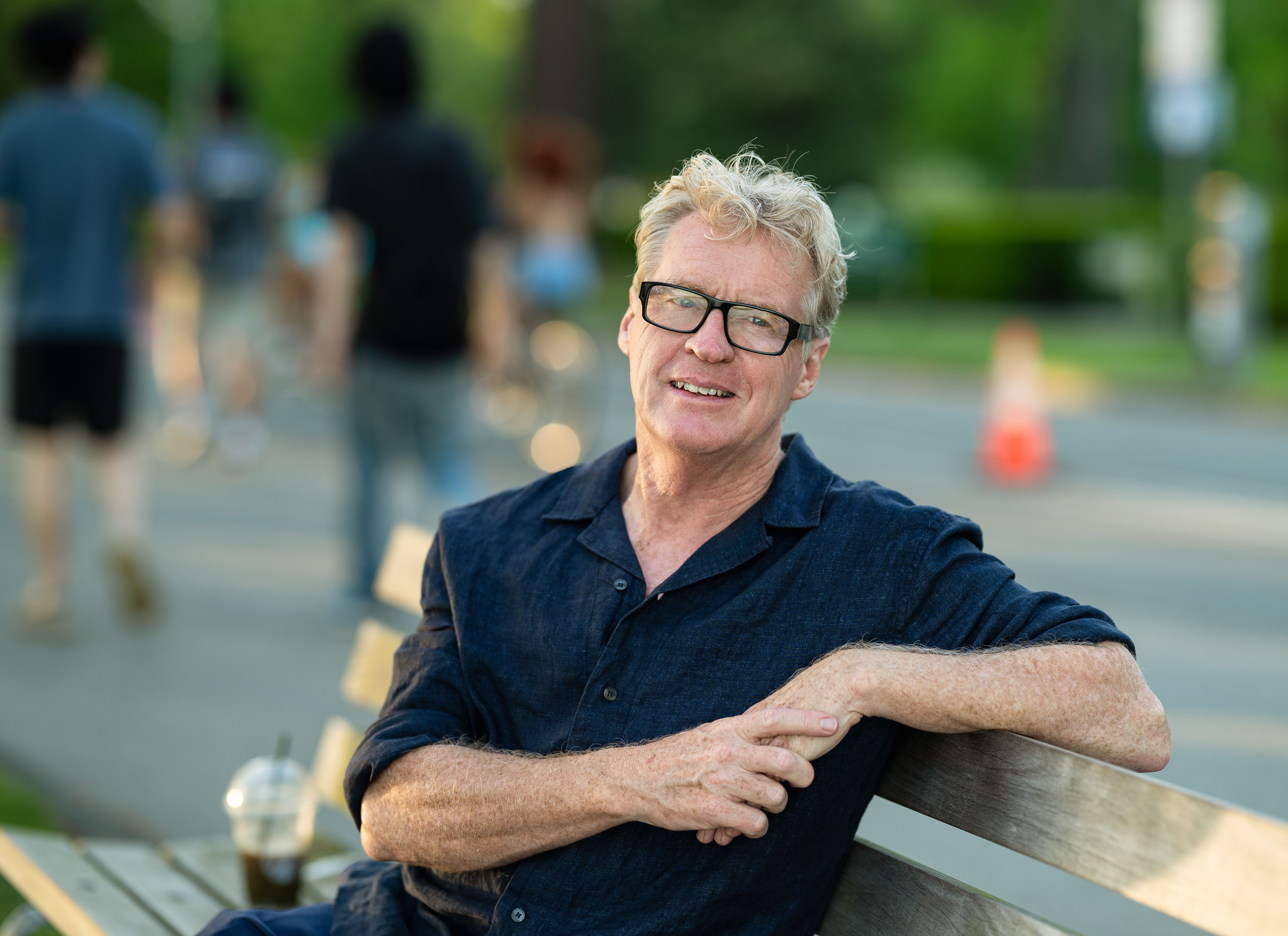 There are some sounds that are just uniquely ours.
Whether or not you're a fan of the style or genre - when you hear some songs, it instantly makes you think of New Zealand - something even more emotive for those away from home.
I defy you to listen to Anchor Me or Dominion Rd and not have that sense of Aotearoa course through you.
Don McGlashan is already iconic in our music industry, now his place among the greats has been confirmed - this morning (Thursday) announced as the next inductee into the New Zealand Music Hall of Fame.
More than just a voice that brings such resonance to his words, McGlashan has carved an inimitable reputation as a songwriter, composer and multi-instrumentalist - as well as holding a leading role as an advocate and leader in the music community.
McGlashan described himself as "really humbled and privileged" when told of the news. "To share that Hall of Fame with other inductees and to be able to celebrate with friends and colleagues is really special. As a little kid growing up on the North Shore, it's something I never would have dreamed of, that I would have a career in music.
I always imagined I'd do this for a while and then do something else that would feed the kids. It's been 40-odd years now. People still want to listen, and I feel really blessed about that.
"I just want to thank everybody that has made this decision. I want to thank all the musicians in New Zealand for carrying on, digging deep to bring their work to people to make people's lives better. Because I feel really deeply that music makes people's lives better."
And what a varied career it is to celebrate. Starting out playing the French Horn and percussion in the Auckland Symphonia (now known as the Auckland Philharmonia Orchestra), he racked up several band appearances with From Scratch and Blam Blam Blam, before heading overseas where he ended up composing for dance ensembles in New York.

Best known for his leading role in the Mutton Birds - who put out four top 10 albums - McGlashan's always been one to try his hand in different genres. Be it protest songs like 1985's Don't Go with Chris Knox and crew, or comedy stylings with Harry Sinclair as part of multi-media theatrical duo The Front Lawn, or composing for films like An Angel At My Table, Dean Spanley, and No.2.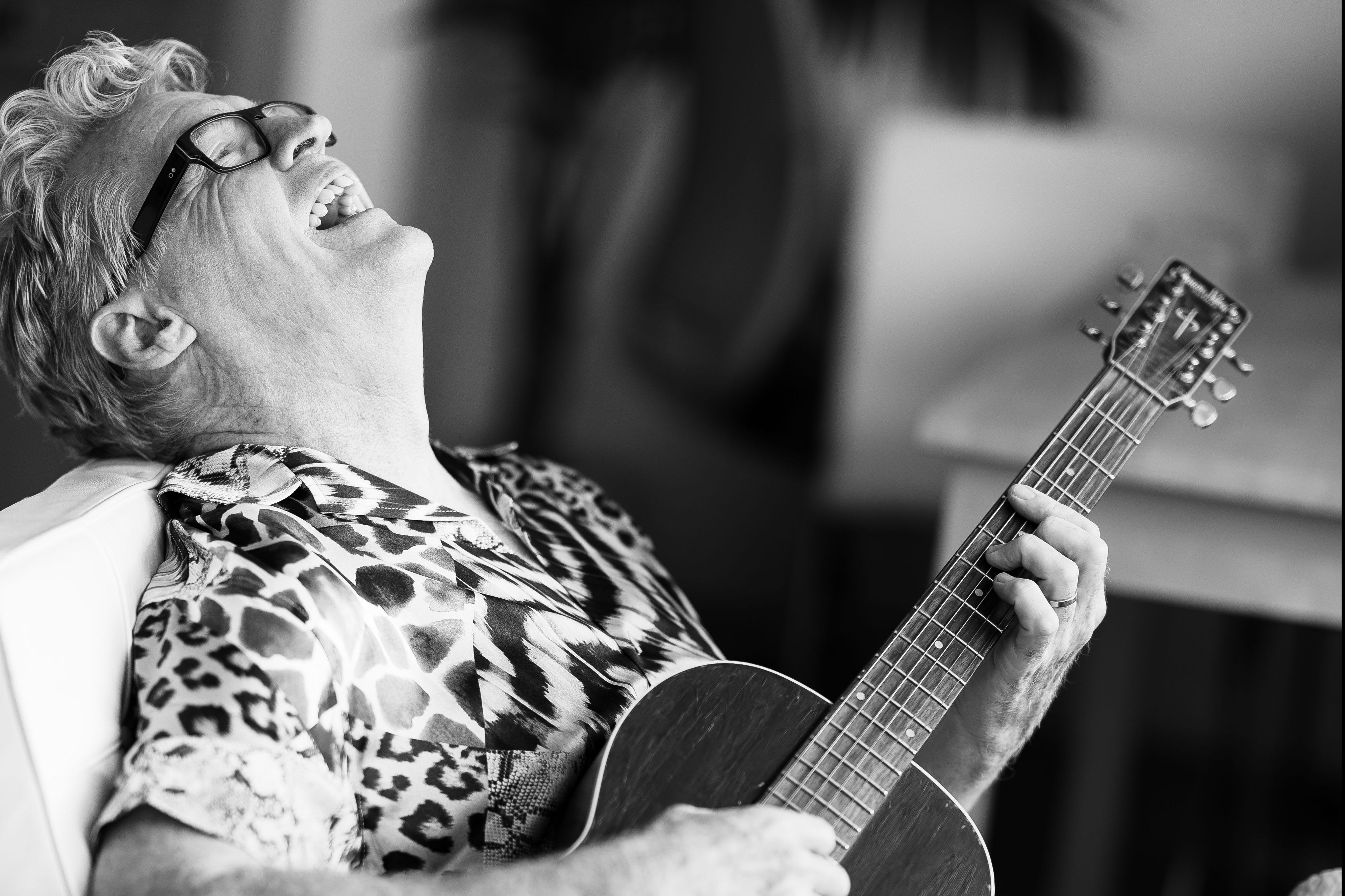 McGlashan will be officially inducted at the 2023 APRA Silver Scroll Awards | Kaitito Kaiaka on 4 October at Auckland's Spark Arena - just a ferry ride away from where he grew up. It's a fitting occasion given McGlashan is a two-time winner of the Silver Scroll himself, in 1994 with the Mutton Bird's iconic Anchor Me and again in 2006 with Bathe in the River, powerfully performed by Hollie Smith.
He will in fact need to squeeze in his acceptance with a national tour of 22 venues - The Take It To The Bridge Tour - through August, September and October.
Throw in his amazing and impactful work as a founding trustee and champion of New Zealand music industry charity MusicHelps and with his work as the writer-director on the APRA board from 2010-2016, and it's not hard to see why he's held with such reverence.
McGlashan will join legends like The Topp Twins, Herbs, Dave Dobbyn, Moana Maniapoto, Toy Love, Bic Runga, Supergroove, The Clean, and 2022 inductees Ngoi Pēwhairangi and Tuini Ngāwai in the Hall of Fame.
McGlashan states that music makes people's lives better - for so many around Aotearoa, so does McGlashan himself.
Glaser's new role with APO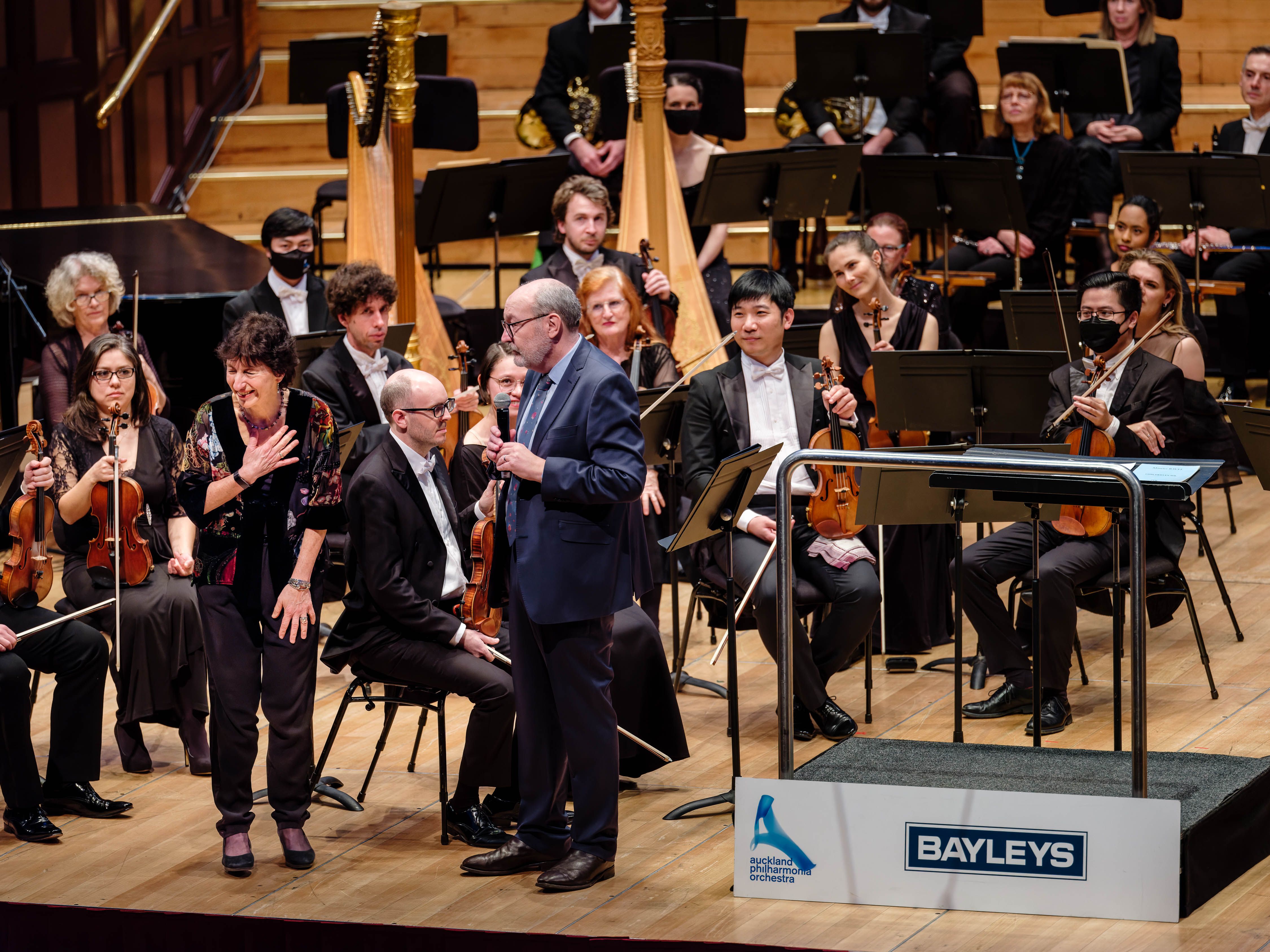 After 17 years in the Chief Executive hot seat - last week's final concert before officially handing over the Auckland Philharmonia Orchestra (APO) role was always going to be emotional for Barbara Glaser.
But after being called on stage following the performance of Shostakovich 5, it was even more so.
APO Chair, Geraint A. Martin caught Glaser by surprise by asking her to remain in the APO fold as a Patron - captured by photographer Adrian Malloch above.

We've all seen public proposals go wrong before - but thankfully for all, Barbara Glaser was in all with a yes.
"The APO has been such a huge part of my life for so many years and it's felt very surreal to be stepping down from the role. It's such an honour to be asked to become a Patron of the APO and I'm thrilled to remain a part of this special organisation that has connected so many Aucklanders with world-class orchestral music and holds such a special place in my heart."

APO's new Chief Executive, Diana Weir, commences full-time in the role at the beginning of October.
All jazzed up
Aotearoa musical talents Kirsten Te Rito (Rongomaiwahine, Ngāti Kahungunu) and Jake Baxendale have been honoured as the commissioned artists for this year's Wellington Jazz Festival (25-29 October).
Festival Creative Director Marnie Karmelita states of the decision to showcase this pair of award-winning Aotearoa musicians, "We are deeply committed to supporting our local musicians to compose new music, building a legacy of the New Zealand jazz sound.
"Both Kirsten and Jake have been considering this work for some time and it's incredible to see it come to life for them. I love the sense of discovery these gigs bring and the way our audiences embrace the new from seasoned voices."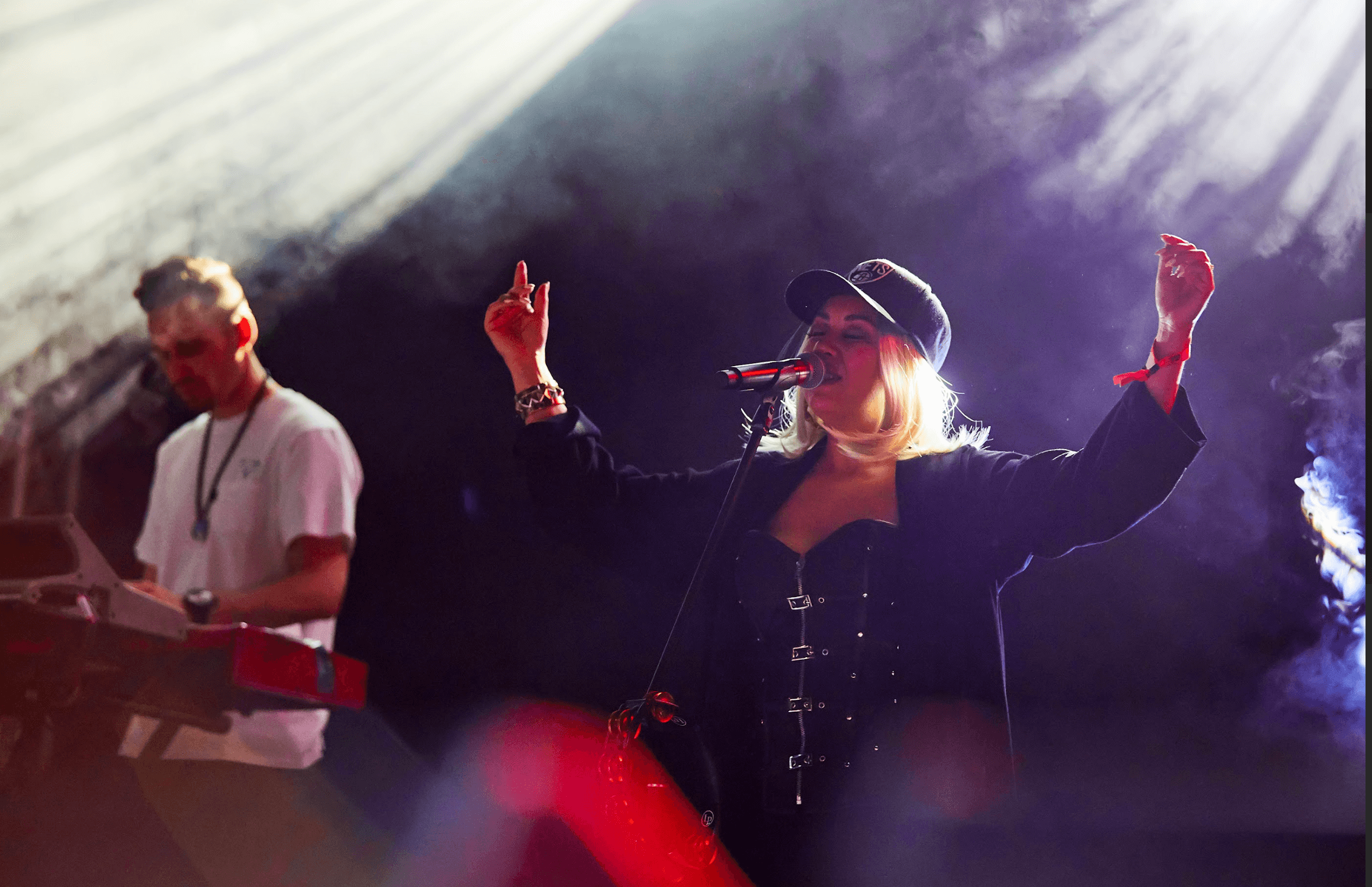 Vocalist and composer Te Rito (above) will premiere her new work Māreikura on 29 October at Meow - drawing inspiration from Māori cosmology and wāhine Māori atua (Māori goddesses), it fuses electric jazz vibes, taonga pūoro and her stylised vocals.
Te Rito explains, "I have been fortunate enough to be working with the incredibly talented Grammy award-winning taonga pūoro composer Jerome Kavanagh Poutama to create something that will take audiences on a special journey.
"I want the audience to see the flexibility and the relevance of Māori artistry and instrumentation in a contemporary jazz setting. It is all improvisation when Māori instruments are playing so it's the perfect pairing. I'm so honoured to have been chosen as a commissioned artist."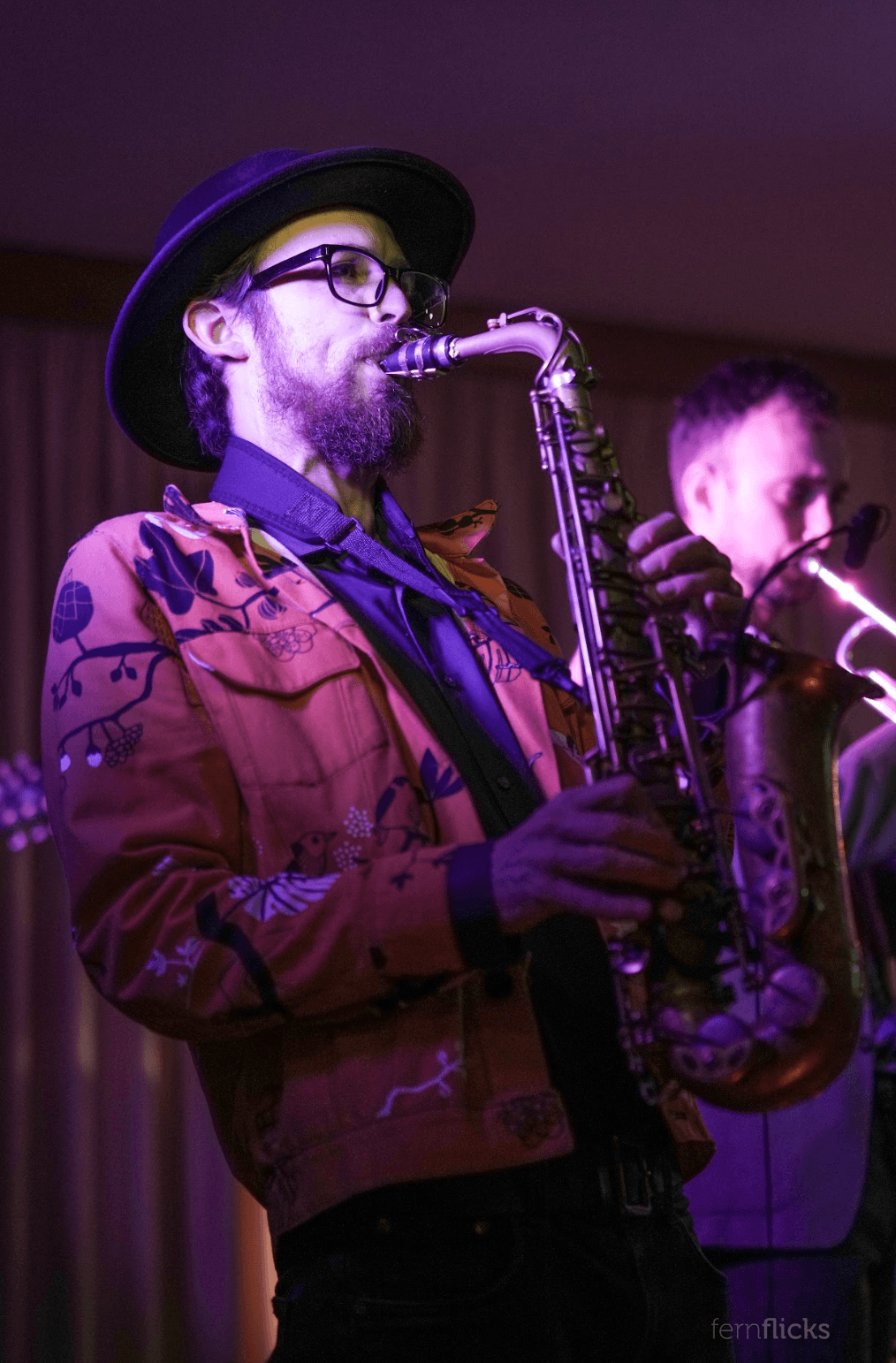 Saxophonist and composer Baxendale (above) is also buzzing to be unveiling his new work Waypeople at the Festival. Inspired by Ursula K. Le Guin's powerful and poetic translation of Tao Te Ching, it will be Baxendale's first foray into composing music with lyrics when he takes the stage with his ensemble on 28 October (also at Meow).
"I would like listeners to have the same sort of experience I had when I first read Le Guin's book. I found it so surprising. This philosophy is very contradictory, it can be calm and restful, playful and serious.
"This commission has allowed me to delve deeply into the text and let the words suggest to me the music to carry them. I hope to capture the spirit and intent of Tao Te Ching and bring it to life anchored by the guzheng (Chinese string instrument)."
Auckland Museum goes local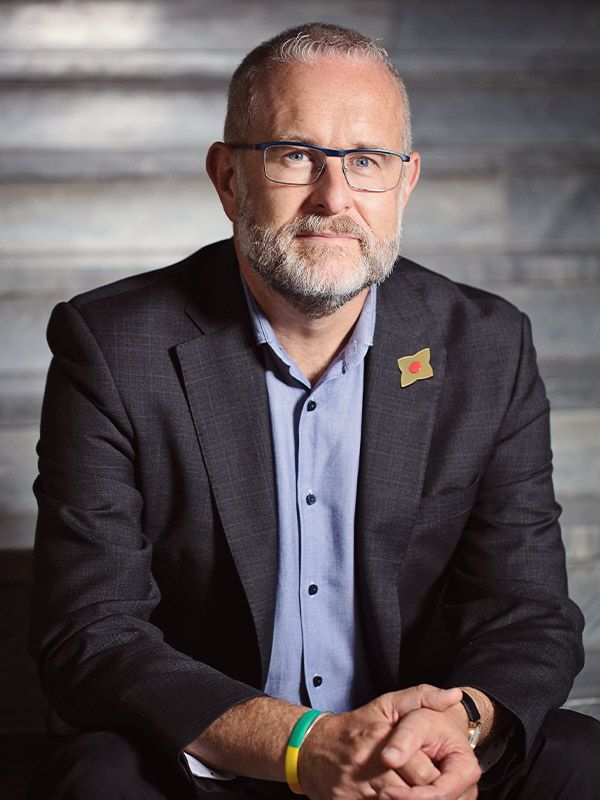 Tāmaki Paenga Hira Auckland War Memorial Museum hasn't had to look for its new Chief Executive.
David Reeves (above) has been appointed to the role of Tumu Whakarae - and it's been a long time in the making.
While he's been the acting CE since June, Reeves has been the Director of Collections and Research at Auckland Museum since 2011 and a member of the Museum's executive team that has been a driving force behind a number of meaningful cultural developments and digital innovations.
Industry experts point out to The Lowdown that it's the first time in a long time that the Museum has gone local and appointed a New Zealander to the top role, which is significant.
Auckland Museum Trust Board Chair Professor Richard Bedford says, "It is a privilege to appoint such a talented and innovative employee to lead the museum as we develop our next strategic plan, which will take us to 2029 – the centenary of our time on this sacred site and war memorial on Pukekawa."
With a career spanning more than 35 years, Reeves has extensive experience across Aotearoa's cultural sector and has held senior roles at major institutions including the Alexander Turnbull Library, Toi o Tāmaki Auckland Art Gallery and Museum of New Zealand Te Papa Tongarewa. Throw in (among others) Deputy Chair of UNESCO Memory of the World NZ committee, Board member of Museums Aotearoa, Chair of the Library and Information Advisory Commission, Deputy Chair of the Archives Council, trustee of the Rule Foundation and past co-Chair of GALS, Auckland's rainbow choir - and you've got a well-rounded leader.
On his appointment Reeves sees his appointment coming at a "pivotal time for our city and wider communities."
He explains "Museums have a vital role to play in helping people examine, enjoy and understand their cultural and natural contexts. Auckland War Memorial Museum is a very special place with a rich history and extraordinary collections; it will be a great pleasure to lead our talented team over the next few years, realising more of the potential that the Museum has to offer."
Taumata-a-Iwi Chair Precious Clark states "The Taumata-ā-Iwi has built a high trust relationship with David over the years, and values his support and advocacy of kaupapa Māori, taonga Māori and our Māori staff at the Museum.
"We look forward to collaborating with David to shift Tāmaki Paenga Hira into being a bicultural organisation of the future. We are confident that his institutional knowledge, empathy, commitment and intelligence will provide us with the right leadership to achieve our strategic vision."
Kiwis cash in on cultural fund
Two New Zealand projects are among the six initiatives given the green light with Screenrights' $266,000 annual Cultural Fund.
A non-profit organisation that provides rights and royalty management services to the screen industry, and facilitates access to screen content for licensees on both sides of the Tasman, Screenrights also takes great pride in administering the Cultural Fund.
Touch Compass is one of the two projects selected from this side of the ditch - with a Screen Production Programme for d/Deaf and Disabled Students receiving the top dollar AUD $50,000 to engage and teach Deaf and Disabled aspiring filmmakers the skills required to tell their own stories and build careers.
The Auckland-based, disability-led, one-week intensive and immersive experience and a five-week post-production experience for up to 12 selected d/Deaf and Disabled students is done in partnership with JPF Films and Ingot Films.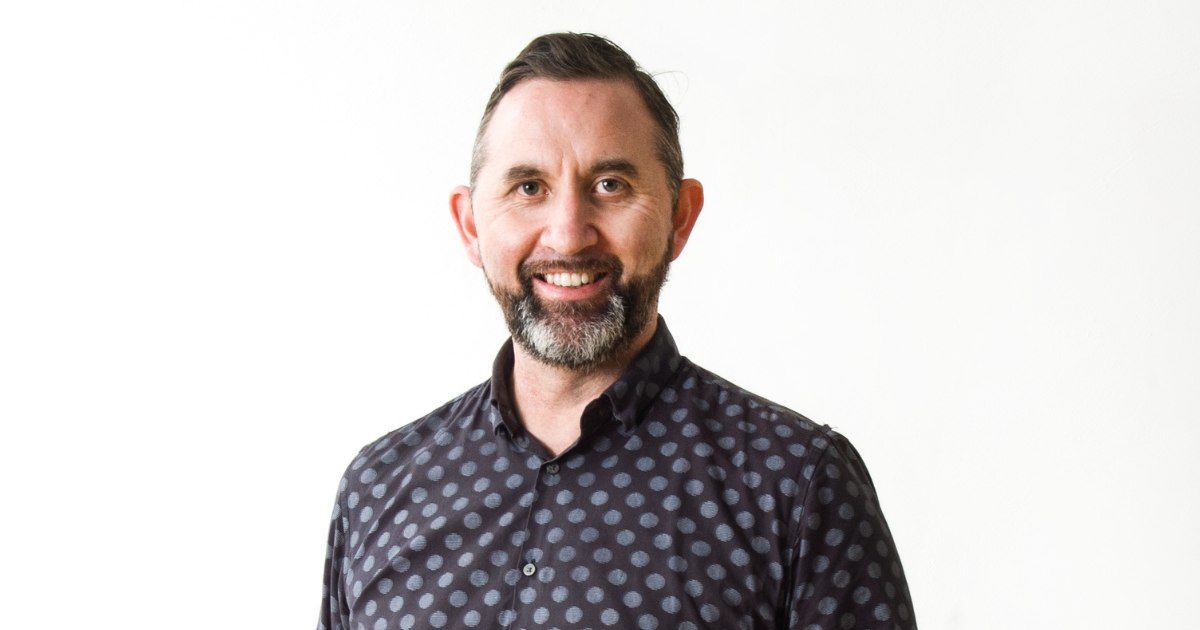 Touch Compass Chief Executive Jon Tamihere-Kemeys (above) says "'Tukua kia tū takitahi ngā whetū o te rangi. Let each individual star take its own place.' Kia ora! On behalf of programme leaders Jared, Corey and all of us here at Touch Compass we are grateful to the Screenrights Cultural Fund and honoured to open the screen industry up to participants from deaf/disabled communities. For them to learn, grow and in the near future, create their own stories, their way."
The other project from this side of the ditch is The Queer Screen Development Toolkit (QSDT), which aims to use its AUD $30,730 grant to provide support, guidance and resources for teams developing screen projects that feature queer themes, storylines, characters and actors in collaboration with the industry by Proud Voices on Screen.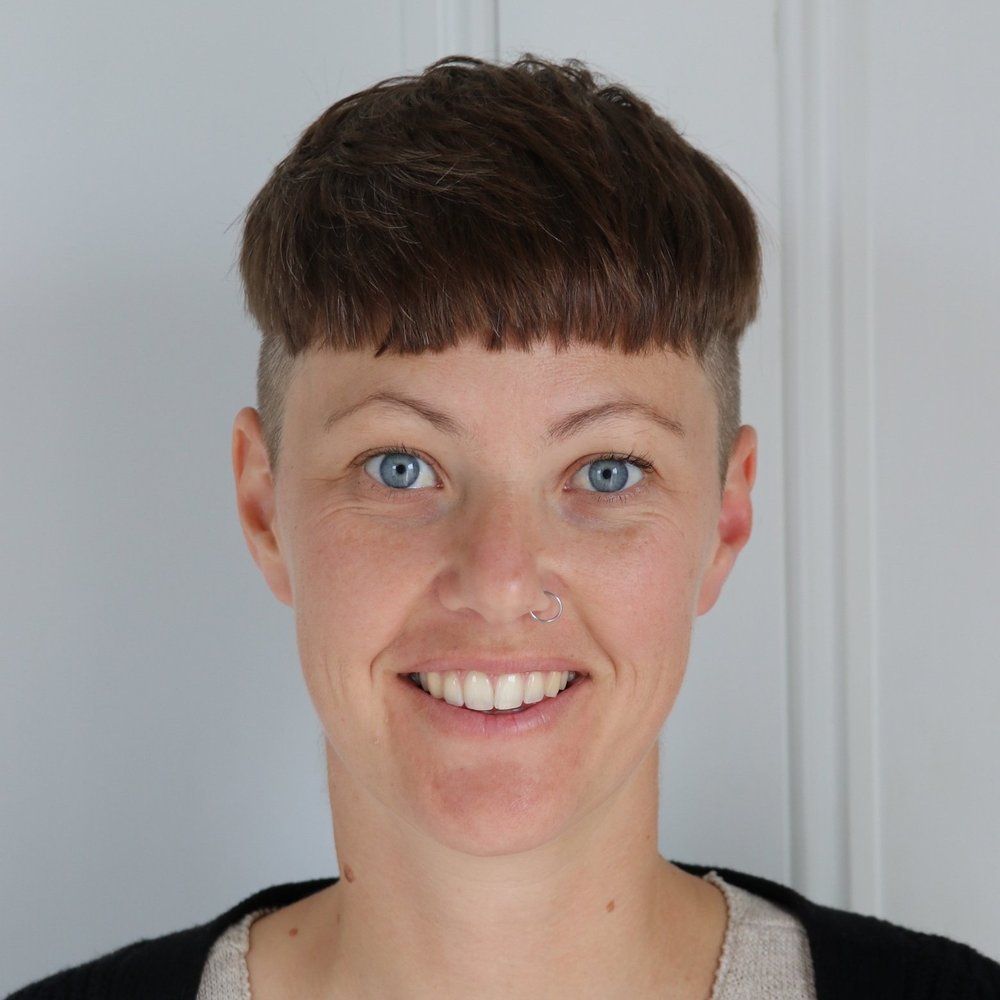 QSDT's Eloise Veber (above) says of the online toolkit "As a newly formed organisation with huge dreams, this funding is a lifeline for us. We're honoured to have the opportunity to bring a living document to life that will benefit the industry as a whole, but most importantly give voice and agency to queer practitioners and bring rich authenticity to queer stories that we look forward to seeing on screen."
NZ invades Toronto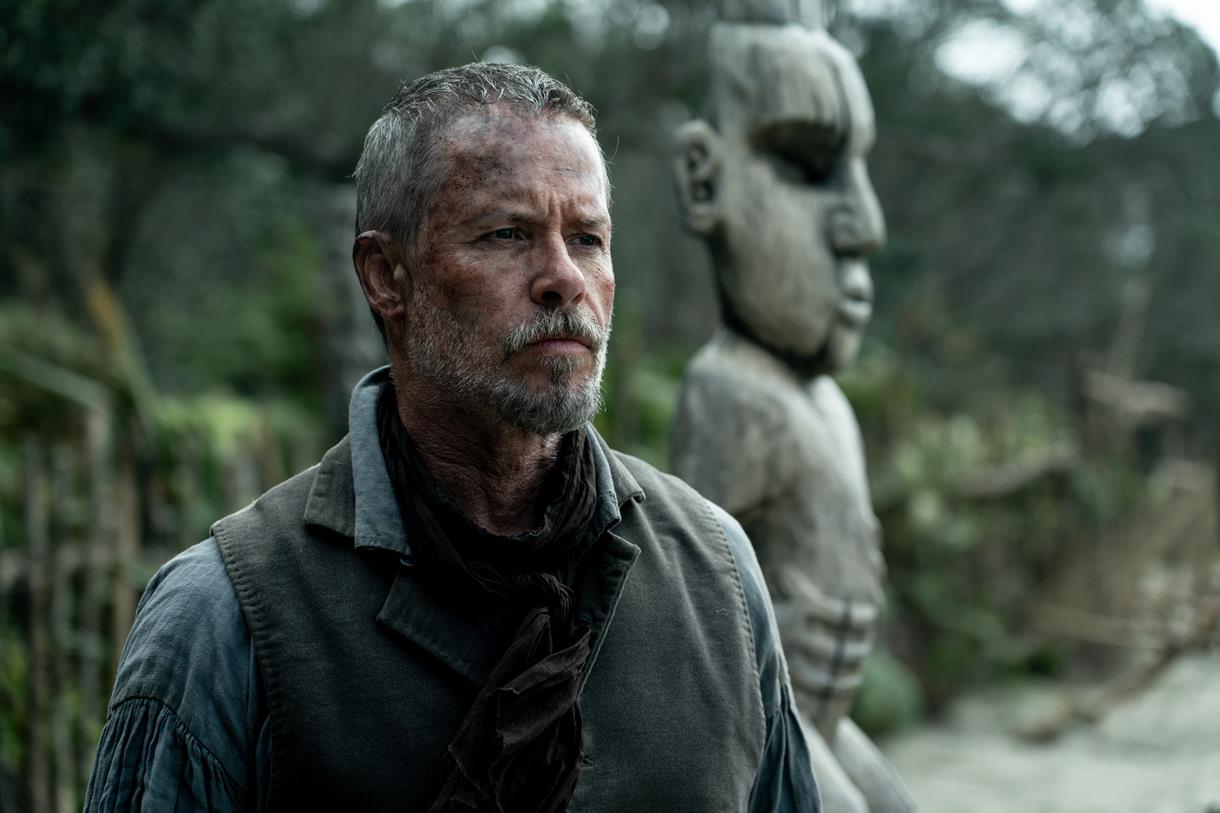 The prestigious Toronto International Film Festival (TIFF) is set for a double dose of Aotearoa filmmaking next month.
Two New Zealand films have been selected to give their World Premiere at the highly regarded festival - with NZ Film Commission (NZFC) CEO Annie Murray proudly declaring of the projects they helped support, "These two very distinct and remarkable films showcase the incredible capabilities, expertise and filmmaking excellence of New Zealand's local screen industry."
The World Premiere of director Lee Tamahori's The Convert is set in 1830s New Zealand, with Aussie star Guy Pearce playing a British preacher whose faith is put to the test, caught in the middle of a bloody war between Māori tribes, with a cast including Aotearoa's own Tioreore Ngatai-Melbourne, Antonio Te Maioha, Jacqueline McKenzie and Lawrence Makoare.
Tamahori - who also worked on the screenplay with Shane Danielsen - expresses "I have always admired the festival because the audience is the jury, and it is they - the film enthusiasts - who decide what films are deserving of accolades. I look forward to joining with my fellow Australian and New Zealand filmmaking colleagues in presenting our particular visions to the world."
Among those colleagues are award-winning directors Paul Middleditch and Hamish Bennett with their film, Uproar, with a cast that includes talented Kiwis Julian Dennison, James Rolleston, Rhys Darby, Erana James and international star Minnie Driver.
Uproar is set against the backdrop of the 1981 Springbok team tour of New Zealand and the protests against South Africa's apartheid policy, as 17-year-old Josh Waaka (Dennison) navigates his own place in the world.
Middleditch and Bennett state "This film is full of heart, for all communities and ages, and tells an important story that everyone will find a connection to. We certainly made Uproar for the big screen, and we can't wait for you all to come together and check it out." (which we can do in NZ from 5 October)
Poets to the fore

Tomorrow (25 August) is National Poetry Day - another opportunity to celebrate the power of words and the impact our poets make on readers and on society, as well as encourage the rest of us to pick up a pencil or grab a laptop and express ourselves.
To celebrate, we'll be publishing poems by a quartet of this year's Ockham NZ Best Poetry Book finalists, but we first wanted to find out from them why National Poetry Day matters.
Joanna Cho was unequivocal when talking to The Lowdown "Because it's full of public events, and it's a reminder that poetry comes with sub-genres and many ways to engage with and experience it - something for everyone.
"People should care because it's the arts, which is good for your IQ and EQ and general wellbeing. Personally, when I read or hear a poem that hits, a real shift occurs within me and propels me. I don't know if it's neurologically the same but I think about how listening to music makes people feel connected, and it's this active thing even if externally it looks like a passive activity.
"And I guess I think that sort of transcendence, and the power of the sort of grip that resonance has, is worth caring about."
Khadro Mohamed told The Lowdown "One of my favourite things about National Poetry Day is all of the events that take place across the country, it's so fun and so lovely to see the way people respond to poets and poetry and the way it really shapes our day to day.
"I would definitely encourage everyone to either read or write a poem on the day, a poem can be anything you want, so you could really just scribble something into your notes app and call it a day.
"Poetry is so accessible and fun - you'll be surprised how many pieces will really speak to you and how easily you can create something from the mundane.
"Your normal coffee shop was packed? write a poem. It rained heavy last night? Write a poem? You missed your bus? write a poem."
Alice Te Punga Somerville agrees. "National Poetry Day is an opportunity for people to connect with poetry and each other. Like many such specially-focused days or weeks or months, we could say 'Hey! Every day should be Poetry Day!'
"For some people, it is. But for most of us, National Poetry Day is an opportunity to get together and read/ hear/ write/ read poetry at events and in our private spaces. Sure, not everyone is into poetry... but a lot of people are - and two decades of teaching English at universities has taught me that a lot of people who think they aren't into poetry just haven't met the right poem yet.
"To be honest, sometimes back in the day, National Poetry Day events have felt a bit - hmmmm - shall we say not-diverse. A few years ago I decided - with co-conspirators Nicole Titihuia Hawkins (last year's Best First Book of Poetry at the Ockhams with Whai) and Ashley Mackenzie-White - to respond to this by organising an event called 'Poetry with Brownies' - it's happening Naenae this year, and each year more and more diverse (including tangata whenua) poets are connecting with and through National Poetry Day.
"My call for action is to read poetry out loud, as loud or as quiet as works for you: read your own to someone else, or read someone else's to yourself! Read until you find a poem that works for you - it might shock, encourage, inspire, nudge or entertain you.
"There's so much poetry online that you can do this from the comfort of your own couch/phone. Then read it out loud - maybe several times! Read it loudly at an event or over kai or to the baby or at a bus stop, or read it softly to yourself under your breath (but not just in your head).
"Try emphasising different words, try it with different emotions in your voice, and try to notice what you notice about the poem (and your voice) each time you re-read it. Try to hear the gaps between the words and lines because that - that - is where the poetry magic happens."
Anahera Gildea told The Lowdown "It's not so much why the day matters, it's why poetry matters.
Often extolled for an ability to express emotion – through variations on aestheticism, lyricism, social commentary, linguistic gymnastics, and so forth – poetry gets lumped with the hefty job of engaging empathy, of allowing a reader to self-reflect in the light of a poetic emotional charge. And poetry CAN do that. But, for me, that is only one element of what poetry does.
"Poetry is music. Where there should be a lament, a party anthem, or a drum roll, there lies a poem. It's visceral. It is the description of a relationship. National Poetry Day matters now more than ever because it is the day we celebrate the very real, complex, and diverse network of relationships that make up te ao marama in our rapidly changing global ecologies."
Returning resident gets residency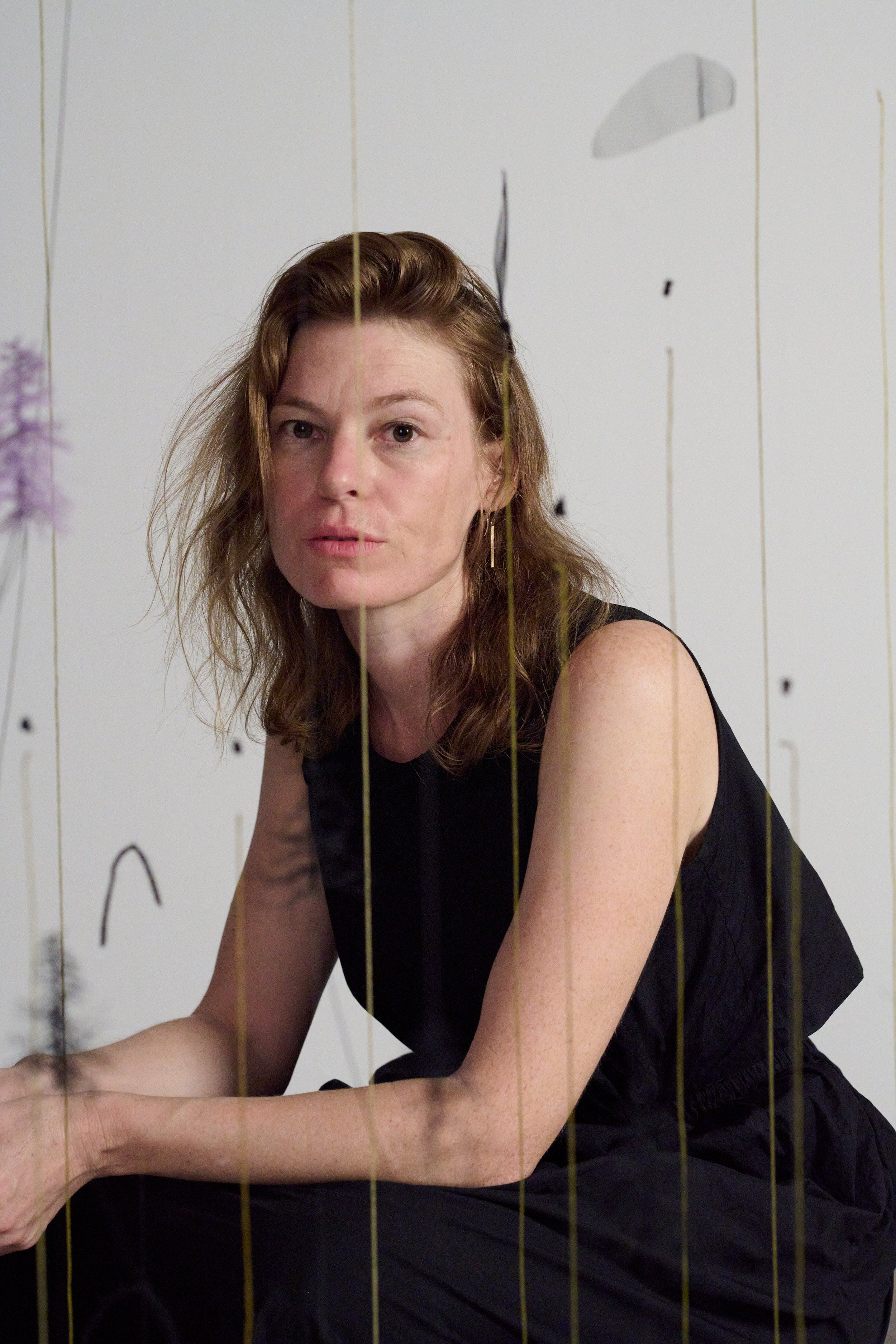 Artist, educator, and remote community arts worker Katie Breckon has been based in Australia for over a decade. She's coming home at the end of this year and already has a great opportunity lined up.
Originally from Pōneke Wellington, Breckon has been named as The Caselberg Trust's next Creative Connections Resident - a 3-month residency in Dunedin's Broad Bay between March and May 2024 that will see her working on a project provisionally titled Taieri Wetlands - Loss and Repair, using incised drawing and photographic processes to question the decline of wetlands in the Taieri Plain southwest of Dunedin.
Breckon elaborates "As a descendant of Scottish migrants who settled and farmed near Outram from the 1850s, I question family narratives about the process and ethics of draining swamplands. What started as a curiosity about family heritage expanded into researching the decline of wetlands and the restorative work currently supporting the revival of fragile ecosystems."
The Creative Connections residency has been running for 11 years and specifically targets projects that reach out and make links across a variety of creative media, professional disciplines and/or communities relevant to the planned project.
Culture 101 has begun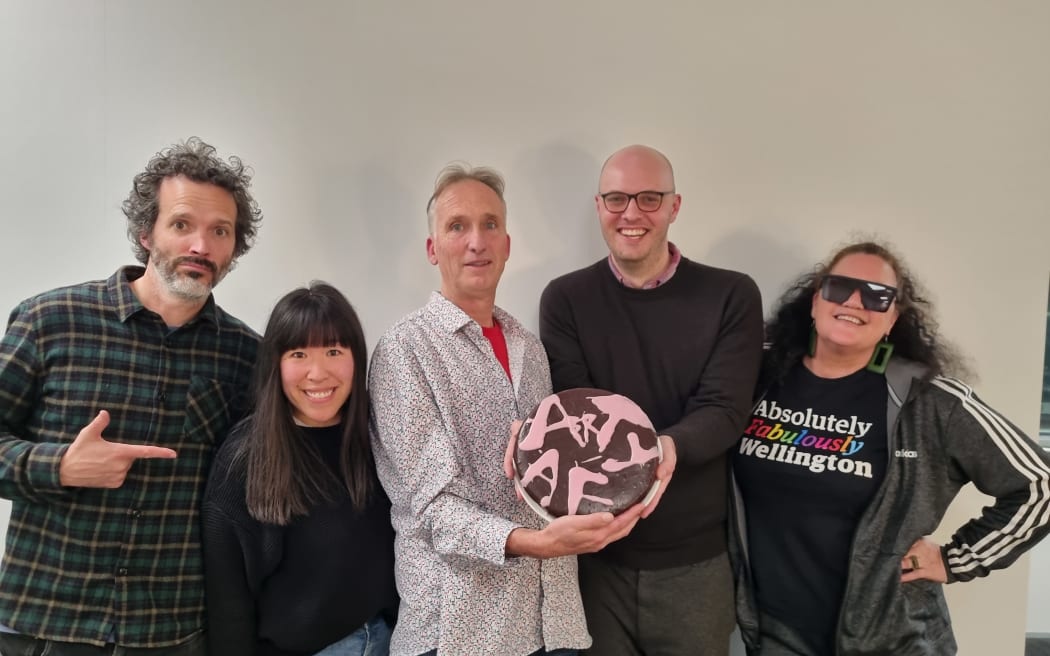 Anytime there's an excuse for a cake decorated "Arty AF" - you know a good time will ensue.
After months of planning, RNZ's new dedicated arts show Culture 101 made its debut last Sunday, with hosts Perlina Lau and former Lowdown author Mark Amery behind the mics to discuss an array of creative community issues and events.
To mark its debut, there were some entertaining and well-admired guests in studio, including composer and actor Bret McKenzie, artist and cultural events organiser extraordinaire Suzanne Tamaki (Maniapoto, Tūhoe, and Te Arawa) and Dr Drama aka theatre critic and The Big Idea contributor James Wenley.
You can find their highlights here - and catch them on-air between 12-4pm on Sundays.