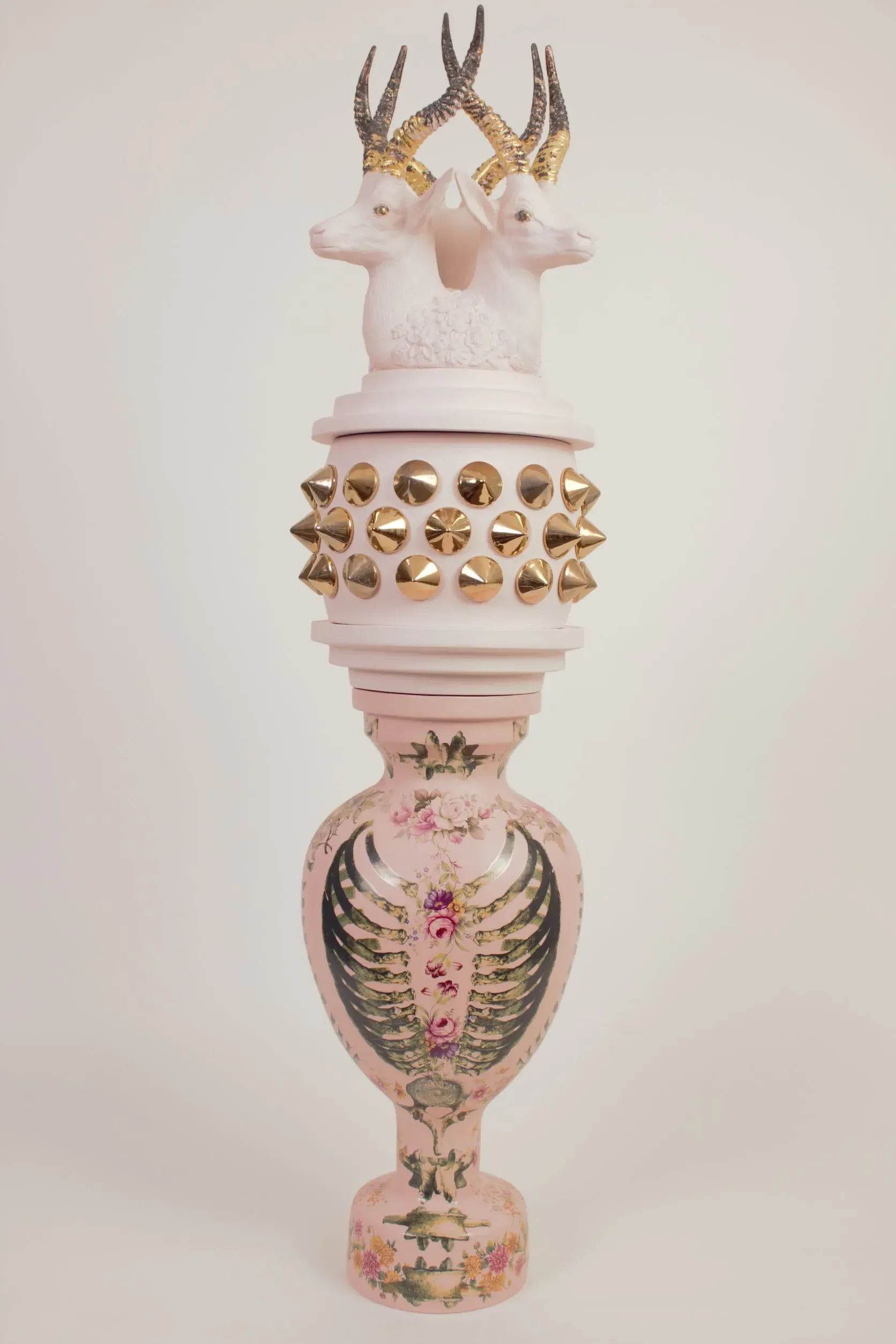 This time last year, Melissa McMahon was still a Masters student - but she's already hitting great heights in the creative world after claiming a significant industry award.
Her artistic talents have been given a prominent spotlight after winning the Molly Morpeth Canaday Award for three dimensional design with her bold work Pink Bats - bringing with it acclaim and a handy $10,000.
McMahon told The Big Idea "It's been cool to have my work recognised with a national award, it's opened up a lot of opportunities to talk about my work.
"Winning the award had a very practical benefit – I'm setting up my studio at home and because my work is so big now, I need a larger kiln – this award meant I have funds towards that so I can continue my studio practice."
Her award-winning piece, created with earthenware, terra sigillata, glaze, gold lustre, wool blend fibre, was originally given life inside Unitec's School of Creative Industries.
"Pink Bats was part of a series of works I made at Unitec during my Masters of Creative Practice research," McMahon explains. "I was researching how craft practice can record and memorialise social histories, and I am interested in how the making of artefacts can be used to make sense of processes of loss and memory.
"The access to equipment and space to make work are fundamental to my practice, and Unitec was able to provide the facilities and technical support I needed."
Hailing from Maungaturoto in Northland of Irish, English and Tongan descent, McMahon's creative journey has always been led through her hands. That made Unitec's applied learning approach of creating your own body of work throughout your studies - with "tutors and staff deeply entwined with the creative industry" - a natural choice.
"I firmly believe that 'making is thinking' – that practical, hands-on, and non-textual practice is cognitively rigorous. Tacit knowledge is widely recognised in the craft scene, we recognise the complexity in making objects and how process and technique informs our practice.
"In real terms – there is no text book that is going to tell you how to make a 5-foot-tall marshmallow pink ceramic urn covered in gold studs with a bouffant hairdo. You have to make your own way towards it.
Melissa McMahon with MMCA winning artwork Pink Bats. Photo: Supplied.
"The appeal with the Unitec Masters programme was the opportunity to set my research project within my area of interest – balanced by intellectual and academic rigour."
But before she made a name for herself with ceramics, McMahon was firmly entrenched in another creative industry - working in the design and production of locally made clothing.
"I was lucky to get a good grounding by starting in a design atelier – that actually meant a lot of good basic making skills and getting to work alongside really knowledgeable artisans performing their crafts.
"This experience instilled in me a habit of considering how things are made, why they might be made that way, and what those methods of making mean.
"I just got to a point where I was quite burnt out, and realised that my job was no longer satisfying me creatively or on any other level.
"I knew I wanted to work hands-on, so I turned to study as a way of exploring my options."
Acid Drop. Photo: Melissa McMahon.
But her new direction was still influenced by her previous profession.
"I have a unique approach to how I make work because my process is informed by fashion, by patternmaking – working from a two-dimensional paper pattern in the same way clothing is designed.
"When I sketch, I'm drawing on my experiences in design meetings – quick images to get an idea down, then going on to fleshing out that idea, to interrogate it and see how it relates to other works. I also often work out the colours as a 'collection'.
"Because of my experiences working in artisanal fashion, I was interested in the tensions between luxury, craft, labour and value – I continue to explore those tensions in my practice."
While labels are common in fashion, McMahon's breaking clear of traditional definition.
As an artist who fiercely protects the autonomy that allows her "total creative freedom", she considers herself to be "a maker of memento mori and mourning objects. My focus is largely centred around funerary urns which use symbology of decoration and ornamentation to explore how values, taste, and education are communicated by the things we select and display.
"I apply a punk-baroque or punk-rococo lens to ceramic, crafted, sculptural objects."
Quizzed on if she thinks craft is making a renaissance in this country, McMahon muses "you can't actually learn how to make something complex by only watching or viewing it being done on-line. So, there is a tension there; between the recognition and desire for skill, and the time, inclination, and resources to acquire the skill necessary to achieve an objective. 
"This objective is sometimes oppositional to the technologies and interests competing for our time and attention.
"Fortunately, people are coming back around to realising that there is real value in spending the time making things – that the benefits are social, cultural and meaningful. I think that one of the most political decisions you can make is how you choose to spend your time."
 
Written in partnership with Unitec. Applications are open for the next Masters of Creative Practice intake. Click here for details.