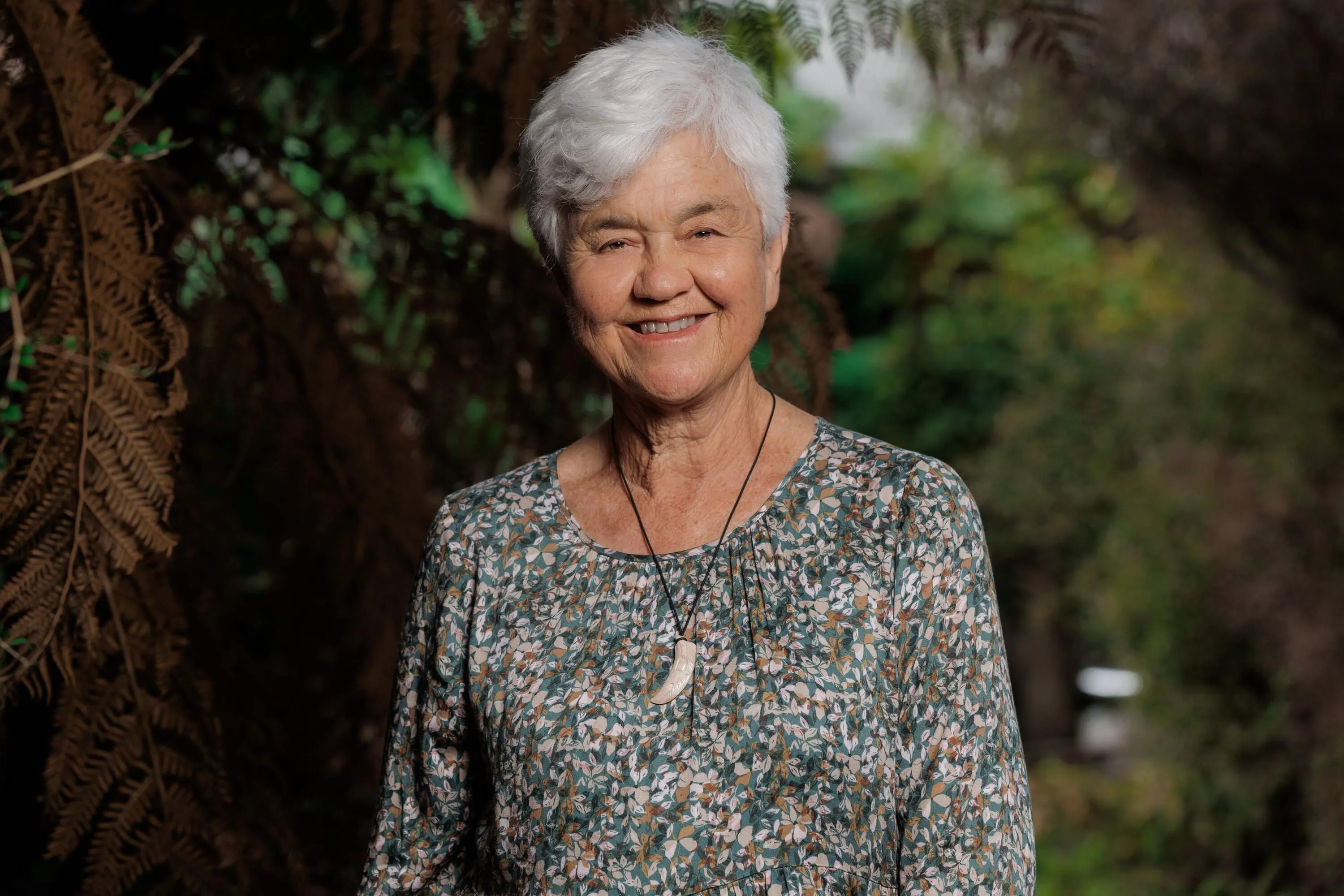 Maureen Lander is relishing a new lease on her remarkable life as she turns 80 this week.
The influential and highly respected weaver and installation artist has been rewarded for her enduring career with an Arts Foundation Laureate Award, sparked by a unique bond with four unified wāhine from a different generation.
Her immense knowledge, skill and insight featured in combination with Mata Aho Collective for the spellbinding Atapō at Toi Tū Toi Ora: Contemporary Māori Art at the Auckland Art Gallery Toi o Tāmaki, in 2020.
Erena Baker, Sarah Hudson, Bridget Rewiti and Dr Terri Te Tau from Mata Aho also received a laureate for Visual Arts in recognition of their internationally acclaimed large scale works.
All five of these formidable wāhine artists sat down with The Big Idea around a circular table in the lobby of Auckland's Britomart Hotel, to elaborate on their unique relationship and their commitment to artistic cultural heritage.
"It's a recognition of the work us weavers have done - which has always been collaborative in a way - you don't know who they are in a meeting house, because there might be a master weaver or a master carver. But it's the work of a group that can't be done by one person."
Lander is quietly spoken and articulate, with a deeply intelligent commitment to her whakapapa and whanaungatanga, or kinship.
So how did the process, with the restrictions of the pandemic, work for Atapō?
"The same way they always work. Get together like this, start thinking of ideas, then go to Bunnings or somewhere like that and start thinking of materials. Bring home small samples and start to play, and I work like that too.
"I have to say they are bold and they (Mata Aho) are brave. I can occupy space but not in such a bold way as they do."
She could be described as a late developer, concentrating on bringing up a family in the first half of her life before learning weaving with noted Māori weaver Diggeress Te Kanawa.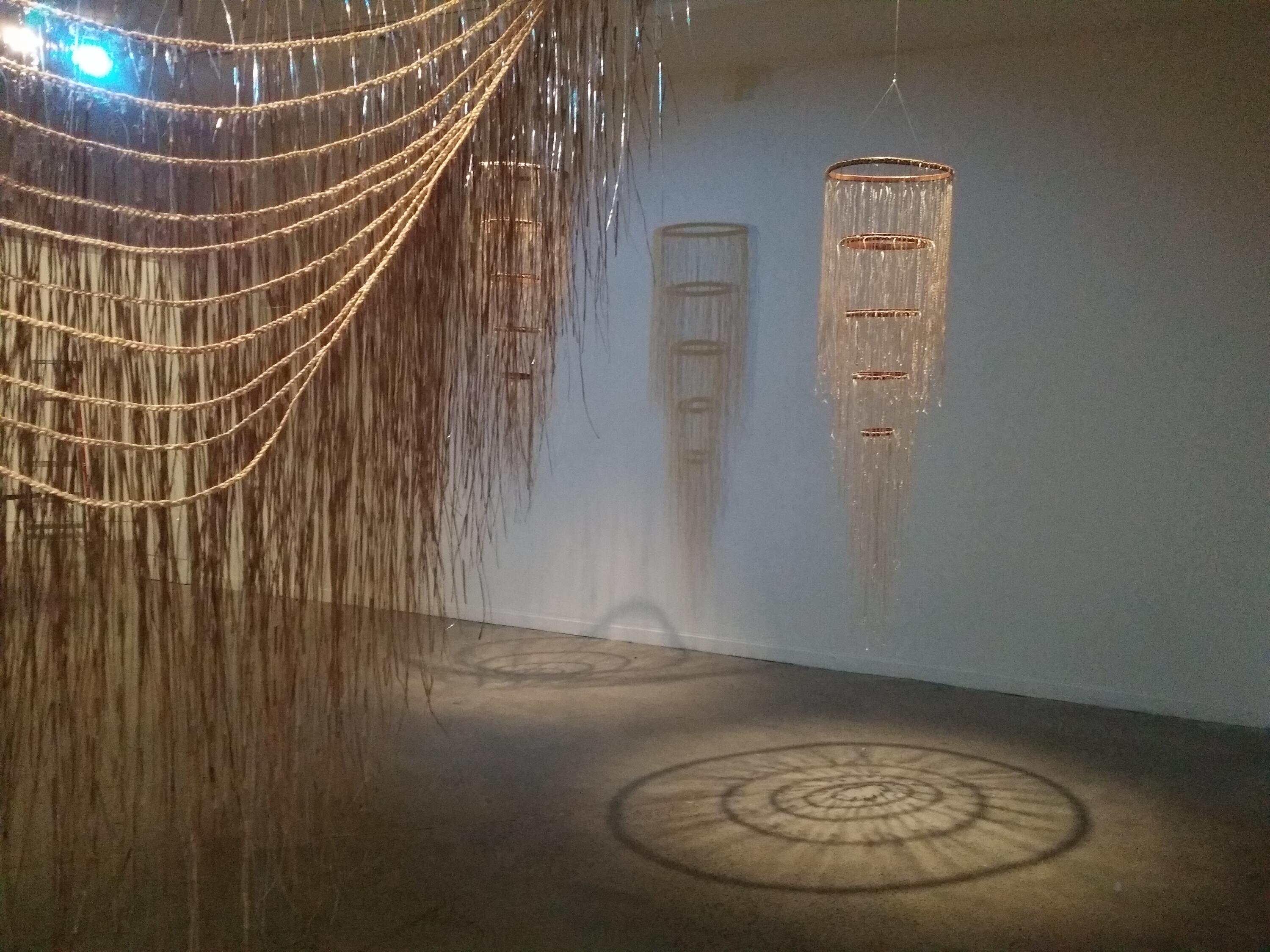 Maureen Lander (2018), Embodied Knowledge. Photo: Supplied.
She developed a relationship with multi-media Laureate Lisa Reihana during her Auckland University studies in the 1980s. And in the 90s, she earned her Masters in Fine Arts before going on to make it a Doctorate.
"To come through in the same time frame as Lisa Reihana - we had spaces right next to each other in the sculpture department .. and it also embraces the time when I first started weaving and working with weavers."
Mata Aho (below) is a collective in the purest sense and the quartet of talented wāhine prefer not to be quoted individually in the media. They all speak incredibly passionately about their work and their respect for Maureen Lander.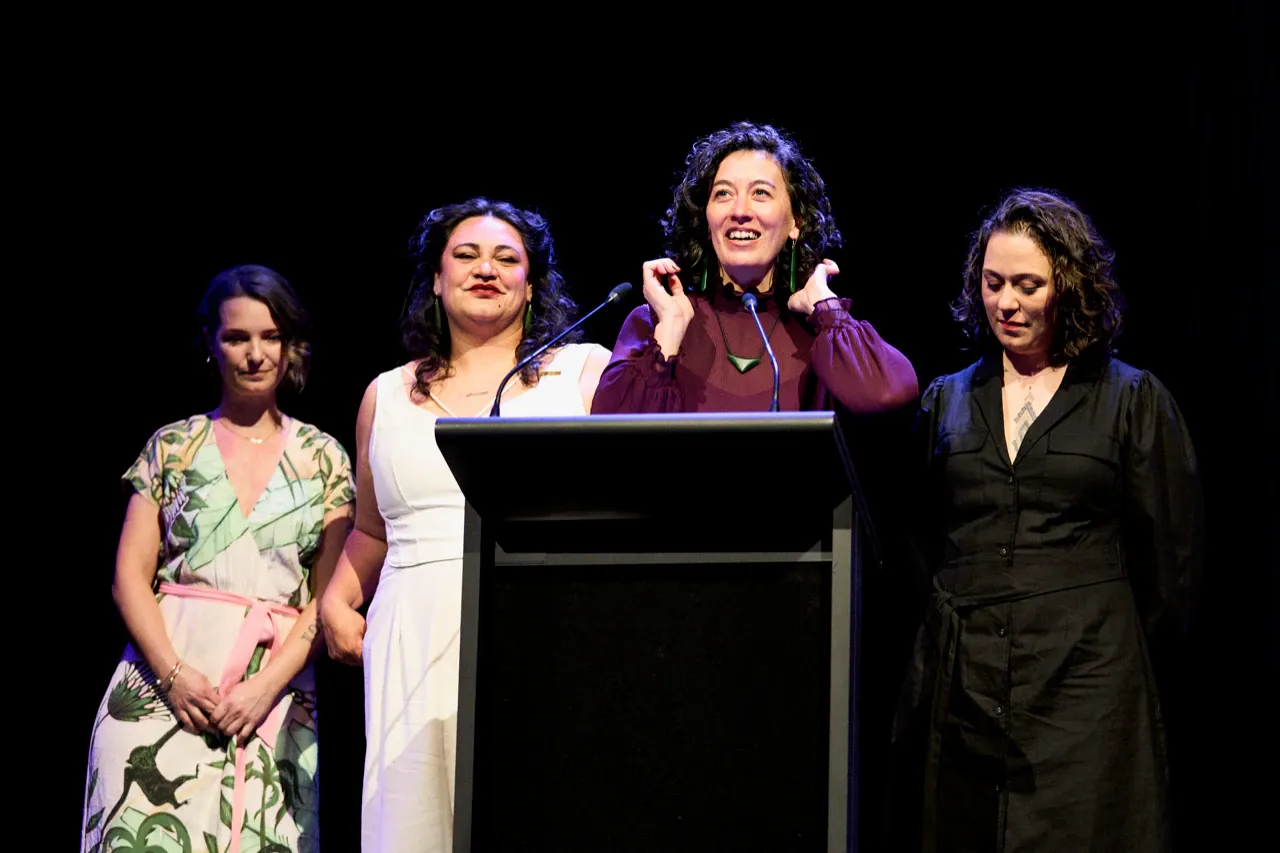 "We've been working together for ten years. In 2017, I think, we went and stayed with Maureen in a mentor/mentee capacity.
"We exchanged time and knowledge and always had this idea that one day we would collaborate - all of us - but it wasn't until 2020 that we made it work.
"Atapō was the first time we came together."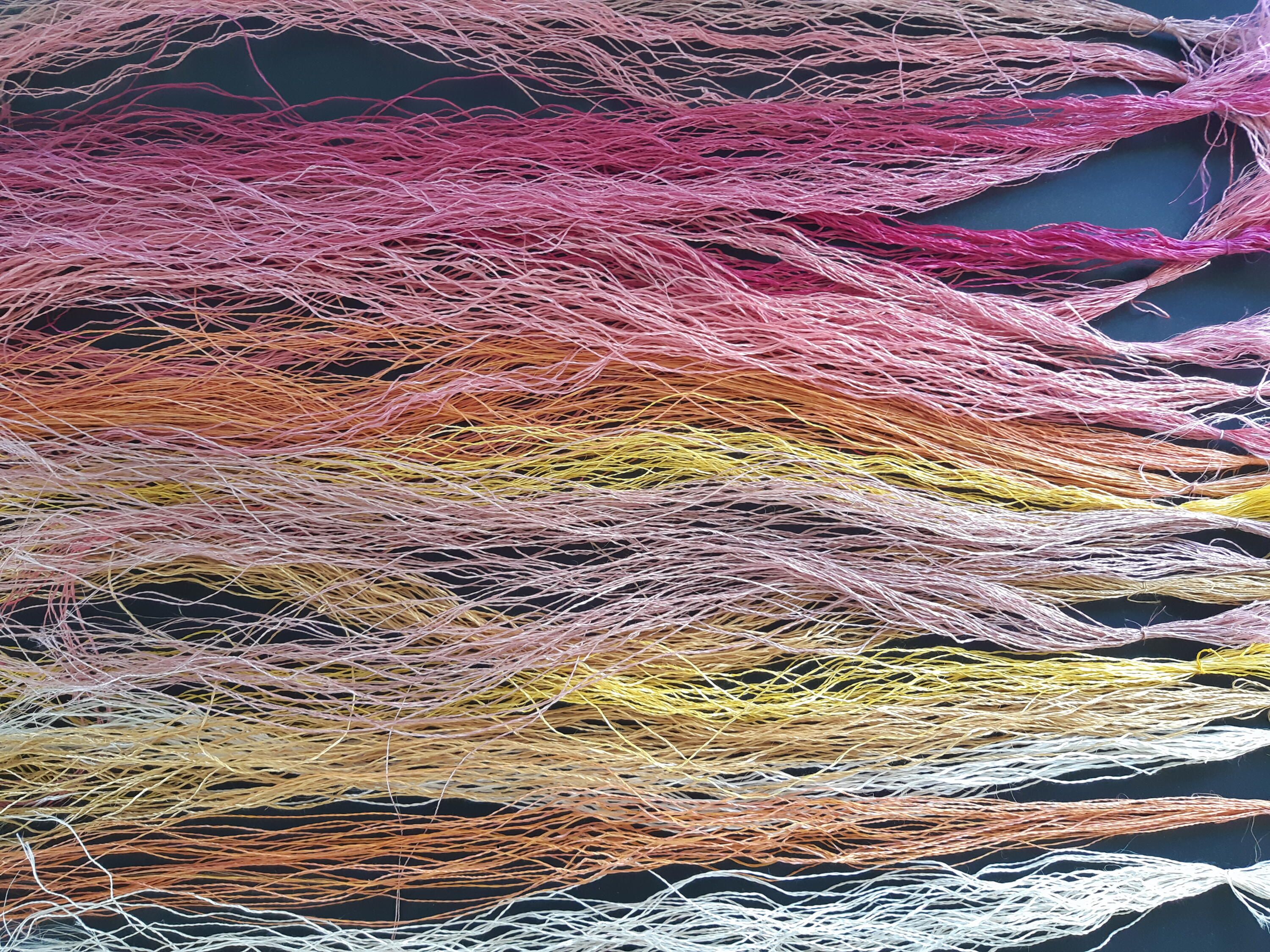 Atapō, (2020) dyed muka, work in progress. Photo: Supplied.
They feel they've gained confidence in their fearless approach, thanks to the ground-breaking installations of their inspiration.
"I think it's contextual really …heaps of your installations are outrageously bold, Maureen. (everyone laughs) Pretty wild - growing up and coming through arts school looking at those, they seemed very brave and bold.
"It's a really beautiful process once we had our technique down where we could just sit there and work and talk. That was a really special time … we got to just hang out.
"All the stories that are embedded in the work, just sharing kōrero with Maureen and between us."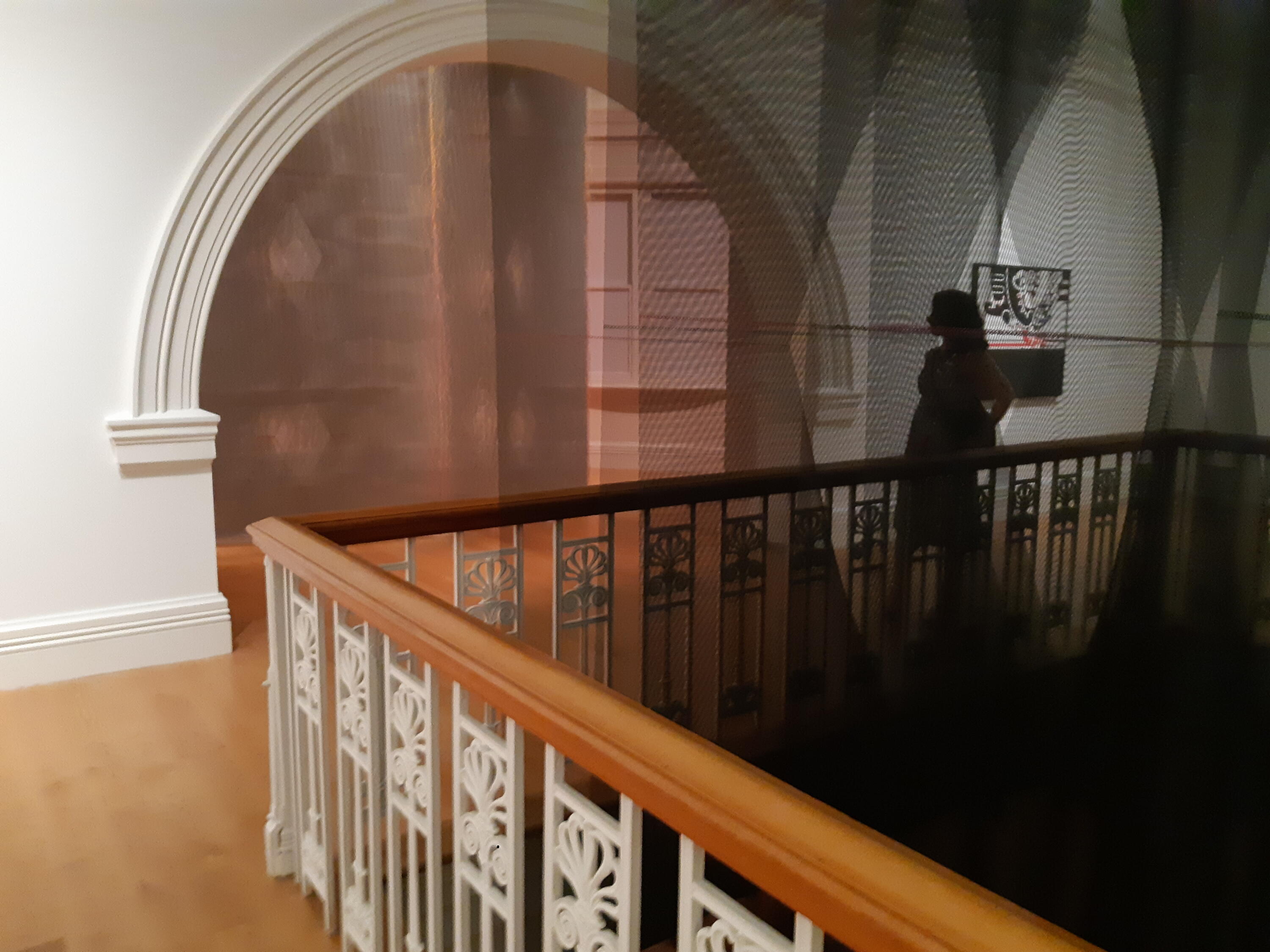 Atapō (2020), upper level. Photo: Supplied.
Mata Aho are extremely well traveled and in demand internationally, everywhere from their German breakthrough, to Ottawa, Hawaii and even Dhaka. Singapore, London, Paris and South Korea too .. although an Australian trip was skittled by COVID.
"It's great for knowledge sharing. We get to see some amazing art works and get to meet those artists. we're really grateful.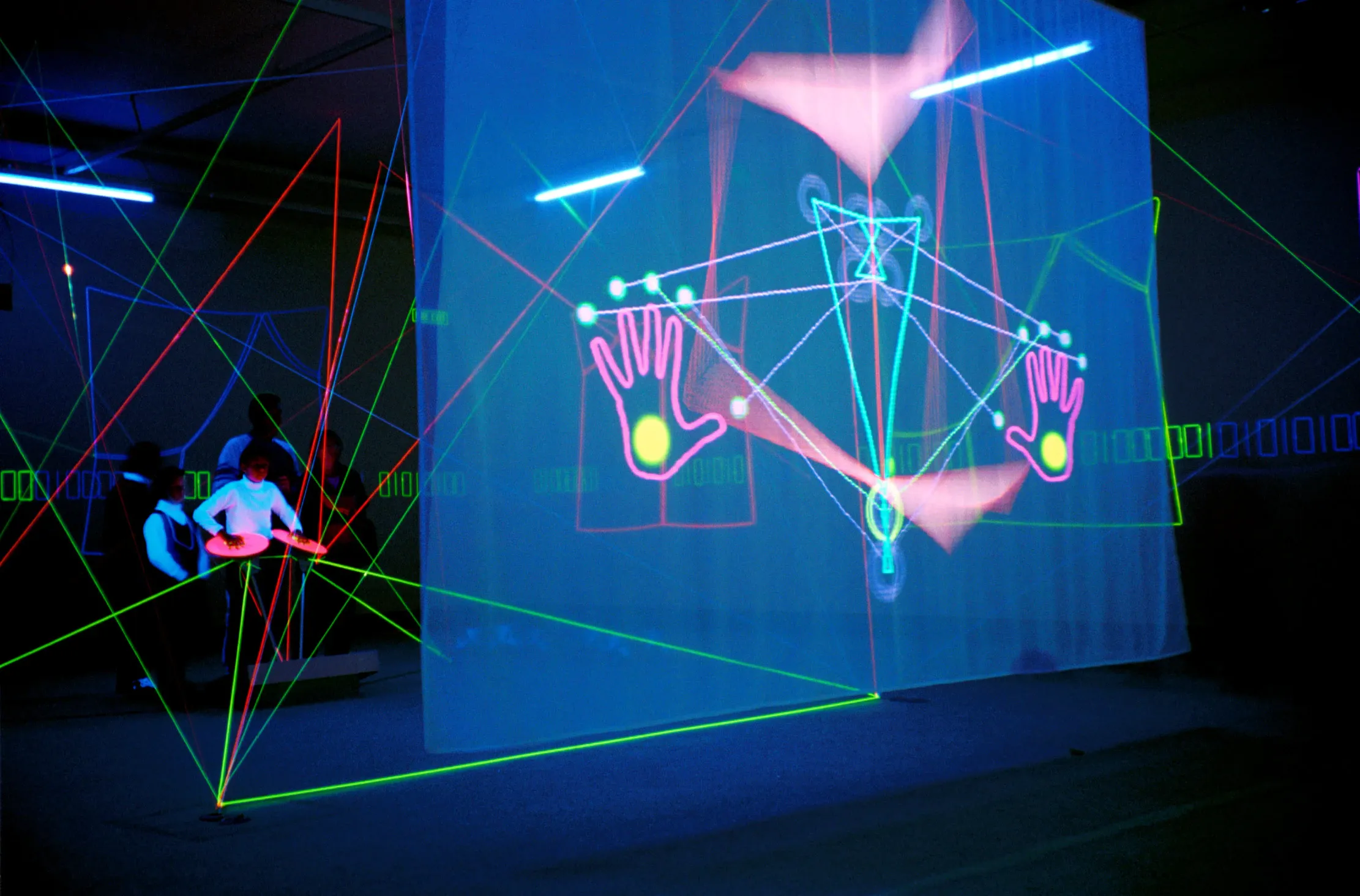 Maureen Lander (2000) Digital String Games II. Photo: Supplied.
"We get to meet other indigenous artists which I think is so special - the similarities we have as indigenous people."
Lander's traveling days are now over, and she's respectful of the sacrifices her mentors have made to show their art installations internationally.
"Pretty much .. not that keen on traveling these days, especially with COVID. I love keeping up (with the collective) and what they're getting up to.
"It's difficult for them too with young families. I'm sure the kids are going to gain from it though, those who've been able to go.
"Erena's child was pregnant during Atapō … was there for the Walters Prize and in Auckland for the Laureates. She's number five. The oldest kid is 16."
There's laughter from the group too, drawing comparisons with their musical counterparts.
"It's like bands touring you know … they have to juggle their families. Sometimes we call ourselves an art band. But there's no vocals, drummer and guitarists … we all play the same instrument."
Lander is happy at her adopted home of Whangamatā these days, although she misses her home town of Rawene and the Hokianga in Northland - "I'm close to family there".
She now lives a distance from the beautiful coastline, as climate change and legend intertwine to threaten the sand binding plant treasured by Māori weavers.
"I'm really interested in that actually. Some of my work coming up will be about the contested space between the land and the sea.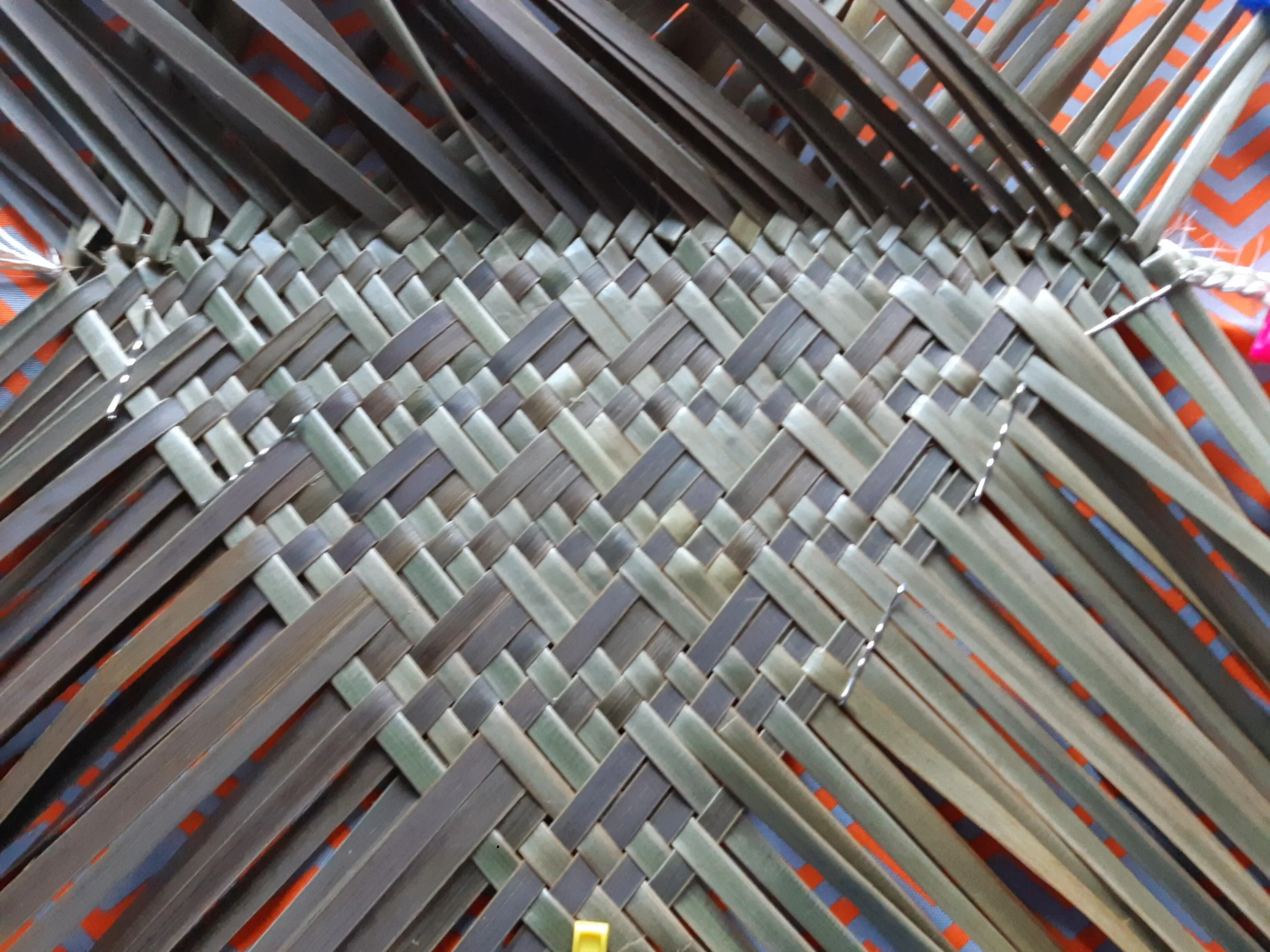 Mauren Lander, (2020) Wheturangi in progress. Photo: Supplied.
"I've worked with pingao as well - and that's like the canary in the mine - it's the first to go once you get inundation. It grows there on the dunes."
She recounts the legend of Tangaroa and Tāne in the opposing realms of the oceans and the land - "the whole foreshore and seabed act added more fuel to the fire really, underpinning what I've been doing."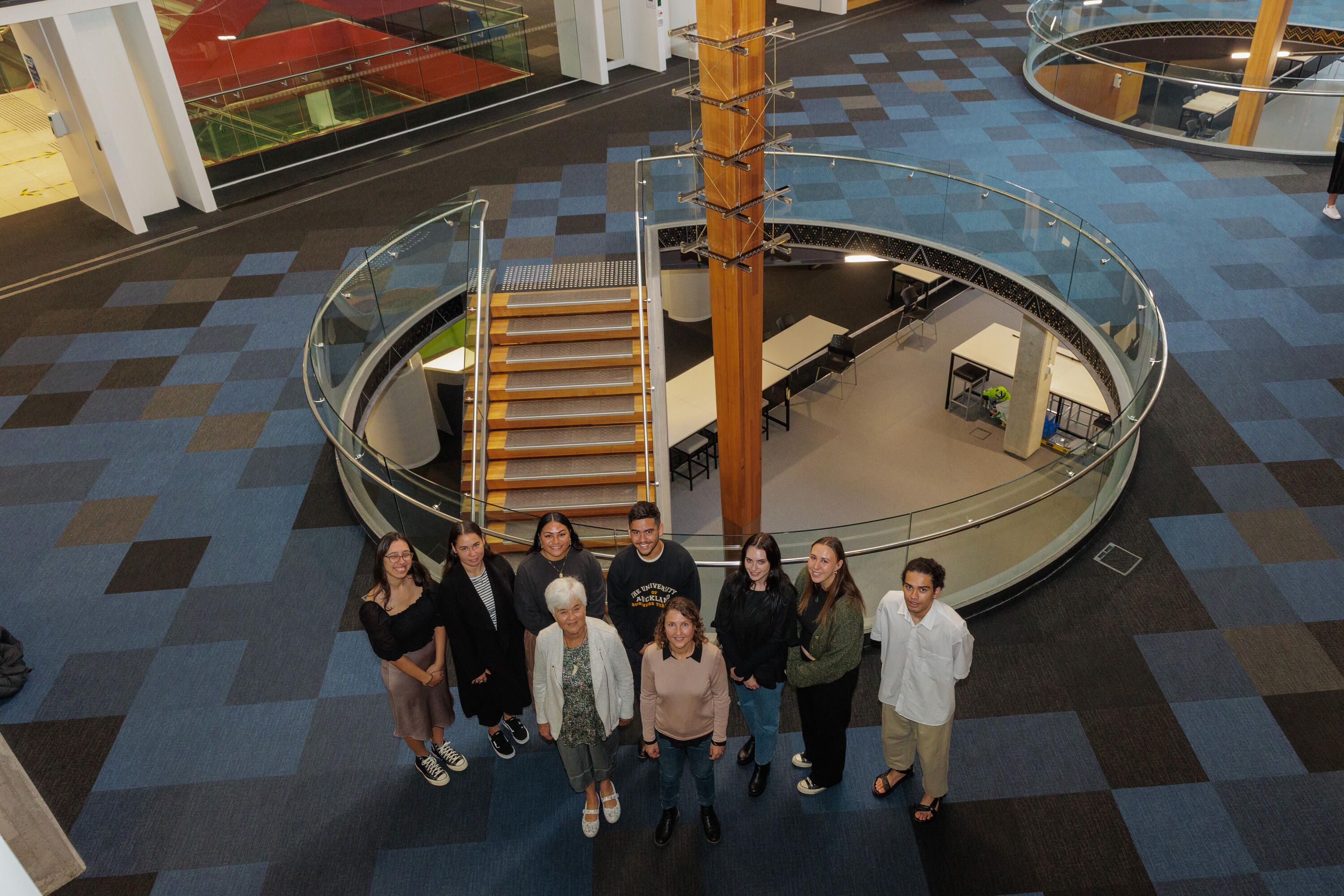 Mauren Lander with student collaborators in front of Pou Iho (2022). Photo: Supplied.
There's also her ongoing influence at Auckland University, where she's worked with students for her installations in the atrium of the impressive Engineering building, and six weavings adorning an entrance of the historic clock tower.
The latest installation from Mata Aho called Tikawe will be dominating the space in the foyer of the Christchurch Art Gallery Te Puna O Waiwhetu from 14 September.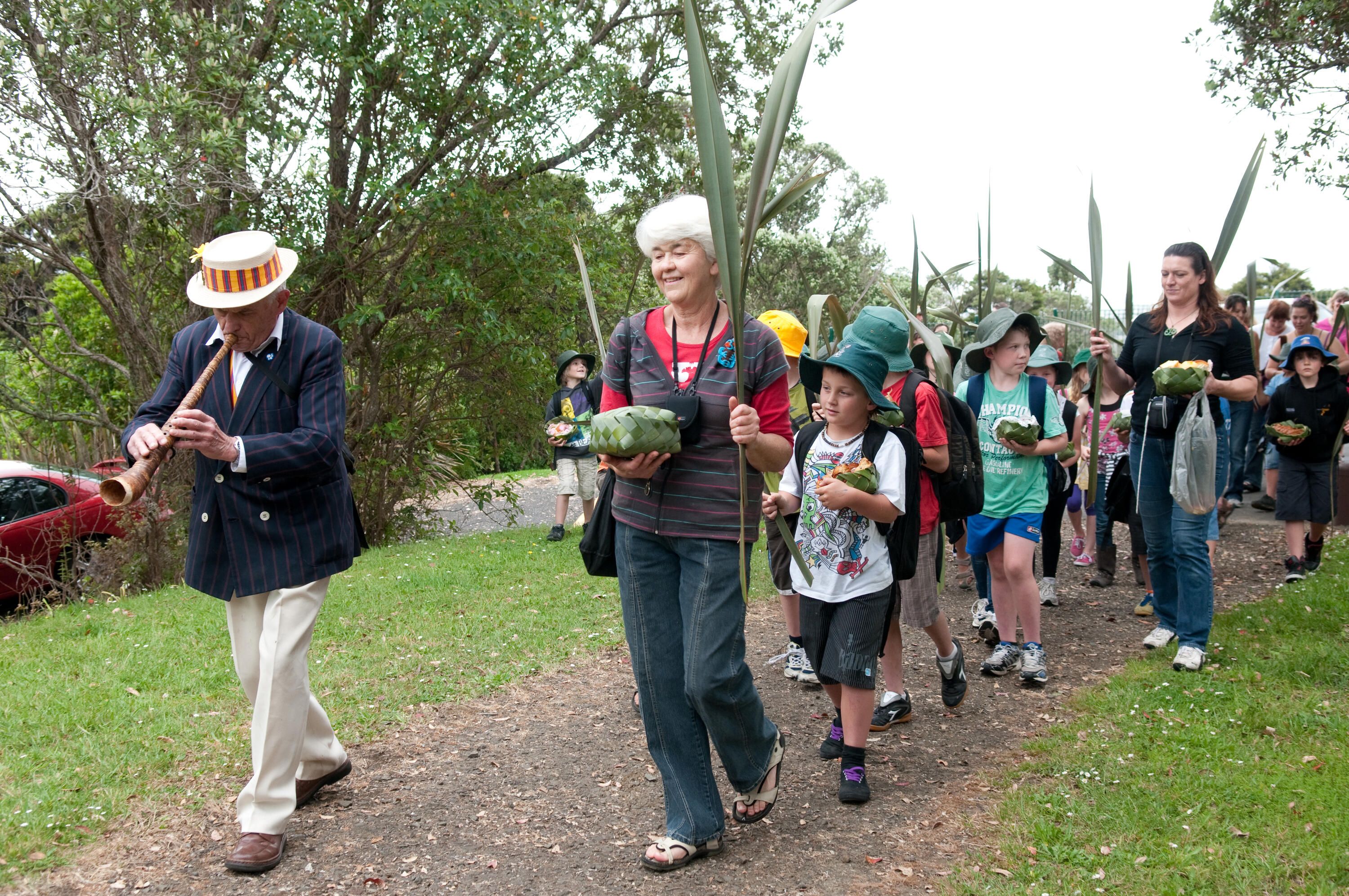 Photo: Supplied.
Maureen Lander's influence will be central to the work which features multiple braided strands of harakeke that descend from the gallery skylights, including Kawe, which were often used to carry heavy loads from one place to another.
"It's wonderful to be my age .. the most exciting thing is the future, what I may still be able to do rather than what I've done in the past", she revealed to the artists, whānau and supporters at the Laureate Awards ceremony (below).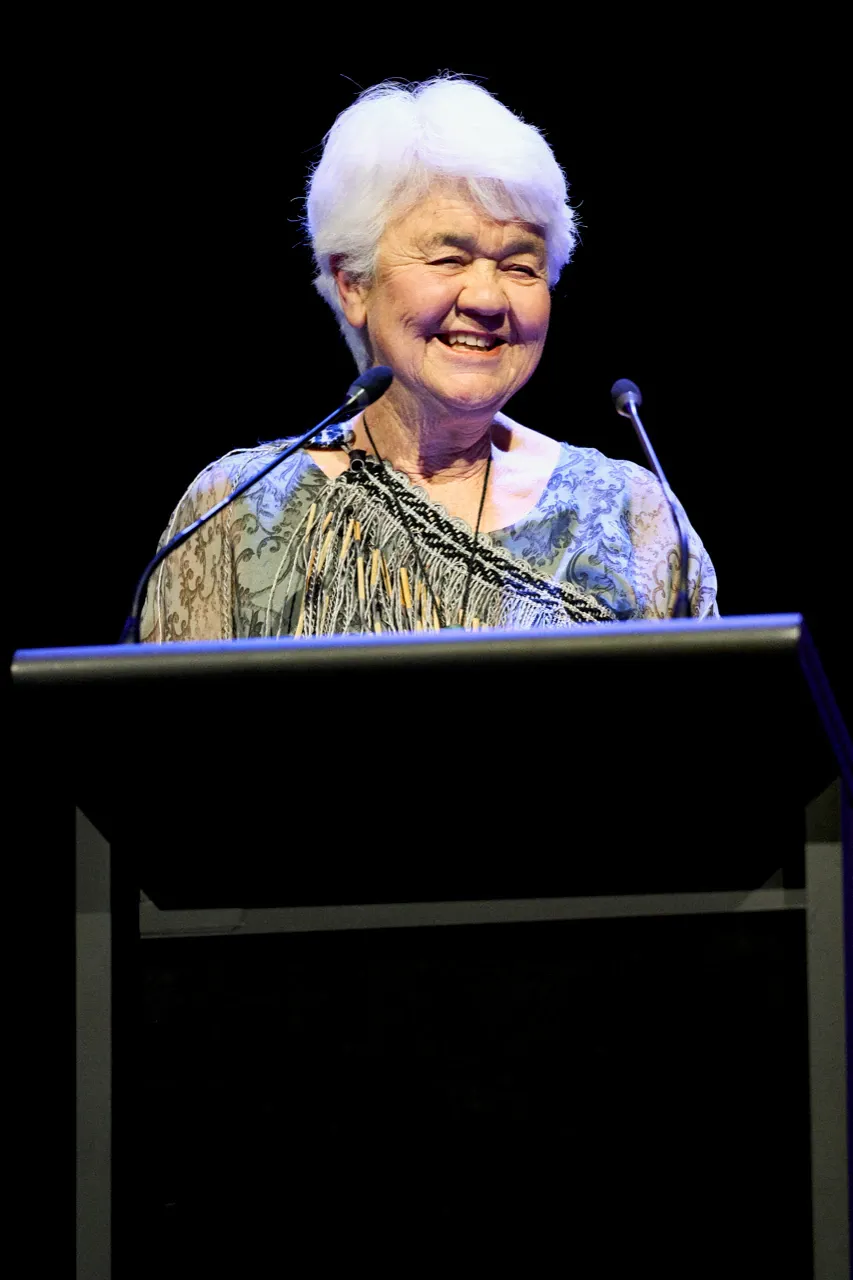 "The biggest excitement has been sharing this with Mata Aho. They have breathed new life into me. They are bolder and braver than me - I'm honoured to be able to work with them for the last few years.
"It's the way of the future."