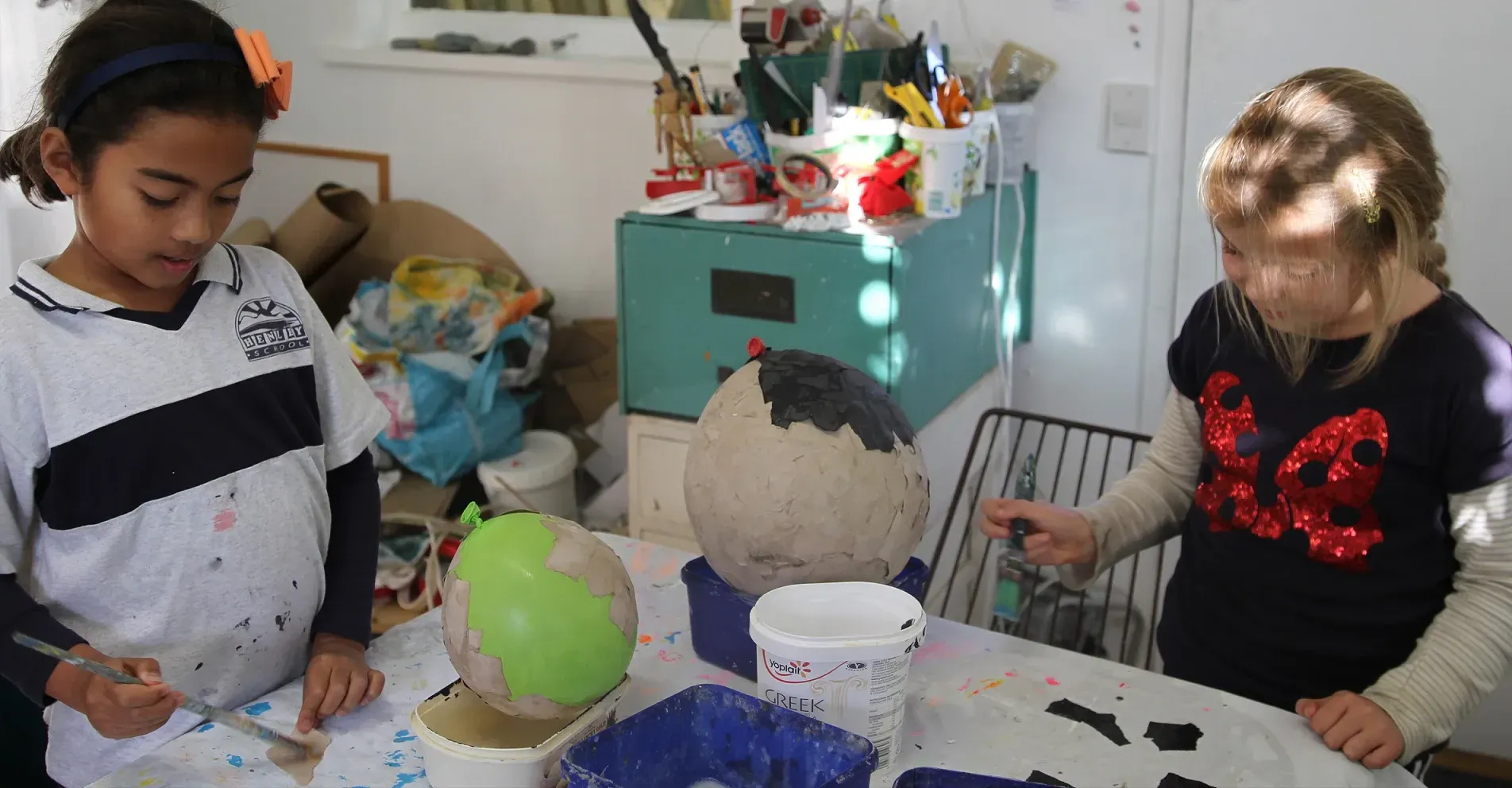 Nelson artist Larisse Hall has a spaceship in her carport. It's a definite eye-catcher, but as a bunch of kids arrive for their weekly art class, they are unperturbed. They're more interested in the fluorescent paints needed to complete their projects.
In her third outing for Light Nelson, Hall will create two works. The first, The Fantastical Tea Party, not only enlists the help and artistic prowess of her art class attendees but also a whole host of local businesses and community groups. It's Hall at her best, coming up with an idea, encouraging and galvanising the enthusiasm and skills of those around her, but also having the confidence to experiment with ideas and opportunities as they present themselves.
Already a practising visual artist, Hall exhibited her first light sculpture at Light Nelson 2014. Captivated by the colour and energy of light she became intrigued with infusing light into her paintings. After much experimentation, she achieved the desired result and now creates light- infused paintings and sculpture. The last few years have had their successes – she was long-listed in the 2015 Aesthetica Art Prize (UK) where she was selected to exhibit digitally for a week; as a finalist in Art Venice Biennale IV (part of The Biennale Project); and recently, she was part of the Night Lights exhibition at Auckland's MOTAT.
Hall's art classes are run from her art studio, with both unfinished and finished artworks at every turn. At one stage, young artist Jake wants to demonstrate the glowing abilities of his General Grievous – an intricate little caped antagonist who, for no apparent reason other than Jake's imagination, also doubles as a Bride. We huddle into the darkened hallway, using a black light to best test various works-in-progress. Grievous/Bride is coming along nicely.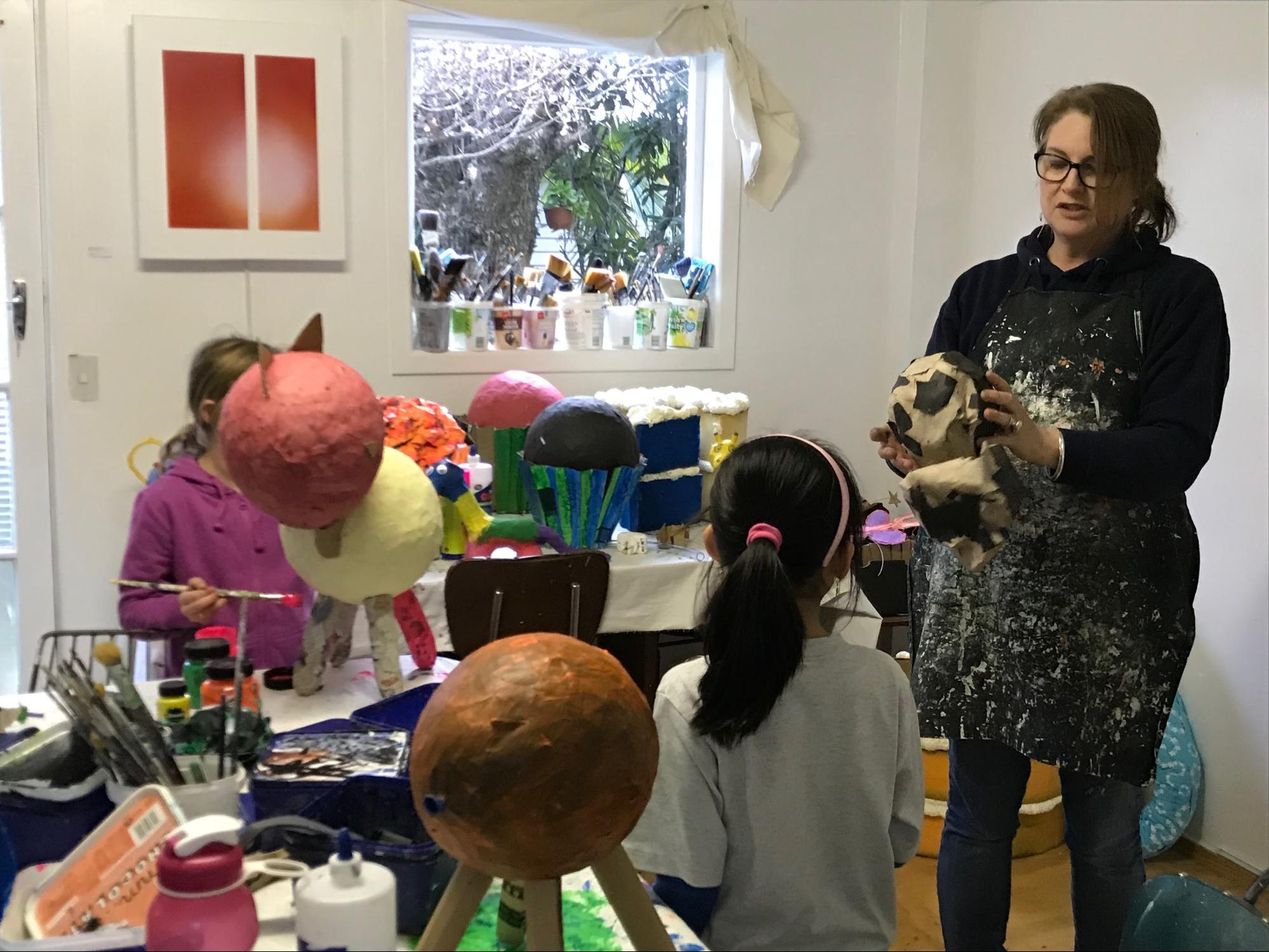 The Fantastical Tea Party will take the form of a long table under the trees in Queens Gardens as part of Light Nelson, a biennial event that has an anticipated audience of more than 50,000 over five nights. At its core, Light Nelson is a community event, dreamt up by a group of artists who wanted to experiment with art, light and science. It was always a collaborative venture, involving an impressive range of individuals, community and commercial groups.
Hall's project is the perfect example of how the artists in Light Nelson can rally support. She rattles off a list of local businesses, schools and Community Art Works all mucking in with materials, building, and general hands-on, can-do.
The end result is the perfect photo opp with the giant picnic table set with a mind-blowing array of teapots, cups, cakes and cats, as well as other sundries (General Grievous' rsvp is still outstanding), all carefully coated in a delectable array of fluorescent paints.
As mentioned, The Fantastical Tea Party is one of two projects Hall has for Light Nelson. The other is Let's Dance, an interactive work that combines giant piano keys with the classic jukebox. Again, Hall enrolled the help of lighting technician Chris Mason, gleaning and honing the technical skills a visual artist might need to create an activated audio installation. It will be interesting to see how Hall's interactive works might, in turn, infiltrate her own practise.
Larisse Hall www.larissehallartist.com

Light Nelson 6-10 July www.lightnelson.co.nz