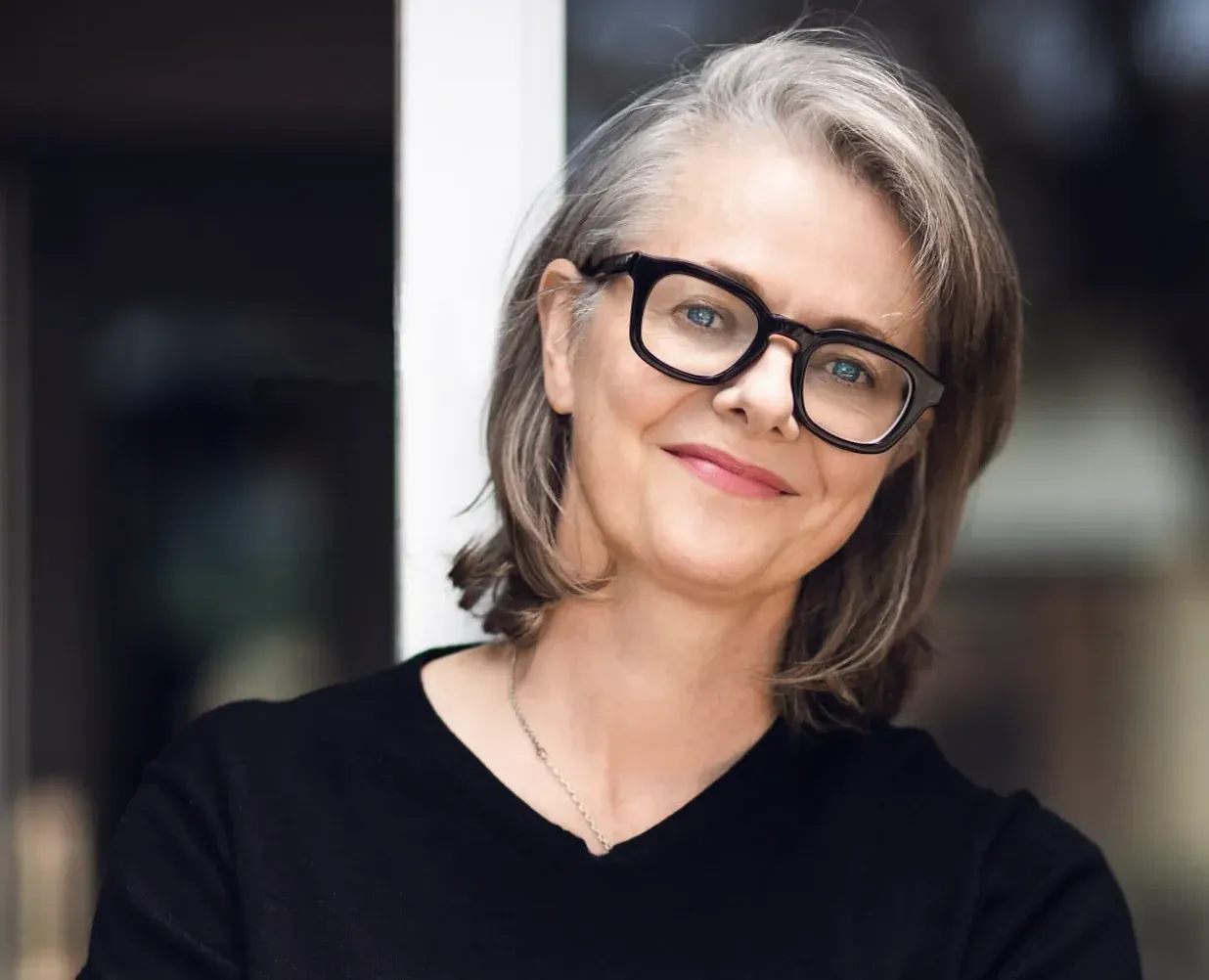 Sportspeople and Pandemic leaders dominate the headlines for the final accolades handed out for 2022 - the New Year's Honours list - but there is a strong contingent of creatives who deserves to be celebrated.
The biggest accolade handed toward the arts is the announcement of freshly minted Dame Miranda Harcourt for services to the screen industry and theatre.
Her continuing contribution to the performing arts is exemplary and, it would seem, genetic. She follows her mother, performer Kate Harcourt into the exclusive Damehood status, while father Peter and brother Gordon also had successful broadcasting careers. Along with esteemed director and playwright husband Stuart McKenzie, Dame Miranda's love of acting has been passed to her daughter and in-demand actress Thomasin McKenzie, with Davida and Peter McKenzie rounding out a talented trio of creative offspring.
Dame Miranda's reputation as an award-winning actor, acting coach, producer, director and writer is a powerhouse one - and she has always been vocal in her support for the industry and her peers.
This year's 2022 KEA Supreme Award winner for New Zealanders making a difference for their compatriots on a global scale, Dame Miranda has used her skills to build up others as well as building her own remarkable body of work. From her stint as head of acting at Toi Whakaari NZ Drama school, she now works globally with leading directors and actors. Her list of clients have been nominated for and won BAFTAs, AAFTAs, Golden Globes, Emmys and Academy Awards. She is founding tutor at Rātā Studios in Wellington and continues to champion New Zealand talent on the world stage.
She has also been honoured with the Achievement in Film Award at the Women in Film and Television Awards and the Art and Culture gong at the Women of Influence Awards.
One of the three newly announced Knights has also had a strong influence in the creative community.
Sir Haare Williams has been recognised for services to Māori, literature and education - which include his award-winning debut as a writer, with Words of a Kaumātua taking out the te reo Māori category at the 2020 Society of Authors' Heritage Book Awards.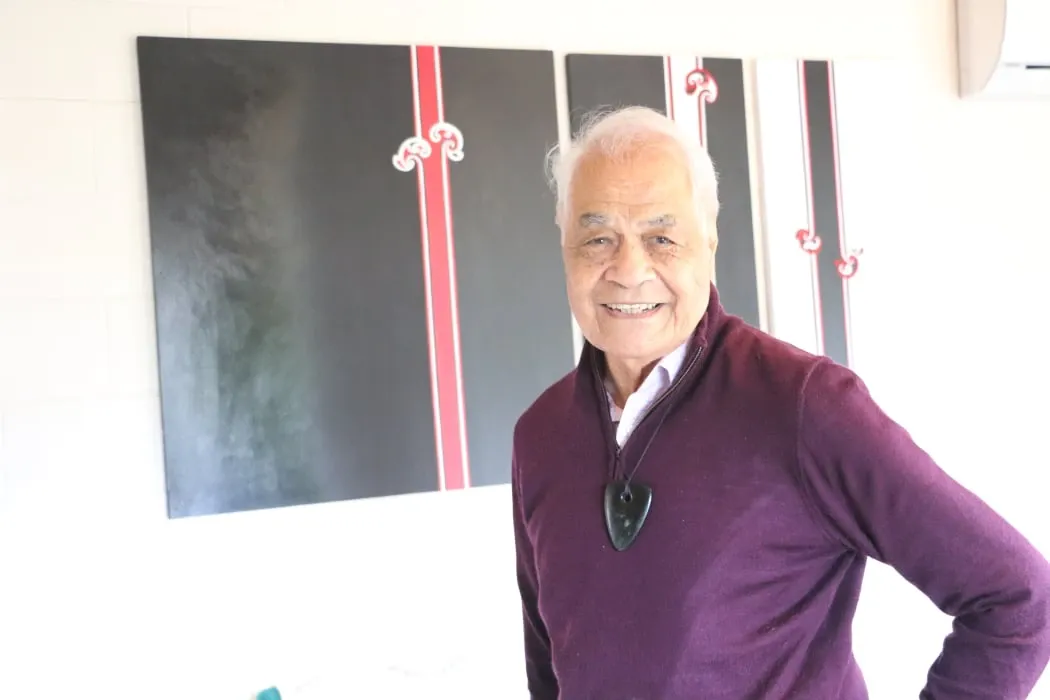 Sir Haare Williams. Photo: RNZ/Justine Murray.
A pioneer in Māori broadcasting as the General Manager of Aotearoa Radio, Sir Haare co-founded the New Zealand Māori Artists and Writers Association, later Ngā Puna Waihanga, and was the inaugural President for nine years. He is Kaumatua of the Kotahi Rau Pukapuka initiative launched in 2019, which aims to produce 100 great books in te reo Māori.
Another to play an important part in te ao Māori is new Companion of the New Zealand Order of Merit (CNZM) Trevor Maxwell. He has been Chair of Toi Māori since 2018 and a previous Kaupapa Māori Director of Tourism New Zealand, as well as a member of the New Zealand Māori Arts and Crafts Board and Chair of Opera in the Pā. Maxwell was awarded Ngā Taonga Toi a Te Waka Toi – Te Tohu Whakamanawa o Te Matatini for outstanding contribution to Kapa Haka in 2021.
Speaking of Māori performing arts, husband and wife duo Tawhiri and Kaa Williams are both celebrating CNZMs - among their contributions, they are senior judges of Te Matatini performing arts at both Auckland regional and nationally.
There are some major creative contributors in the last Office of the New Zealand Order of Merit (ONZM) category.
Elizabeth Caldwell is being lauded with an ONZM for services to the arts, described by The Big Idea's Andrew Wood as "one of the finest directors of any art institution in this hemisphere and held in the highest regard nationally and internationally."
Her leadership has touched many corners of the sector, with roles at many leading institutions across the country. They include Head of Art at Te Papa, Director of the Dunedin Public Art Gallery, Curator at the Aigantighe Art Gallery in Timaru and Christchurch Art Gallery Te Puna o Waiwhetū and is currently Director Art and Heritage Te Ringa Auaha at Experience Wellington.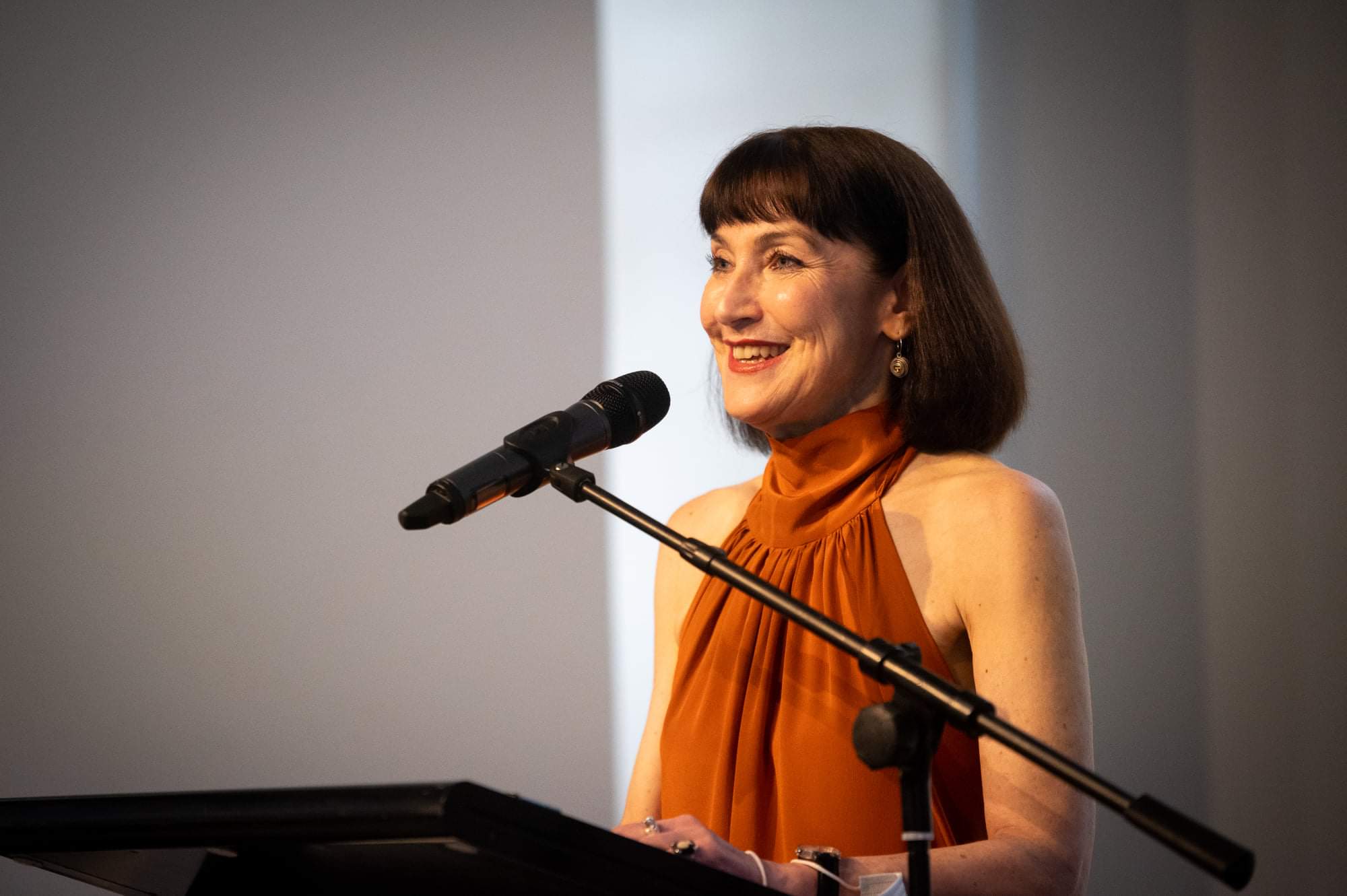 Caldwell (above) played a significant role in driving key visual arts initiatives at CreativeNZ Toi Aotearoa, including leading New Zealand's first two exhibitions at the Venice Biennale in 2001 and 2003, international residencies, and the foundation of Objectspace. The latter project established a signature venue for contemporary craft/object art practice in New Zealand.
Hugely admired comedian and performer Michèle A'Court has been elevated to ONZM for services to the entertainment and comedy industries, after more than 30 years on stage, screen and radio.
A'Court established the New Zealand Comedy Guild, still the only industry body globally solely representing comedians, serving as its inaugural Chair from 1999 to 2006 overseeing the setting of professional rates for New Zealand comedians and the establishment of the New Zealand Comedy Guild Awards. She has been a trailblazer for women in television, print media and the live stage, challenging the status quo, championing marginalised voices and presenting women's experiences. She has advocated for access and safety within the comedy community, driving necessary change across the sector. She has provided practical assistance to many New Zealand comedians to help build their careers and the industry.
Another of the country's leading funny people, Dave Fane's tenure as a performer also dates back three decades.
Part of the pioneering and barrier-breaking Naked Samoans, Fane has become famous in Aotearoa for his roles in the Sione's Wedding films, as well as other iconic shows like Outrageous Fortune and Bro' Town.
The 2016 CNZ Senior Pacific Artist award winner, Fane has sought to extend possibilities for Pacific performing artists and has worked to create accessible experiences and pathways for the next generation of creatives.
This year's recipient of the Legend accolade at the New Zealand Television Awards, Janine Morrell-Gunn's ONZM comes for services to children's television and the community - in a career that has bright smiles to faces and put creative sparks in the minds of young people for over 35 years.
From working as a producer on The Son of a Gunn Show to founding WhitebaitMedia that has created more than 6000 hours of homegrown content, including institutions like What Now, Morrell-Gunn's contribution has been immense. She was TVNZ's Executive Producer of Children's Productions, served on the Board of Women in Film and Television and the Screen Producers Guild among many other community-driven leadership roles.
Fellow ONZM recipient Pānia Papa has supported revitalisation of te reo Māori as an award-winning television presenter, Māori language consultant, curriculum and resource designer, translator, and editor for the broadcasting industry and education sector.
As well as driving te reo Māori educational shows Ako and Ōpakion Māori Television, Papa has produced Māori versions of cartoons such as Spongebob Squarepants and Dora the Explorer, has translated 12 children's books into te reo, composed more than 40 waiata and authored the children's lullaby anthology 'Pita Mata'. She was a founding Trustee of the charity supporting the Kotahi Rau Pukapuka plan to publish 100 books in Māori over 25 years.
Similarly, Lisa Taouma can now add ONZM to the end of her name for services to Pacific arts and the screen industry, which includes creating the Polyfest series and bringing visibility to Pacific youth with TV series Fresh.
Taouma created ground-breaking site The Coconet TV, which has connected Pacific peoples across the globe and is recognised as the premium online platform for Pasifika content in New Zealand. Her body of work has been instrumental in building an audience of Pacific peoples who expect and want to see themselves represented on screen, as well as developing strong training models and employing up-and-coming Pacific talent in front of and behind the camera.
On top of that, the award winning documentary maker been a member of the Pacific Islanders in Film, Television and Online (PIFT) Board, the Pacific Islands Media Association New Zealand, Hawaii Film Association' 'Pacific Islanders in Communication', CNZ Arts Panel from 2001 to 2019, and Tautai Arts Trust Board Member.
Among those also being celebrated with ONZMs are Professor Rangi Matamua for services to Māori astronomy and Māori culture - a widely admired advocate for te ao Māori and considered by many the leading voice on all things Matariki - and published author Professor Edwina Pio for services to ethnic communities.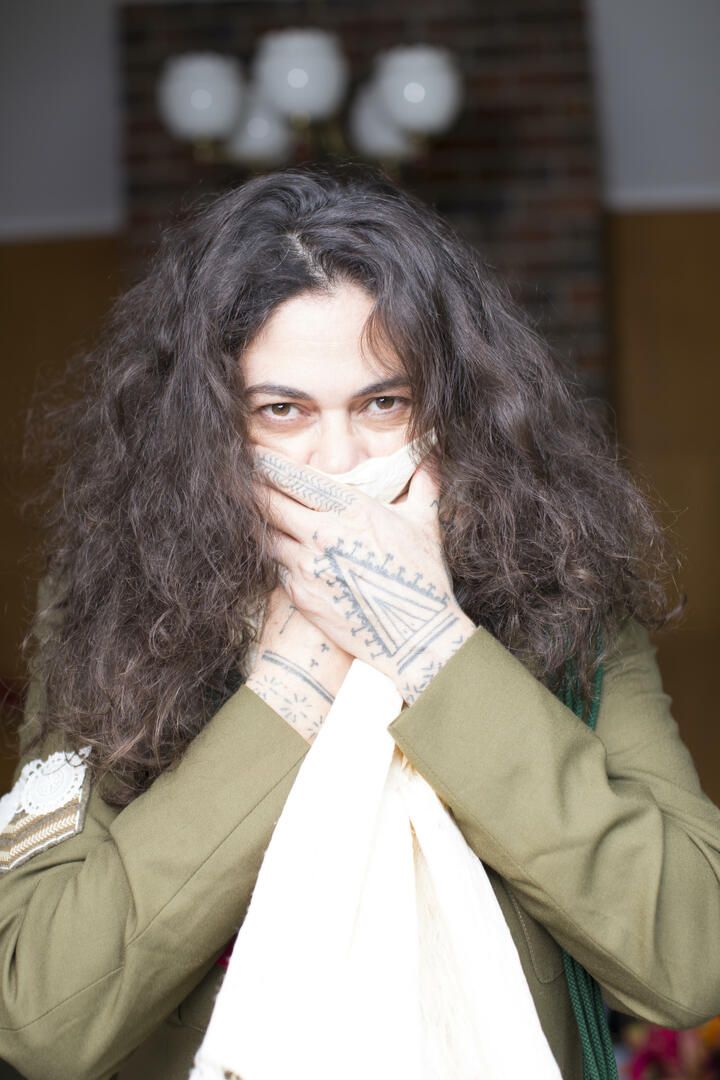 Rosanna Raymond. Photo: Pākē Salmon.
This year's ​​Member of the New Zealand Order of Merit (MZNM) cohort includes Rosanna Raymond for services to Pacific art.
A multidisciplinary artist, former Tiopoto mentor, curator, founding member of the SaVĀge K'lub and one of the founding members of the Pacific arts collective the Pacific Sisters, Raymond's installations range from spoken word to body adornments, interweaving traditional Pacific practices with modern styles and techniques. Along with her fellow collaborators, She's in high demand for her creative vision around the globe.
The prodigious arts and culture writing and editorial contribution of Dr Lana Lopesi has also been highlighted with a MNZM. Among her many posts and achievements in a career that will only continue to grow, Lopesi has played crucial editorial roles with Metro and The Pantograph Punch (where is still the board Co-Chair) and was Editor-in-Chief for CNZ's Pacific Art Legacy Project - a digital-first Pacific art history, told from the perspective of the artists.
LGBTQIA+ advocate Dr Gina Cole has been honoured for services to literature. Cole has published two books and a number of other short stories and articles, and been in-demand as a speaker and curator at writers festivals - including as the inaugural Pasifika curator at the Auckland Writers Festival in 2021.
After more than half a decade contributing to her community, Marilyn Kohlhase has achieved MNZM status for services to Pacific arts and education as a member of the former CNZ Arts Board and the Chair of the Pacific Arts Committee - a statutory body under the now Arts Council of New Zealand Toi Aotearoa.
She is also the co-founder of Okaioceanikart, the first Pan-Pacific Arts Gallery based in Auckland and was inaugural Chair of the Pacific Advisory Group for the Auckland War Memorial Museum.
Sefita Hao'uli has been welcomed into the MNZM club for his influential role in the development of Pacific broadcasting in New Zealand for more than 30 years.
He was Chairman of CNZ's Pacific Island Committee and member of the Arts Board and was heavily involved in the formation of Radio station 531pi.
Another recognised contributor to the Pacific community, Lakiloko Keakea is now a MNZM tor services to Tuvaluan art as a master of the art of Mea Taulima - or 'treasures created by hand'.
Keakea is well known for her work with Kolose (Tuvaluan weaving), Fafetu, a decorative art piece in the form of a star, Laga (weaving of Tuvaluan mats), Tuvaluan traditional dancing skirts Titi Tao and Fou, the Tuvaluan traditional head garland.
Betty-Anne Monga's role as a musician and producer with award-winning Ardijah has already garnered plenty of awards, including the Industry Achievement Award at the Waiata Māori Music Awards, Album of the Year and Lifetime Achievement Awards at the Pacific Music Awards, and Female Vocalist of the Year at the New Zealand Music Awards.
You can now add MNZM to that list.
Mary Cornish has been recognised for services to the performing arts as an artist and educator at secondary and primary levels for more than 20 years.
From directing choirs to chairing the New Zealand Ukulele Trust, Cornish created the bi-annual In Our Beat festival, connecting local schools and their communities through the performing arts, still acting as Artistic Director and conductor.
Penelope Jackson's dedication to art crime research and visual arts has earned her a MNZM acknowledgement. She is a founding Trustee of the New Zealand Art Crime Research Trust, an organisation serving to map the history, extent, range of activity and increase knowledge of art crime. Jackson has also been Director and Curator of the Tauranga Art Gallery and is a published short story writer.
Dr Paul Maunder MNZM has played a key role in supporting arts and community development projects in the Wellington and West Coast regions, with a broad range of mediums including film, theatre and creative writing. As well as establishing a performing arts centre in Petone, he initiated the Blackball Readers and Writers festival and a West Coast writer's residency.
Charles Wilkinson's addition to the MNZM ranks comes for his tireless involvement in arts governance and the New Plymouth community.
He's been involved with the Taranaki Arts Festival Trust (TAFT) since 2006 and Chair for the past six years - overseeing the Taranaki Gardens Festival Charitable Trust, Tropfest short film festival, and WOMAD New Zealand Charitable Trust.
The Companions of the Queen's Service Order (QSO) have an arts influence as well, with CNZ Board Member Kura Moeahu recognised for a wide range of roles advising on tikanga and te ao Māori. Among his achievements, he helped develop CNZ's national strategy for Māori arts - Te Hā o ngā toi Māori.
TAFT Board member Hayden Wano is also now a QSO, as is Hawke's Bay Opera founder and life member Naomi Baker-Wenley, longstanding Auckland arts administrator and key force in the establishment of Q Theatre and The Rose Centre Geoffrey Clews, Kiribati community advocate and author Kinaua Ewels, Dunedin Symphony Orchestra Friends Chairman Richard Higham, New Zealand Trust of Mainly Music's veteran contributor Karen Morris, Tokelauan crafter Lomia Naniseni, 531pi presenters and producers Ma'a Brian Sagala and Nemai Vucago, Wairarapa Harlequin Theatre life member Patricia Smith, Hastings City Pipe Band life member and patron Mavis Tweedie and Hundertwasser Arts Centre volunteer Helen Whittaker.