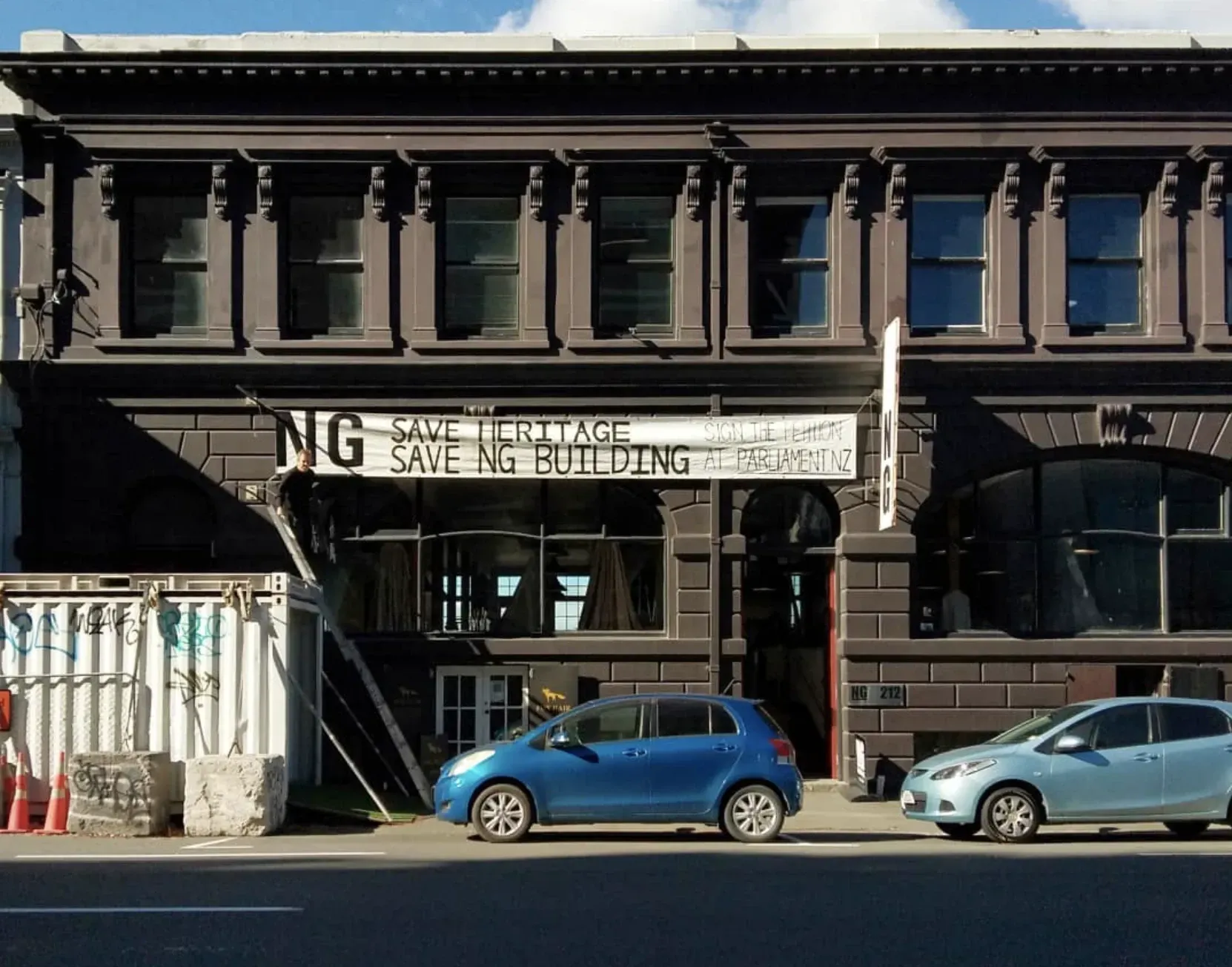 The Ng Building has been an important creative hub for Ōtautahi Christchurch since 2005.
While the Canterbury earthquakes couldn't squash its spirit, the Crown is trying its level best to. For every bit of steel that's gone into this building's restoration, there's an irony even stronger in its potential demolition.
On Tuesday 22 February 2011, the Ng building's wide glass windows kept watch over Madras Street as they had for over 100 years.
At 12:51pm, when the 6.3 magnitude earthquake struck Canterbury, just one block north of Ng, the CTV building collapsed killing 115 people. The Ng building's co-owners, Sharon Ng and Roland Logan, still remember the dust from that day.
Following the disaster, the pair decided to restore the Ng building. It remained mostly intact thanks to earthquake strengthening Roland had undertaken, and possibly because of its strong 'bones' – solid kauri beams and floorboards 50mm thick.
Bringing creativity back to CBD
Just six months post quake, on generator power, and at considerable expense, the building was one of the first to reopen. As Madras street was still red-zoned, visitors had to enter from the back. Nonetheless, Sharon's business, Ng Boutique, began trading again and the entire space quickly became a haven for creatives who wanted to return to the CBD.
For several years Ng served as the Christchurch Art Gallery Te Puna o Waiwhetū 's temporary space.
Many different artists including Bill Hammond, Hannah and Aaron Beehre, Miranda Parkes, and Jason Greig held exhibitions there and others took up studio spaces within the building. Designers and architects moved in as well, Sharon and Roland resumed their exhibition program, with the Ng Building a beacon for Ōtautahi's artists, art community, and overall recovery.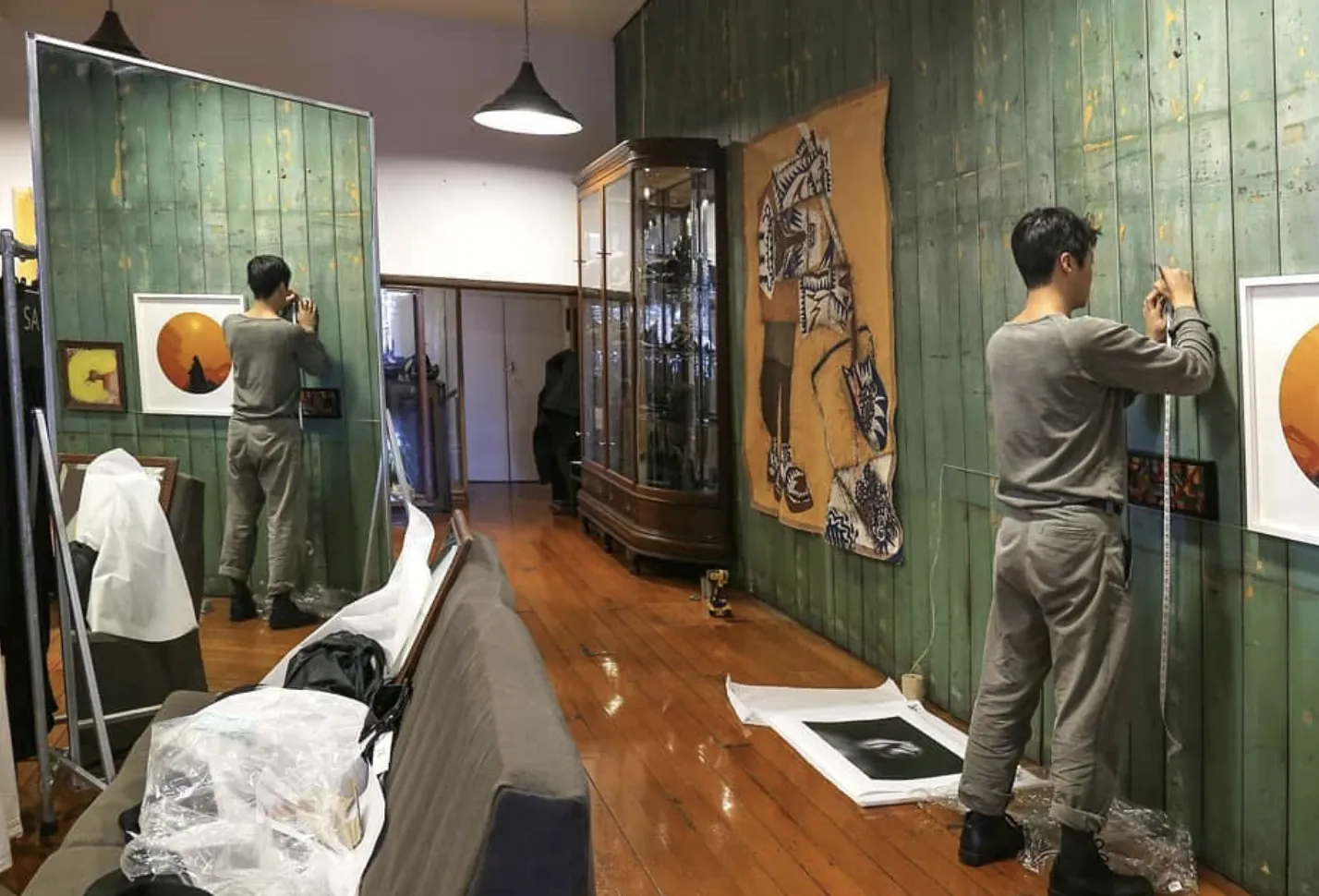 Ng's current exhibition being installed.
Pop into Ng now and you'll see that it's still a living work - not a traditional gallery, but a humming, dynamic creative space.
Every Ng space is activated, even the window displays. They change often but always seem to draw the eye in. Enter and you'll find that Ng is full of creative people. It tells the story of their work and that of the city's too.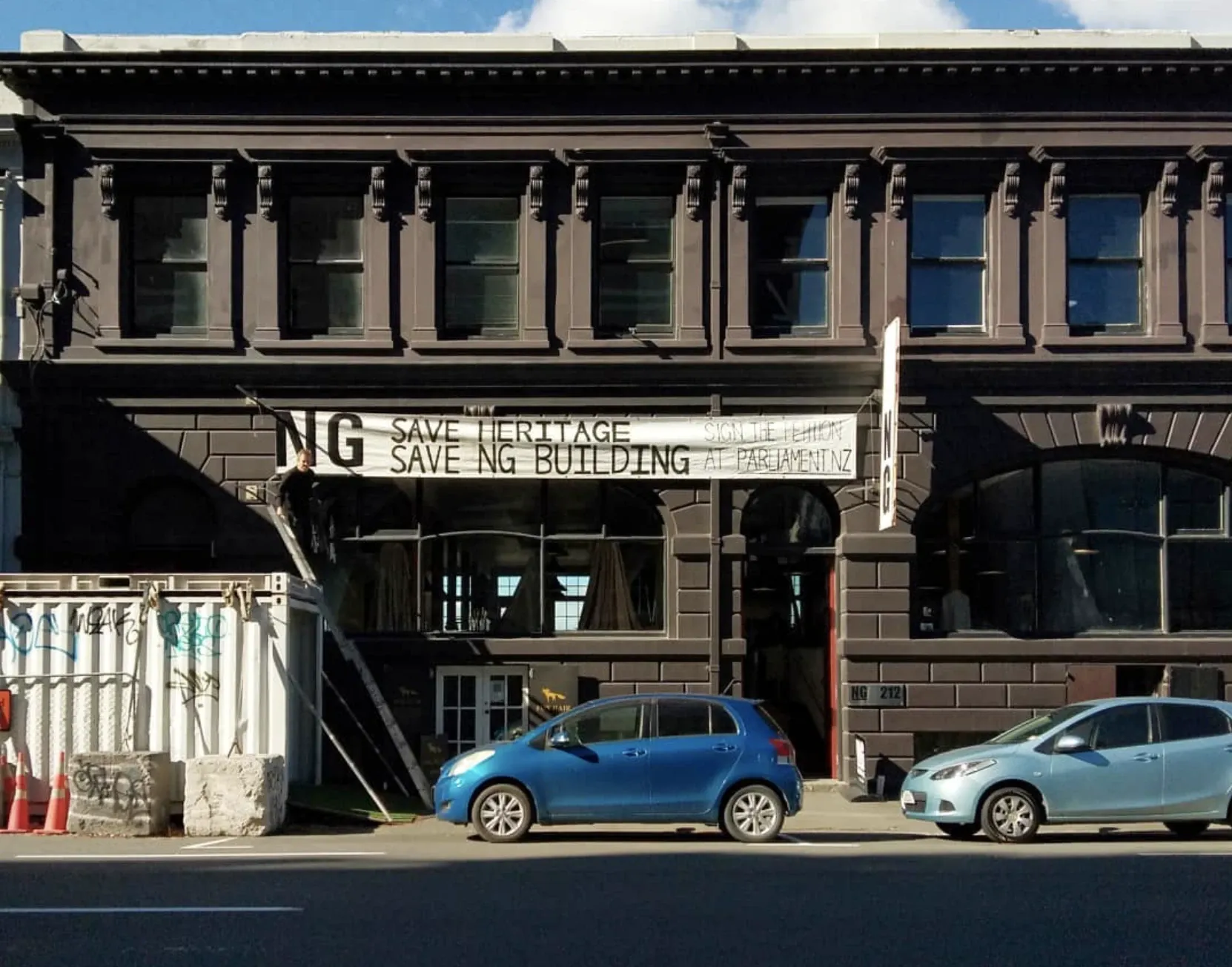 Ng Building today.
On top of its significance to the art community, Ng is also one of a very small number of heritage buildings that remain. As the last Edwardian style warehouse left here, it's a piece of architecture that won't be recreated if it comes down. Ng's historic value has been spoken for through various heritage awards and its economic value is equally hard to miss – thirteen different small businesses currently operate within it.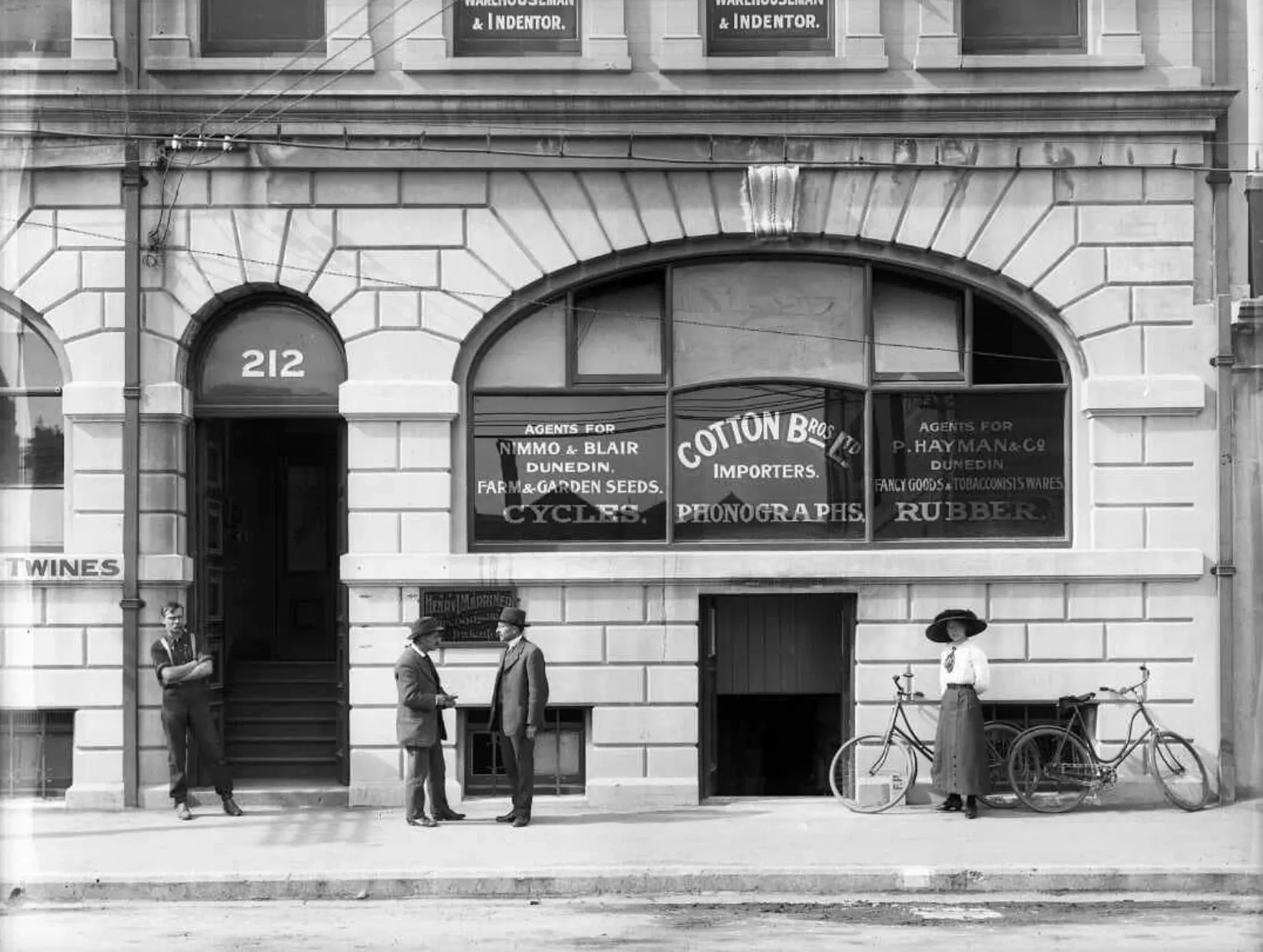 Ng is the last of the city's Edwardian style warehouses.
While Ng has been restored, its custodians have had to spend the last nine years trying to save it again – on paper.
D-Day looming
Ng is located along the outermost edge of the land that's been cleared for the city's new stadium. It's the last private building on the section and the Crown has been trying to acquire it for removal since 2012.
To be clear, Sharon and Roland are not anti-stadium. Since the start they've made every effort to work with the Crown to find a solution. At the end of last year, the stadium plans stood to incorporate Ng which seemed easy enough. It's hardly in the way and the stadium is still just a nimble digital rendering, after all.
Earlier this year however, things rapidly changed. Land Information New Zealand issued a compulsory acquisition notice under the Greater Christchurch Regeneration Act. Apparently if Ng is to remain, the stadium will have to be placed in a suboptimal position.
Demolishing a home of creativity, business, and history, without compensating its owners, is certainly suboptimal as well. And while this acquisition has been unsettling for Ng's owners, it's been unsettling for its tenants too.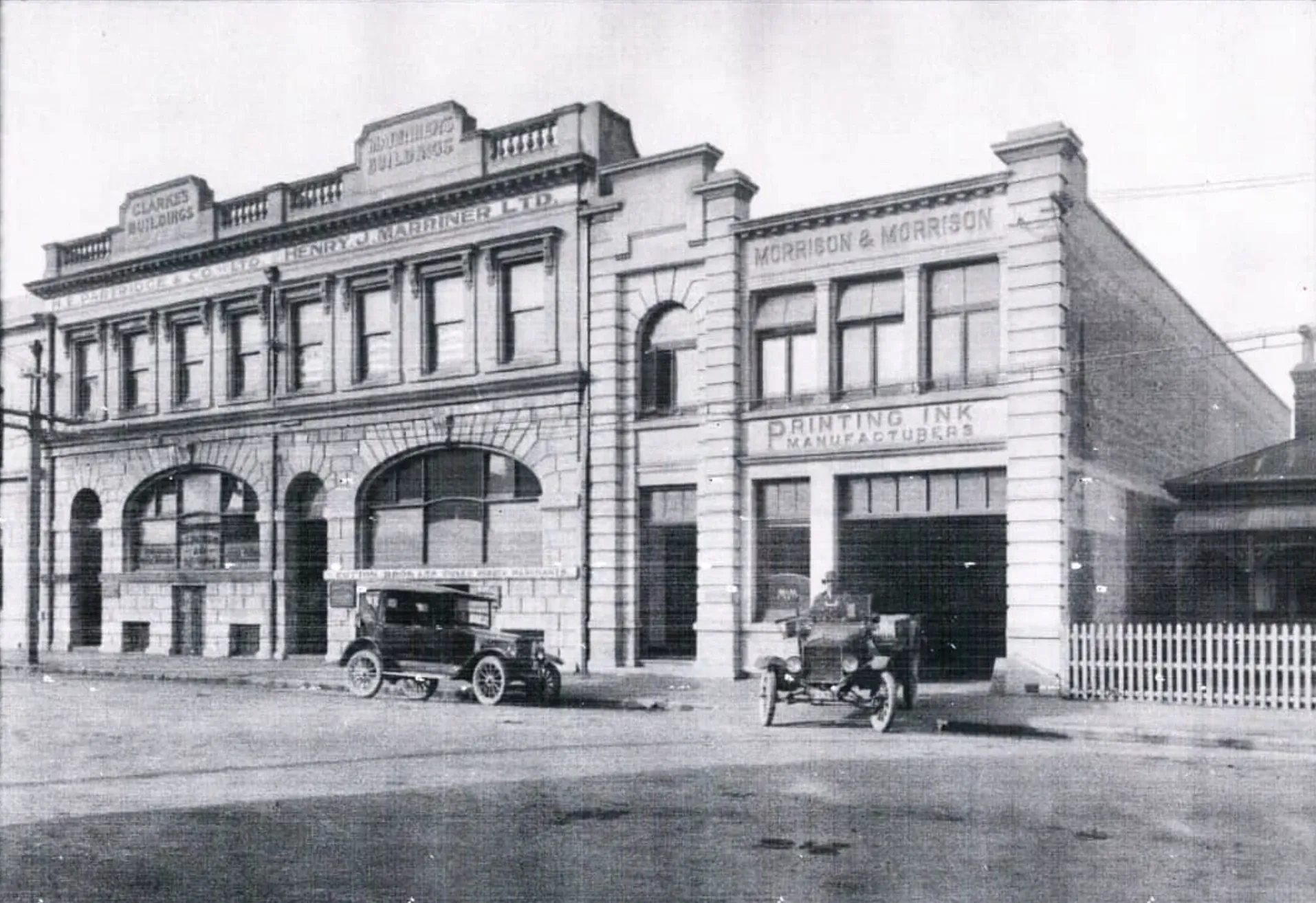 The Bains building, which later became known as Ng, first opened in 1905.
Turning out thirteen small businesses when we've been told to support local as much as we can recently, seems completely not on. We're also in the midst of a housing and building crisis. But here we are, prepared to pull down a perfectly good and highly significant one?
While this sudden change of plan hasn't fully been explained, the timing seems suspect. The clause contained in the Regeneration Act that allows for the acquisition of Ng, runs out next month.
Sharon and Roland recently travelled to Wellington to seek an injunction against the acquisition and succeeded. Ng's status is still at risk, but its keepers remain as open as ever to finding a solution.
Right now, the plans for the stadium are still not finalised, and the Ng building isn't even in the stadium's proposed footprint. Ground has hardly been broken on this project, soil testing is still getting underway – there's really no rush.
If the building truly must be removed, there's also an option to shift it up the road. As Roland put it, the way Ng is built would actually make the move fairly easy. If shifted, Ng would come to sit across from the CTV memorial garden and behind the Transitional 'Cardboard' Cathedral – a representation of the city's past, present, and future all on one corner.
Whether Ng stays, or shifts, there is undoubtedly a solution where both parties can succeed. And when we have the time and space to create optimal outcomes for more than one group why wouldn't we? That is in fact, what Ng is all about.
Hang in there mate
Tomorrow (Thursday 20 May), an art auction will take place at Ng to support the effort. It's wrapped around a piece from Sharon and Roland's late friend, the best man at their wedding, and one of Aotearoa's most important artists, Ralph Hotere. Its message? "Hang in there mate." Additional artists represented in the auction include Phillip Trusttum, Helen Calder, Bing Dawe, and others who have exhibited at Ng over the years.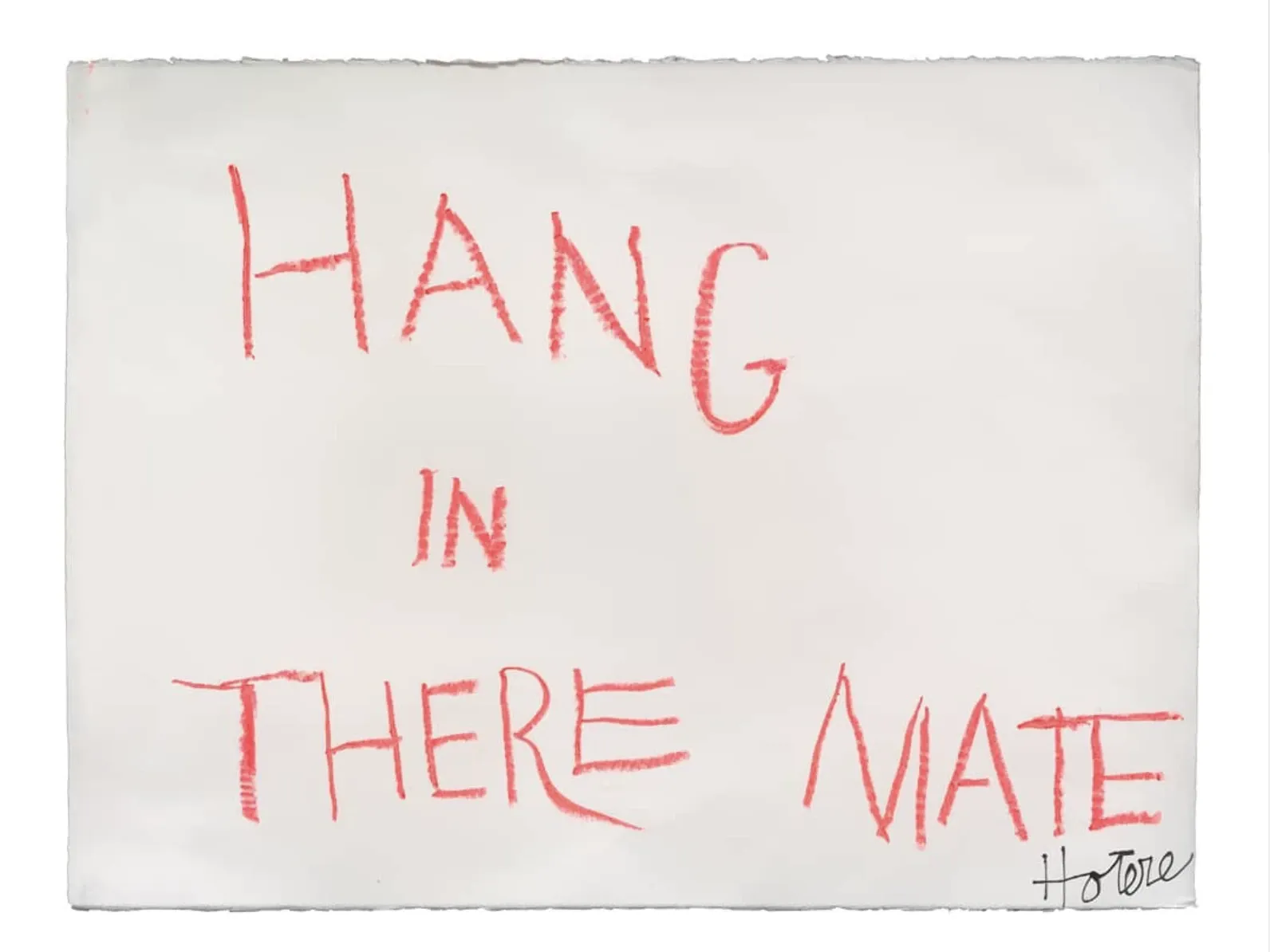 One of Ralph Hotere's final pieces which he gave to Sharon and Roland with instruction that it be used to protect the Ng building if necessary.
Tickets for the auction can be purchased here. Attend if you can, see this spectacular place for yourself, then make some noise.
If this building, its heritage and its purpose matter to you - I implore you to email Damien O'Connor, Minister of Land Information ([email protected]) and Lianne Dazile, Christchurch Mayor ([email protected]). Tell these officials to consider a solution where the Ng building can remain or be shifted, where both parties can succeed, and where this chapter of Ōtautahi's creative story is preserved as it deserves to be.