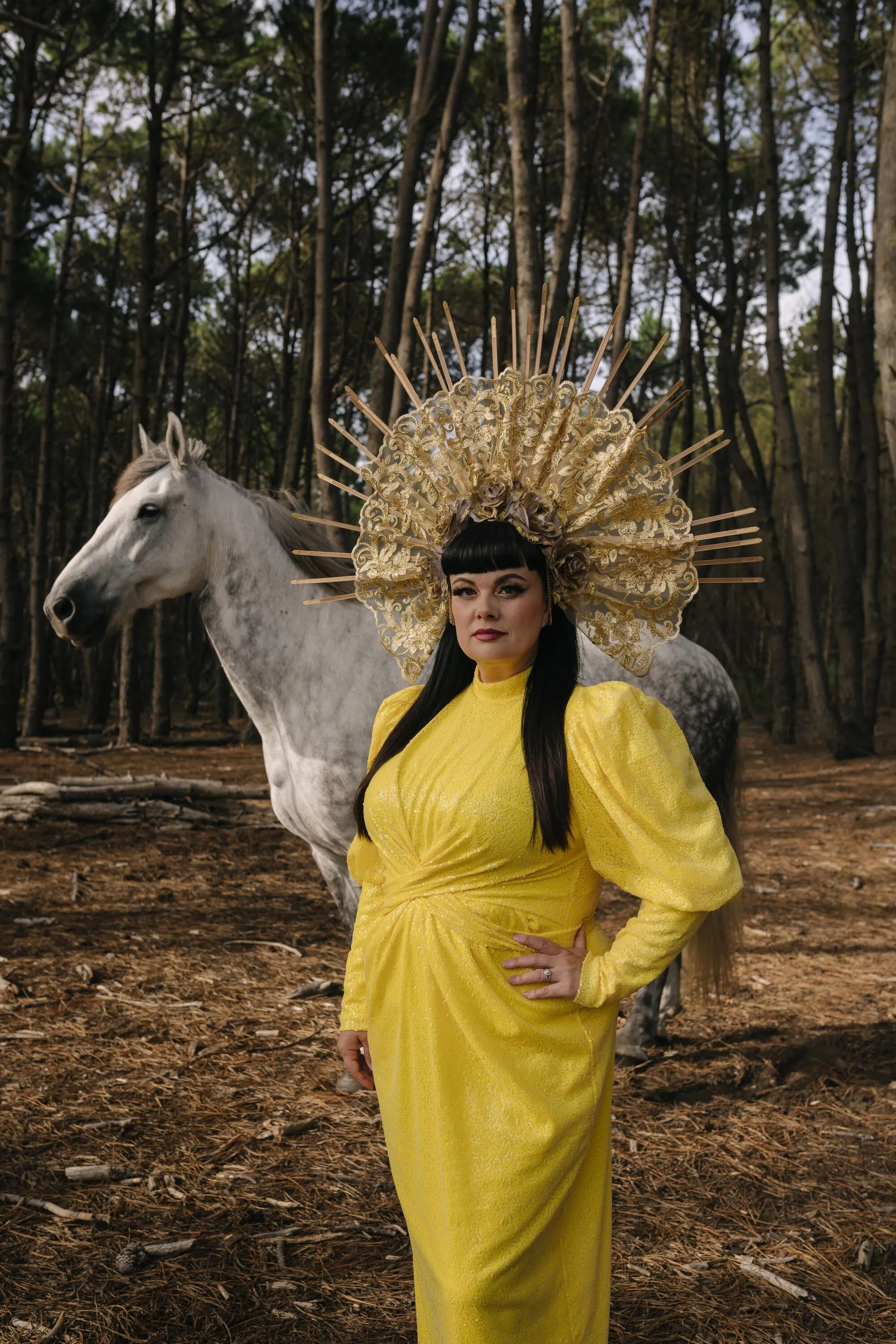 "That's what I'll stand up for and challenge. Those systems that make my life a lot harder .. we're not even close to changing, so I'll continue to sing about it and write about it."
It's fitting to bookmark the end of a prolific New Zealand Music Month, with the phenomenon that is Tami Neilson and her bravest project yet.
The nation's creative musical energy has burst out of the pandemic blocks with a flurry of releases, and the much-loved queen of country, soul and alt-blues has taken her skills to a whole new level with a patiently crafted and rousing album, on ice for release in mid-July.
And as you'd expect from a female singer-songwriter who's railed against and conquered so much adversity against women's treatment by the industry, there's no holding back.
Kingmaker has been a global crisis in the making. The gorgeous duet Beneath the Stars remembering the loss of her dad with the ageless legend Willie Nelson has created waves in North America and at home. That's been followed by the orchestral gothic beauty and message of determination fueling a second single - Baby, You're a Gun.
But the pandemic has meant a drawn out process, and none of the live gigs Neilson is renowned for.
Neilson told The Big Idea "it's been wonderful seeing the reception of the song and the first single. When you work on an album for like 18 months from inception until it comes out, you believe you're holding on to this perfect Christmas gift you bought a year and a half ago, waiting all this time to give it.
"It's exciting when you can start rolling out little bits and pieces from it."
I caught up with Neilson via Zoom from her Waimauku home in West Auckland. She was taking a break from filming her cameo role for the next series of the popular local TV drama, Brokenwood Mysteries, which has soundtracked her music over the years.
To these ears, the new album is her best yet. It's full of cracking tunes crossing genres, with biting lyrics and immaculate arrangements and production. Tami the maestro is at the top of her game.
The strength and plight of women features strongly, and there's a sense of empowerment throughout the 10 tracks.
"Absolutely," states Neilson, "I've had people in the past say 'your music leans towards being political' - it's only political if it's not your personal experience. I'm an indigenous female in the music industry.
"This is my lived experience. Artists only write from their lived experience.
"The exhaustion and the rage is palpable. The righteous anger of women around the world. It definitely feels it's two steps forward and three steps back when it comes to equality."
"Unfortunately until it changes that's my lived experience."
This Canadian-born artist is the mother of two boys aged 8 and 10 and an advocate - or perhaps a street fighter - on the front-lines of the seemingly endless battle for women to get a fair deal in music, and in life.
"I'm pretty outspoken about equality - whether that be for racial, gender or sexual equality. Treating others like the way you want to be treated is the golden rule in life. Over the past two years that's deteriorated even more, maybe it's come to light a bit more. It's always been there.
"It gets really tiring, you get really weary. Because all I do is write music and speak up about these things.
"All I'm doing is holding the space I think I've earned. I feel I should be given the equality of any other artist or any other human in this world but just by holding the line and taking up space in this culture is defiance."
Tami Neilson. Photo: Sophia Bayly.
The LP shifts effortlessly from the restraint of the first two singles to rock and roll anthems. You'll have to wait until the July 15th release for the rest of the album, but there's an uncomfortable message to those at the top.
"It's a very well known issue in the music business - the balance of power of young women in the industry being taken advantage of and exploited.
"About a year and a half ago New Zealand had its reckoning with powerful men in the music industry being exposed as the predators that they are. It's a problem that continues. Obviously it ebbs and flows and it's gone quiet because we haven't had active touring or shows.
"That doesn't mean that it's not still there. Telling a story is a reminder that these things still exist and doesn't let people forget about it. Amazing advocacy groups like the Glass Ceiling (Arts Collective) and SoundCheck Aotearoa. It's important to keep these issues at the forefront in order for things to change."
Tami's last album Chicka Boom! was a rollicking ride and included the soaring ballad You Were Mine, a standout live like so many of her songs. But the momentum was stalled by the full lockdown of March 2020. This time around, Neilson was the sole producer, and she relished the challenge to extend her range, with production at Neil Finn's famed Roundhead Studios in central Auckland.
"I've always co-produced my albums but this was the first time I decided to take the helm and produce it on my own."
But you won't find Neilson clamouring to take all the credit.
"The strings are the work of our genius New Zealand composer Victoria Kelly. She's one of our best and has worked extensively with Neil as well. That's the thing, you quickly learn when you produce albums that you're only as good as your team.
"You put so much trust in these people and I was lucky to have an amazing team, including Victoria. Simon Gooding was the engineer and mixer who used to be the house engineer at Roundhead, and now does artists like Pink and Fleetwood Mac - crazy - we're not short of talent in this country."
The album finishes on a defiant, no holds barred note. No gentle endings this time around, just plenty of venom and Neilson lets it rip. .
"Musically, sonically.. it's like the blues refrain like you would hear Big Mama Thornton sing. I kind of wanted it production wise, to sonically bring it into a modern framework.
"The woman singing is completely unfettered .. gives zero fucks about what anybody thinks. So I wanted the music to feel the same way she was feeling when she was singing these words like all the expectations you want from me.
"There's little elements throughout that are almost like Miles Davis moments, almost free jazz, Tom Waits-like .. this percussive craziness .. I think all those sonic aspects make it feel unrestrained musically and lyrically."
The first single Beyond the Stars made a splash in New Zealand, and Neilson herself posted on her social music channels that it was charting without any airplay.
It's a recurring theme for one of the country's top musical talents.
"I don't know if I used the words 'gave up', but I lowered my expectations for radio play a long time ago. I create the music I want to create. So that tends to be more niche.
"I cover a lot of genres but I'm known as a country artist and definitely have that foundation.
The expectation to be played on country radio is very non-existent because .. and I wrote a whole show about this .. about the inequities in country music.
"The woman who wrote my liner notes, Dr Jada Watson, she's a professor of musicology who specialises in the inequities in country music.
"The reality is women only make up 10% of radio airplay in country music, and even lower than that for women of colour.
"That's what Kingmaker - the entire album - is really about. Having this deep love for country music but also seeing the rotten foundations that it's built on.
"The person that's oppressed, the onus isn't on them to change the system that's oppressing them. But I think it's coming to the realisation that I hold my own power. If I don't get offered a seat at the table then I'll build my own table."
Tami Neilson. Photo: Sophia Bayly.
And there are plenty of talented women involved in Kingmaker, including the striking artwork by Maria Francesca Melis.
"It's a real energy shift when you have women work on your projects," expresses Neilson, who usually works with brother Todd on much of her visuals, but the pandemic meant heading to Canada was off the cards.
"With vinyl being the way it is right now, it's like a seven month wait. If I wanted the album to be ready for the July release, the (artwork and cover) deadline was the end of November.
"I ended up enlisting Fran. I've worked with her for concert posters, single art work and things, and I love her art. It's strong, it's feminine and she's wonderful to work with. She bought something that I normally wouldn't have on my covers."
She feels the same way about the aforementioned input of composer Victoria Kelly and Dr Jana Watson.
"With the liner notes, I had spent last year during lockdown writing a show called the F Word, songs of feminism in country music.
"Jada is a brilliant, intelligent woman and has become a very close friend over this time. It's such an important part of the package, not having them there is like not having drums on the album."
Tami Neilson is a national treasure.
She's razor sharp but can laugh at herself and with others.Her drive to right the wrongs of the industry which she's inextricably linked to is admirable and necessary.
Maybe 18 months is what she needed to produce a career highlight. Ten fierce but beautiful tracks balancing artistry and production polish with fire in the belly to ignite her mission to make it a better world, for everyone.
And soon she'll be, in the famous lyrics of her collaborator Willie Nelson, on the road again - taking Kingmaker to Auckland's Aotea Centre with the Auckland Philharmonia Orchestra on 30 July before hitting New Plymouth, Wellington, Tauranga, Nelson, Dunedin and Christchurch through August.