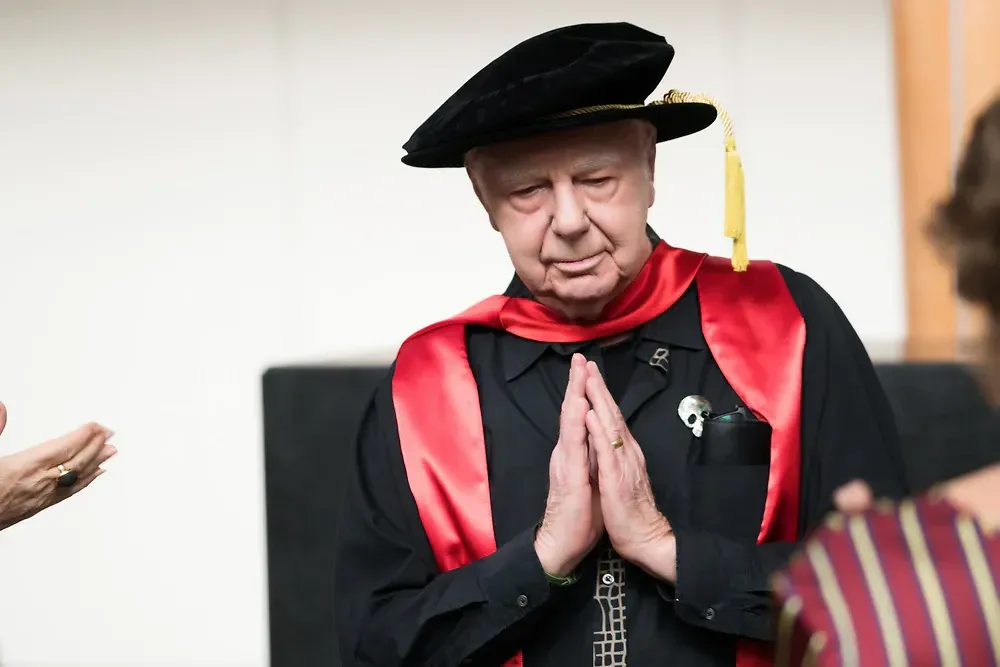 From Grafton to the Guggenheim
In 1972, a 27-year old textile salesman fresh from a business night school course at Seddon Memorial College (now AUT) decided to up sticks to New York City. Once there, he set up a studio in a hyperbolically grimy part of town, with the intention of becoming a painter.
Over the last 40 years, this intent from the boy from Grafton has blossomed into a formidable reputation in both hemispheres that has seen him exhibit in the Guggenheim New York. He can count Museum of Modern Art, Kings College, Auckland Boys Grammar, National Gallery of Australia, Te Papa and countless private buyers as his collectors. In 2015, he was awarded an Officer for the New Zealand Order of Merit for outstanding contributions for his services to art. This week, another feather was added to his cap with an honorary doctorate bestowed upon him in recognition for "his advancement of the arts in New Zealand" by the Auckland University of Technology during a moving ceremony at Auckland Art Gallery.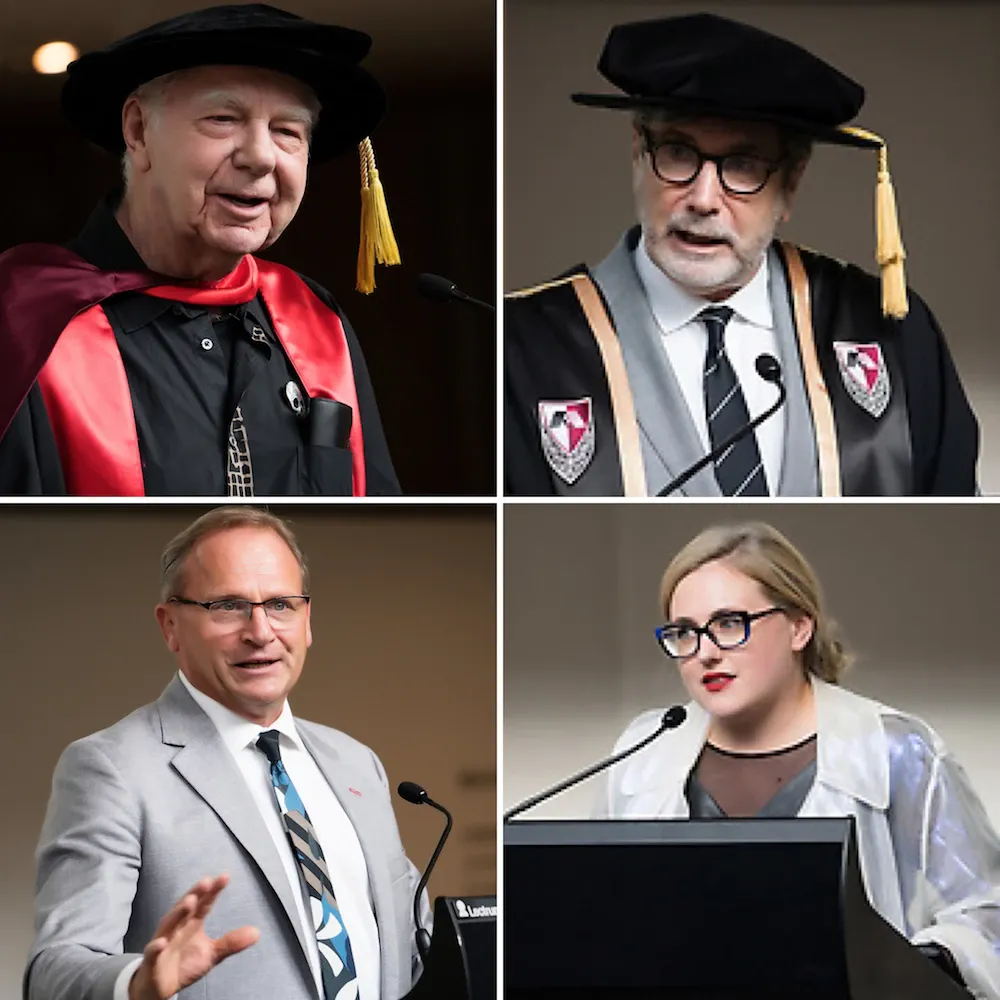 "Have you met Max?" John Gow, co-director of Gow Langsford Gallery asked the gathered crowd. As the long-time representative for Max Gimblett, the artist responsible for the aforementioned accolades and the man of the hour that balmy Wednesday night, he was well-placed to provide insights into both the man and the artist. Gow described a man who could stand in front of a sea of thousands of high schoolers, silencing them with one clap before delivering a powerful speech the Auckland Grammar headmaster said "that the boys would never forget". Of a man whose depth of generosity meant that they had to "stand on his foot", lest he gives one too many paintings away. Of an artist inspired by Kandinsky's writings Concerning the Spiritual in Art" who has had a staggering 100 exhibitions, 54 of them in New Zealand.
Passion and compassion
Given his remarkable credentials, Max Gimblett is widely considered one of New Zealand's most successful living artists. Auckland Art Gallery's Head of Curatorial and Exhibitions Sarah Farrar earmarked "generosity, passion and process as some of the qualities that distinguish Max – both the person and his work." While Derek McCormack Vice Chancellor of Auckland University of Technology described Gimblett's work as "contemporary, complex, diverse and impactful – all traits we aim to give our graduates."
"I'm profoundly in love with New Zealand... so this means the world to me."
These are all adept descriptions of Gimblett the man and Gimblett the painter. A practising Zen Buddhist for many years, it has become a key component of both his artistic practice and underpins his humanity. Most noted for his quatrefoils - a shape that could be seen as an idiosyncratic fusion of east-meets-west philosophies and aesthetics- Gimblett employed them in the largest philanthropic art fundraiser New Zealand has ever seen. Hundreds of solid brass quatrefoils covered St David's Memorial Church in Khyber Pass. He managed to raise $1 million dollars and saved his boyhood church from demolition. While his artistic process is akin to a meditative state, and strikes the difficult balance between careful thought and spontaneous impulse. He describes it as "all mind, no mind."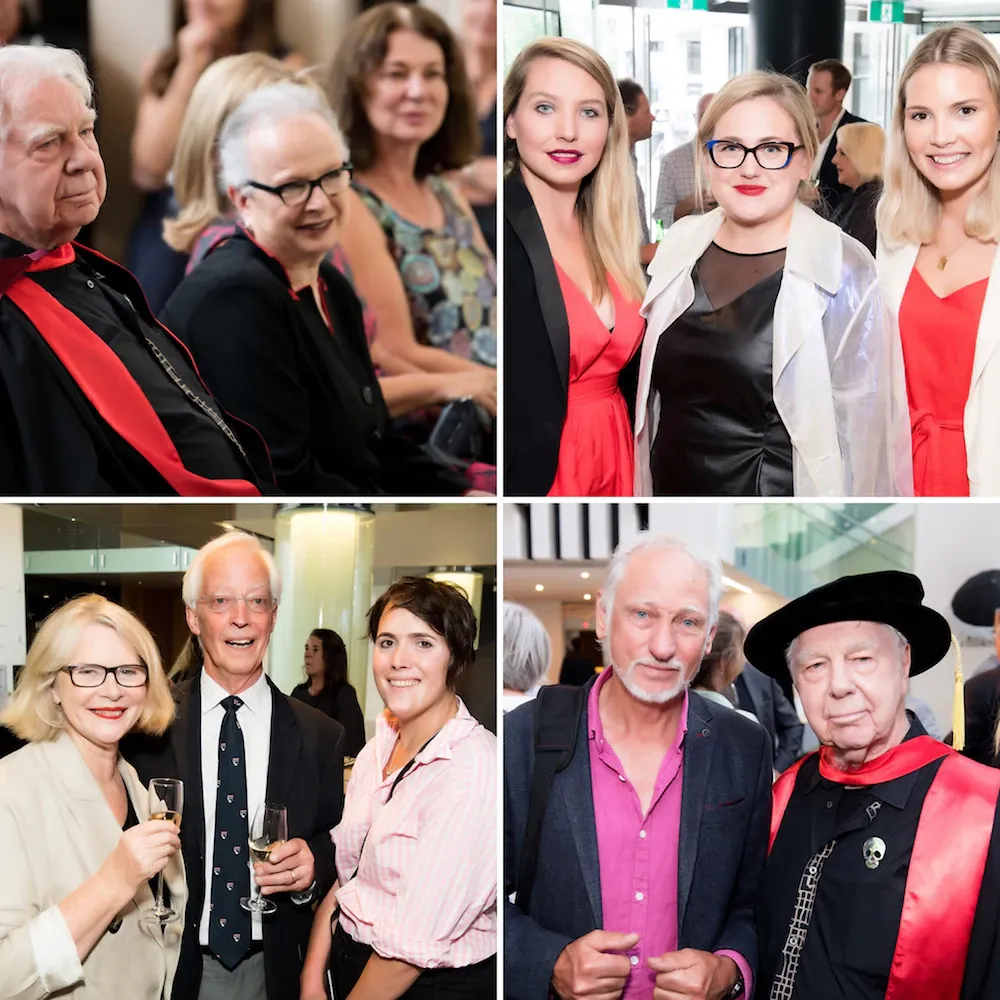 When considering his works, there are correlations between Max Gimblett the man, and a Max Gimblett painting. Both are vessels of calm vivacity, considered chaos, and intellectual impulse, of harmonious contradiction. These juxtapositions come from exploring a lifetime of influences and associations that span across religion, art history, time, place and culture. This amalgamation gives his works wholeness that is simultaneously personal yet universal.
The reverence for Max Gimblett was palpable and the man himself was taken aback by the proceedings. Holding back tears, he thanked AUT for
"this deep honour - I am a Kiwi, I will remain so until I leave my body, I have never adapted any other nature or imagery of any other country I've gone to, my nature and imagery is from New Zealand. I'm profoundly in love with New Zealand... so this means the world to me."
Given the sense of admiration in the room, the feeling was mutual.
All images by Nigel King for White Door Event Photography.